The art of food photography is something that has escaped me.
I have always wanted to post recipes on this website but my photos have been, shall we say – less than appetizing – and that has held me back.
It's not that I don't have the technology, I just don't know how to use it.
So, the last time that Food Blogger Pro opened it's doors, I took the plunge and signed up.
However, in typical me fashion, I didn't do the work.
This week I forced myself to put up my homemade chicken tikka masala recipe on this website. I had to take some kind of action.
Of course, I was horrified at the picture that I took of the finished meal. It looked so awful that I was sure no one would want to eat that – even though it tastes fabulous. (The original photo is here, but I have since changed it on the recipe page.)
It was time for me to get serious or give up on food blogging.

Before and After Photos
And after only 2 days of going through each lesson (I still have more to go) and working through about half of the program I am so proud to show you this: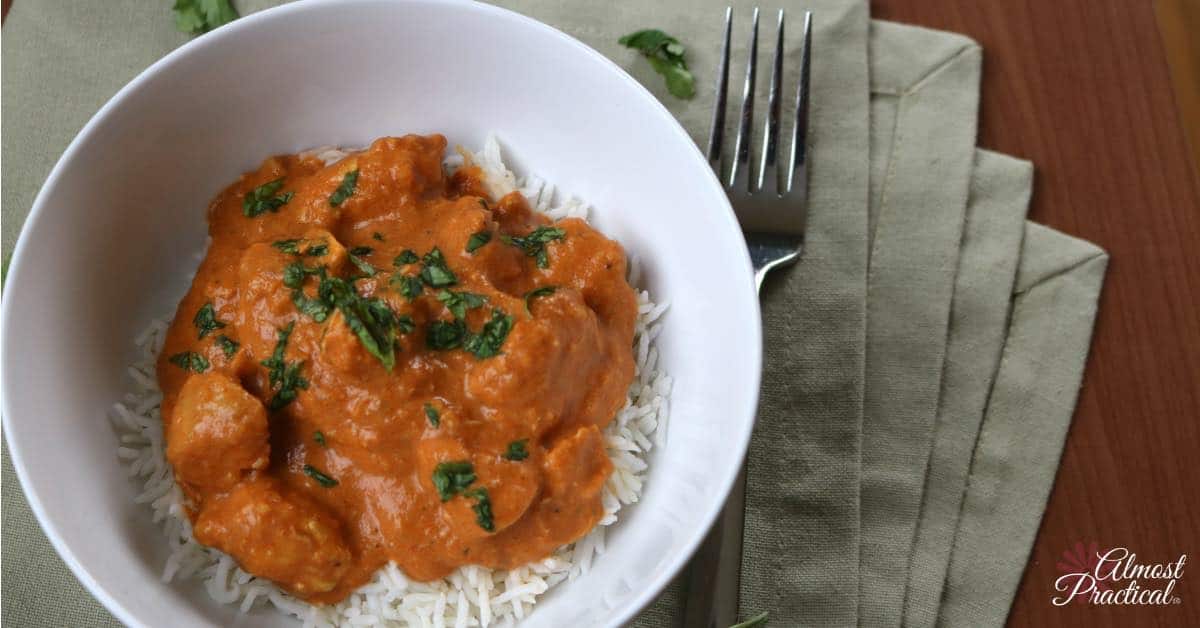 Because just a mere two days ago – that same chicken tikka masala recipe looked like this:
Seriously. It is the exact same food. The top picture is the leftovers from the bottom photo.
Wow.
I am still in shock.
What is Food Blogger Pro?
The short version is that Food Blogger Pro is a self study course that includes over 300 step by step videos to show you how to start a food blog.
The makers of Food Blogger Pro are Lindsay and Bjork Ostrum. Lindsay also runs the very successful Pinch of Yum food blog (with help from her husband Bjork).
Having been a follower of Pinch of Yum for some time and also a blogger, I was very impressed (read jealous) of their success and wanted to learn two things:
how they created such a successful business and
how they made their food look so darn good.
And that is how I came to sign up for Food Blogger Pro.
More Than The Art of Food Photography
I am not sure what I was expecting when I signed up for the program – but I was surprised about the depth of knowledge that they share.
Blogging
The course really starts out with the beginning blogger in mind. And honestly, I think that is what kept me from diving in right away.
When I saw those first few videos about setting up WordPress, I thought, well – I know this already – and I kind of stopped.
The thing is those videos are just the beginning and you can skip over them to get to the part that is right for you.
In the end, even though I know about blogging, I watched the beginner videos anyway and walked away with a few great tips. So it never hurts.
Your Camera
The section about the settings to use on your DSLR camera to master the art of food photography were so valuable to me.
I have a DSLR but have been very inconsistent in learning how to use it.
In the videos, Lindsay reviews some essential settings that I knew nothing about.
Lighting
If anything, I have learned that lighting is one of the most essential elements of taking great food photos.
Lindsay covers this in depth.
Props, Composition, Styling and More
The Food Blogger Pro course also covers what props to use for your food photography, and techniques for the styling and composition of your photos.
This is about where I am in the course and there is still more to go.
Community Forum and Discounts
As part of the Food Blogger Pro community you also get to participate in the community forums and get some deep discounts on related tools and services from third parties.
Honestly, I have not taken advantage of these benefits yet.
Revising My Photo
Today I decided to stop waiting for perfection and retake that chicken tikka masala recipe photo using the knowledge that I have gained from the Food Blogger Pro course so far.
Believe me, my head is still spinning with all of the information that I need to know to master the art of food photography. I'm not even sure what I did to make the photo come out so much better. But I do know that it is progress.
I felt sort of like MacGyver as I set up for the photo shoot.
I used an old linen napkin which I had to steam
the fold lines out of (I know I could have used an iron but I'm all for shortcuts).
And I ended up using an old little cart from the basement as the surface, instead of my kitchen table.
I know that I still have a ways to go to get the photos to look masterful. But I am very pleased with my progress.
Have You Signed Up For Food Blogger Pro?
Have you taken the Food Blogger Pro course yet? If not, click here to get on their waiting list because the course only opens a few times per year.
If you have taken the course, tell us your thoughts in the comments below.
Find more tips and tools for creating awesome website graphics here.