I think we can agree that earning money is a goal of many bloggers. But finding the right affiliate programs to connect with is hard. You want to find something that works with your philosophy but also makes it worth your time to promote.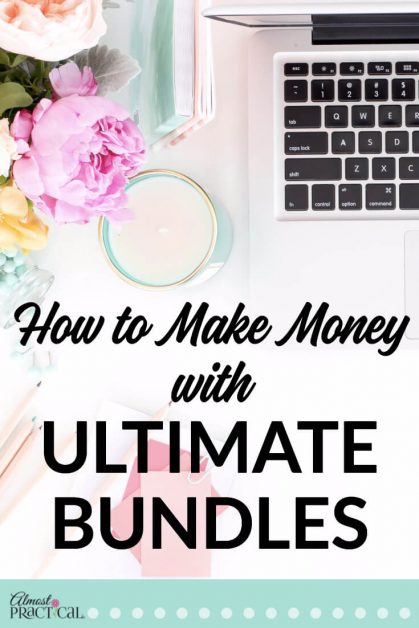 This is why you might want to become an Ultimate Bundles affiliate.
Let me tell you why.
The Payout is Good
I'll cut to the chase.
With Ultimate Bundles, you make a 40% commission on each bundle that you sell.
That is huge.
You Get a Discount
Have you realized that many affiliate programs do not allow you to make a commission on your own purchases?
With Ultimate Bundles, that is not true. You get a 40% discount on your own purchase (so you are actually getting your discount up front).
Not only that, if you sell 5 or more of a single bundle – then you get your bundle for free.
That's right!
Ultimate Bundles will refund you your purchase price if you sell 5 or more bundles.
Your Readers Will Love Ultimate Bundles
Why should you promote Ultimate Bundles?
Because your readers will thank you.
Seriously.
If you are not familiar with Ultimate Bundles – you can read more about it here.
But when you become an Ultimate Bundles affiliate, you get to promote some really awesome products.
There Is a Bundle to Fit Your Topic
No matter what you blog about, there is sure to be a bundle to fit your topic.
Past bundles have included:
Conquer Your Clutter Super Bundle
Ultimate Start Up Bundle
Ultimate Digital Photography Bundle
Gut Health Super Bundle
Upcoming topics include Homemaking, Work at Home, Essential Oils, Parenting, and Recipes.
And don't worry – you don't have to promote all of the bundles. It is completely up to you which ones you want to promote.
You Get to Offer Quality Products to Your Audience
Basically, the folks at Ultimate Bundles reach out to popular authors in each niche and ask them to contribute one of their in demand digital products (eCourses, eBooks, etc) to a particular bundle.
They then offer the whole package for a deeply discounted rate – often close to 90% off or more.
So you get thousands of dollars worth of products for such an affordable price.
And there is even one more thing:
You Earn a Commission on Referring the Affiliate Program
Yup.
When you get other bloggers to become an Ultimate Bundles Affiliate you make a small commission on what they sell for a limited amount of time.
Authentically Promote Something You Believe In
What could be better than promoting something that you believe in?
That is how I feel and why I am encouraging you to become an Ultimate Bundles affiliate.
The program is so flexible, offers great payouts, allows you to purchase at a discount, and offer quality products to your audience.
How to Become An Ultimate Bundles Affiliate
Becoming an Ultimate Bundles Affiliate is easy.
Simply click this link and fill out the super short application.
Don't wait because there are some bundles in the pipeline as we speak that you can buy with your affiliate discount.
Disclosure: This post contains affiliate links which means that if you click a link in this article and purchase something, I may make a small commission at NO cost to you. See our Disclosure Policy here.