Happy Friday everyone! It's time, yet again for another Best of the Weekend Link Party.
I am so happy that the weekend is finally here.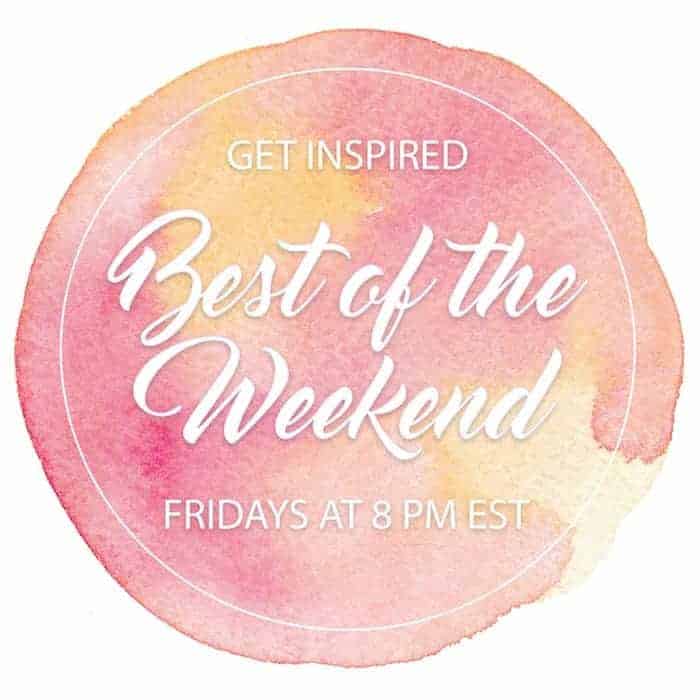 This week was crazy busy for me. One of the things that I have been trying to do is focus on fitness. As a blogger, I need to take a break from my computer.
Download Your Copy!
FREE 2019 Printable Calendar
Simply fill out this form to gain access to the checklist. Subscribers enjoy full access to our members only Resource Library that I update with new printables, checklists, and files regularly. See our Privacy Policy
So, in October my parents gifted me an Apple Watch Series 4 – and something just clicked inside me. It was sort of the kick in the pants that I needed to create a regular exercise routine.
I found an exercise class that I love and have been hitting the gym at least 3 times a week.
Honestly, I feel amazing. I actually look forward to going to the gym even when it's cold outside (because I am not a cold weather type!).
Unfortunately, no one added any more hours to my day – there are still only 24 last time I checked, so I have had to take some time away from my business to be able to fit in the exercise.
I am working on ways to streamline my processes to be more efficient so I can do everything that I want to do – yes, I am indeed organizing myself. 😉
Which is why I am so looking forward to relaxing a little bit this weekend.
What better way to kick things off than with the Best of the Weekend Link Party? Right?
I am so glad you are here to join us!
Let me introduce your wonderful hosts – please take a minute to follow them all on social (you will find the links below):
Paula from Sweet Pea | Facebook | Twitter | Google+ | Pinterest | Instagram
Amy from Ms. Toody Goo Shoes | Facebook | Twitter | Google+ | Pinterest | Instagram
Ginnie from Hello Little Home | Facebook | Twitter | Google+ | Pinterest | Instagram
Neena from Almost Practical | Facebook | Twitter | Pinterest | Instagram
Liberty from B4 and Afters | Facebook | Google+ | Pinterest | Instagram
Shelley from Calypso in the Country | Facebook | Twitter | Pinterest | Instagram
Best of the Weekend Link Party Rules
We like to keep things simple and relaxed at this link party so we don't have too many rules.
You can see the full details here – but this is the short version:
Add your best posts to the linky form below
By adding your post you are giving your hosts permission to use one photo from your post in a future Best of the Weekend Link Up post (yes – you might be featured!) and also in a collage type image that is suitable for Pinterest.
Please take a minute to share this link up post on your social media channels – we want as many people as possible to join in the fun, so please help spread the word.
Also, please comment on a few of the other posts in the link up because we are all here to support each other.
And now for last weeks most clicked post …
Christmas Plaids, Pickups, and Pointsettas by Penny at Penny's Treasures
Here are a few of my favorites from the Best of the Weekend Link Party last week – even more Christmas goodness …
Clockwise from top left:
If you have been featured here – please pin, tweet, and share this post on Facebook – it will bring your post even more exposure!
You can check out all of the wonderful posts from last week here.
And now onto this week's link up …
Have a wonderful weekend!
Pin this article to your favorite board on Pinterest to refer to later.