How to Change Permalinks in WordPress On a New Blog
This post may contain affiliate links which means I make a commission if you shop through my links. Disclosure Policy
Learn how to change permalinks in WordPress on a brand new blog.
As a blogger, it is important that you make it easy for people and search engines to find your stuff. That is why your permalink structure in WordPress needs to be correct.
A Word of Warning: DO NOT change your permalink structure in WordPress on an existing site! This will negatively affect your blog traffic and SEO.
If you want to change permalinks on an existing site you should get technical help. While I have not used them personally, I have heard good things about iMark Interactive. You may want to reach out to them to help you out.
For a new blog – read onwards.
When starting a new blog on WordPress you should change permalinks BEFORE you do anything else.
When you set up your permalinks correctly from the beginning, you will be setting your blog up for success.
More WordPress Tips for Beginners
What's a Permalink?
A permalink is the URL or web address for a particular post.
It's what you see in the address bar in your browser window on desktop.
When you write a post or page on your site – WordPress gives it a unique web address.
This address is called a permalink, and it is basically the place where your article lives on the internet.
On mobile, it's a little trickier to see the full permalink of the web page or post that you are on. Generally you have to click into that address bar and select the URL to see the whole thing.
As a best practice, your permalink should be in plain English and not contain a string of random characters and numbers.
This is because your permalink sends some SEO signals to the search engines. It is one of the factors that the search engine spiders use to understand what your blog post is all about.
Most people will argue that your permalink should not contain the date either. This makes sense for a few reasons:
even if your content is "evergreen" or regularly updated, having an old date in the permalink will make the information seem stale or dated.
having a date in your permalink makes it less memorable – if a reader wants to revisit your post by actually typing in the web address, it would be even harder for them to remember if the date is part of the structure
On a new blog, it is easy to change permalinks in WordPress.
This is how you do it on a new WordPress install. Remember DO NOT change your permalink structure on an existing blog or website!
Go To The Permalinks Settings Tab in Your WordPress Dashboard
You can find the settings for permalinks by going to "Settings" in the left navigation bar in your WordPress dashboard and clicking on "Permalinks" from the dropdown.
On a fresh WordPress Install, the permalink structure throws up some gobbledygook address with a date and numbers and I don't know what else.
The screenshot below shows the settings page on a fresh install before I made any changes. Your default option may be different than this one.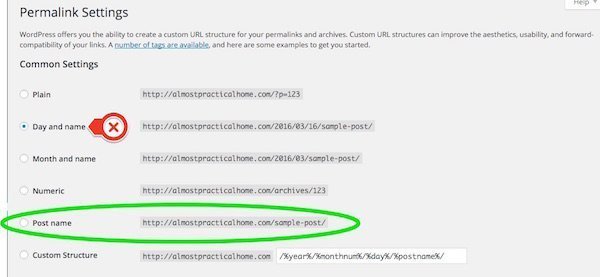 You can see that by default, this install puts the date before the post name.
Select the Option for Post Name
I always change this default to just plain "Post Name" before I add any content at all to my blog or website.

And then I hit Save.
This will change the URL for every single post on your blog (both new ones and existing ones).
Changing Your Permalinks Should Be Your FIRST STEP
When you start your new website, make sure to change your permalinks as your first step – before you create any content.
This way everything on your site will be correctly indexed.
What Permalink Structure Do You Use?
If you have an existing WordPress blog, do you also use the Post Name option for your permalinks? If not, what option did you choose?
Do you wish you had set things up differently?
Have you ever changed your structure on an established site? What effect did this have on your traffic?
I know – so many questions! Let me know in the comments below.
Happy Blogging!