Woohoo! I have great news for all you planning types today … it's an Erin Condren sale!!! Friends and family get 25% off sitewide. And since we are all friends here – this one is for you.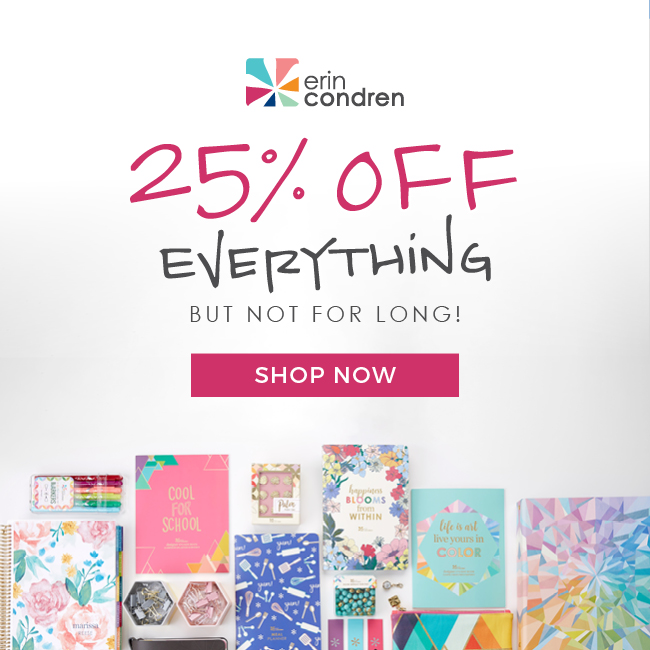 Here's the thing – I don't know how long the sale will last, but I know it is fleeting. Here today gone tomorrow kind of thing.
So stock up now on your favorites and grab all the things on your wishlist.
Here are some of my favorites:
The Erin Condren LifePlanner
This is my FAVORITE way to plan.
The Erin Condren LifePlanner is a fun, motivating, and creative way to stay organized.
I reviewed this planner in an older version – and you can read my review here.
The Erin Condren Deluxe Monthly Planner
Sometimes you just need to see each month at a higher level and have plenty of pages to jot down notes and checklists.
The Erin Condren Deluxe Monthly Planner is the perfect productivity tool to help you with all your planning.
You can read my review of the Deluxe Monthly Planner here.
The Erin Condren Bill Payer Dashboard
You know that panicky feeling that you get when you think you might have missed a due date for a bill?
Well, here is your answer – the Erin Condren Monthly Bill Tracker Dashboard.
Dashboards, which are my favorite types of Erin Condren accessories (there are quite a few different ones to choose from – see them all here) are heavy laminated checklists and tools that snap right onto the coil of your Erin Condren LifePlanner or Deluxe Monthly planner.
Simply use a wet erase marker – (I love this set in Earth colors) to track your progress.
Then when you need to change things up, you simply wipe off your Dashboard and start over.
You can see my review of the Bill Tracker Dashboard here.
Where to Buy Erin Condren Planners and Accessories?
The best place to buy Erin Condren planners and accessories is online.
In their online store you can take advantage of any Erin Condren sales (like this one) and get the biggest selection as well.
What are some of your Erin Condren favorites?
Let me know in the comments below.
And don't forget – the Erin Condren Friends & Family sale will be gone before you know it – so shop now!