Erin Condren Flash Sale
This post may contain affiliate links which means I make a commission if you shop through my links. Disclosure Policy
Exciting news – Erin Condren is having a FLASH SALE! It is going on right now – which means that the ENTIRE site is 20% off!
Yes – you heard that right, everything is 20 percent off.
Here Are The Details
This sneaky little sale starts today October 28, 2020 and runs through November 1, 2020.
The best part is that this sale is open to everyone. So you can get a jump start on your holiday shopping!
You don't need to be an "Insider" to participate. Although it is a good idea to sign up and it is free to do so. It is easy to become an Insider – all you need to do is sign up here.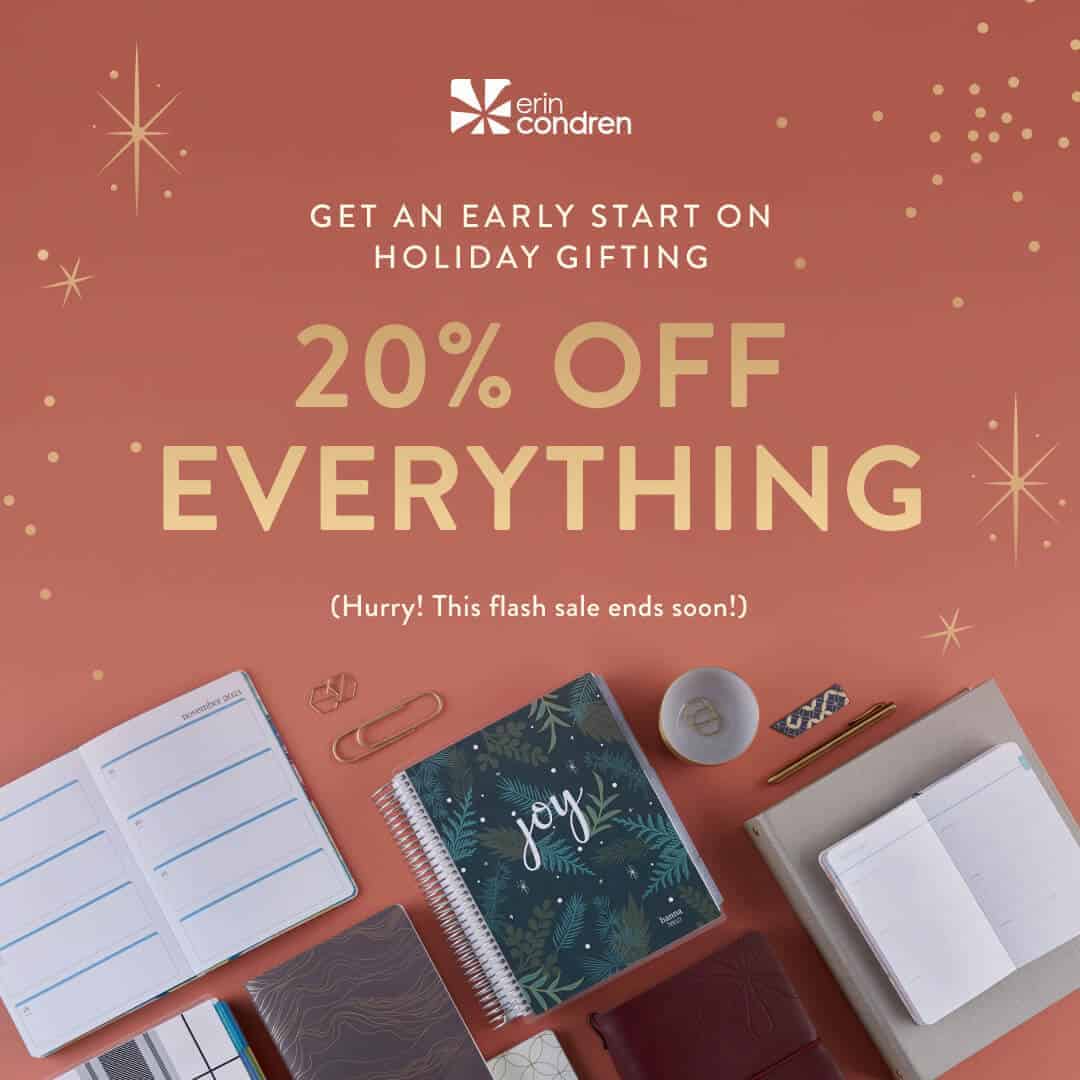 What Should You Get?
There are so many great things to choose from – so here are some ideas.
Planning Ahead
We are well into the last quarter of 2020 and looking forward to 2021 – so it is a perfect time to get your 2021 LifePlanner.
Holiday Gift Ideas
You can also get a jump start on your holiday shopping.
Give the gift of organization.
Choose from:
Holiday Covers
One of the best things about the coiled Erin Condren LifePlanner is that the covers are interchangeable.
With the holidays right around the corner, this Friends and Family sale is a good opportunity to stock up on holiday themed covers to give your planner a little pizzaz.
Choose from covers for:
Halloween
Thanksgiving
Christmas
Hanukkah
Kwanzaa
and more.
Teacher Gifts
This year our teachers are working harder than ever. Making hybrid and online learning successful is challenging.
Show your appreciation by sending your teacher a gift from Erin Condren.
They offer much more than just planners.
There are so many useful products that teachers will love to receive.
Check out this fun collection of planner and desk accessories.
Some of My Favorite Erin Condren Planners and Accessories
For some inspiration, you can see all the Erin Condren products that I own and love here.
The following are just a few of my favorites.

Erin Condren Reviews You May Like
I know that choosing a planner is a tough decision – so I try to review the products that I actually own, to give you a closer look and provide a little inspiration.
Happy Shopping!