Today I am going to talk about how to get website traffic.
I believe that everyone can make money with their blog if they have enough blog traffic.
Unfortunately, it's really hard to gain traction when you are first starting out.
Most bloggers feel awkward promoting their own stuff. I know I felt weird telling people about my blog.
Get the FREE Blogging 101 Course
What you need to know before you start a blog.
My friends that weren't online treated my blogging venture as if it were a passing hobby. And some bloggers that I met online wouldn't give me the time of day because I was so new.
It's a hard place to be in.
So, at the end of the day, I had to figure out ways to get website traffic that felt right for me. With the help of the internet, and a wonderful eBook called 17 Strategies I Used to Increase My Pageviews from 17KL to 350K in 9 Months by Lena Gott, I was able to put my personal spin on common traffic building advice.
Now my pageviews are consistently increasing and so is my income.
These are the strategies I use to generate website traffic and how you can apply them to your blog too.
Why You Need Website Traffic
Just like you can't have a business with no customers, you can't have a successful blog without readers – especially in the beginning.
Unless you are a well-known celebrity, your traffic is your means to making money with your blog.
How Bloggers Make Money
Most bloggers make money through:
affiliate marketing
advertising
sponsored posts, and
selling their own products and services.
Usually, it is some combination of all of the above.
No Blog Traffic, No Opportunity
To make money from these options you need people to click your affiliated or advertising links.
Some advertisers won't even allow you in their network unless you have a certain minimum amount of pageviews per month. And you need blog traffic to build an audience that trusts you enough to buy your product or service.
Proof that Website Traffic Turns Into Dollars
Lena Gott, author of the popular eBook 17 Strategies I Used to Increase My Pageviews from 17KL to 350K in 9 Months, found a direct correlation between her pageviews and her income.
The chart below is from page 8 of Lena's 17 Strategies eBook:
You can see that in 2015, as Lena's pageviews went up, her income did too.
How To Increase Website Traffic
If only it was easy to increase your web traffic. Sigh.
Lucky for us, people like Lena who have a proven track record are willing to share that info.
Lena shares her top 17 Strategies in her eBook which I highly recommend. I've read through it twice and each time have found new nuggets to work on with my own blog.
Three Universal Website Traffic Truths
Among all of the advice out there on how to generate website traffic, I have found these three principles apply across the board:
Your blog should be organized and follow a blueprint or structure. (Ruth Soukup has a great free Blog Structure Blueprint worksheet that can help you with that – and Lena discusses this in her book too.)
You need to build traffic streams from many sources.
Targeted website traffic is much more important than lots of random visitors
Finding Your Own Spin
Beyond those three universal truths it is important to remember that not all traffic building strategies work for everyone.
No matter what advice you follow, you have to look at it from your own perspective.
Strategies I Use To Build My Website Traffic
I follow many internet marketers and I find that many of their strategies to build website traffic are not really palatable to me. At times I even felt that I would never be successful because I didn't want to follow their exact advice.
If I listened, maybe I would get further faster, but I wouldn't be happy doing it.
That is why I found it really refreshing to read Step 3 in Lena's eBook: "Low Payback Tasks You Can Stop Doing Right Now".
What a relief. It sort of gave me permission to take what I learn and carve my own path.
Granted, I still have to leave my comfort zone but I use the following avenues in my own way to build traffic to my blog.
Email Marketing
Social Media
Content Marketing
Search Engine Optimization
Future Plans: Webinars and Joint Ventures
Email Marketing
How email marketing brings me traffic: Because people are already on my list, they want to hear from you and are more likely to click through to your content and share it. I don't need to be pushy in my emails – I just craft them like I am talking to a friend.
If anything, email is where I am most uncomfortable.
Conceptually, I get it.
I have written many, many articles about why building your list and communicating is so important.
Yet when I sit down to craft an email, I cringe. Every single time.
I have finally settled on a rhythm and a style that I feel comfortable with.
So my advice to you is this: Don't ignore your email list. Communicate regularly because the people that get your emails know you better than random strangers on the internet. They are also more likely to visit your website and buy on your recommendation.
If you are as uncomfortable with it as I am, then just find a pattern that you feel ok with and stick to it.
Social Media
How Social Media brings me traffic: I share both my own articles and other people's stuff on social media on a consistent schedule. By genuinely interacting, reaching out, and helping others I have found a group of people that also share my articles in return. I no longer feel that I am being self promotional.
I find social media to be overwhelming. Too many platforms, not enough time.
Again, Lena to the rescue – in her eBook she offers up some no-nonsense advice for using both Facebook and Pinterest to generate website traffic.
Personally, I have found that I like having a presence on all the major social media networks.
A good portion of my website traffic does come from social media.
But, I really only work Pinterest and Twitter right now.
I don't "get" Facebook and I know I am missing out on that traffic but I'm not going to beat myself up about it. I will take the learning one step at a time.
With social media, I find that consistency is top priority and that is what I am striving for.
Content Marketing
How Content Marketing brings me traffic: Writing articles that are helpful and useful to others makes me feel like I am offering something of value. Most of my articles do contain affiliate links but I only promote products that I enjoy or that have helped me, so I don't feel that I am being too salesy by mentioning them.
In my mind, content marketing is just a fancy way of saying "writing great articles".
I do my best to offer help and advice to people that come to my website. My hope is that they will come back for more, share the information, and engage with my sponsors.
Some people, like me, love to write. Others don't.
This is one area where I would say – if you don't like it, maybe blogging isn't for you. You could always hire someone but I think that posting your own content helps you make a connection with your reader.
Search Engine Optimization
How SEO brings me traffic: I use keyword strategies and on page optimization to make my articles more search engine friendly. Keywords are very important so you can't ignore them, but you can't overdo them either. By working keywords into my content conversationally, I can attract people to my website in a subtle manner. I am still working on off page optimization because that is more self promotional. But as I build relationships through social channels I feel like it gets easier.
Your content has two audiences – real people and search engines.
You need to keep both parties very happy.
When you understand the basics of SEO then you can better craft your content to get website traffic from the search engines.
As your pageviews increase you will have more data for web traffic analysis. This means that you will better understand what visitors to your website want and like. And then you can create even more content to satisfy that need.
Webinars and Joint Ventures
I haven't really explored this avenue yet – but I know that others have had great success in building website traffic with these strategies.
Monitor Your Results
Blogging is about curating, analyzing, and doing.
Make sure you monitor your website traffic so you can learn from what works and what doesn't.
What Strategies Do You Use?
Share your best website traffic tips in the comments below.
Grab Lena's eBook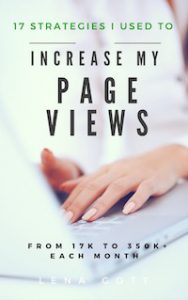 I found Lena Gott's eBook 17 Strategies I Used to Increase My Pageviews from 17KL to 350K in 9 Months to be packed with honest, valuable tips that I could act on right away.
You can click here to grab your own copy.
If you haven't yet started a blog – start with these 3 pillars.
You can also see all our blogging articles here.
Pin This