Mother's Day weekend is extra special in our household.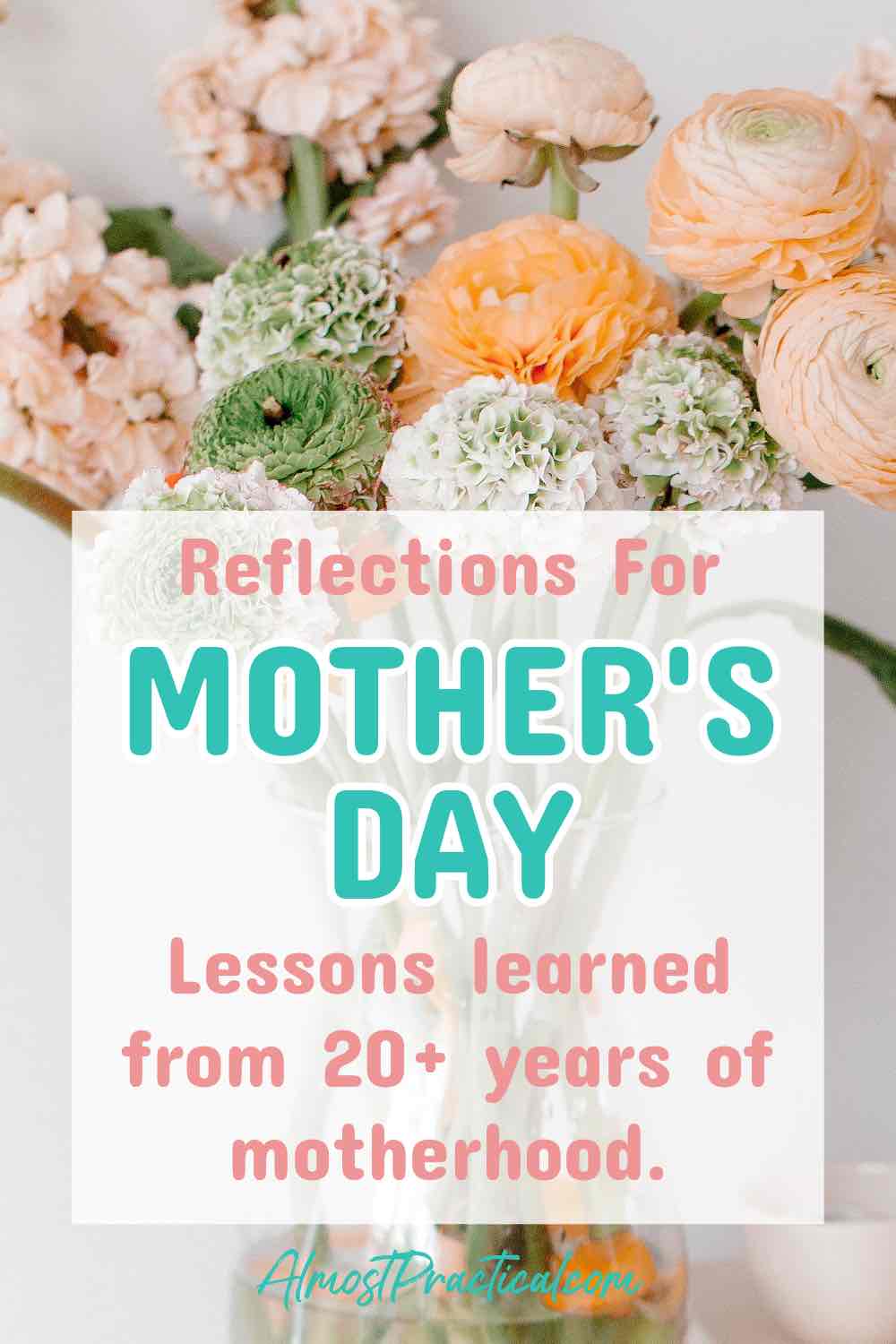 Not only is it Mother's Day, but it is also our anniversary.
Our oldest child is approaching twenty, so suffice it to say that we have been married a long time.
Events like these really make you reflect. Looking back on the years you think – "If I had to do it again what would I do differently … "
And when both events occur on the same weekend, I guess you become doubly reflective.
So this Mother's Day I am sharing some of my lessons learned.
Recognize the Value of Time
I would have managed my time better.
When you are young – you think that there is plenty of time ahead of you.
When you are a young mom, you are consumed with all things kids and home.
For many years I floated through the days without much of a routine.
I lived in the moment.
And while I enjoyed it, sometimes it felt like an endless treadmill. And because of that, I was always looking towards "someday" when I could do something for me and not so much for others.
Not only that, but I was frustrated by the realization that time was passing by and my skills outside of mothering, were getting a little dusty.
So, while I was doing what I wanted to do by staying home to raise my family, I wasn't doing everything that I wanted to do.
Create Concrete Goals
I would have set long term and short term goals for myself.
After I was out of the infant and toddler stage with my four children – I started learning all things internet and became a blogger.
Unfortunately, I really didn't have any set goals. Granted – blogging was new so it was uncharted waters.
However, I could have been more organized with my approach.
"Work" Time and "Play" Time
I would have created a daily schedule for myself.
When kids are little you are highly dependent on nap time for your own free time.
And when you have multiple children – well, the don't always nap at the same time.
As a result, I was always squeezing "work" time in whenever I had a spare minute. This was a highly inefficient process.
Not only were my work projects a bit disarrayed, but I wasn't able to be 100% on as a mom either. And wasn't that why I gave up my career to stay home with the kids in the first place?
A simple schedule could have done some heavy lifting for me in this area.
My Advice to My Younger Self
Looking back – all of my experiences brought me to where I am today. Each and every one was a learning experience. And I love where I am, so I am grateful for them.
But if I could do things differently … I would have incorporated more organization into each and every day.
Happy Mother's Day to all the moms out there!