As a blogging coach, I can tell you that everyone is in search of the magic bullet that leads to a successful blog.
They think that if they have the right platform, the right blog design or theme, the right hosting, the right "name any factor" then hoards of traffic will wind up on their doorstep.
Well, I can tell you that they are right – sort of.
There is a magic bullet – actually there are two. But it is not anything as simple as a new web design or fancy hosting.
The keys to a successful blog are these: consistency and organization.
So, before you even go about setting up your first blog, you need to understand what is going to happen to you on the back end.
People are usually pretty excited to start out online. They are looking at their blog as a way to connect with customers and leads online.
Perfect! That is exactly what it is for.
But after a few weeks or even months of churning out content – their interest starts to fizzle out because no one is really showing up.
And it seems like a lot of work for not much by way of results.
It's a shame really.
Blogging can be a wonderfully rewarding experience and a fantastic way to reach customers and new business. (Think about it – right now there are people who don't know about you yet – searching the internet for the exact services that you provide.)
However it only works with the right approach.
Believe me, I know. I have been at this a long time – and have made every mistake in the book and more.
Blogging Consistently
If you want your audience and the search engines to take you seriously – you need to blog on a consistent basis for a long time.
Most people set their sights too high and end up frustrated and disappointed.
They blog every day and wear themselves out. After all they usually have a job or a business to run. (Believe it or not – that same applies to people whose primary business is blogging.)
Behind every successful blog is a blogger that recognizes the power of consistency.
How Often Should You Post?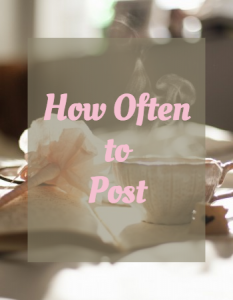 The first step is making a commitment to write regularly.
And lucky for us – "regularly" can mean a frequency that is just right for you.
Some people blog several times daily. Others once a week. And yet others once a month.
Some bloggers will tell you that they achieved success by posting in depth articles infrequently.
Others will tell you that you need to blog often to move ahead.
In my opinion – quality is always better than quantity because the search engines will penalize you for publishing thin content.
But I also feel that the more you blog the better it is, especially in the beginning when you don't already have lots of published content.
That being said, once a month is better than nothing.
So, let me ask you this. Can you commit to writing 12 articles …… per year?
That's right – 12 articles per year.
That translates to one article per month. And you can probably write them all in one weekend, if you commit to it.
Write them, schedule them, and your blog is "active" for a whole year.
That doesn't sound too hard, right?
Well, now what? You wrote and scheduled your 12 articles. Are you up for writing 12 more?
Now you are publishing twice per month.
Do this 4 times and you are publishing weekly content.
You get the idea.
Blogging consistently is not so much about writing as it is about getting over the mental block that keeps you from sitting down to write in the first place.
If the mountain seems too high, you won't even start climbing.
Your Blogging Goals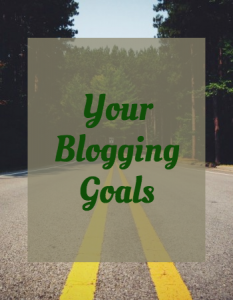 Another thing to keep in mind is your expectations.
In business, you don't do anything without setting a goal and measuring results.
The same thing applies to building a successful blog.
If you have a thriving offline business and want a "working" website where people can read about current developments in your field, find out about local events and workshops that you offer, or view your portfolio etc. then once a month might be often enough for you. (But as your traffic starts to increase – you might start forming a blogging addiction and post more often. 😉 )
Compare that to a blogging goal of increasing subscribers to your email list, selling your own courses or virtual consulting services, or making affiliate commissions. To be successful, these goals require more web traffic.
To get more traffic you should have plenty of sharable content on your website – which means that you would need to post more often.
Getting Organized for Success
To maintain a successful blog there are a few things that need to happen behind the scenes so you can stay organized and still be able to churn out fantastic information.
Creating an Editorial Calendar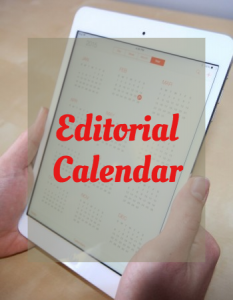 Once you get clear on your goals, it is imperative that you create something called an editorial calendar.
This may go against the grain of some free spirits (like myself) but I cannot stress the importance of having this framework in place.
My preferred way to write (the wrong approach!) is to sit down float around the internet, let an idea come to me, and start writing – with absolutely no plan in place and no direction.
As much fun as that is – can I tell you? It doesn't work.
The obvious reason, of course, is that you will face writer's block, the creative juices won't flow, and you will get nothing accomplished.
On top of that, blogging is not just about writing anymore. You need to do the research by finding other authoritative articles on your subject that you can quote, collect images and do whatever edits that are necessary, you may need to apply to an affiliate program and build those links, you need to schedule the social sharing of your post, and you need to take advantage of the time of year – meaning upcoming holidays, events, sales you might be offering etc.
Do you think that a retail store owner wakes up on December 1 and says "Oh wow! The holidays are this month? Let me figure out how to make this work for my business?"
No, of course not. Planning for the holiday season probably starts sometime in the summer, if not earlier.
Useful Tools for Your Editorial Calendar
To create an editorial calendar – you don't need anything really fancy.
At year end you always receive a bunch of free month at a glance calendars in the mail with big empty boxes for each day. These are perfect for mapping out your writing schedule.
If you wanted to get a little fancier – I really like the selection at Franklin Planner.
You could also just create a simple spreadsheet to get the job done.
Finally there are plugins that work right with WordPress like CoSchedule. What's neat about this is that it also has built in social sharing capabilities.
Information Overload
As you start blogging you will quickly find that you become inundated with information.
Throughout the day, every single day,  you will randomly find articles that you want to link to, relevant tweets and Facebook posts, websites that offer great images in your niche, training materials and courses that promise to teach you things about blogging that you need to know, snippets of code that you use repeatedly to format things in your posts, and paragraphs or calls to action that you type over and over again.
If you have no idea what I am talking about – don't worry, you will. Really soon.
It's called blogger overwhelm and it happens to the best of us.
Sometimes we get in so deep that we stop blogging just so we can catch up. Guess what is wrong with that strategy? You break the first key to a successful blog – blogging consistently.
So what can you do?
Well, before you even start – you can set up your infrastructure.
Where do you plan to save all these nuggets of information that come across your desk daily?
This Can Be Dangerous Territory
There are tons of apps and services that can help you manage it all. But this can actually create more problems than solutions.
I am sure you have been there – where you are trying out so many services that your data becomes scattered all over the internet.
You might start with Dropbox, move to Evernote, check out Google Drive and so on and so forth.
My recommendation is to start with just a few services and very judiciously add in new options one at a time.
My Top 5 Tools
Personally there are 5 essential tools that I use every day in my blogging process that I absolutely cannot live without. You can click here to subscribe for updates and grab my free report here to find out what they are.
In addition to those mentioned in the report, I also use the following:
Pocket to save articles that I want to read letter or mention in future blog posts
Google Apps for Work (now G Suite) to organize all my business related stuff
SmugMug to organize my photos
and a good old fashioned homemade card catalog to keep track of the myriad of training courses that I take each and every week
Cloud Storage is Essential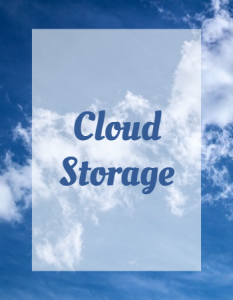 There is something to be said about having your information available to you when you need it.
As a blogger – you will constantly be collecting information wherever you are, on different devices.
You don't want to wait to sit down at your computer to put everything together. So choose a cloud service and stick with it.
One other thing to look out for – and this is hard to explain, but let me try. Some cloud services are purely just for storage. So, when you go to Amazon Cloud Drive for example – you will see a list of your folders and their contents. But if you want to use something in a folder, you will first need to download it to your computer to work with it.
Services like Google Drive, Office 365, and Dropbox allow you to work directly with the document in the folder.
Whichever service you choose – make sure that it works and syncs across all of your devices.
Why I Love Google Drive
Given all the many cloud services out there – I surprised myself by falling in love with Google Drive.
I use Google Apps for Business and Google Drive is a part of that. For about a year I kind of ignored it. But recently it has become a huge part of my workflow.
First, I only use it for business related stuff – so when I need a document for my business I know exactly where to find it.
Second, it syncs across all devices and has apps for mobile devices.
Third, it is very integrate with Google Docs and Sheets so I can easily create these on the go.
I believe that Office 365 works in much the same way but I have not tried it.
Getting Help When You Need It
The thing about blogging and organizing the whole process, is that there is so much to learn. Things change constantly. I have been blogging since 2007 and I am still taking training courses daily (I know that sounds crazy – but it's true) – as mentioned above.
To create a successful blog, you need to invest in yourself. And using a blog coach to help you figure it all out can save you time and money in the long run.
I would love the opportunity to help you grow your blog and your business – and I have several affordable blog coaching packages that you can choose from.
If you are seriously on the fence about what direction to take – don't stress about it for another minute. Schedule a free 15 minute "get acquainted" call with me – and tell me what's going on. Together we can figure out a course of action to get you unstuck.
Your Blogging Challenges
I know that for me to create a successful blog – I need to implement consistency and organization. If things start to go awry, I make improvements to these two areas to get back on track.
What are your biggest blogging challenges? And what tricks do you use to keep moving forward?
Tell me about it in the comments below.