Can you save images in PicMonkey? Yes, you can.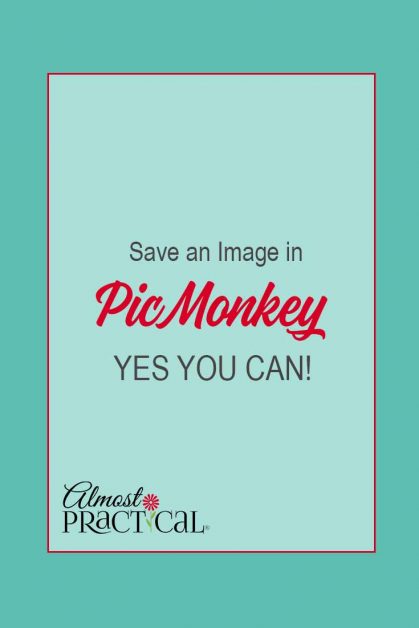 I have been a long time user of PicMonkey to create website graphics for my blog.
But, once upon a time, even on the PicMonkey Royale plan – you could not save your work. Meaning that you could not work on a project and come back to edit it later.
The workaround was almost comical. I would have several PicMonkey windows open in my browser for DAYS – maybe even weeks.
Luckily, all of that has changed.
Enter the HUB
PicMonkey has recently introduced a feature called the PicMonkey HUB.
It is only available to all members of PicMonkey – either Premium or Supremium. And it is such a huge game changer that it makes it totally worth it.
Related: How Much Does PicMonkey Cost and Is it Worth the Price?
The concept is simple – with the HUB, you can save your work and return to it later. You can read more about the HUB feature on the PicMonkey blog here.
Testing Colors and Fonts
I create many of my text overlays for the graphics in my blog posts with PicMonkey.
Sometimes they don't come out just right the first time. If the image doesn't perform well on social media, I will come back and edit the colors or the fonts slightly.
Creating Templates
I also don't like to reinvent the wheel.
Many of my blog images are in the same format.
Because I can now save images in PicMonkey using the HUB feature – I create templates all the time.
I have text templates, Pinterest templates, and Facebook and Twitter templates. You name it.
This has really saved me a lot of time.
Why Not Photoshop?
I know that being able to save images in PicMonkey may not seem like a big deal if you use other services like Photoshop.
But I am all thumbs when it comes to Photoshop. Just can't do it – the learning curve is too steep for my available time.
Other services like Canva or Stencil are awesome, too.
But when it comes to text overlays – PicMonkey really shines and can't be beat.
PicMonkey Premium
PicMonkey no longer has a free level. But you can sign up for a free trial and use the HUB feature to save images in PicMonkey with that.
Enter PicMonkey Supremium
There have been a few changes in the membership levels at PicMonkey.
PicMonkey Royale is now PicMonkey Premium. This level allows you to save 50 images or projects to your Hub.
There is also a new level called PicMonkey Supremium that allows you unlimited Hub storage and the ability to create collections of images (similar to folders) – which is great for organizing.
I upgraded to Supremium and have been very happy with it. In fact, I wrote about how I use PicMonkey and the exact process that I follow to create images for my blog posts.
Do You Use PicMonkey?
Tell us about your favorite photo editor in the comments below.