A Killer Shortcut for Checking Your Blog Stats in Record Time
This post may contain affiliate links which means I make a commission if you shop through my links. Disclosure Policy
As a blogger, I am somewhat obsessed with checking my blog stats.
How much blog traffic do I have? How much affiliate income did I make?
It's a problem. Because obsessively checking blog stats is a complete waste of time.
But no matter how hard I have tried, I can't quit.
So, you know what they say, "If you can't beat them, join them."
Instead of giving it up, I decided to give in to obsessive blog stat checking (it should be a syndrome, I think).
I just found a better way to do it.
And I am sharing my method with you – just in case you also suffer from blog stats checking syndrome.
How To Check Blog Stats Quickly
The secret to checking blog stats quickly is all in the browser.
You can set your browser to open several bookmarks at once.
So, all you simply need to do is create a folder of bookmarks that lead to the dashboard of each of your affiliate programs, stat tracking services, or even social media accounts (yep, you can use this method to quickly check social media, too).
Most browsers have an option to open all bookmarks in that folder in new tabs, at once.
When you do this, each bookmark will open in a new tab – and you can click through each tab to view each dashboard.
If the affiliate program has logged you out since the time of your last visit – it will usually redirect your bookmark to the login page.
I recommend using a password manager like 1Password (read my review here) to log in quickly without having to fumble with passwords.
Easy!
I will show you how to do it in Chrome – but I am sure other browsers have similar capabilities. Safari has a similar process, for sure.

How to Set This Up in Chrome
Set Up Your Bookmarks
The first thing you need to do is set up your bookmarks.
Visit the webpage that you want to bookmark and click on the little star in the right hand side of the address bar.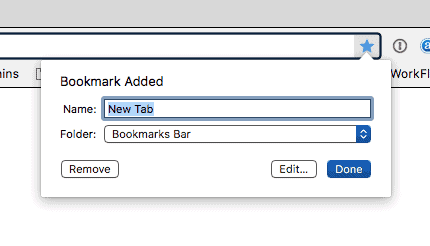 When you do this you will see a pop up window that asks you to name your bookmark.
By default it comes up with the Bookmarks Bar Folder (this is the set of bookmarks that appears under your address bar).
Chrome treats the Bookmarks Bar like a folder that contains all of the bookmarks that show up under your address bar.
And just like any other folder – Bookmarks Bar folder can contain subfolders.
This is exactly what you want to do – create a subfolder that will show up in your Bookmarks Bar.
How To Set Up A Subfolder in Your Bookmarks Bar in Chrome
So, building on our example – you visit a webpage that you want to bookmark.
You click the star in the address bar to save it.
In the drop down that appears, you name your bookmark.
Then you click on the arrows to the right of the Bookmarks Bar folder line, to open up that drop down.
Here you can click on the little triangle next to Bookmarks Bar (if it is there) to see what folders you already have in your Bookmarks Bar.
If the triangle is not there, then you do not have any folders set up yet.
Just make sure that you have the Bookmarks Bar line highlighted.
Then click on the New Folder button in the bottom left corner.
A new line will pop up under your Bookmarks Bar line with the words New Folder.
Rename this to something like – Blog Stats.
Now go forth and add.
Add Bookmarks for all the Sites You Check
Now that you have your Blog Stats folder set up in your Bookmarks Bar, you should visit all of the sites that you check regularly and save a bookmark for each one into this folder.
I have bookmarks set up for Amazon, ShareASale, Commission Junction, AppSumo, etc.
How To Open All Your Bookmarks at Once in Chrome
Once you have all of your bookmarks set up, simply right click on the folder in your Bookmarks Bar and you will see the following popup:
Select the first item – Open All Bookmarks.
This will open all of the bookmarks in that folder in separate tabs in your browser.
Now you just visit each open tab, login if you have to, check your stats, and move onto the next tab.
What a timesaver!
Watch the Video
It may seem kind of complicated – but the process is easy. I put together a quick video to show you how I check blog stats quickly.
The Hardest Part About Affiliate Marketing
Here is the thing that no one tells you about affiliate marketing – you can get disorganized very quickly.
Every program that you join can be hosted on different platforms. The more you blog – the more programs you join and it just becomes a black hole.
The method that I outlined above really helps me to keep track of my affiliate earnings.
But there are two more resources that have been so valuable to me.
Pretty Link Pro
Pretty Link Pro is a WordPress plugin that allows me to create custom affiliate links to use on my site and on social media.
The advantages are:
Your Links Become Nice Looking and More Clickable
Most affiliate programs give you links that are basically strings of gibberish.
People are afraid to click these.
With PrettyLink Pro, you can transform these gibberish links to something nice looking like this https://almostpractical.com/go/prettylinkpro.
TimeSaver: You Can Get Your Affiliate Links in One Place
Once you set up your links in PrettyLink Pro you don't need to go to each individual affiliate website as often to grab a link.
Just pluck the link from your WordPress dashboard and you are all set.
Since I am in my WordPress dashboard all day long – it's perfect.
Making Sense of Affiliate Marketing
The other resource that has been a wealth of information is the Making Sense of Affiliate Marketing Course.
Michelle Schroeder-Garner, the author, makes over $100K per MONTH from her blog.
In her course she outlines many effective strategies for growing your income from affiliate marketing.
While I am nowhere near $100K per month, my own affiliate income has been growing steadily since I took her course.
Now, one last piece of advice:
Limit the Time that You Spend on Checking Your Blog Stats!
Seriously …
Allow yourself maybe 15 minutes in the morning to cycle through your tabs – and that's it!
Then on the first of the month set aside more time to take a deeper look at your performance over the month.
Even the BlogMaven agrees with me on this one. She has a great list of time management tips for bloggers and number 8 – well, you guessed it, stop that stat checking!
Your time is much better spent creating new content than poring over stats.
Happy blogging!