BigScoots Hosting Review – The Website Host That I Use
This post may contain affiliate links which means I make a commission if you shop through my links. Disclosure Policy
I firmly believe that you should get the best hosting that you can afford, especially if your blog is your business. I use BigScoots hosting and couldn't be happier.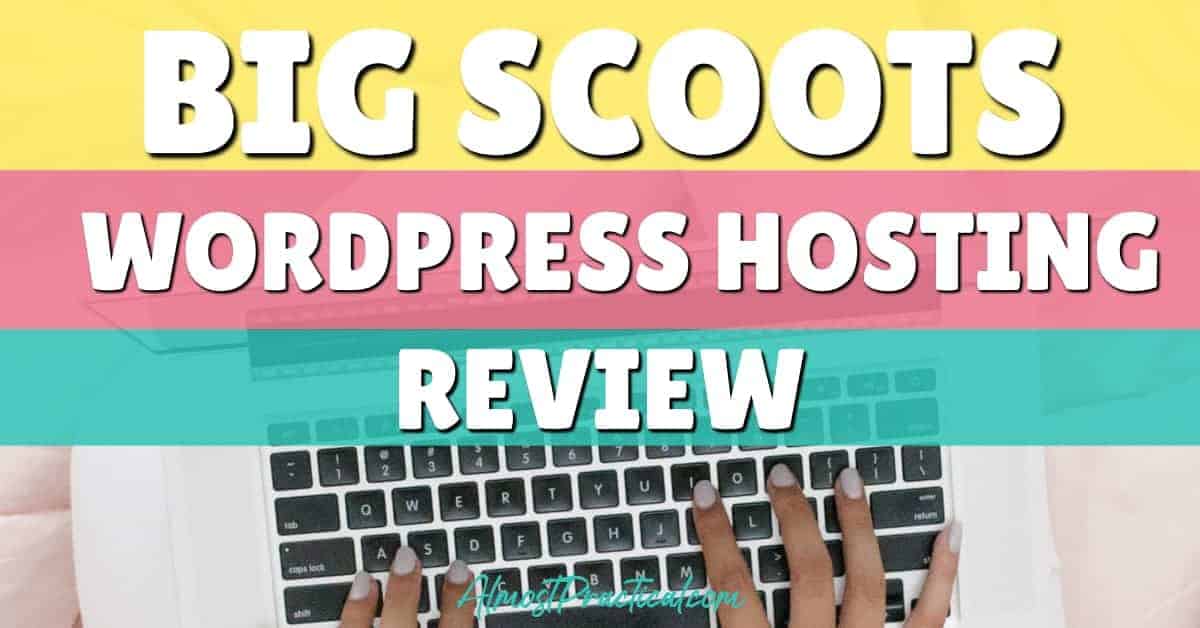 BigScoots offers a variety of WordPress hosting plans to fit every budget and great customer service – which is key.
Also, you can easily move to a bigger plan as your blog grows.
CLICK HERE to explore BigScoots WordPress Hosting Options
You want the best hosting you can afford because:
your time is valuable – use it to create content for your blog, not to deal with technical difficulties
to make money with your blog, your hosting has to be reliable – a slow website or a website that is down does not get traffic.
BigScoots Offers Affordable Shared Hosting Plans
When you first start a blog using WordPress, you are usually on a shoestring budget and are looking for the cheapest option.
For this reason, most beginner bloggers start out on what is known as a "shared hosting plan".
Some hosting companies offer a deep discount on shared hosting plans for the first year and then jack up the price when you renew.
BigScoots on the other hand is very transparent with their pricing – which I love.
Most of their plans have a monthly option, with a discount for signing up for one or two years.
Related: Understand the Difference Between WordPress.org and WordPress.com
BigScoots Managed WordPress Hosting Offers Peace of Mind
Personally, my blogs are on the Starter BigScoots Managed WordPress hosting plan.
This plan includes things like:
SSL
email
CDN
DDoS protection
Backups, and
Enhanced Security
This means that I don't have to worry about all those things.
And it's a good thing too – because I don't really know much about them.
My learning curve would be huge and would involve a lot of trial and error.
The BigScoots Managed WordPress hosting Starter Plan (the one that I am on) includes one site for a reasonable monthly fee. You can also add a second site for a lower add-on rate, which is what I did for this blog.
While the monthly fee is more than a shared hosting plan, I do earn more than that per month from my blogs. I look at the hosting cost as an investment in my business.
Related: How to Choose the Best WordPress Hosting for Your Blog
BigScoots Has Great Customer Service
When it comes to website hosting, customer service is key.
You need someone on the other end who is responsive, understands WordPress, and gives you confidence that they know what they are doing.
Even more important, sometimes you just want to know that someone is there that you can rely on.
When it comes to my blogs, sometimes I freak out unnecessarily – it's a psychology thing, I think I have been burned by bad hosting experiences in the past.
So, I am so grateful for Justin at BigScoots – because he is just so calm and helpful. 😉
Why I Like BigScoots Hosting
BigScoots hosting offers a solid product, reasonable prices, and great customer service.
What more could I ask for?
Be sure to check out BigScoots hosting here.
Happy Blogging!