What Can Echo Dot Do to Make Life Easier for You?
This post may contain affiliate links which means I make a commission if you shop through my links.
 Disclosure Policy
You might be wondering what can Echo Dot do to make your life a little easier? Why do you need one?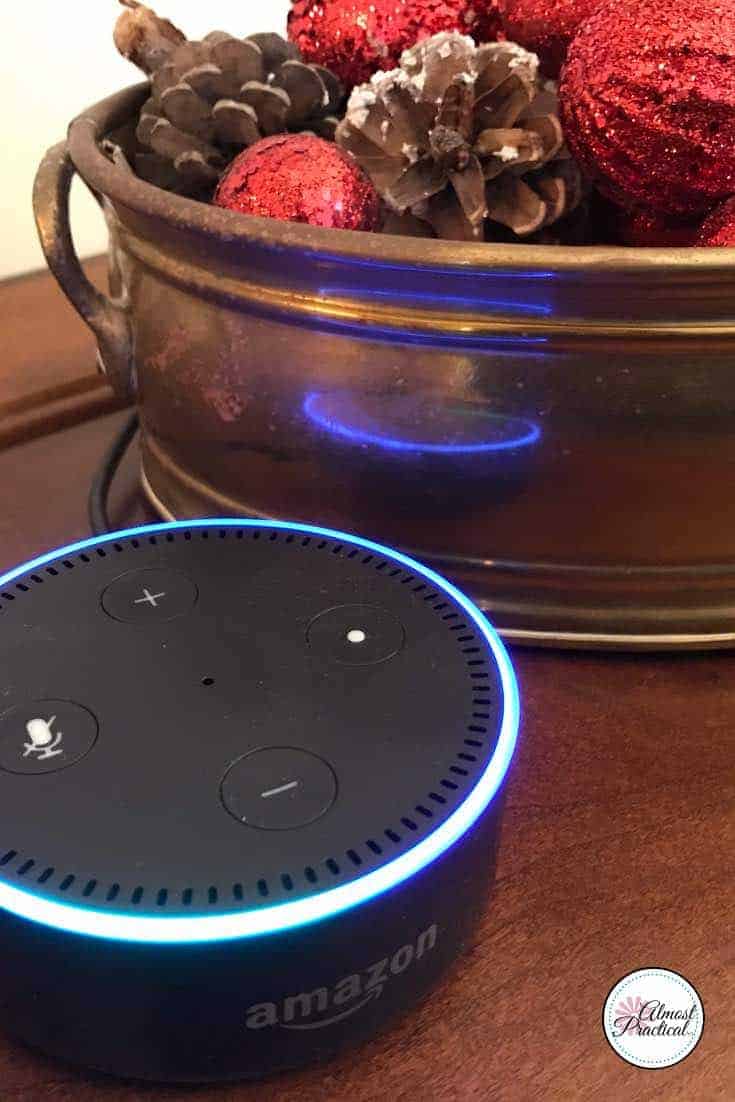 I am now the owner of several Amazon Echo devices – but the Echo Dot was the first one I ever got.
And once I get something – I like to really put it through the paces. After all you want to get your money's worth, right?
So, before I got my Amazon Echo Dot, I knew that I could use it to do things like:
check the weather,
listen to some news,
possibly play music.
That sounded pretty average for a digital assistant, honestly. Nothing exciting.
What can Echo Dot do that really makes it worth getting, I wondered.
Well, it can actually do a lot!
Echo Dot vs. Amazon Echo
In fact, it can do everything it's big brother, the Amazon Echo, can do.
The main difference between the two is the quality of the speaker.
That's it really.
So, if you wanted to test drive the Amazon Echo but you didn't want to invest a lot, then the Echo Dot is a great option.
Related: The Ultimate Amazon Echo Buying Guide
Here are some of the ways we use the Echo Dot right now.
How to Use Echo Dot in Your Home
When you get your Echo Dot, the first thing you want to do is figure out where you will place it. (You can easily move it later, but at first you have to put it somewhere.)
If it is the only Echo device that you have – you should choose a central location. The microphone is really good and will pick up sound from pretty far away.
This means that you should be able to communicate with the Echo Dot from an adjacent room as long as there is not other external noise.
I placed my Echo Dot in our living room which is very close to our kitchen. I could communicate with it while I was cooking, if I raised my voice slightly.
Download the Alexa App
The thing to remember with any Echo device is that it is all controlled from the Amazon Alexa app on your smartphone or tablet.
Therefore, the first thing that you want to do is download that app from the Apple App Store or the Android store.
I use an Apple iPhone so that is what I am most familiar with.
Once you have done the Amazon Echo setup and added your Dot to your account – you are good to go.
The Basics
As I mentioned before, you can use the Echo Dot to do simple things like ask Alexa to:
check the weather
give you your flash news briefing
tell you the time
You can setup your preferences and time zones in the Alexa app.
Beyond the Basics
There is a long list of Amazon Echo commands that you can use to control your Echo Dot.
What Can Echo Dot Do? Why, Math, Of Course!
Despite being a former accountant, I am the worst at doing math in my head.
I often ask Alexa to add numbers together when I am paying bills, or working with measurements (for cooking or just hanging a picture on the wall).
Set A Timer Or Alarm
I used my Echo Dot so much to time things while cooking, that I actually upgraded to an Amazon Echo Show for the kitchen.
Nothing beats a voice activated timer for a cook who has her hands full!
If you have your Echo Dot in your bedroom – you can set an alarm to wake you up in the morning.
This is how you set an alarm with Alexa and this is how to change the volume and sound of the alarm on your Echo Dot.
Research the Net
Beyond calculations, you can ask the Echo Dot to look up facts for you.
"Who was president of the US in 1948?" Or "When do the Steelers play next?"
I was having a lively discussion with my kids about demographics – "What years were Generation X people born in?"
Shop on Amazon, Order a Pizza, or an Uber
I haven't used my Echo Dot for these things – but apparently it can help you out here too.
Can Echo Dot Play Music?
The Echo Dot Has a Speaker
The answer is yes. The Echo Dot does have a speaker, it's just not as robust as the on in the bigger Amazon Echo.
If you really want good sound, then you can connect your Echo Dot to an external bluetooth speaker or use a cable to connect it to an external stereo system.
Or you can just get the Echo instead of the Echo Dot.
You Probably Have Access to Music
If you have Amazon Prime, you can stream many songs (choose from 2 million) and radio stations as part of your membership.
You can also upgrade to Amazon Music Unlimited for access to a huge music library of 10 million songs.
This article explains the difference between Prime Music and Amazon Music Unlimited.
The Echo Dot also works with some music streaming services like Spotify or iHeartRadio.
As for Apple Music, well, you can probably stream it to your Echo Dot using one of these methods as outlined by NoteBurner.
Create a SmartHome with Echo Dot
What can Echo Dot do beyond entertainment? People don't think about it, but you can create a smart home environment with that small device.
You will need smart plugs, lightbulbs, and compatible accessories and appliances – but the Echo Dot gives you the power to control these devices with your voice.
For example, this year we plugged our Christmas tree lights into this set of smart plugs. Every day Alexa would turn these on and off for us.
Brilliant.
Here are some Alexa compatible devices that you can control with your Echo Dot:
The list of Alexa compatible devices continues to grow. And you can control them with your Echo Dot.
Echo Dot Can Do Lots of Things
You can see that the Amazon Echo Dot can do much of what the standard Echo can do – the difference being the quality of speakers.
It's an affordable way to get started with Alexa, to see if you like it.
Do you like your Echo Dot? Tell us in the comments below.