How to Save Your Images as JPG not HEIC in iOS11
This post may contain affiliate links which means I make a commission if you shop through my links.
 Disclosure Policy
If you are running iOS11 on your iPhone or iPad then you may have discovered that Apple rolled out a new High Efficiency Image File Format with this new operating system.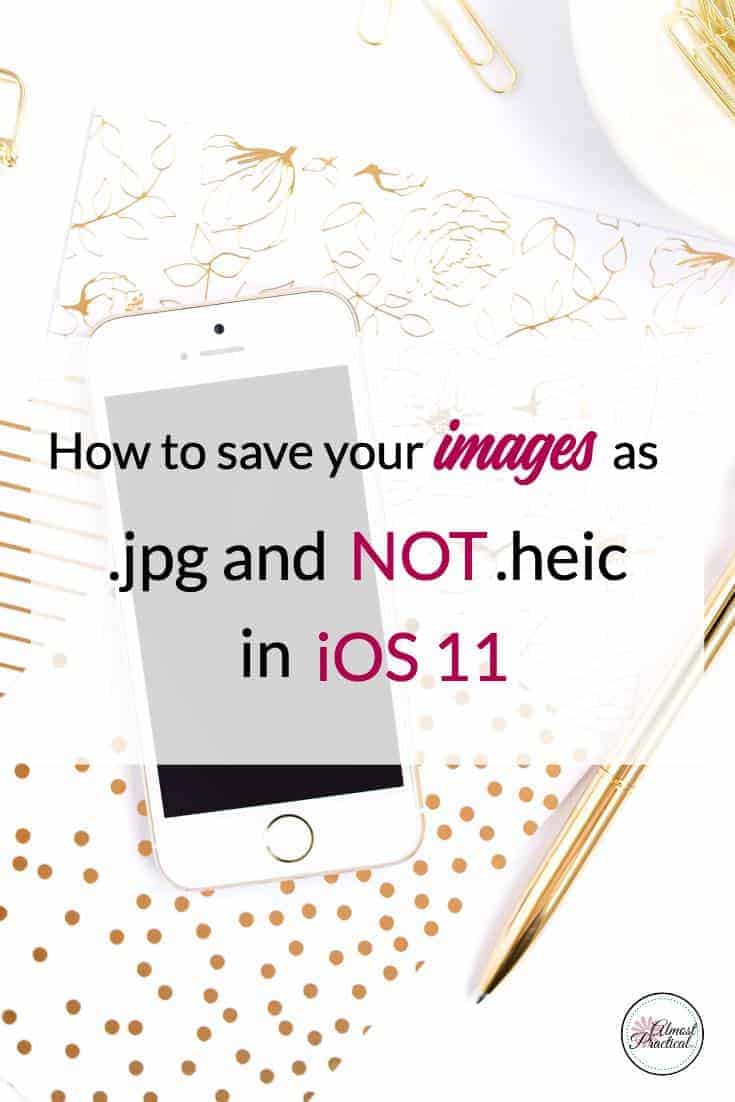 The thing is, you may not want this. So this is how to save your images as JPEG in iOS11.
The new High Efficiency Image File Format has a .heic extension as opposed to the .jpg that most of us are accustomed to seeing.
Related: Understand Common File Types and Extensions
And being that the extension is so new – some photo storage services or apps (like WordPress) that you use may not recognize it yet.
I was first alerted to this problem in one of my Facebook groups.
Luckily, there is an easy fix.
How to Change from .HEIC to .JPG in iOS11
On your iPhone, just navigate to Settings–>Camera. Then tap on File Formats.
This will give you two options for Camera Capture (high efficiency and Most Compatible).
If you choose most compatible it will save as a JPEG file and not the .heic.
When I upgraded to iOS11 my camera settings remained on the "Most Compatible" setting, which is JPEG – but it seems that for a few other people their settings were set to the new .heic.
Check Your Settings
This technology tip may not apply to you.
But it is a good idea to check your settings so you don't end up with a bunch of .heic files when what you really wanted were .jpg's.
If you do end up with the wrong file type, you can use this converter to convert .heic files to .jpg (thanks to The Verge for sending me in that direction).
Wondering What Else is New in iOS11?
With every iOS update, Apple introduces so many features that it is hard to keep up.
Here is a nice roundup of all the new features in iOS11.