How to Take Charge of Your Digital Clutter
This post may contain affiliate links which means I make a commission if you shop through my links.
 Disclosure Policy
Digital clutter is a huge problem for bloggers.
Most of our work is done online.
We research, write articles, create graphics, take blogging courses, work with affiliate programs, work with other bloggers, and visit tons of websites on a daily basis.
Despite my best-laid plans, I end up having tons of digital clutter all over my computer.
I'm sure you've been there too.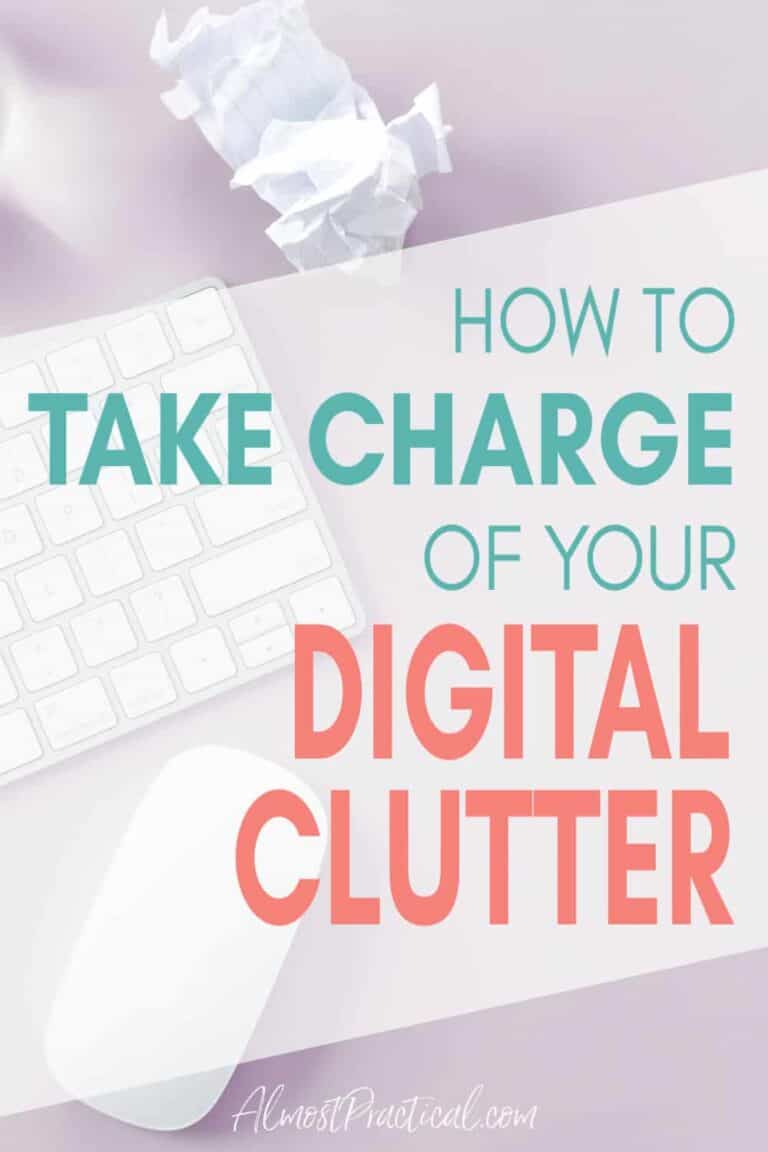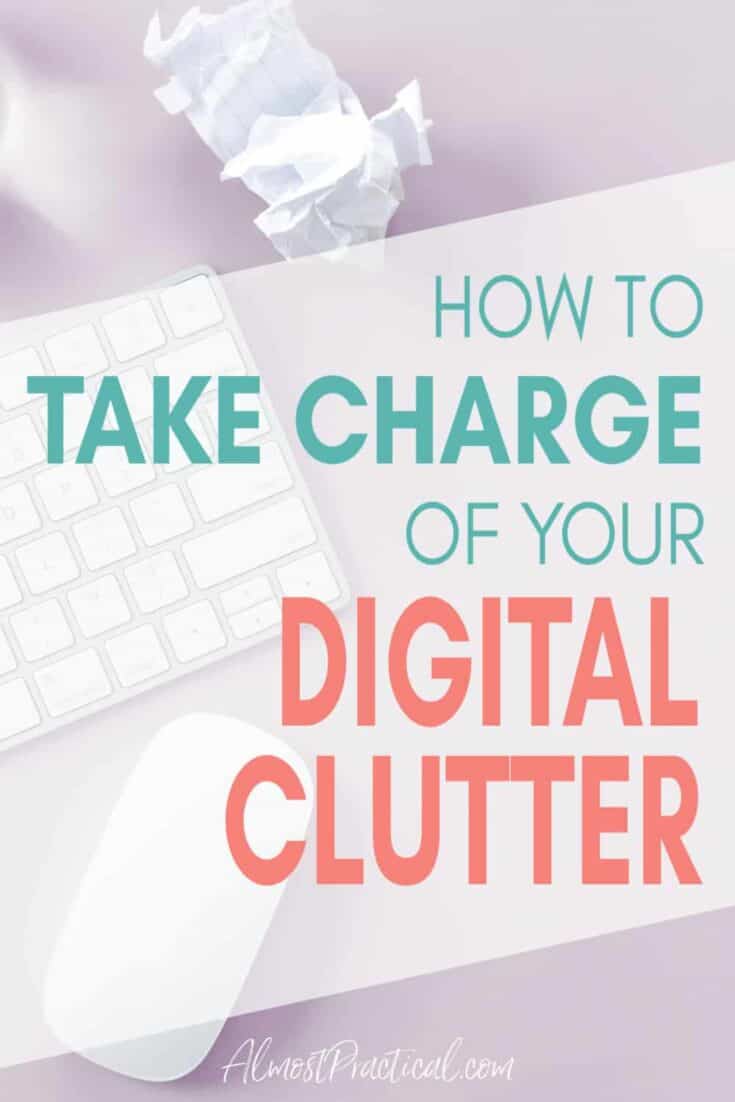 You download something that looks interesting but you don't have time to read it.
So you stash it here or there and before you know it – your computer is a mess.
I have a few ideas for managing this digital clutter that I can share with you. Hopefully, this will serve as your starting point to creating a system that works for you.
Related: Paperwork Organization Guide – How to organize your papers at home.
Manage Your Digital Clutter With A Three Step Process
Even though you may feel like you are buried in digital clutter, the process for digging your way out is simple.
Pick services that can handle your needs.
Create a system.
Write it down on a cheat sheet.
If only putting this into practice was as easy as the theory behind it. 😉
Pick Services That Can Handle Your Needs
This first step to taming digital clutter is the hardest one.
At this point you have two things working against you.
The sheer volume of the digital files that you need to organize can be overwhelming.
There are way too many wonderful options to help you get your digital life in order that it is paralyzing.
Where Will You Store Everything?
As a blogger you need access to ample storage for your digital assets.
Personally, I like to have these at my fingertips no matter what device I happen to be on.
This means that I need a cloud service – storing things on my computer won't do.
I also need access to spreadsheets and word processing documents.
People send me documents that were created in Word or Excel all the time – so I need an easy way to work with these.
Three options that I like are
Right now I use Google Workspace and have organized all of my business related files here. But I have also started using Dropbox for storing images.
What I like about all these options is that they come with ample storage for all the files you need for blogging.
By keeping all of your business files in one place, you are never second guessing as to where that one file that you need might be.
Storing Your Photos
Bloggers use photos. Lots of photos.
Whether you take your own or work with stock photos, you will end up cropping, resizing, adjusting, and adding text to the photos that you use to illustrate your blog posts.
Sometimes there are a lot.
For a recipe post, I usually take tons of shots as I try to get the lighting just right. I usually keep all of the photos, even the ones I don't use because – well, you just never know.
Options for storing digital photos include:
Where Will Capture Random Ideas?
As I go about my day – I get a ton of ideas for new blog posts. They just come pouring at me.
Then, I sit down at my computer and … nothing. Nada. Blinking cursor and not a word on the page.
When inspiration strikes, you need a central place to capture it all.
Again, Microsoft 365 or G Suite by Google are great options. You can keep a running spreadsheet with ideas in either app or with Microsoft you could use their One Note app to keep you organized.
Other options are Evernote, or a good, old-fashioned paper notebook.
I have this whimsical purple and gold "Brilliant Ideas" notebook from Eccolo which I love.
Whatever option you choose, just use it consistently.
How About Your Blogging Courses and Research Materials?
I organize my blogging courses in my Google Drive inside a folder called "Training".
The first item in this folder is a simple spreadsheet that serves as an index and create subfolders for each author or title (whichever is more memorable to me).
I have outlined how I organize my ecourses here.
For my research, I use Evernote because I love the web clipper – but I have been exploring Notion as well.
I can quickly add articles to a research notebook and refer back to them later.
Another good option is the Pocket app.
Don't Forget Your Passwords
The more you do online, the more passwords you create. It's inevitable.
I have found the 1Password App to be a great option for creating and storing passwords securely.
Many browsers like Safari and Chrome offer to save your passwords but this scares me. I have seen so many people rely on browsers to prefill their passwords and they have no idea what the password is or where it is stored.
Whatever password manager you choose – please educate yourself on how it works and it's security features.
Related Post: Why You Need 1Password
Create a System to File Your Digital Clutter
By this point, you should have a good idea about what services and apps might work best for you. You probably will end up using either Microsoft 365 or Google Workspace.
Now you need to figure out what to do as new digital files come across your desktop.
Typically I will create a holding folder for new files and then I will process them daily.
For example, I might download some graphics for an affiliate program that I belong to. I have an affiliate program folder in my Google Drive.
Inside that folder is a master spreadsheet with info about all the affiliate programs that I belong to and individual folders with digital assets for each program.
On any given day, if I create things for these programs I know exactly where to file them.
Basically, I have a system.
Which brings us to the next step.
Related Post: How to Organize Your Computer Desktop for Maximum Productivity
Document Your System
Some systems are simple. You just know what to do.
But sometimes they are a little more complicated.
When I create a blog post, sometimes my actual computer desktop has digital clutter all over it. Photos, screenshots, interesting things I downloaded during my research that are completely unrelated, etc.
I have found that having a cheat sheet or checklist that documents my system is extremely helpful.
For blog posts, I use a recurring task list in CoSchedule.
But for other tasks I will go low tech and create a paper checklist that I can pull out when I need it.
Your Tips for Taming Digital Clutter
What systems do you have in place to handle all the digital clutter that creeps onto your computer?
Be sure to subscribe to the Almost Practical Organizing Newsletter for more organizing tips.
If paper clutter is a problem, learn how to create a home filing system that works for you here.