My Best Organizing Advice Ever – 10 Ways to Create An Organizing Mindset
This post may contain affiliate links which means I make a commission if you shop through my links.
 Disclosure Policy
Today, I bring you my best organizing advice ever.
Most people think of me as being really super organized.
But I can tell you that I am far from it.
There is always more to do and redo.
It's a never ending treadmill.
The key to being organized is having reliable systems in place so you can put things where they belong and get on with your day.
But, even with the best systems, you tend to collect a lot of stuff that you need to find time to sort through.
And that is when the overwhelm sets in.
So, my best organizing advice has nothing to do with organizing at all.
It's really all about creating an organizing mindset so you can approach the task with the right attitude.
I think you will get more done that way.
1. Go Easy on Yourself
Clutter has a funny way of creeping in on you.
You might be chugging along quite nicely and suddenly the holidays hit, or you go on vacation, the kids come home from college, or life just happens.
Suddenly, you can't find things, the laundry piles up, and your paperwork is all over the place.
It's not unusual and it's not you.
Instead of berating yourself for being so disorganized, be kind and focus on the solution instead of the problem.
Often, a messy house is the result of just being too busy.
2. You Can't Do It All At Once
When several areas of your life are out of control, it is very overwhelming.
It is easy to get lost.
Where do you start? What do you do first?
Sometimes you have to look at the trees and not the forest. Because organizing a forest is crazy – but dealing with just one tree is totally doable.
3. Prioritize Based on Impact
This item is actually my very best organizing advice, so give it special attention.
They say that the squeaky wheel gets the grease so you have to determine what "squeaky" actually means.
Usually, something money or health related takes top priority.
If you are not paying your bills on time because of disorganization, you have to fix it so you don't lose money to late fees and bad credit.
Likewise, if your health is suffering because of a disorganized situation, then this is the area that you should tackle first.
It's Not As Logical As It Seems
This might seem like common sense, but organizing according to priorities is hard.
Why?
It's because what you have to do first or what you should do first – well, this thing – it is not always the easiest thing to do.
Paperwork is tedious.
No one really wants to do it.
It is far easier to put on some music and clear out the messy closet in the guest bedroom.
But then your bills won't get paid, and you will still have that stress.
4. Stay Focused
If you've ever started out cleaning the junk drawer in the kitchen, headed to the upstairs closet to put something away, and found yourself sorting linens you know what I mean.
Start one project and stick to that project.
Force yourself to get the junk drawer done and save your linens for another day.
5. Be Aware of Your Time
Sometimes we don't finish an organizing project because we don't allow ourselves enough time to do it.
This is on my list of best organizing advice because it is important to understand your limits.
If you have an hour to devote to a decluttering project – pick something that you can either reasonably finish in that time frame, or that you can do in phases.
Set a timer for 50 minutes, and give yourself 10 minutes to finish up or put things away and prepare for phase 2.
Related Post: Time Management and Productivity for People Who Can't Get Organized
6. Be Aware of Your Capacity
If you have no time constraints, it might be tempting to allow yourself a whole day to organize.
But halfway through, you might get bored or distracted.
Be realistic with how much organizing you can handle all at once and plan accordingly.
7. Brace Yourself for Emotions
Organizing a junk drawer is a different experience than organizing old photos, kids artwork, or your parent's attic.
When you tackle a project that has strings attached you might experience emotions – both good and bad.
Getting back to the previous 2 points, allow yourself time to feel and decide what to do with those memories.
8. Train Your Family
Your family can be your greatest source of joy and also, frustration.
Those people that live in your house, the ones that you love, oh so much – well, you might think that they are out to get you.
After spending hours organizing, all it takes is one person to use something and put it back in the wrong place to set you over the edge.
This is a tricky one, you can try using labels but often it comes down to hosting a little tour of the redesigned space, constant repetition, and maybe a two by four to hit them over the head with 😉 – just kidding.
9. Don't Compare Yourself to Others
The comparison monster is just a saboteur no matter what area of life you are dealing with.
Organizing is no different.
I was just reading an article about someone's morning routine that involved workouts, healthy breakfasts, happy children, and a tidy home.
Honestly, it felt like I was in the Twilight Zone.
As I sit here and type this in my pajamas at 11:00 am.
My schedule works for me right now, and I am ok with that.
A completely orchestrated morning sounds amazing, but at this point, for me that would actually add a lot of stress.
The best organizing advice is to fix the things that aren't working for you – the things that are having a negative impact on your life.
Leave the stuff that works alone. And don't go comparing yourself to others.
10. It Doesn't Have to Be Perfect
I will leave you with this last point.
Whatever you do, it doesn't have to be perfect.
The notebook you use for your to-do lists can be full of cute printables or it can be a cast off from one of your kids.
Your pantry can have all matching containers or a neat row of snack bags with chip clips instead.
Whatever methods you choose to get yourself organized should be easy enough for you to use daily.
They don't have to look pretty but they do have to be functional.
Related Post: Which Planner Layout is Right for You?
What is Your Best Organizing Advice?
Share your thoughts in the comments below.
Pin This To Your Favorite Organization Board on Pinterest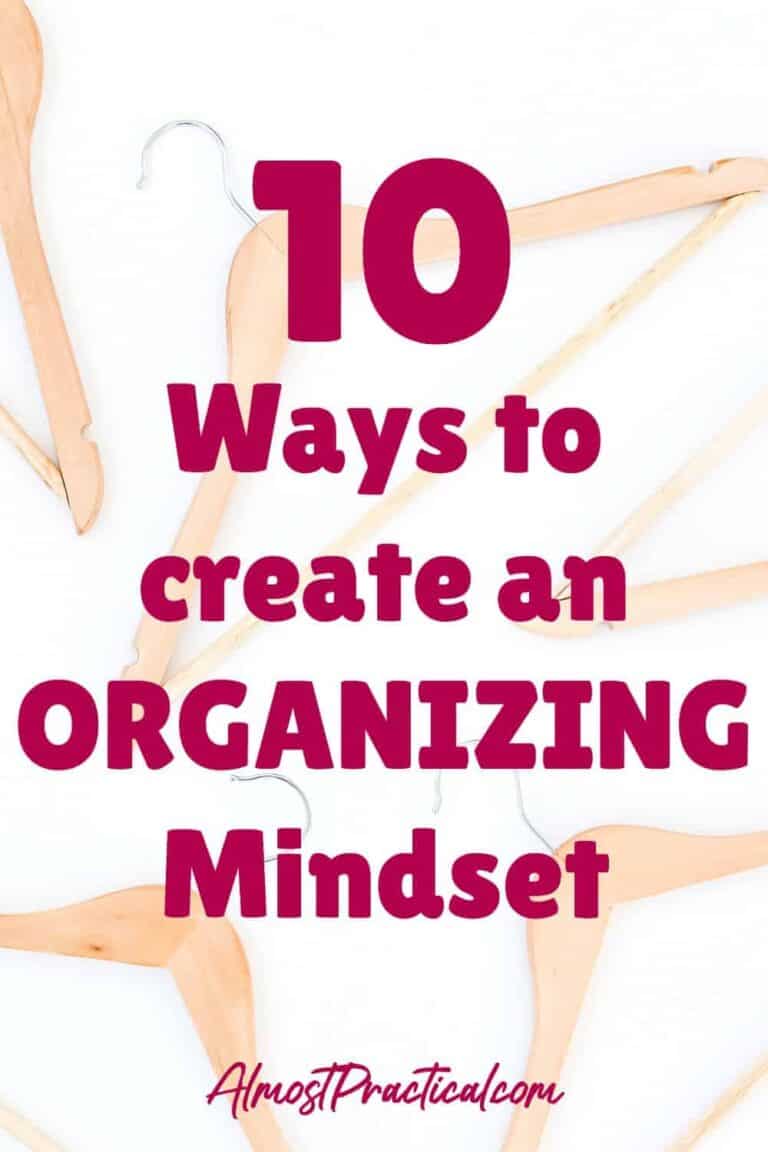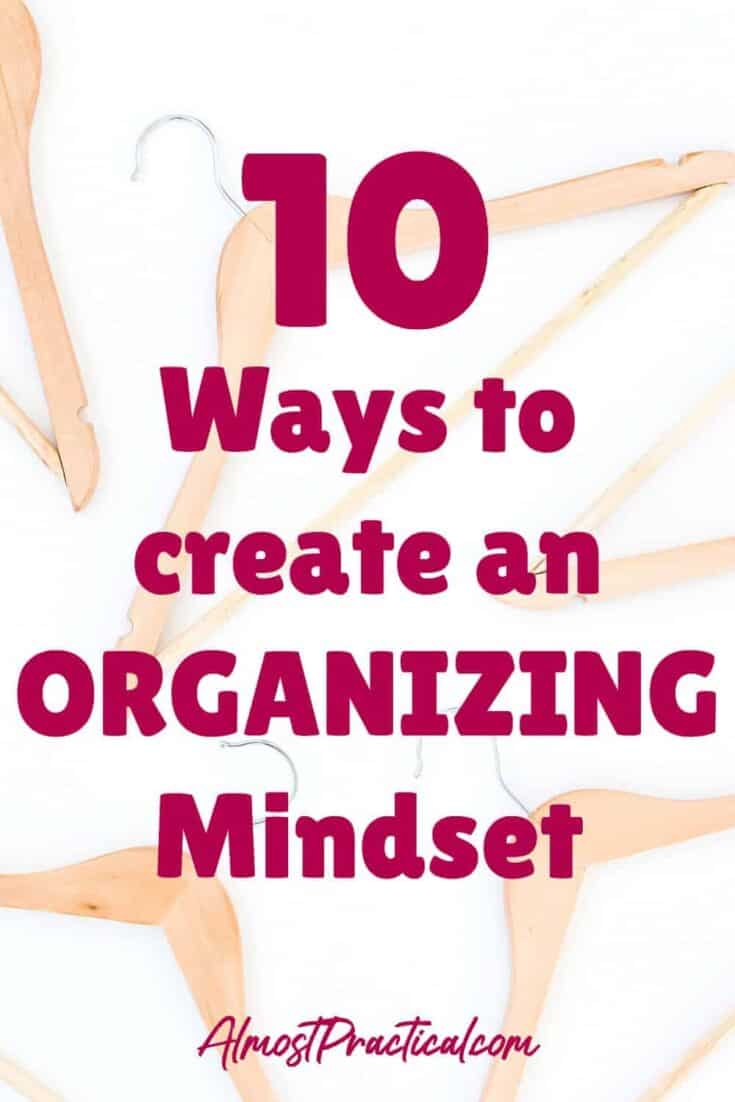 Organizing Book Reviews You Might Like