Organize Your Computer Desktop in 5 Minutes or Less!
This post may contain affiliate links which means I make a commission if you shop through my links.
 Disclosure Policy
Don't let a messy computer disrupt your productivity. Use this simple way to organize your computer desktop (or laptop) screen in 5 minutes or less.
In a nutshell:
Choose a plain computer background or wallpaper to reduce visual clutter.
Create a Virtual File Cabinet to file all your projects and documents.
If you are short on time, use the quick method: create a new folder on your desktop and sweep all the random files that are on your screen into it and schedule a time with yourself to sort through it (this is very important!).
Your desktop will now be neat and uncluttered.
How Organizing Your Computer Desktop Will Help Your Productivity
When you open your laptop are you staring at a cluttered screen with pictures of your kids and random files and folders that are scattered willy nilly? (Yes, I said willy nilly.)
Believe it or not, a messy computer desktop is affecting your productivity AND it is costing you time and energy.
If you spend more than a few seconds looking for that one file that you know is somewhere right in front of you – you are wasting time.
The chaos on your screen is what I call eye pollution.
The background and the randomness is so busy that it is mentally exhausting, even if you don't realize it.
We all do it. Storing files and programs on your computer desktop is convenient. When you are in the middle of a project, it is hard to take the time to create a new folder or file away the thing you are working on.
You think that if the file is right there on your desktop you will easily be able to find it.
But things can quickly get out of hand.
Luckily, there is a better way. You can organize your computer desktop to work FOR you, not against you.
This is how.
Treat Your Computer Desktop Like Your Primary Workspace
Think of your real desktop.
Your actual, physical desk – the one that your computer sits on. What happens to your mindset when it gets messy?
Imagine that there are piles of papers everywhere and you can't find anything. (And if your home office desk is really a mess, then this is how you can clean off your desk in 5 easy steps.)
Your stress level goes up, right?
You spend time looking for things and you panic when you can't find something. You want your work surface to be clean and neat so you can focus on the task at hand.
The same holds true for a computer desktop.
Whether you are just reading on the internet, or creating documents – you want the background to be an uncluttered space that doesn't distract you from what you are doing.
You also want files that you need immediately right at your fingertips. I use a Mac but it really doesn't matter whether you use a Windows PC or a Mac – the concept is the same.
Step 1: Change Your Computer Background
I know that it is tempting to use that cute picture of the kids or your latest vacation shots as your computer desktop background.
But all of those colors and the busy-ness are a recipe for distraction. A busy background makes it very hard to visually find the actual files that are on the desktop.
It may sound boring but the best option is to choose a solid color for your desktop.
I use a soft, light blue – but any solid color will do. If you can't bear to use a solid color and you must use a photo – pick a calming image. Maybe a picture of the ocean or beach from your last vacation.
Showcase your photos in your screensaver instead of your wallpaper.
People will still be able to view them when you are not using your computer.
Related:
Step 2: Organize Your Files and Folders
Now that your computer desktop background is squared away and you can actually see the files and folders that are strewn about – it is time to put these in order.
You need to create a file structure that you can rely on to file away your documents.
Create a Virtual File Cabinet
You could use your Documents folder and create subfolders within.
I happen to use a folder that I named "File Cabinet" and file everything in that.
I set up subfolders to mirror the folders that I would keep in a real world file cabinet.
Use the Quick Method
Depending on the number of files you have on your computer desktop – you could be facing a large filing project.
If you don't have the time to deal with it right now – this quick method will help you do something immediately.
Instead of procrastinating, create a single folder called "Unfiled Stuff" and keep it on your desktop.
Now move everything that you don't know what to do with into this folder.
Your desktop will be uncluttered, and you know that you will have to deal with the contents of this folder at some time in the future.
Now look at the screenshot below: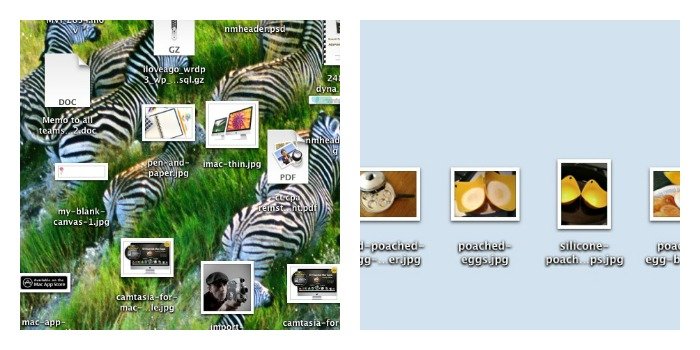 What a difference, right?
My background is soothing and the only files visible are the ones that I am using right at this moment for writing a post (looking for a poached egg recipe, anyone? 😉 )
Once I am finished with those photos, I will either move them into my photos app – or I will upload them to Dropbox or Google Drive and get them out of my workspace.
What Does Your Computer Desktop Look Like?
Is a cluttered desktop getting in the way of your productivity?
Cleaning off your computer desktop screen may seem like a painful task. But it only takes 5 minutes to change your background or wallpaper to a solid color, create a virtual file cabinet to organize your subfolders, and create a catch all folder to process later.
Tell us what works for you in the comments below.
More Articles
Find more information on taking charge of your digital clutter here.
What People Are Saying
"I downloaded your how to clean your desktop from your website and I did it… thank you! now i'm super clear and have been meaning to do that for awhile. Love my new "file cabinet "
-Stefanie Stavola, Health Coach