How to Create a Household Budget Planner That Works for You
This post may contain affiliate links which means I make a commission if you shop through my links.
 Disclosure Policy
One of the things that I have always struggled with is creating a budget planner for my household finances.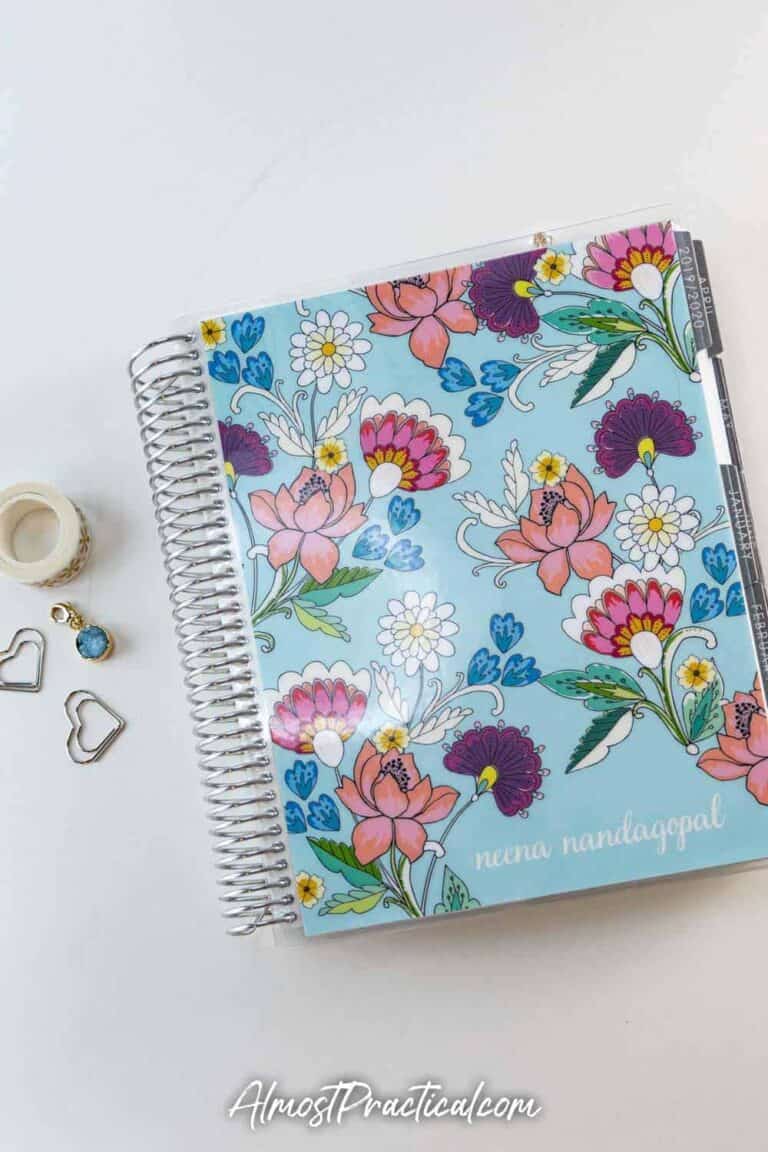 I have tried so many different binders, notebooks, and systems.
But nothing stuck and I would always end up starting over back at the drawing board.
Well, this year I tried something new and so far I am loving the system that I created.
I am actually using an Erin Condren Life Planner in a weekly vertical layout to track my finances.
I know it is unconventional but it is working really well – so I wanted to share the system with you, in case you are looking for an outside of the box solution, too.
Features I Need In a Budgeting Notebook
Everyone has very different needs for tracking their finances.
A student or a single person may find that something simple and structured like the Erin Condren Petite Planner Budget Book might be perfect for their situation.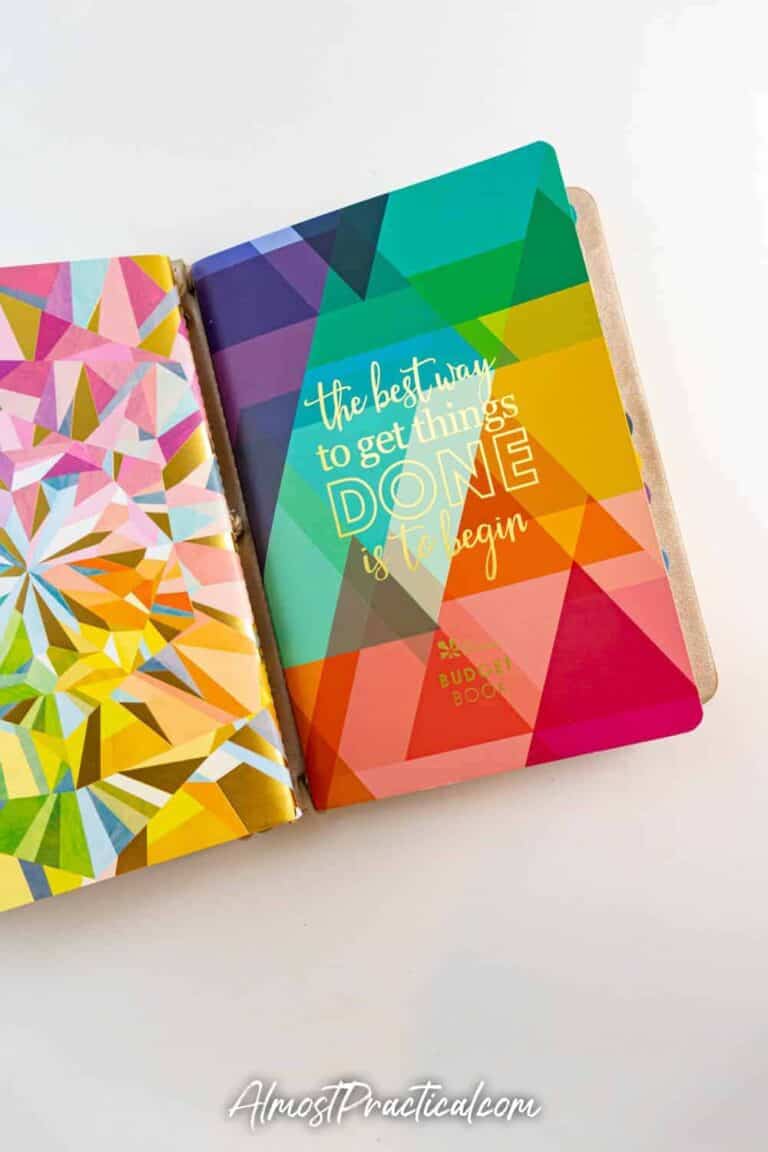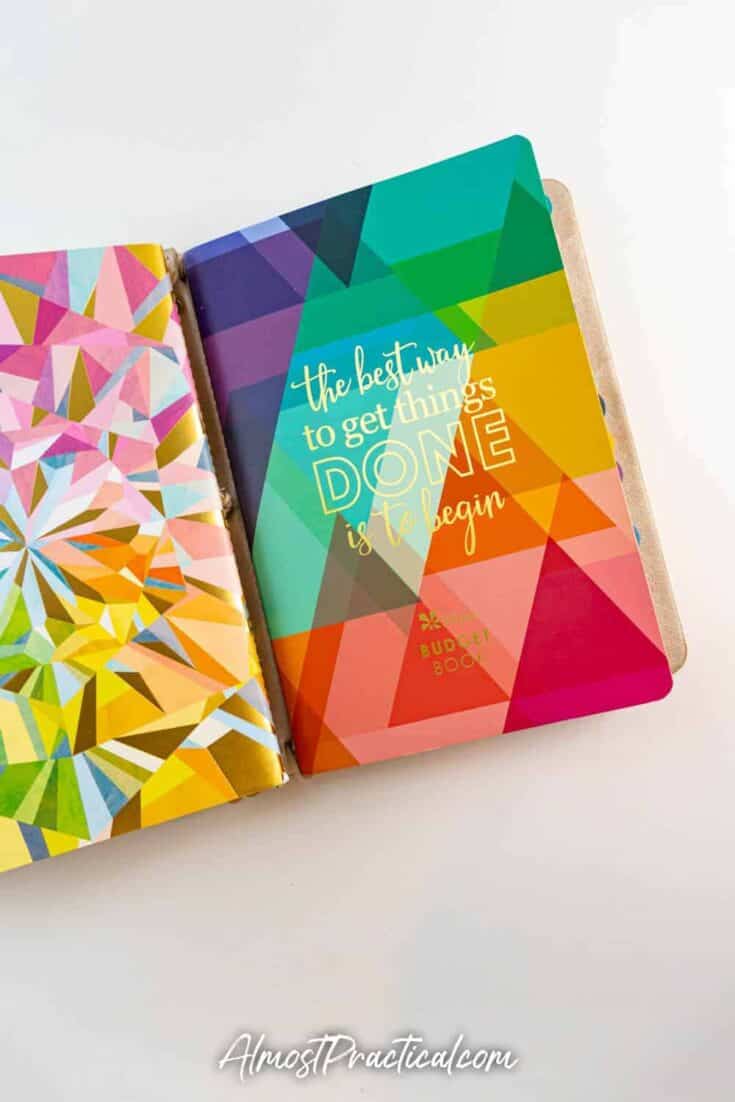 In fact, I started the year with one of those – but I quickly found that my own situation – managing the finances for a busy family of six teenagers and adults – required more space and less structure.
The features that I needed were:
a calendar view to track due dates for bills and closing dates for credit card statements
daily columns to record spending and electronic payments from checking and charges to credit card accounts
a place to keep my budgeted amounts close at hand to make sure I don't spend more than my budget
place to track recurring bills monthly so I can monitor for any spikes, unusual activity, and to make sure I don't forget to pay something
space for a to do list
Daily Columns vs a Traditional Checkbook
In number 2 above I said that I wanted to have daily columns to track my spending.
Most people use a standard checkbook or ledger (either paper or an online version) to track spending.
In fact, I also use an app called CheckBook Pro online to reconcile my accounts.
However, a traditional checkbook does not help me at all when it comes to budgeting and knowing where I am with my spending on a daily basis.
This is because I am more of a hands on, visual person.
I want to be able to see a quick snapshot of everything in one place.
With paper checkbooks, you keep one for each account and need to flip back and forth etc.
Most online apps like CheckBook Pro or Quicken give you amazingly detailed summaries. But for me online is "out of sight, out of mind" which means I don't stay on top of my finances as well as I should.
Enter the Erin Condren LifePlanner Vertical Layout
Given my personal requirements for a Budget Book, it occurred to me that the coiled Erin Condren LifePlanner in the vertical layout would be a perfect solution.
Calendar View for Bills and Due Dates
There is a monthly spread that I can use to track due dates.
Daily Columns for Activity and Balances
Each week also has a two page per week spread that features a lined column for a to do list and also columns for each day.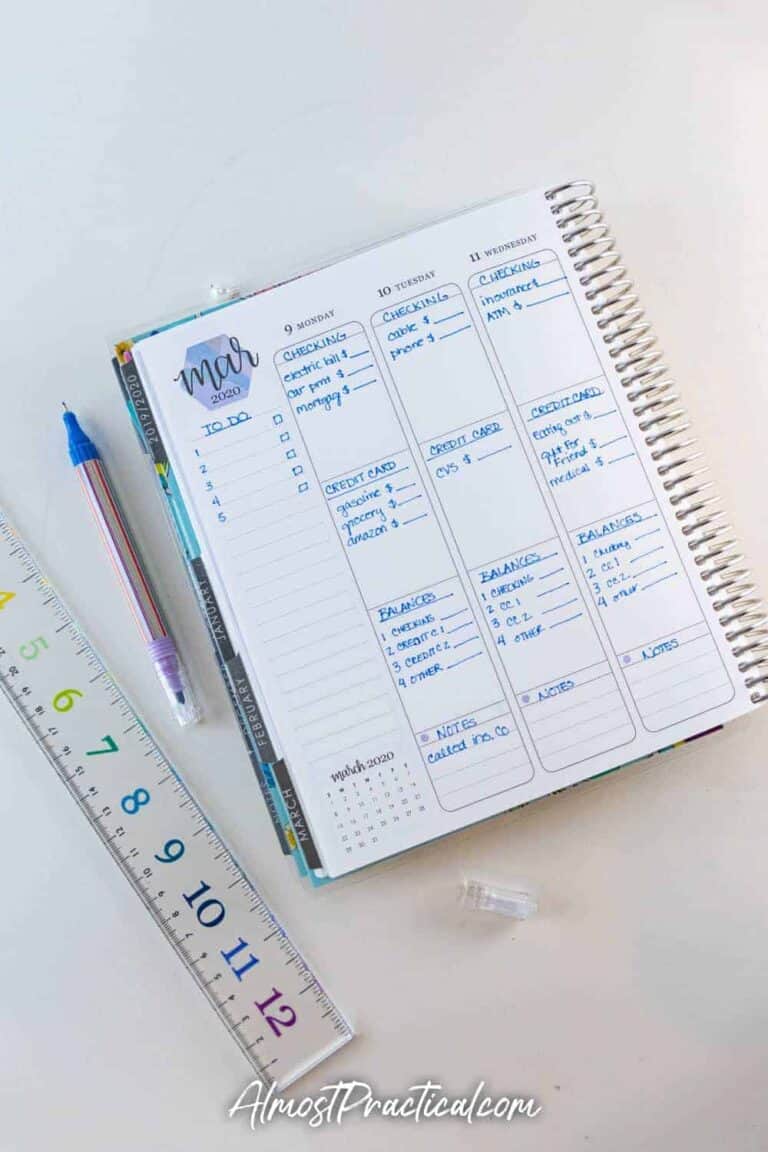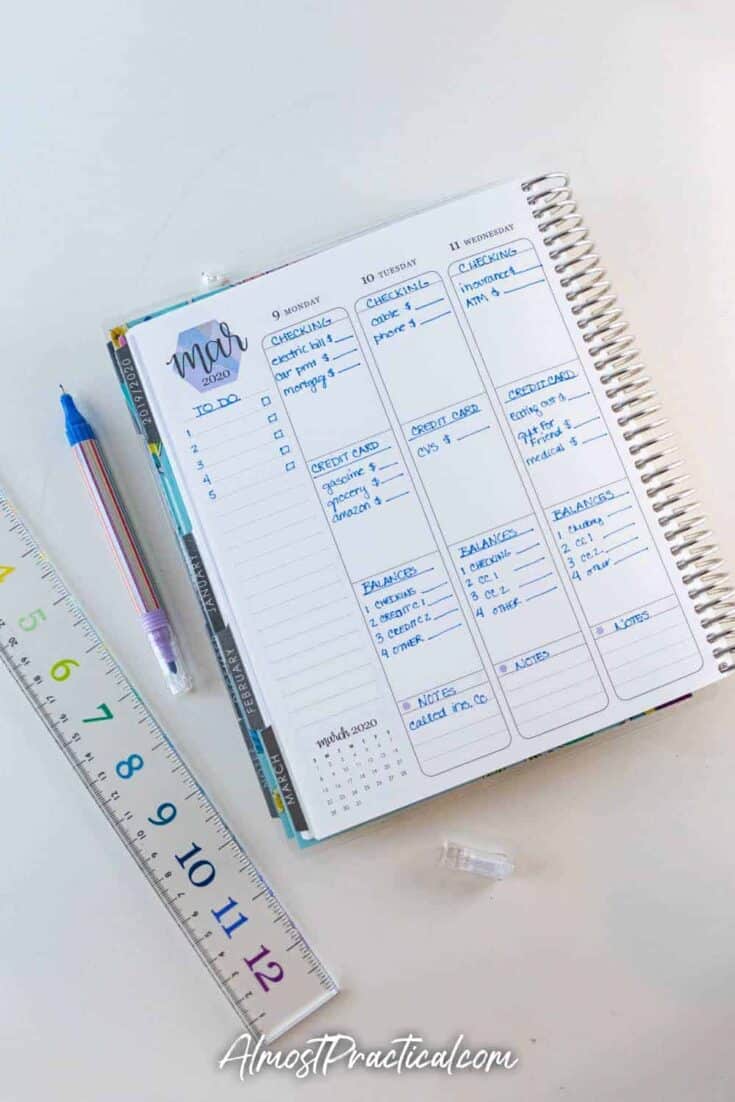 These daily columns are divided into three untitled sections – so you can use each section however you want.
I decided to use the sections as follows:
TOP – I use this section to record any activity to my checking account
MIDDLE – I use this section to record charges on my credit card accounts
BOTTOM – I use this section to list the balances at the end of each day on all my checking and credit card accounts
BONUS – there is a small lined section at the bottom of each column that I use to list reminders or notes
Tracking Budget to Actual
Simply tracking your spending is only half the battle.
You need to compare your spending to your budget to make sure that you are keeping your finances on track.
I use the Productivity Pages that precede every month in the Erin Condren Life Planner to create a budget for each of my accounts.
Then I compare my daily balances to my budget – especially before I decide to make a large-ish purchase.
In fact, I do this one better by using an Erin Condren Snap In To Do List Dashboard to list out my budgeted amounts for each account with a wet erase marker.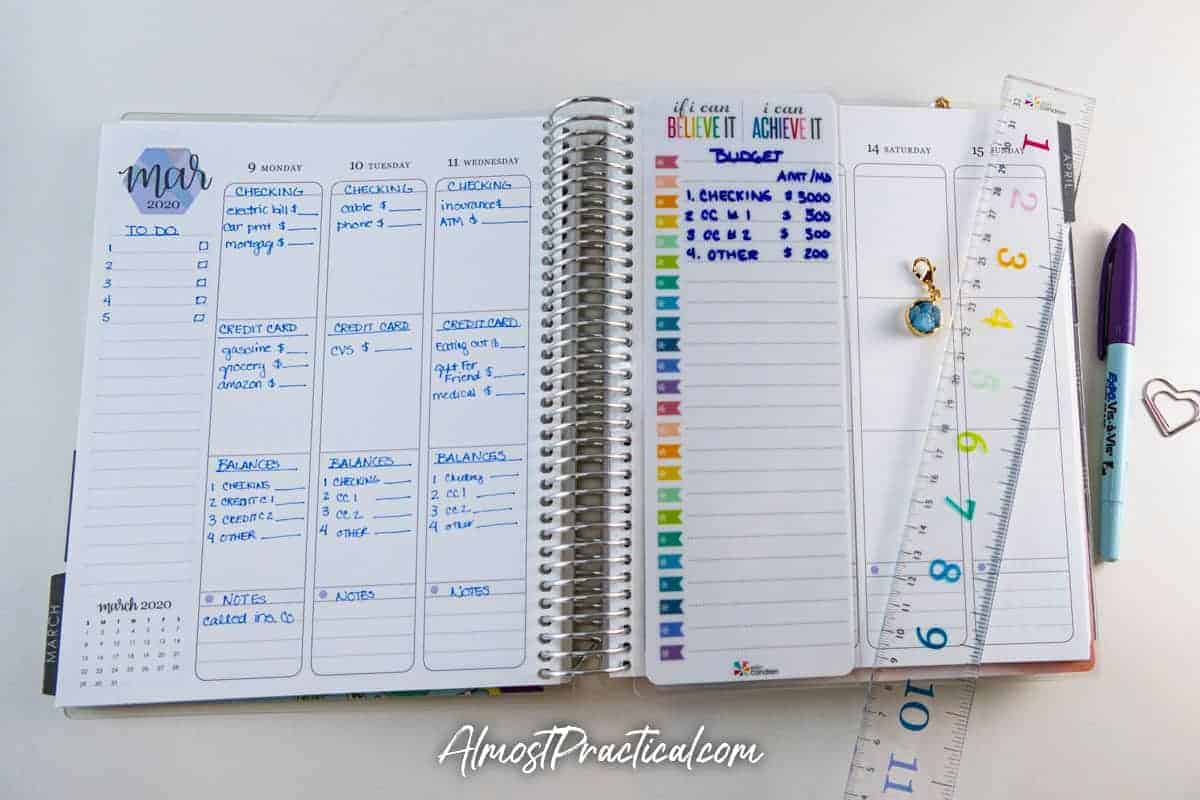 I like using the dashboard because
it is only about half a page wide
I can snap it right into the middle of my weekly spread so the budget is always front and center – where I can always see it
because it is wet erase, I can revise the budgeted amounts as needed
Tracking Recurring Monthly Bills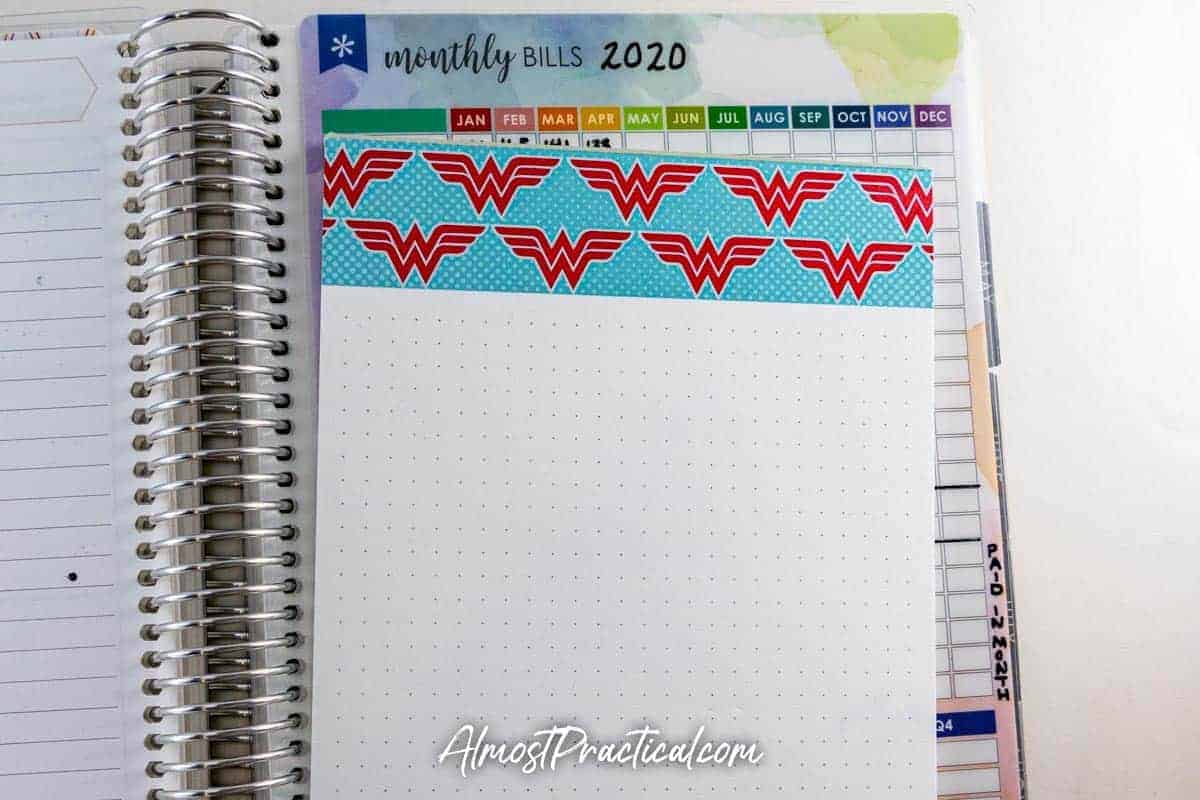 It is also very important to keep track of your recurring monthly bills.
Some of these expenses, like utilities or credit card balances, can vary from month to month depending on the season.
Others, like subscriptions, stay relatively the same.
Tracking these amounts each month can give you some valuable insights. You easily see
how much you spend on these products and services
whether you paid the bill already
any large changes to the amounts will alert you to an issue like a contract that has ended or any unusual activity.
To track these recurring monthly bills in my LifePlanner Budget Book I use the Erin Condren Snap In Bill Tracker Dashboard.
In each box, I actually right the amount of the bill that I paid (rounded to the nearest dollar because there is not enough space for the decimal cents).
You can read my review of the Erin Condren Bill Tracker Dashboard here – in my review I used the boxes as checkboxes but I have since switched to using them to write in the actual dollar amounts.
This dashboard also uses wet erase markers so you can modify and reuse it from year to year.
I place it at the back of the current month in the planner.
Additional Budgeting Ideas
The coiled LifePlanner comes with a folder at the end of the book.
I use this to hold upcoming bills that need to be paid.
Also, if you also track your finances online, you can print out a monthly summary report and staple it onto the lined page at the back of each month.
Other Options
Personally I like using the coiled version of the LifePlanner for my household budget book.
I find it to be portable, easy to flip to the page that I need, and I like the ability to use snap in dashboards.
However, if you want the option to add more pages to each month you may want to consider the LifePlanner Binder in the vertical layout.
You can read my review of the Erin Condren LifePlanner Binder here.
Sometimes You Just Need To Get Creative
If you haven't been able to find a household budgeting system that works for you, then I hope this article has given you some new ideas.
Start with a planner or calendar and use it to create a unique process for tracking your finances.
Get creative – and happy budgeting!