Affordable Decorating Ideas for a Family Room
This post may contain affiliate links which means I make a commission if you shop through my links.
 Disclosure Policy
I am embarrassed to admit it – but my family room was a disaster before I decided to redecorate.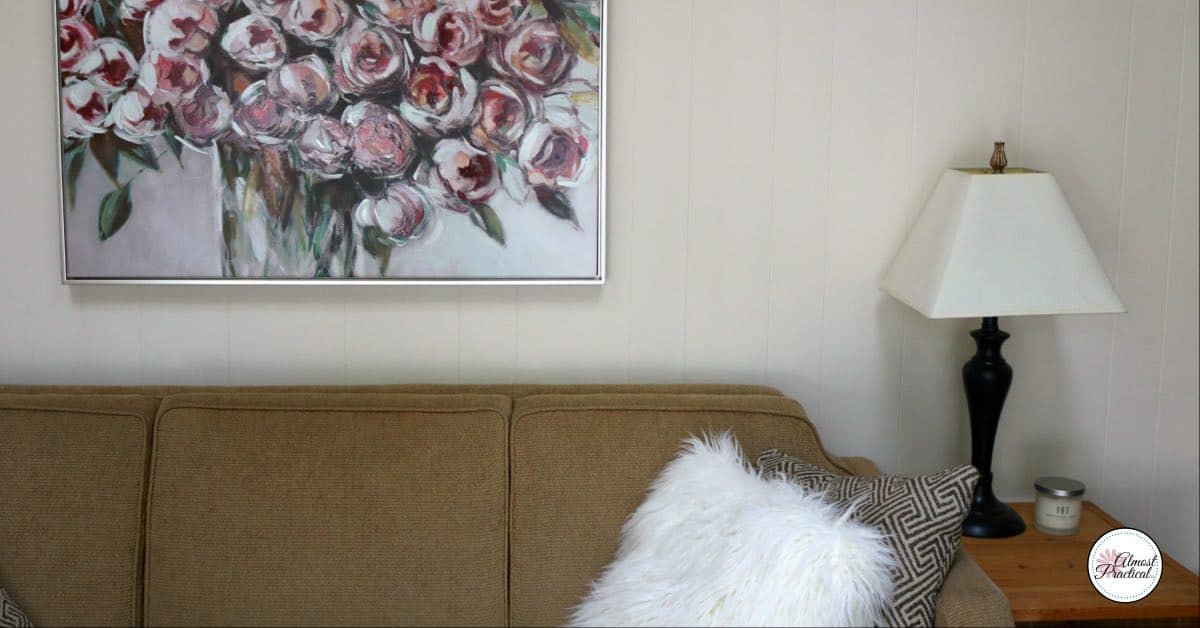 By updating just a few things, I was able to give the room some new life. It still looks lived in, but far more comfortable.
Really, I don't know how it happened.
But over time, my family room morphed from a normal family room into a home office/all purpose room type space.
It got cluttered, dirty, and mostly ignored.
Last week my friend, who also happens to be a real estate agent, came over.
And in the nicest of ways she said – "Maybe you need a coat of paint to spruce things up."
Somehow, those words snapped me out of my fog, so to speak. And I finally saw my family room through another person's eyes.
It needed more than just a coat of paint. It needed a redo.
Since I wasn't ready to take on a huge project, I set my sights on finding affordable ideas for decorating my family room.
And decorate, I did.
I am so happy with the way the room turned out. And I want to share what I did with you.
Where I Shopped
When I think of affordable redecorating ideas, my mind immediately thinks Target. And yes, I did find some great stuff there.
For this particular project, I shopped at the following stores:
The Problems With the Old Family Room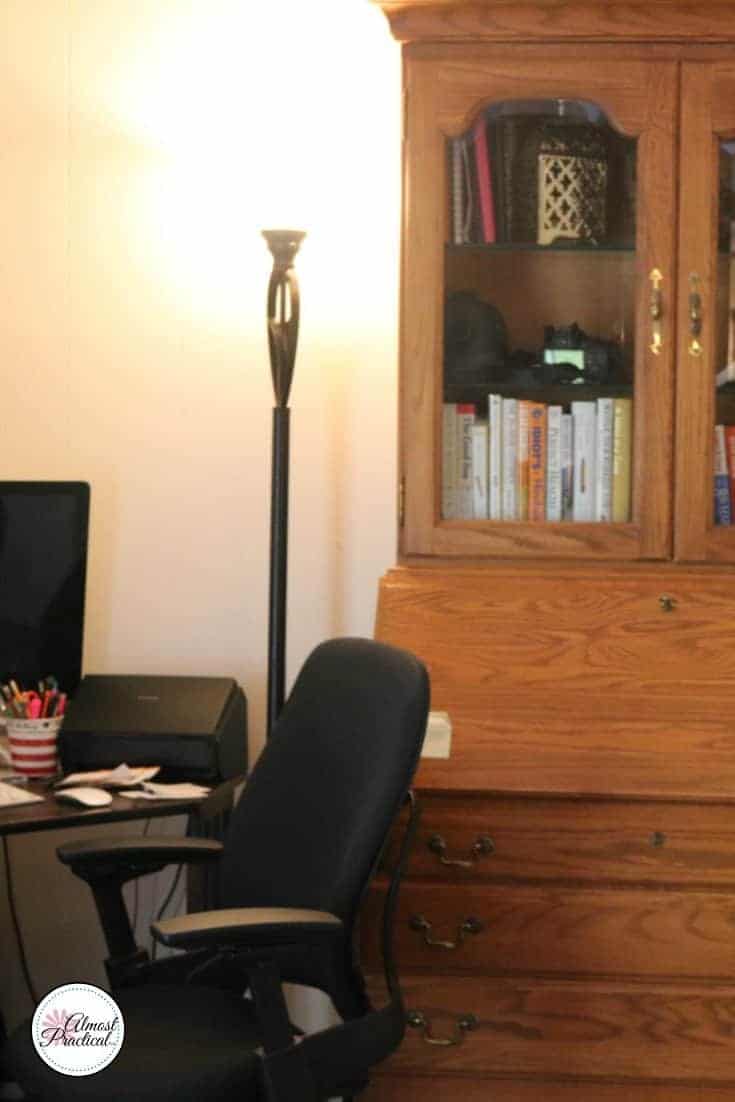 Let's talk about why I was looking for affordable decorating ideas for my family room in the first place.
Our family room is on the smallish side. Yet, it is kind of a hub for the whole family.
Problem 1 – Yes, The Family Room Needs Paint
My friend wasn't off base when she said the room needed a coat of paint.
Problem 2 – Using Family Room As a Home Office
I took over a small section of it to use as a home office.
But the room is really too small to support that use.
Problem 3 – Heavy Traffic Area
People travel through the family room to head out the back door. The kids do homework there and so on.
There is a low pile berber wall to wall carpet on the floor.
The carpet was getting dirty.
Problem 4 – Heavy Curtains Blocked the Light
At some point, I put up some dark, heavy curtains – I don't know why I chose those, really.
Problem 5 – Furniture too Large for the Space
Our sofa was a good size for the space but it was flanked by two large round, wooden end tables that I picked up at Ikea years ago.
Somehow, our 20 year old La-Z-Boy recliner found it's way into the family room as well.
Problem 6 – Too Much Fabric
Between the sofa, the wall to wall carpet, the curtains, the recliner, and the upholstered bench that we were using as a coffee table – the entire room was overrun with fabrics of every type.
Problem 7 – General Decluttering and Cleaning
Because there was so much stuff in this small space, it got a bit dusty (to say the least).
What I Did to Spruce Up the Family Room
Cleaning Up
The first thing that I did was thoroughly clean and dust the room.
Next I painted the family room.
I used Benjamin Moore Linen White in a flat finish. This was easy because I did not change the color.
Finally, to set the stage for redecoration – I shampooed the wall to wall carpet.
I shampoo the carpet myself using an older version of this Hoover carpet cleaning machine. I find this to be more affordable over the years than hiring a steam cleaning service.
Although, if you have a large home with lots of carpets, it might be worth it to get someone else to do it for you.
I also had good luck with this Spot Shot Instant Carpet Stain Remover on a few problem areas.
RELATED: Should You Clean Your Own Carpets Or Hire a Carpet Cleaning Service?
Decluttering
Decluttering goes hand in hand with cleaning.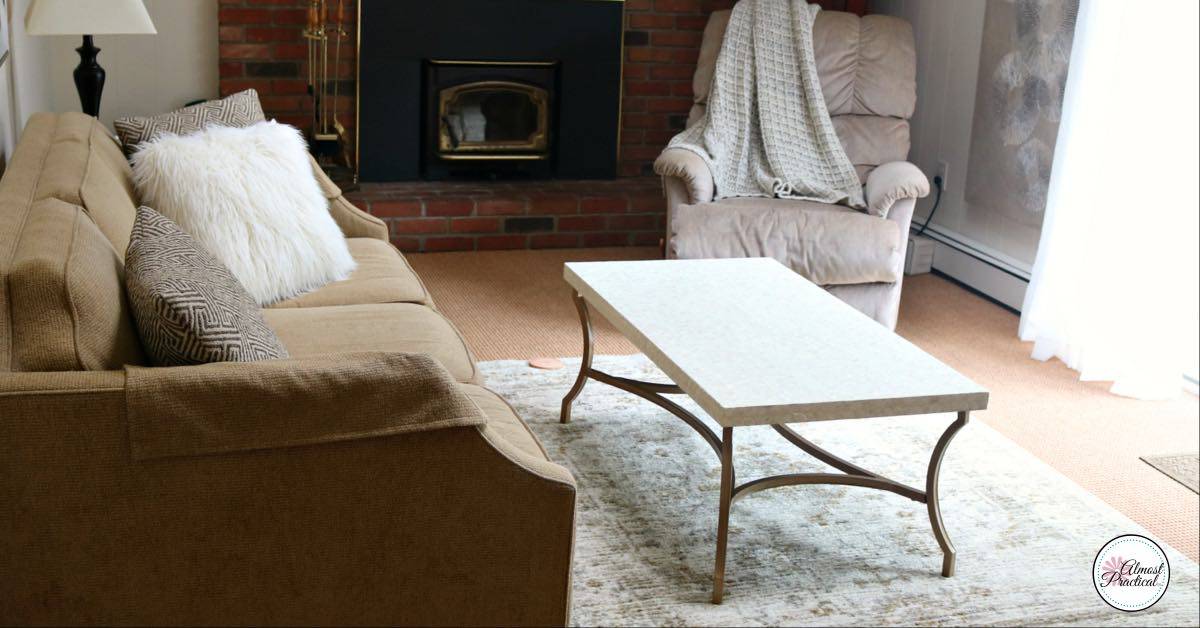 Fact: there was just too much stuff in this one small room.
I took my home office desk out and will repaint it for my daughter's room.
As for my home office – I moved much of my stuff to our finished basement, but will use my laptop for most of my blogging.
I still have a secretary type desk that folds closed in the corner of the family room, if I need a place to work upstairs.
Those big, bulky end tables? They were repurposed to the living room and replaced with a small end table that I had in another part of my home.
And the bench that I was too embarrassed to photograph for this post? Well, I recovered it – and you can see it here in this DIY tutorial on how to reupholster a bench (for beginners like me).
Organizing Traffic Flow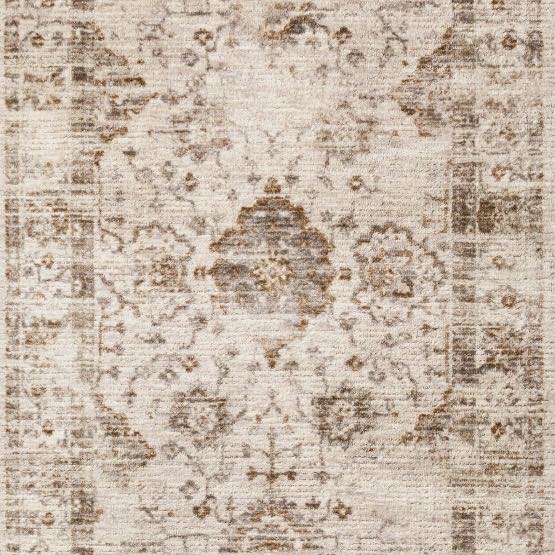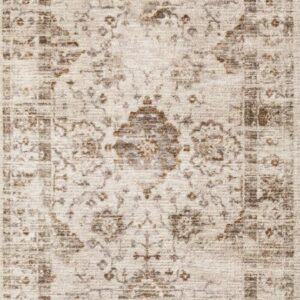 The traffic through this family room was a problem.
So I used an area rug to visually delineate space.
Even though we had wall to wall carpet, I wanted to create the feeling of a seating arrangement. I also wanted foot traffic to the back door to skirt the seating arrangement.
I thought it might be a little bit weird to put an area rug on top of wall to wall carpet – but it really turned out great.
Because my wall to wall carpet had a mix of red and beige – I wanted to go more neutral in the area rug.
I chose the above affordable area rug from Target in the tan color.
Even though the rug has a bit of a rubberized backing, I still purchased a thick rug pad to go under it. The one that I chose is no longer available but here are some similar rugs that you can choose from.
Lightening Up the Windows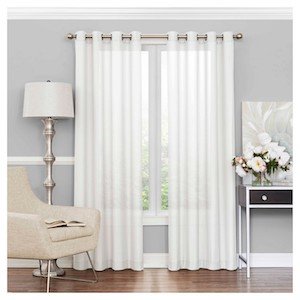 I also replaced the heavy, room darkening curtains in the family room with these light and airy white sheers – also from Target.
DeFabricizing the Family Room
Yeah – that is probably not a word.
But I wanted to reduce the amount of fabric surfaces overall in the family room.
I found this beautiful Bianca coffee table at Pier1.
It is covered with mother of pearl inlays cut in a leaf pattern. The cream color really lightens up the room and adds an interesting texture as well.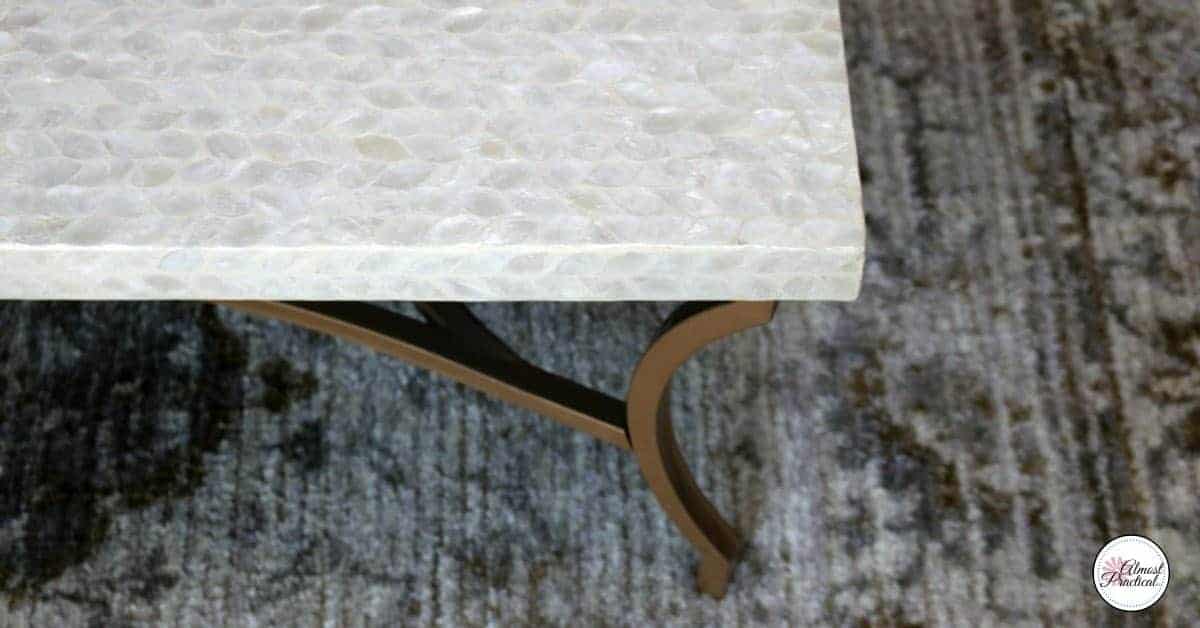 I also decided to replace the trusty old recliner with … wait for it … a new recliner! But this time in leather.
Even though I am so NOT a fan of the recliner look – this is the chair that everyone fights over sits in.
It's true.
Accessorizing the Family Room
I also added a few flokati type faux fur pillows from Target to add some interest. (My husband is not a big fan of these – calls them abominable snowmen – but I like them)
And next to the secretary desk I added a decorative chair .
This serves a dual purpose of providing additional seating for guests as well as being a great desk chair.
Function Should Be Your Decorating Goal
While decorating can make a space look nice – the purpose should be increased functionality.
After all, people are going to use the room, not just look at it.
By decluttering and cleaning my family room – it became a place that is much more enjoyable to hang out in.
The new coffee table offers a people a place to work, use a laptop, or just put up their feet.
My family needs a place to charge their stuff. The open shelves on the end table are perfect for this.
The decorative chair does double duty as a desk chair and the rug demarcates distinct traffic patterns in the room.
Overall, I am really happy with the way the family room looks now.
Keeping to a Budget
I kept costs down on this project by shopping at Target, buying Final Sale merchandise at Pier1, and repurposing the end table from furniture that I already owned.
The new recliner was a splurge – but by shopping at Wayfair, I paid less than I would have at the manufacturer.
Your Affordable Decorating Ideas?
What ideas do you have for decorating on a budget?
Let us know in the comments below.