Small Linen Closet Organization Ideas and a Make Over
This post may contain affiliate links which means I make a commission if you shop through my links.
 Disclosure Policy
I have seen some beautiful linen closet organization ideas online. But for my busy house and very small linen closet some of these ideas are just not functional.
Perfectly folded towels that look like they are in a spa are dreamy. But that is just not my reality.
So, if you are looking for some real life tips on how to organize all the not so fancy toiletries, towels, sheets, and other random stuff that people store in their linen closets and also see my own DIY closet make over – read on.
You may also want to check out these bathroom closet organization ideas as well.
In making over my linen closet, I followed the principles that I outlined in that post.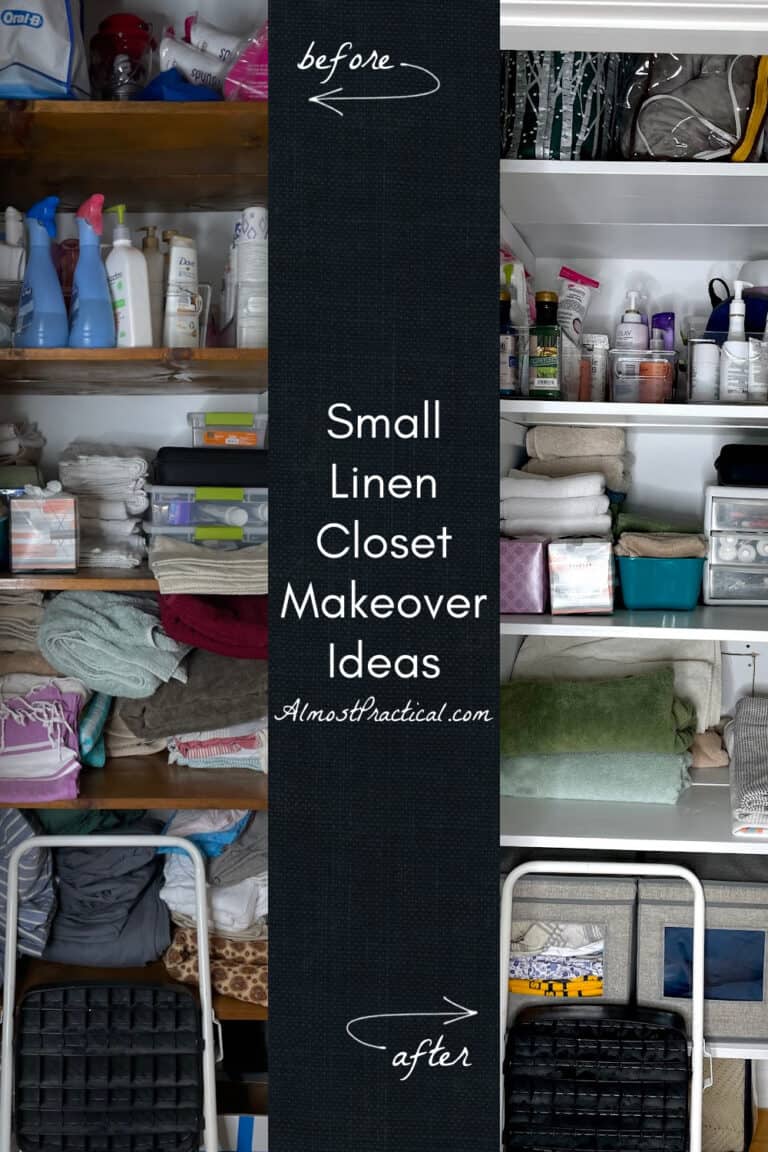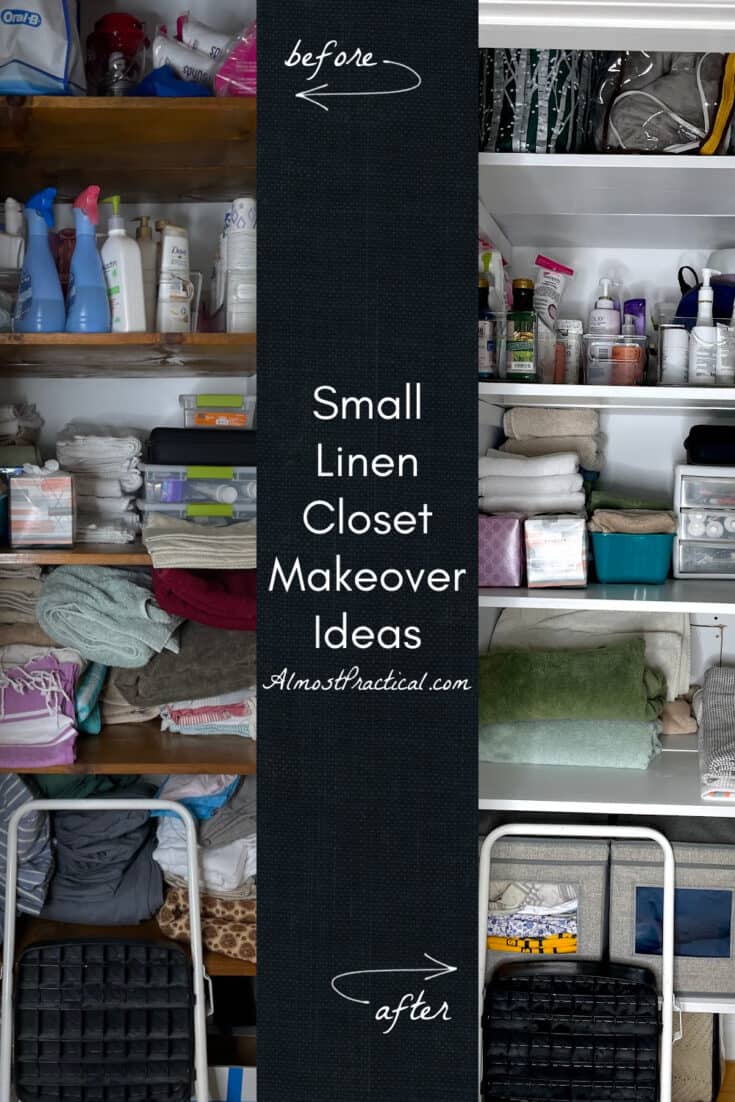 What Should Be In Your Linen Closet?
What you store in your linen closet largely depends on how your home is set up.
If you have ample storage space in your bathrooms, you may truly only use your linen closet for sheets, towels, and other bedding items.
But if you are like me – the linen closet in our home is the only closet for storing extra toiletries, sheets, towels, batteries, and other random stuff that we need.
Personally, I store extra rolls of toilet paper in the bathrooms – either in the under the sink cabinet or in toilet paper storage baskets in plain sight. If I happen to hit the big box stores – I will store the huge packages of tp in our basement storage room until we need them upstairs. So, I do not keep extra rolls in the linen closet.
We also have a medicine cabinet in our bathroom – so all medications are stored there and not in the linen closet.
I am so embarrassed to show you the before photo of our linen closet. It is cluttered and overstuffed.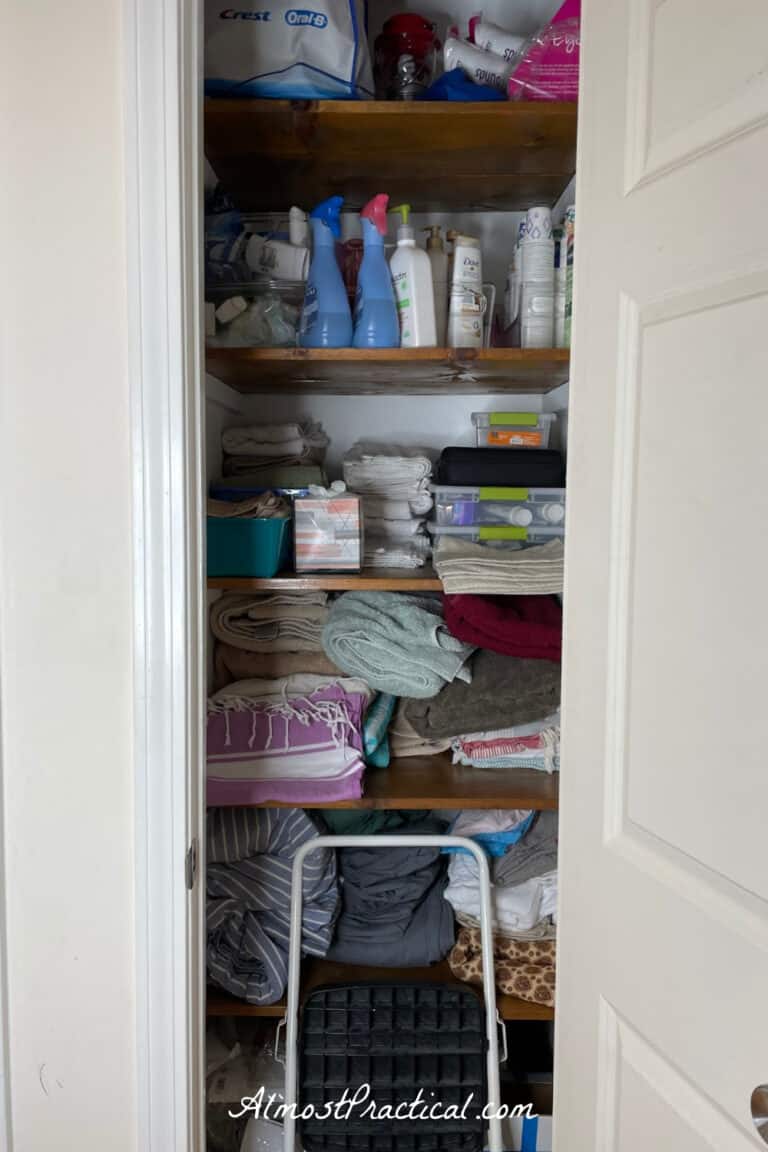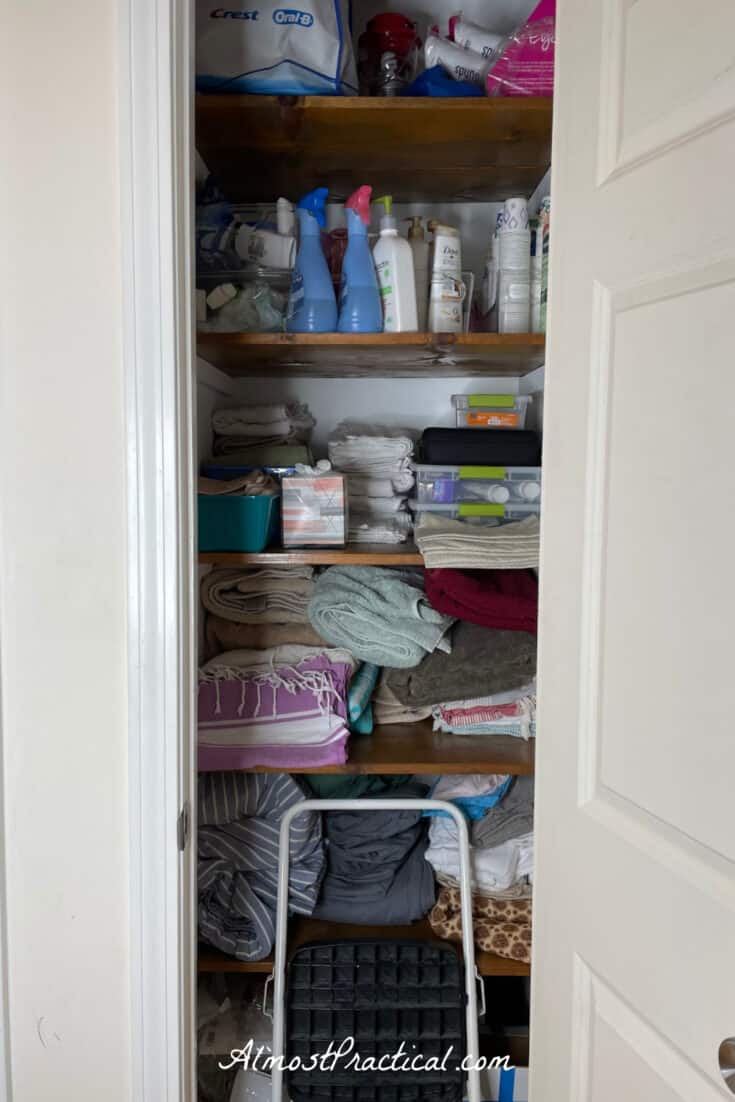 Set Some Goals
I say this about every home organization project that I undertake – and I will say it again because it is so important – set goals for your project!
What will your end result look like?
Do you just want pare down and organize what you have? Do you want to refresh the inside of the linen closet? Do you need extra storage bins? Do you plan to label the storage containers?
Flush it all out on paper and create a plan using the SMART goals framework.
For my closet make over I planned to paint the shelves – this took a good amount of time and effort.
Since SMART goals are time bound – knowing that certain steps will take longer allowed me to set a realistic deadline.
Empty Everything Out of Your Linen Closet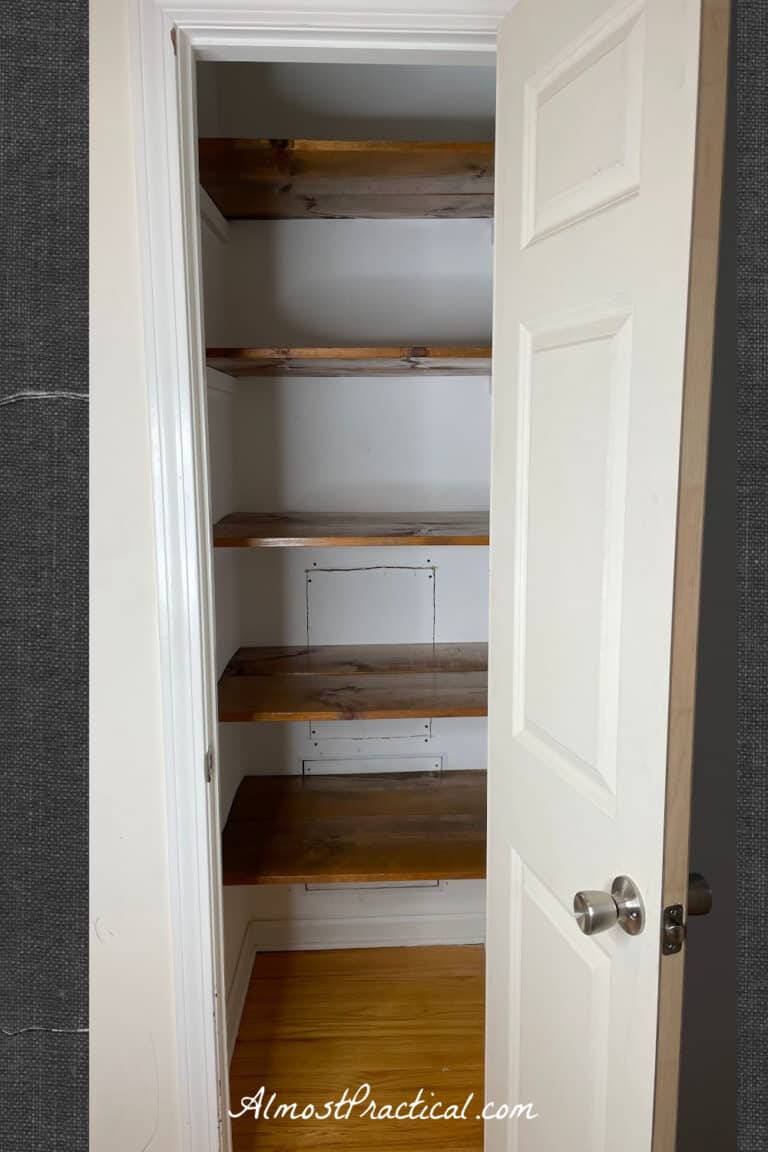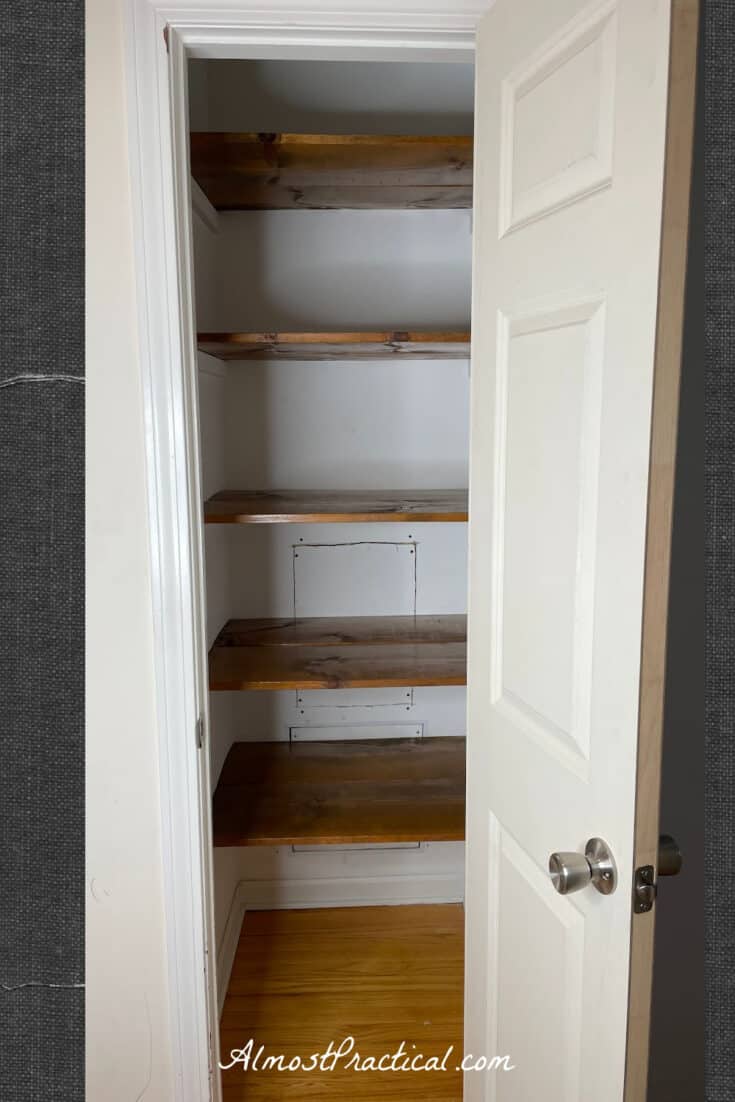 You can see that our linen closet is quite small and the shelves are deep. This is presents a problem because things get pushed to the back – behind other things.
When this happens, people don't realize that we actually have something that they are looking for. It also makes it hard to reach the things you need.
So, my first step to organizing the linen closet is to take everything out.
I used empty laundry baskets to corral some of the stuff and piled the rest of it into an empty bedroom.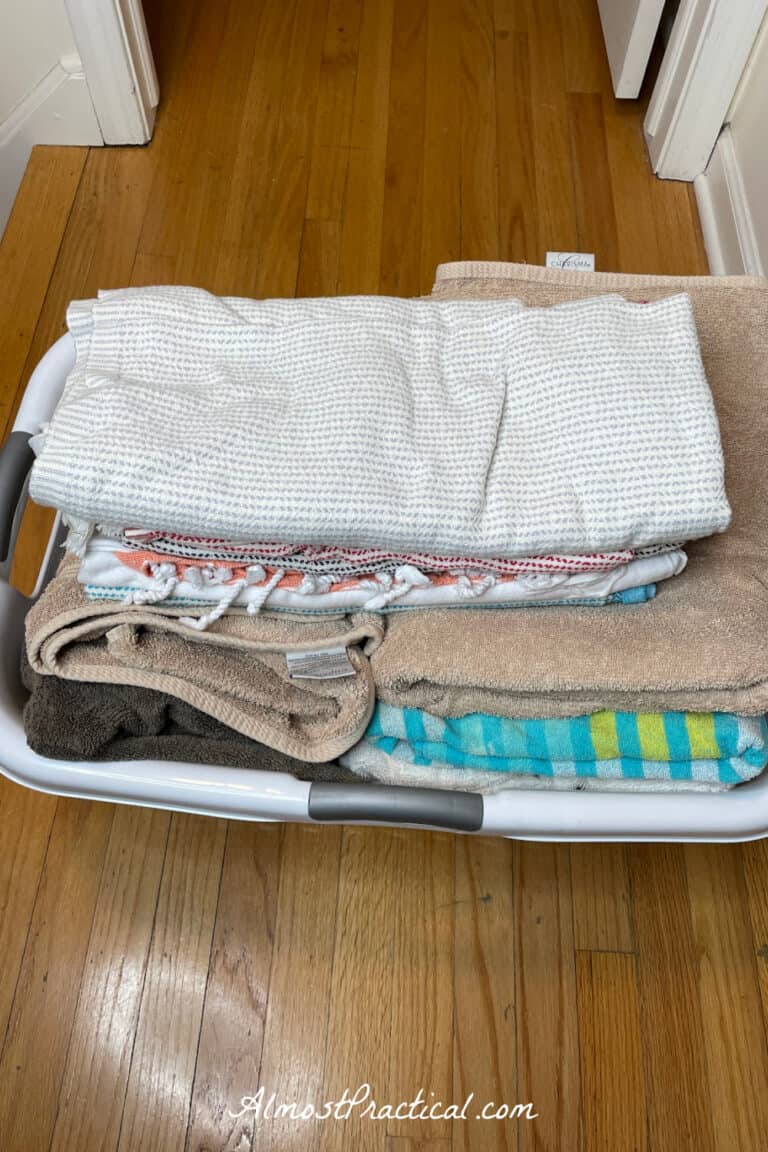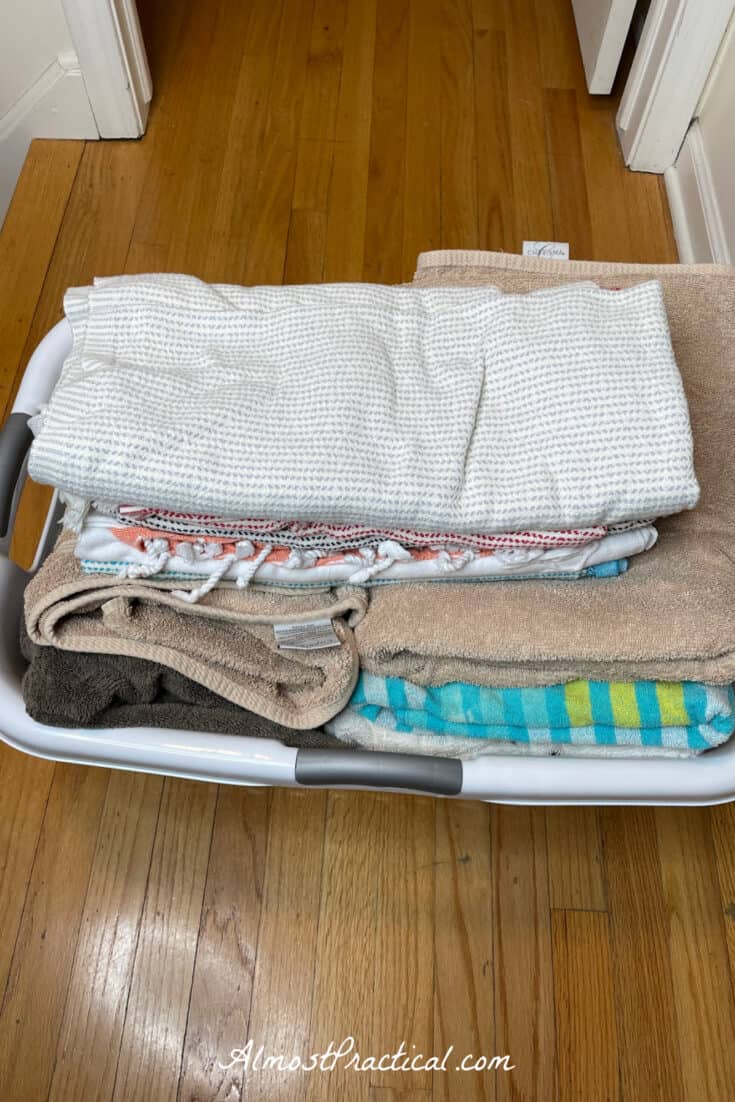 Prepare the Shelves
As with a bathroom closet, the next step to organizing the linen closet is to clean the shelves and decide if you want to use the same ones, replace them, or improve upon them.
I decided to paint the brown varnished wooden shelves that were in my closet a white color.
Our closet is a little dark – there is no light inside – so I thought a coat of white paint would brighten them up.
However, there is always a risk when painting finished wood.
Often the paint will scrape off when you use the shelf. To keep this from happening I did a few things.
First, I lightly sanded the wood shelves to rough up the surface and wiped them down.
Then I used a primer (even though my primer said no sanding required).
I let the primer dry overnight and then painted the shelves with two coats of Benjamin Moore flat white paint.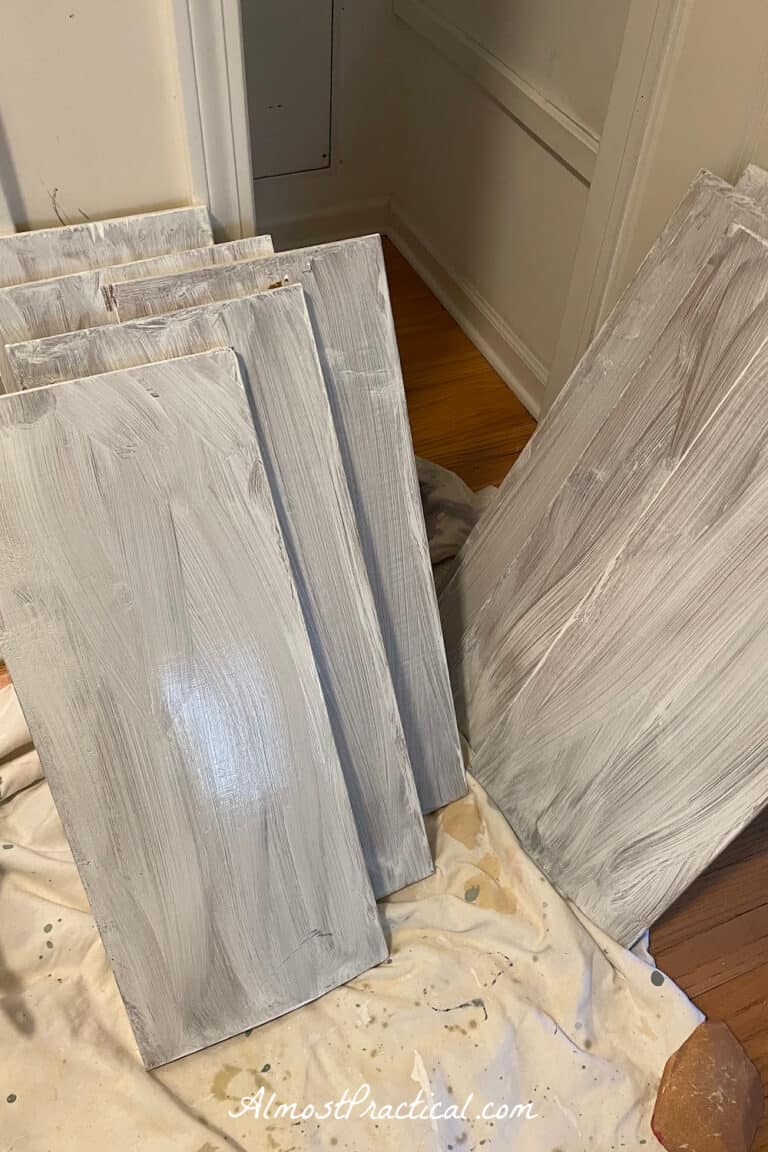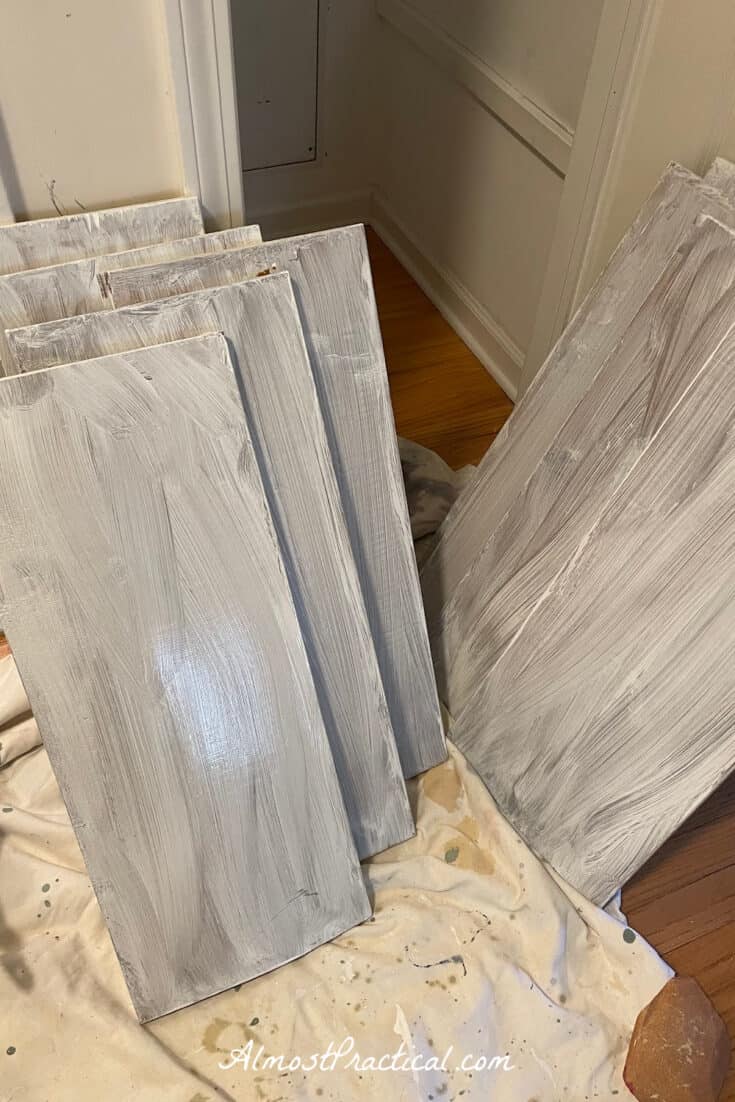 I let the paint dry for 24 hours and then applied a coat of water based polycrylic to give the paint a protective finish.
I then let this cure for a few days before using.
Hopefully, all those steps will keep the paint from scraping off – but you never know.
While the paint on the shelves was drying, I took the time to paint the inside of the linen closet with the same Benjamin Moore white paint.
Once everything was dry, it was time to start putting things back into the linen closet.
Decide What to Keep
This is the hard part.
It is so easy just to put everything back in.
Maybe you organize it a bit, get bins to hold loose items, etc.
But if you put everything that you took out back in – you are doing yourself a disservice.
Now, when the entire contents of your linen closet is out in the open, is the best time to sort through and pare down.
My linen closet had a ton of half used bath and shower products that my kids had tried and decided to switch.
There was also lots of worn out towels, wash cloths, and hand towels that no one was really using.
And then there was all the useful stuff that was just tossed in with no rhyme or reason.
Costco sized purchases of toothpaste, cotton balls, batteries, extra OTC medications – it was a mess!
To organize it all, I decided to
really pare down on the sheets and towels,
move all OTC medications to the medicine cabinet in our bathroom,
and get rid of half used shampoos and lotions that no one was going to use, despite our best intentions.
I also grouped similar items together so I could then decide what type of containers I would use to corral all the stuff.
Find Containers to Organize Items in Your Linen Closet
Before you run out and buy new containers for your small linen closet – take inventory of bins and boxes that you already own.
Sturdy cardboard boxes that electronic items come in make for good storage.
Here are the linen closet organizers that I used.
Clear Plastic Bins are Great for Toiletries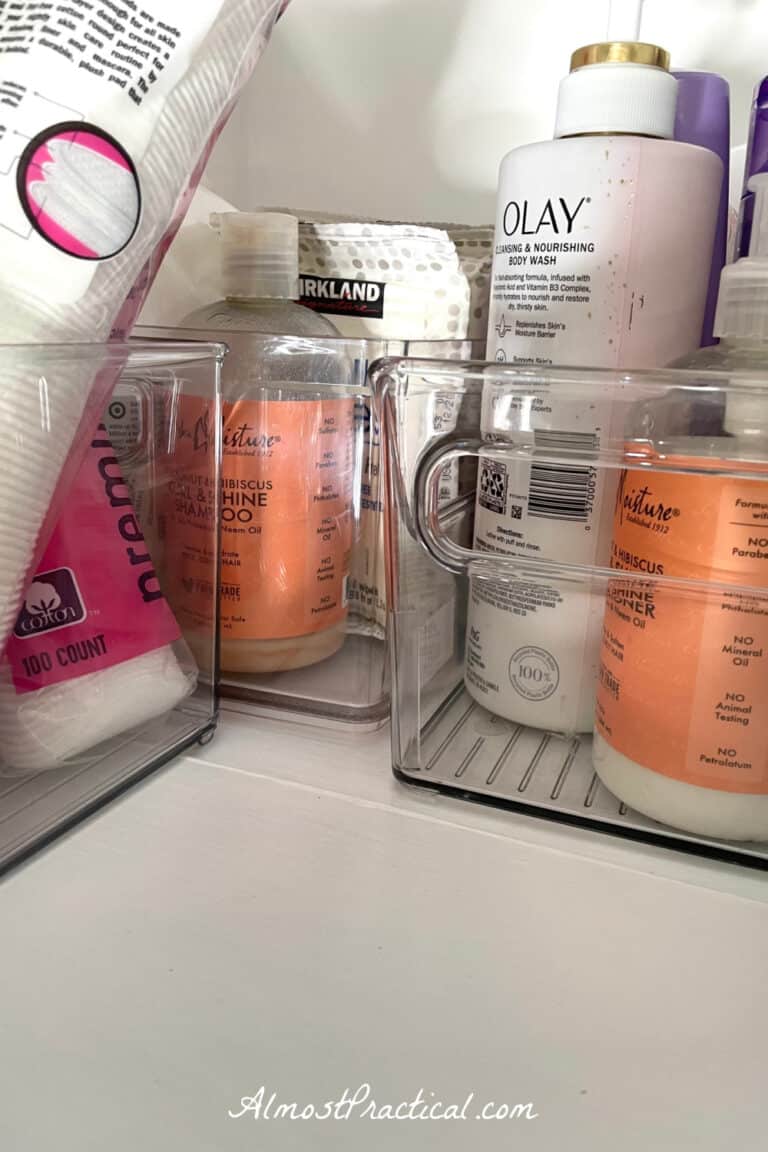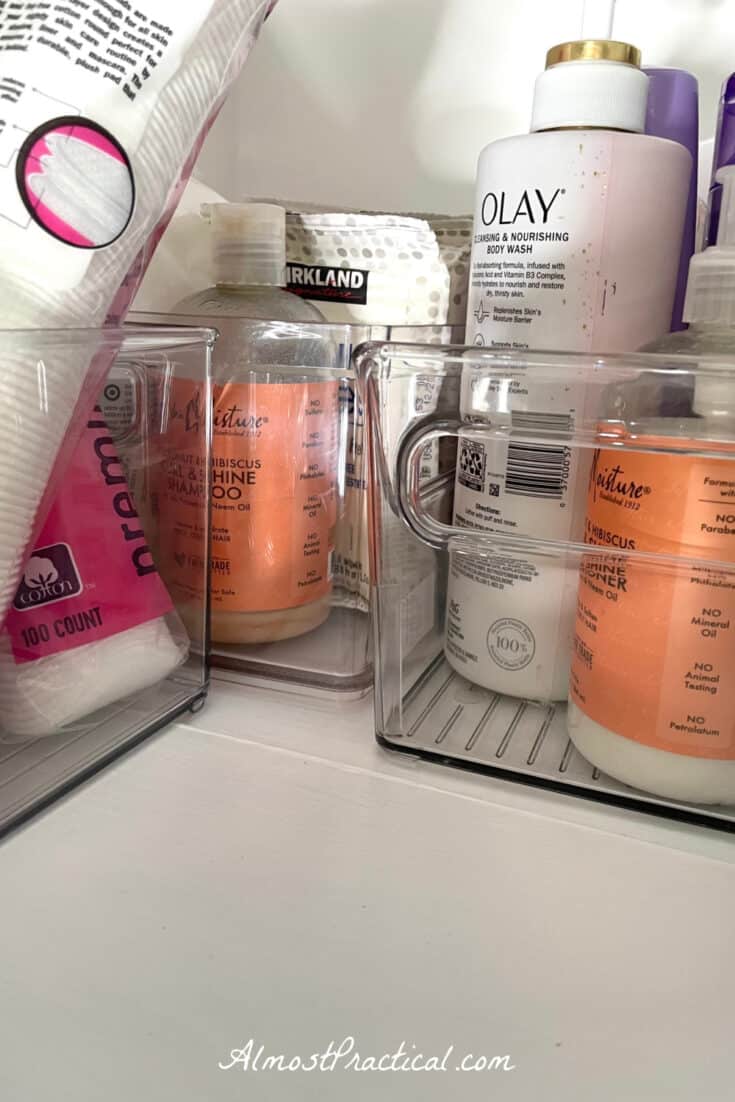 I had a lot of clear bins like these sitting around the house so I put them to good use in my closet.
One problem area in my linen closet was actually the storing of my linens.
Fabric Bins are Nice for Linens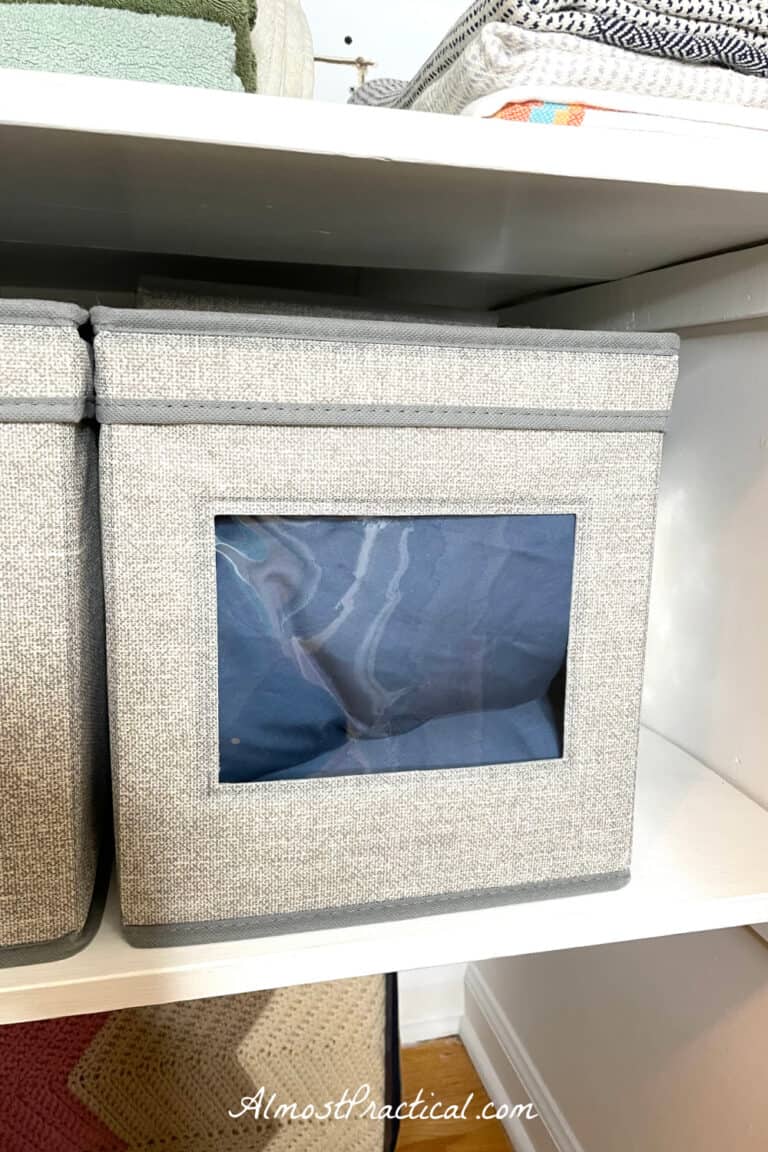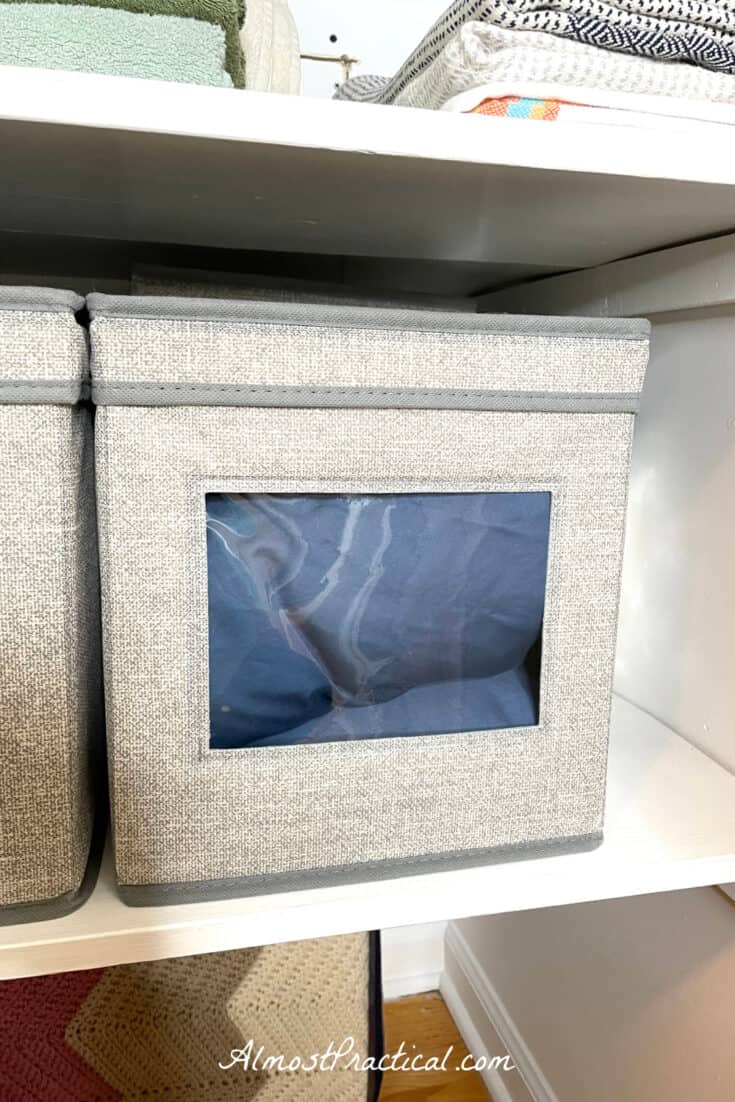 I kept all our sheets, pillowcases, and other bedding items all on one shelf. But we have several different sized beds in the house – so the sheets would get all jumbled together and always be in disarray.
I found these fabric boxes from mDesign that solved the issue perfectly.
They have a clear window so you can see what is inside and a self lid so they are stackable if need be. They also come in different sizes so you can pick the size that works for your space.
Four of these bins fit perfectly on one of my shelves.
I filled three of them with sheet sets for each of the different sizes of beds that we own.
In the fourth one, I placed random pillowcases and odd bed linens that weren't part of a set.
They make the closet look really neat and tidy.
Use a Battery Organizer for Batteries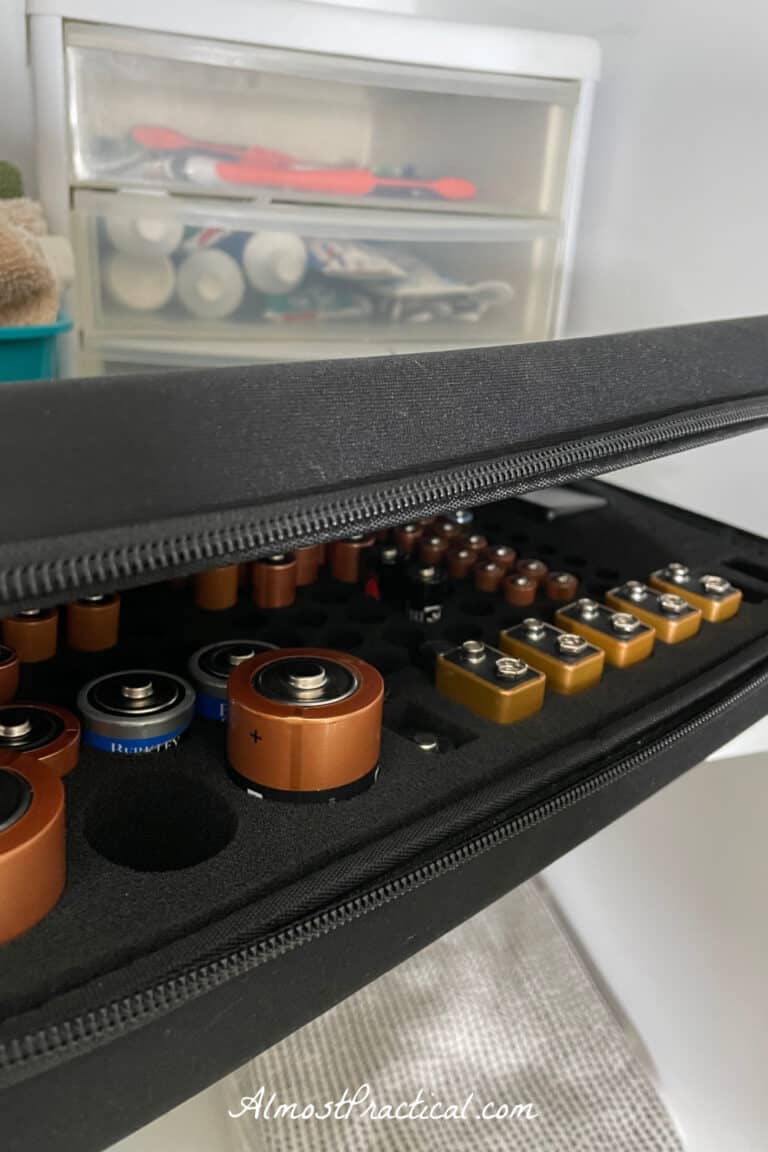 The safest way to store batteries is in a battery organizer or in their unopened original packaging.
You really want to avoid having the contacts of the batteries touching each other.
I chose a battery organizer case similar to this one because it is large enough to fit lots of different sizes of batteries and comes with a battery tester as well.
Related: How to Store Batteries Safely
A Set of Plastic Mini Drawers Works for Small Items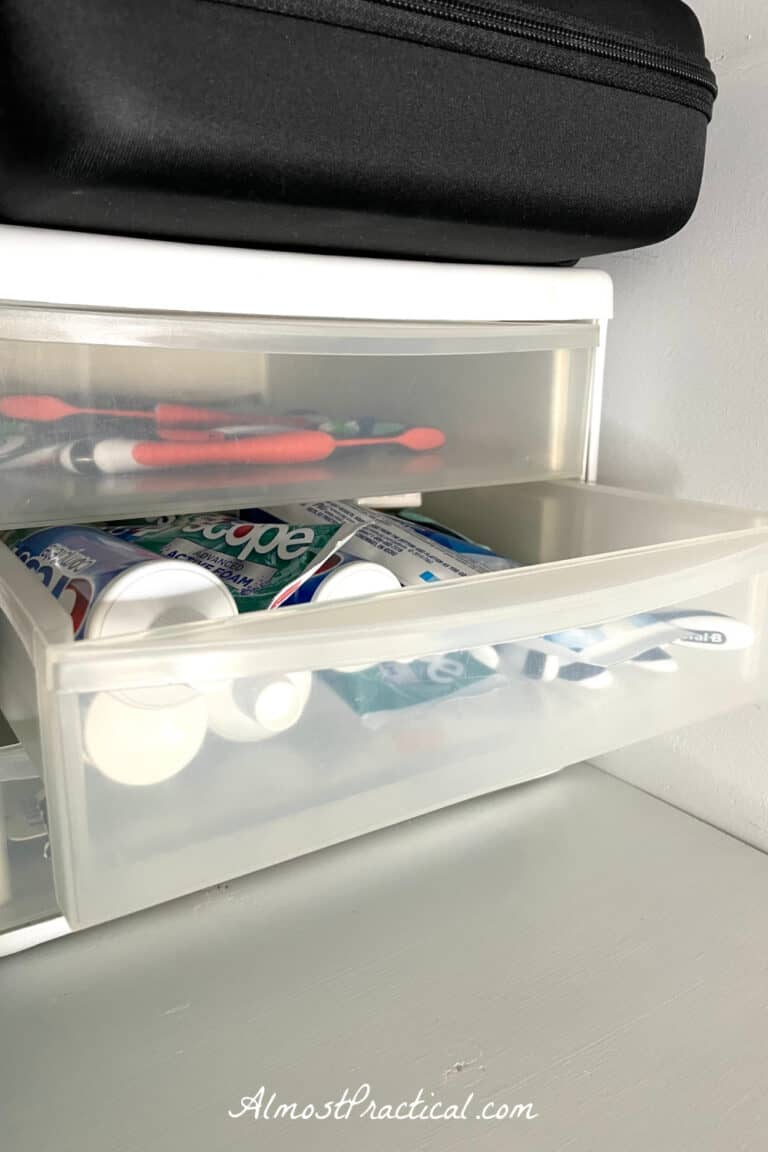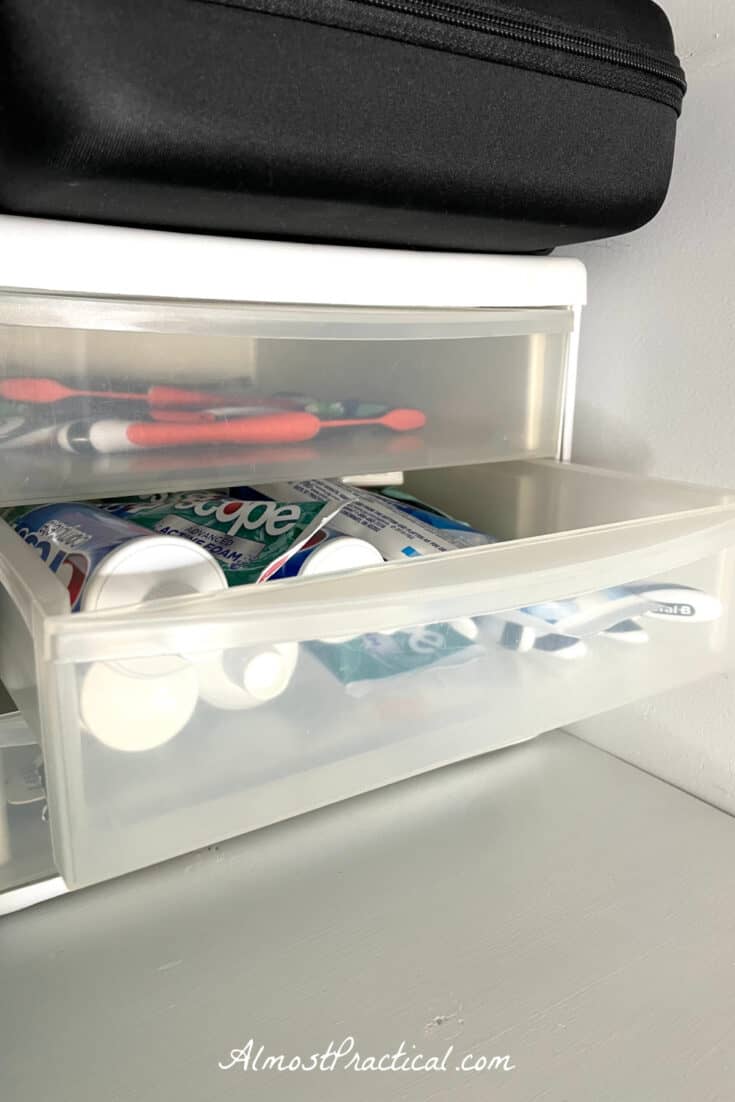 Since the shelves in my linen closet are super deep and there is also a lot of space between shelves – I use a set of plastic mini drawers to store smaller items like extra toothbrushes and toothpaste tubes.
In my old set up, I was using stackable plastic bins with lids but this made it really hard to access items in the bottom bin.
People would mess up the stack and forget to restack or put the lids back on. They would also be a bit lazy and not put things in the bins but rather just place items on top of or around the bins.
The mini drawers are much more user friendly and the closet stays much neater now.
Be sure to measure your space and find a set of drawers that fit well – they come in lots of sizes.
Large Tote Bags are Great for Bigger Items
If you have larger seasonal bedding – like comforters or electric blankets – to store, consider using large tote bags.
I had accumulated a few in our basement that I was not using and realized that they would be perfect for some of the bigger items in our linen closet.
They fit perfectly on the top shelf – and though they are a little hard to reach way up there, they hold things that we don't use that often, so it is not a big deal.
Try Out Your New System
Once you have everything organized and put back away – give it a test drive.
Use your new system for about a month and schedule a time with yourself to reevaluate.
Is your family using the storage as intended?
Are things staying neat and organized?
Make adjustments based on the actual usage.
Cleaning Out the Linen Closet is Easier Than You Think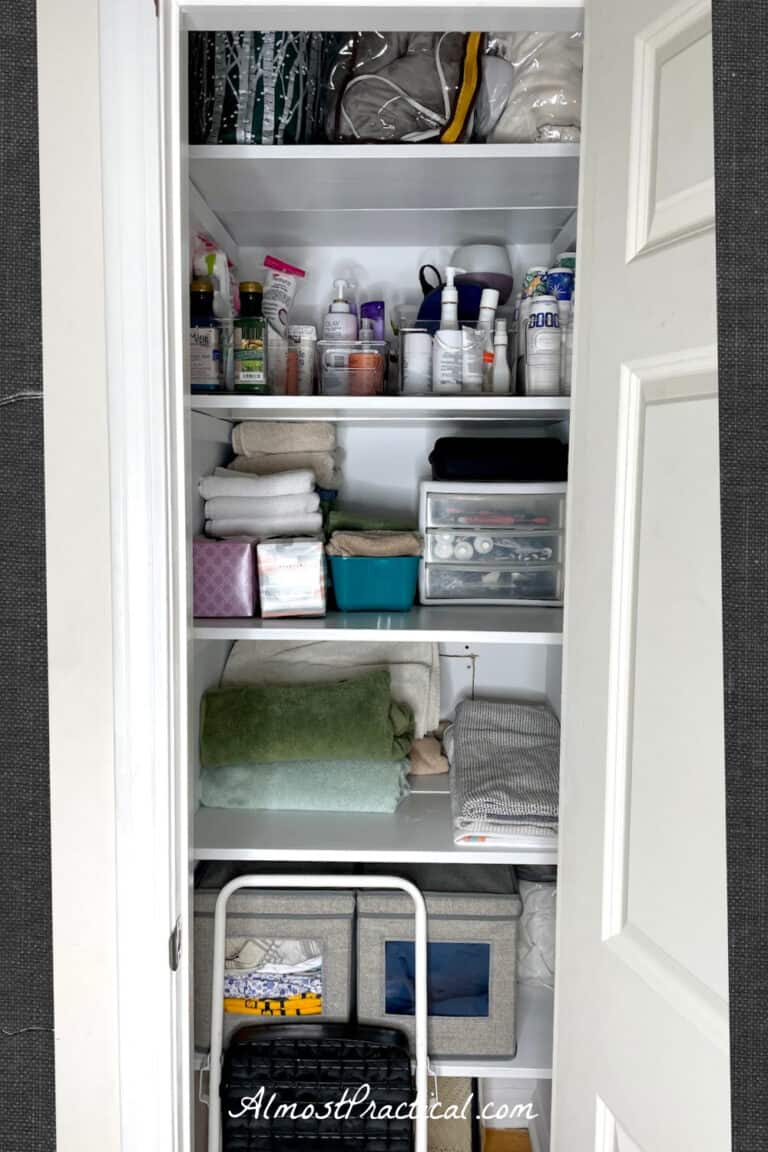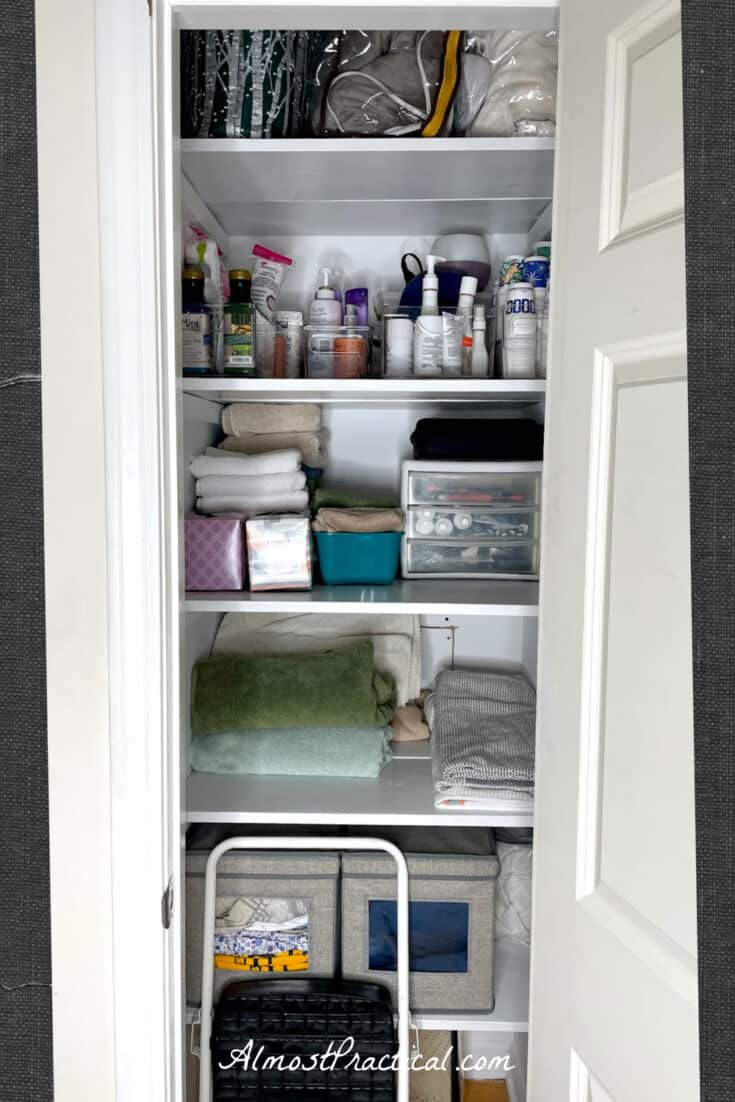 It may seem overwhelming at first, but cleaning out the linen closet is really a freeing activity.
For the most part, you are probably not too emotionally attached to the items inside – so it should be easy enough to part with things that you don't use. Of course there is always the regret of having spent money on something that no longer fits your needs – but perhaps selling items, or donating them to a good cause can alleviate some of that guilt.
Set some goals for yourself and also be firm on your time frame so the project doesn't take forever.
Envision what your end result will look like.
Then empty the contents, refresh the space, pare down what you don't use, find appropriate storage and put things back.
Don't forget to evaluate your efforts about a month later and tweak things if need be.
Happy organizing!