How to Organize Your Water Bottles, Tumblers, and Travel Mugs
This post may contain affiliate links which means I make a commission if you shop through my links.
 Disclosure Policy
It's a problem that no one talks about. Water bottles have a way of multiplying.
I don't know what happens at night behind the closed cabinet doors but I tell you, each morning there are more!
If you need to find a way to organize your water bottles – read on.
In our house, each person has a favorite water bottle or two.
And then there are those water bottles that are too good to toss out.
Not to mention that you may need different sized water bottles for different occasions.
And every once in a while you get a promotional one that is kind of nice.
How do you make space for all of these?
It's harder than you would think.
The process is straightforward but there is a certain emotional attachment that is hard to quell.
First, create a home for your water bottles.
Collect EVERY SINGLE ONE of them in a central place.
Decide which ones to keep in your kitchen.
Keep lesser used water bottles in a remote storage location.
Donate the rest.
Let's do this together.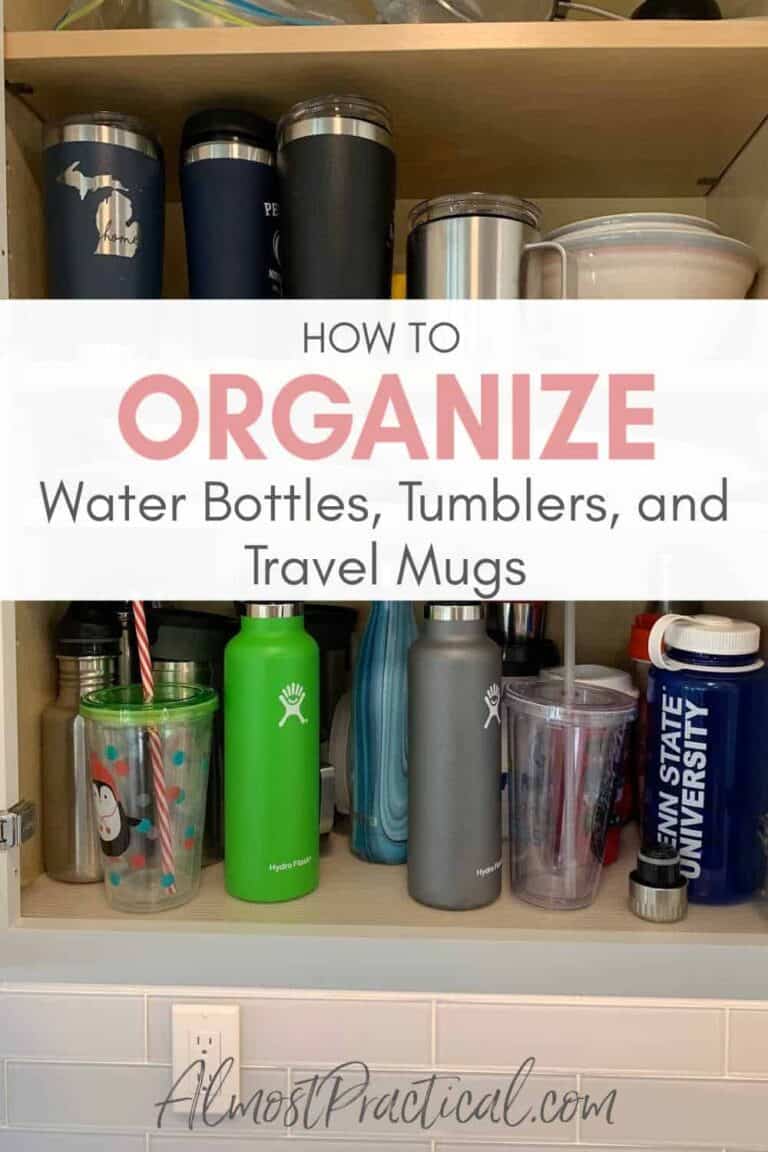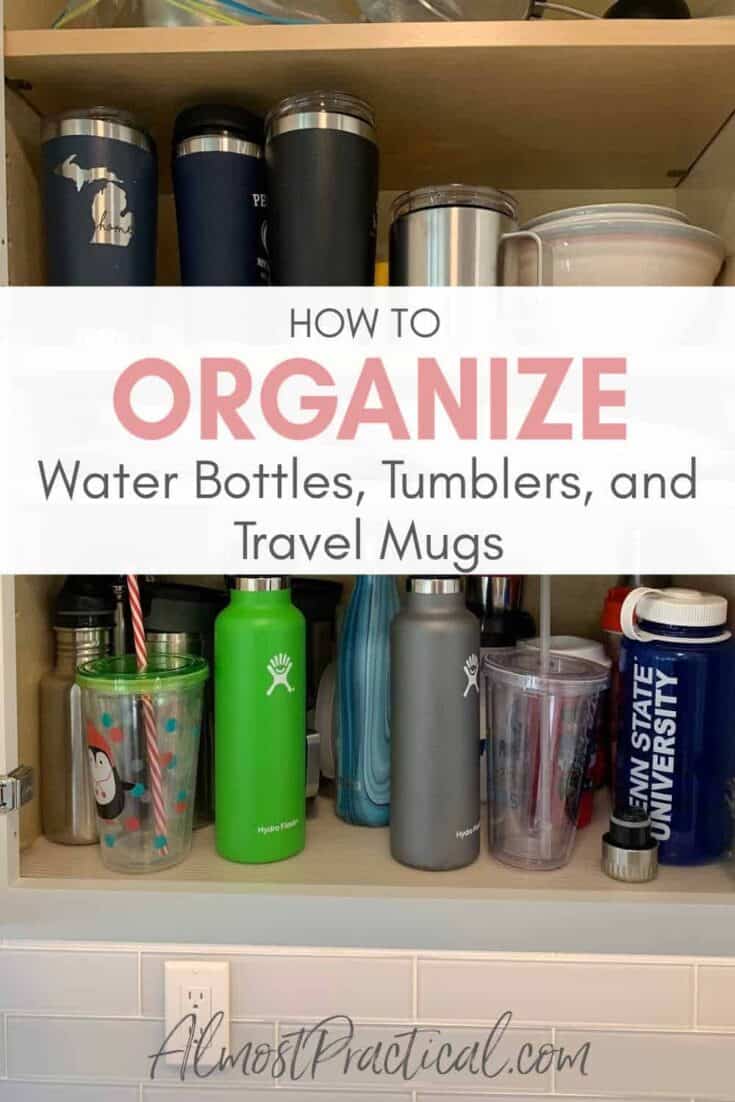 Create a Home for Your Water Bottles
This is a crucial step.
You need to have a cabinet or drawer in your kitchen that is THE PLACE where you plan to keep all of your water bottles.
Make sure that you pick a location that has a reasonable amount of space for storing what you want to keep on hand.
Anything that does not fit in this space has to go.
Got that?
You may need to adjust the shelving height in your upper cabinets to accommodate the taller bottles – but you get the idea.
I have designated the bottom shelf of an upper cabinet in my kitchen as my water bottle storage area.
For a long time, this space worked for us. But recently some of my older kids have come to live at home and they brought their water bottles with them.
Sigh.
So, it's time for a purge.
Collect ALL Water Bottles in a Central Location
Take all the water bottles you own and collect them all on a counter top or on your kitchen table.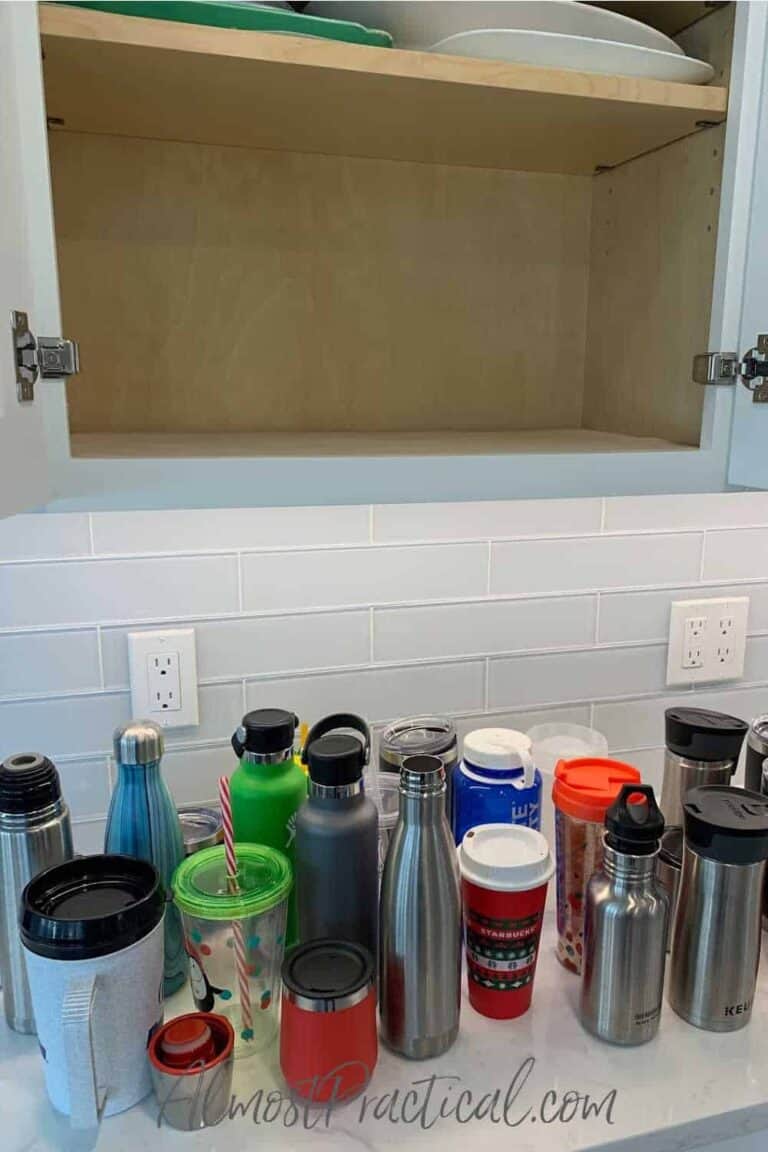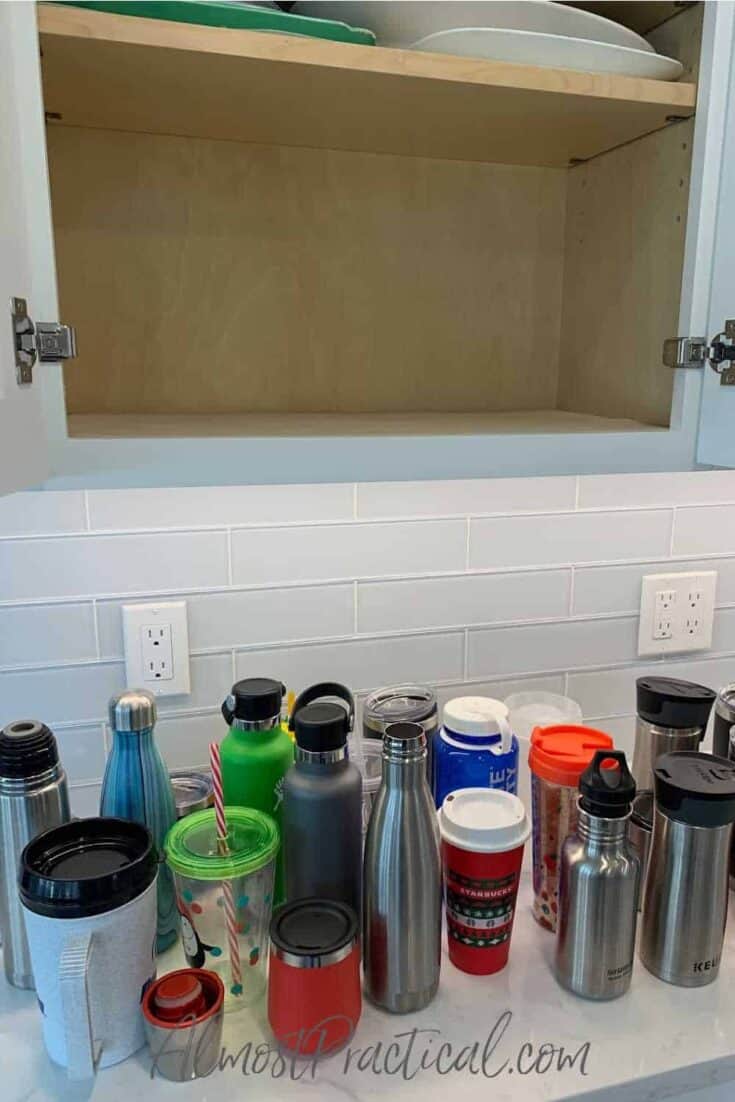 Grab a storage box for the ones that you can't bear to part with but that you don't use often.
Use another box or bag for your discard or donate pile.
Decide Which Water Bottles to Keep in Your Kitchen
The water bottles that you use the most should stay in your kitchen.
I have my Mira narrow neck bottle that I always use when I go to the gym.
Then there is my Yeti Rambler travel coffee tumbler that I use on the go and the Yeti mug that I use at home, when I just want to keep my coffee hot for longer.
And then my Yeti wine tumbler that I actually use for my afternoon tea. Seriously.
Can you tell that I am a Yeti fan?
These are basically the four bottles that I use the most.
Now go over the same process with each family member that has water bottles in your cabinet.
Try to get each person to commit to two or three water bottles or tumblers max.
Put these most used bottles back into your cabinet.
Select Bottles for Deep Storage
Now go through the remaining water bottles on your table.
We have some Thermos style insulated drink bottles that we mainly use on long road trips. These can go into a storage box destined for the basement.
I also have some Contigo spill proof travel mugs that I mainly use when I fly. I take them through security empty and then fill them with coffee when I reach the gate.
These can also go into the basement storage box.
We have a few sentimental college logo bottles that can go into storage too.
Discard the Rest
This is the hard part.
Some of the bottles and tumblers that remain on your table will be perfectly good.
Maybe you received them as a gift or a promo or from an office party or even from a client.
They will be nice bottles – but the question you need to ask yourself is how many do you really need?
Maybe you can find new homes for some of the nicer ones – but the rest you should try to part with.
Put them in your discard bag or box and take them out to the garage to donate.
Leave them out there for awhile if you want.
This way, if you find yourself digging through that bag looking for a particular bottle – you still have the option of bringing it back in.
When you are ready, take your discard pile to a donation center or have a garage sale.
Now decide what to do with your new found kitchen space!
You can use this same method to organize your coffee cups as well.
Related: Simple Pantry Organization Ideas
Organizing is Hard To Do
Organizing is hard because of the emotional attachments that we have to our belongings.
In her book The Life Changing Magic of Tidying Up, Marie Kondo instructs you to hold each item that you have and ask yourself if it brings you joy.
It may sound really weird – but there is truth in this.
As you sort through your water bottles – pick each one up and ask yourself if you really like, need, and plan to use it.
Remember, to designate a finite amount of space for storage, keep the ones you use the most in your kitchen, move the ones you use less often to a well labeled storage box in an out of the way location, and discard the ones that you really don't need or use.
If you are still having a hard time – check out these water bottle storage ideas for creative ways to find space to store your collection.
The Best Way to Organize Water Bottles in Your Cabinet
I hate to say it – but the best way to organize water bottles is to get rid of some them.
Empty your cabinet, go through your collection Marie Kondo style, and decide which ones you really like.
Store the ones that you use the most in your kitchen and find space in a closet or the basement for the ones you use less often.
Donate the rest.
Happy Organizing!