Simple Pantry Organization Ideas for a More Efficient Kitchen
This post may contain affiliate links which means I make a commission if you shop through my links.
 Disclosure Policy
Here are some pantry organization ideas to keep what is likely the busiest place in your house in order.
It doesn't matter whether your pantry is a small cupboard or a large walk-in space – if you can't keep it organized, then you will get frustrated.
An efficient kitchen makes everyone happy.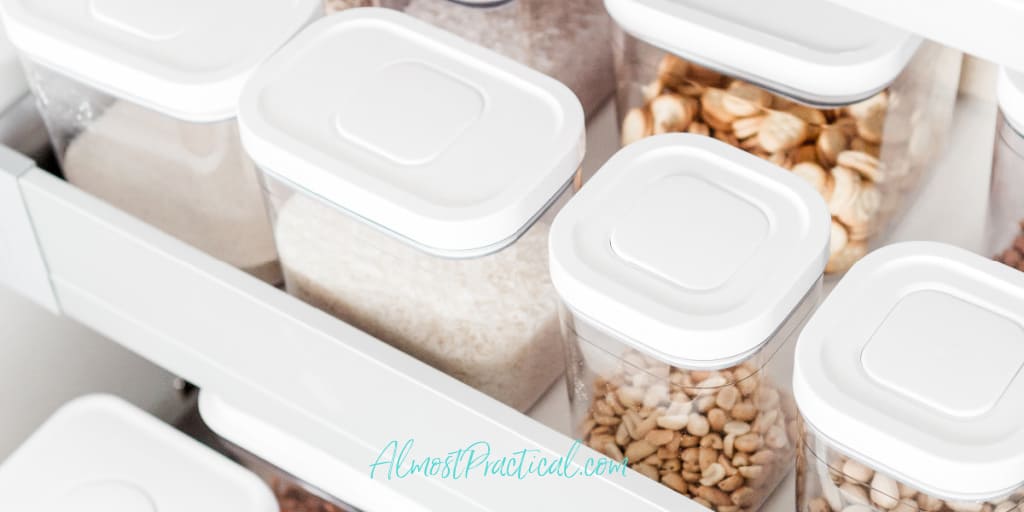 What is a Pantry?
Ideally, a pantry is a closet type structure that is in or near your kitchen.
It has lots of shelving that you can use to store food related items.
However, if your home is small – your pantry can be a cupboard or an open shelving unit.
What Belongs in a Pantry?
When your pantry is in chaos – it is tempting to dive right in and start organizing.
But without a plan, you are just creating an orderly mess.
Instead, take a step back and think about what really belongs in YOUR pantry.
Typically, a pantry is used to store your non-perishable food.
Non Perishable Items
So, if space permits, try really hard to keep ALL of the non-perishable items that you have in your kitchen in the pantry.
I know this sounds silly but it's really important.
If you have non-perishables scattered around your space in different kitchen cabinets, you are probably spending too much time looking for what you need.
See if you can rearrange things so that most of your canned goods, snacks, cereals, staples, etc are all in your pantry.
This way, whenever you need something you know that it is in that finite space.
I keep all of the above mentioned items in my pantry.
I also store water bottles, seltzer and bigger bottles of oil/vinegar on the bottom shelf.
Keep Other Stuff Elsewhere
Along those same lines, try to keep other kitchen items like dishes and appliances in other cabinets, so you have more space in the pantry for food items.
Of course, the contents of everyone's pantry will be different based on a number of factors:
the size of the pantry itself,
the size of your family,
how often you cook,
the types of foods that you cook
and so on.
What is the Best Way to Organize a Food Pantry?
The best way to organize a pantry is to:
group similar items together,
make it easy for yourself and your family members to access things they need,
use storage containers when needed, and
label everything.
How do I group things in my pantry?
An important step towards pantry organization is to keep similar items together.
You can group items based on a few factors:
Shape, Size, and Weight
Given the space that you have, you will realize that certain items will need to go in specific places because of their shape, size, and weight.
In my pantry, I put heavier items like water bottles, soda cans, and large oil bottles on the bottom shelf. Some people will put these on the floor of the pantry.
The opposite is also true, I put cereal, crackers, and other lightweight items on the top shelf.
Since the boxes are tall, I can easily see them up there on top, and if they happen to slip when I pull them down, then I won't get a nasty bump on the head.
The next shelf of my pantry are where I store cans – soup, vegetables, tomato sauce – all of that goes here.
Below that I have a shelf of bagged snacks like chips, pretzels, cookies etc.
Then comes dry goods like rice and lentils followed by a shelf for onions and potatoes (I know – you are not supposed to store them together. But still, I do.).
And finally the water bottles that I mentioned before.
Group By Usage
Another option is to organize your pantry based on how you use the items within – especially if you have small children.
You might want to store heavily used foods on a shelf that your children can reach easily.
And, the things you don't want them to have can be stored a little higher up.
What are the best pantry storage containers?
Once you have a pantry organization plan and you have started to decide how to group your items, you may be looking to purchase some pantry storage containers.
After all, we have all seen gorgeous photos of neat pantries with all of the dry goods neatly arranged in clear, uniform containers.
But STOP – not so fast!
It may look dreamy, but you really have to think about whether your family will actually use those containers and whether you will keep up with the maintenance of keeping them filled and clean.
Personally, I have fallen down that rabbit hole and in the end I got rid of half of the containers that I bought.
Here are my thoughts on pantry storage containers.
How do you organize dry goods?
You definitely want to use them for dry goods – especially those that tend to attract bugs, like flour, sugar, and rice.
I use these OXO Pops containers for dry goods but here are a few more good options:
Best Storage Containers for Dry Goods
These OXO Pops containers work nicely in a pantry because they are clear (so you can easily see what is inside) and they stack (so you can make use of vertical space)
The Brilliance Collection from Rubbermaid are also great for the pantry. The containers are both clear and stackable. I use this brand to store leftovers in my fridge but they could easily do double duty in the pantry.
If you are ok with using glass jars in your pantry, this set of large, wide-mouth Mason Jars are also versatile. They are great for storing coffee beans, loose tea, dry beans, and lentils - among other things.
How do you store a bag of chips in the pantry?
While you may be tempted to store chips, crackers, pretzels, etc. in food storage containers – I have found that using the actual bag or box that they come in is easiest.
Maybe my family is a bit lazy, but back when I used containers for chips – they would finish what was in there, open a new bag, and stuff the bag on the pantry shelf next to the empty container.
Yup.
So, I gave in and now I just keep a small container of bag clips (these are my favorite style of bag clip) right on the pantry shelf where the chips go.
It's so much easier!
How do you organize pasta in pantry?
The same goes for pasta – I just store it right in the box.
If I don't use a whole box, I do sometimes need to use a piece of Scotch Tape to tape it shut.
But that is pretty easy too.
How do you Organize deep pantry shelves?
When we went through our recent kitchen remodel, the one thing I knew I wanted to redo was the pantry.
Our old space was deep and narrow with wire shelving that everything fell through.
We installed pull out pantry shelves which work a lot better.
If you have deep pantry shelves – the best solution is to install pull out style shelving.
The advantage is that when you pull the shelf out – you can see everything that is on that shelf from front to back.
But, I know that pull out shelves won't work for everyone.
So, another option is to use sturdy storage baskets on your pantry shelves.
Similar to pull out shelving, you can pull the basket out of the pantry and easily see everything inside.
I like these shallow, clear, and sturdy pantry bins. You can see right into them and they are easy to clean and maintain.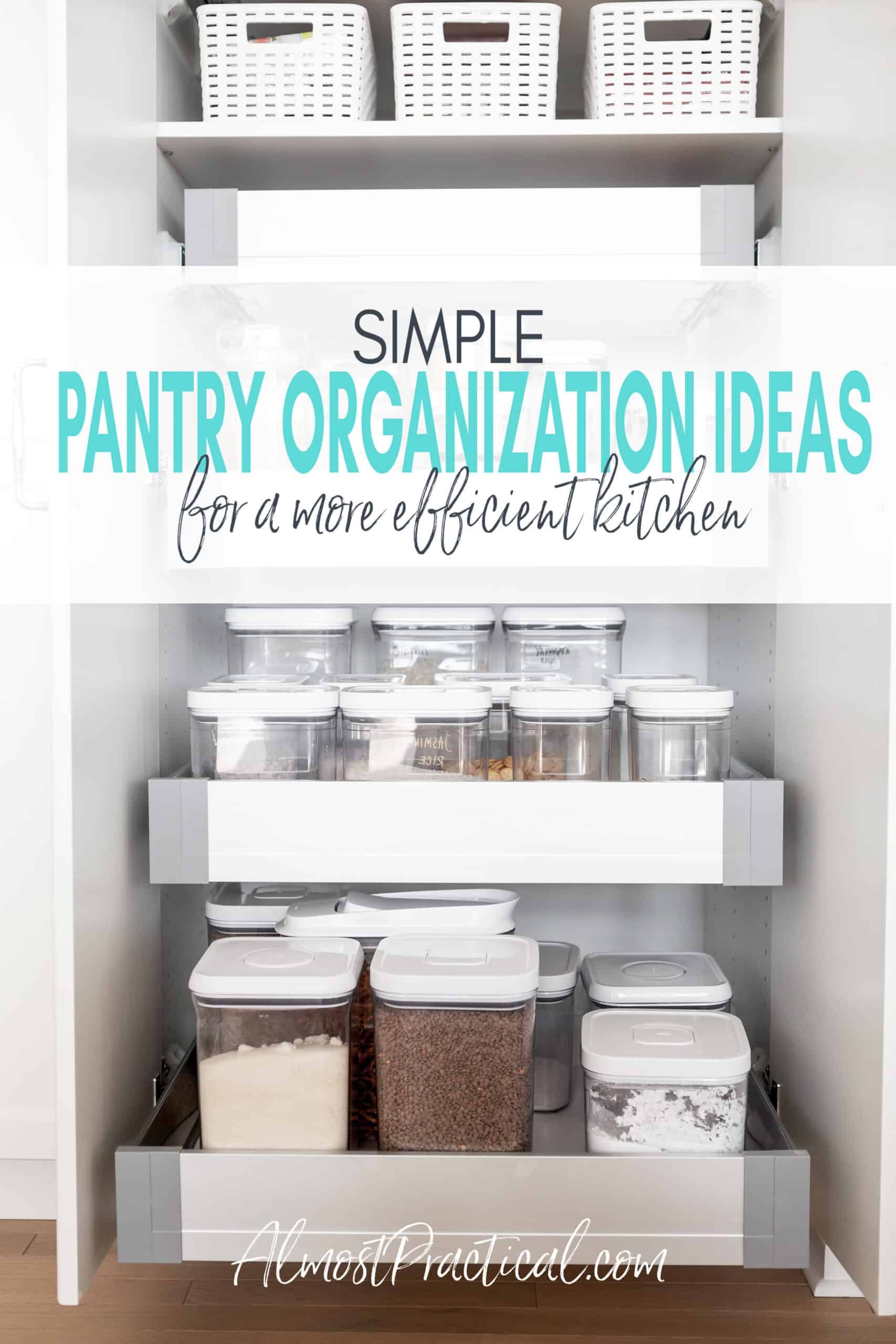 Label Everything
Now that you have gone through the trouble of organizing your pantry, you need to make sure that people actually use the system that you set up.
I swear my family needs a pantry map to be able to find and put things away correctly.
Since I know, they would never in a million years refer to a pantry map – labels are the next best thing.
I love this set of reusable chalkboard labels for the pantry and also this set of pre-printed waterproof labels for bulk items.
If you are feeling really creative, you can create custom vinyl stick on labels using a Cricut machine.
Bonus Tips
Here are few additional tips that you might find useful.
First, as much as I love my pantry space – it is way too small to hold everything for our large family.
So, I created an "overflow" space in our basement to store things that I have stocked up on but haven't opened yet.
If you also have a small pantry, see if you can set up a shelf somewhere else in your home to handle the overflow.
Second, when you transfer ingredients like flour and sugar from their original containers into your clear containers, do it in the sink so you don't make a mess of your counters or your pantry shelves.
More Kitchen Articles:
Pantry Organization Principles to Follow
No matter what style of pantry you have, use these principles to keep your space organized.
Make a plan, categorize your food items, decide where to store each category, find the food storage containers that you need, and label it all.
Happy Organizing!