5 Easy Pantry Organization Ideas
This post may contain affiliate links which means I make a commission if you shop through my links. Disclosure Policy
When we went through our recent kitchen remodel, the one thing I knew I wanted to redo was the pantry.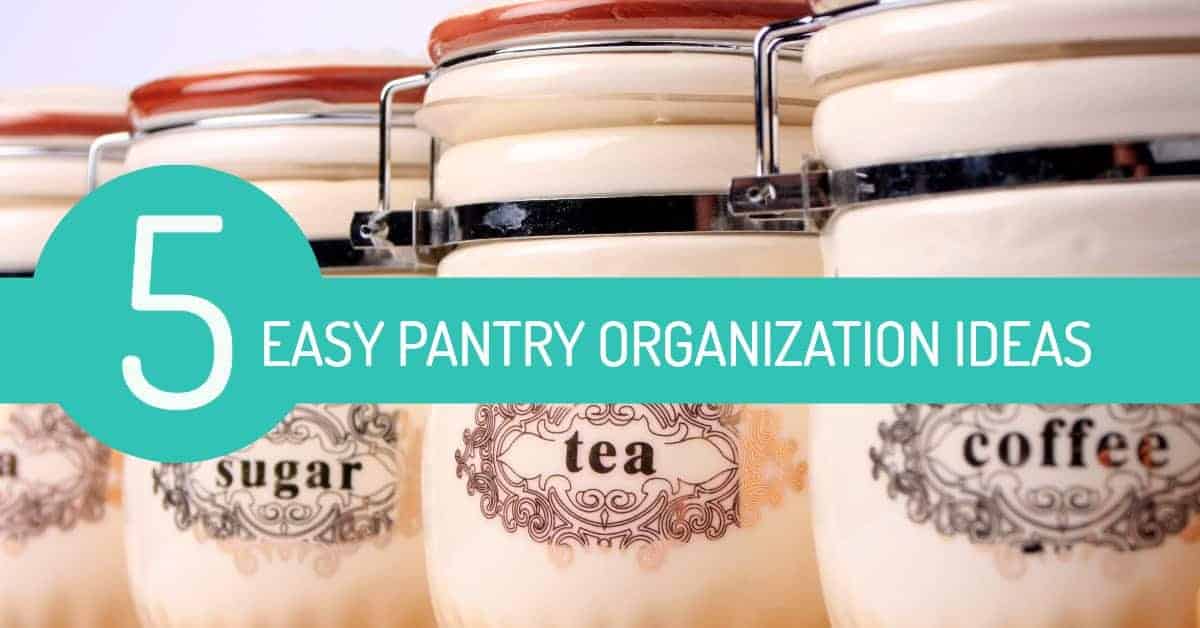 The space was deep and narrow with wire shelving that everything fell through.
We installed pull out pantry shelves which work a lot better – but guess what? It still gets messy.
That's the nature of a pantry, I suppose.
If you also have trouble with pantry organization, read on. These 5 tips should help you keep things tidy in your kitchen.
More Kitchen Articles:
5 Easy Pantry Organization Ideas
No matter what style of pantry you have, use these principles to keep the space organized.
1. Try to keep all your non-perishable food in the pantry
I know this sounds silly but it's really important.
If you have non-perishables scattered around your space in different kitchen cabinets, you are probably spending too much time looking for what you need.
See if you can rearrange things so that most of your canned goods, snacks, cereals, staples, etc are all in your pantry.
This way, whenever you need something you know that it is in that finite space.
I keep all of the above mentioned items in my pantry. I also store water bottles, seltzer and bigger bottles of oil/vinegar on the bottom shelf.
However, I don't have enough room in my pantry for everything.
So, I keep all my baking items in one kitchen cabinet close to the pantry. And I keep my spices and smaller cooking oils/vinegars in the upper cabinet next to the stove and also in a pull out spice rack next to the stove, as well.
2. Organize Similar Items Together
Now, I don't just throw all my stuff into my pantry.
I try to make sure there is a method to the madness.
The next step towards pantry organization is to keep similar items together.
Cereal and crackers go on the top shelf because they are lightweight and the big boxes are easy to see for short people like me.
Next is cans – I keep them all together on one level.
In the middle I have snacks like chips, pretzels, cookies etc.
Then comes dry goods like rice and lentils followed by a shelf for onions and potatoes (I know – you are not supposed to store them together. But still, I do.).
And finally the water bottles that I mentioned before.
Don't worry if you don't have that many shelves. You can get large baskets like these to corral a group of similar items on a single shelf.
Just make sure that you measure before you order so that you take advantage of all of your available space.
4. Use Clear Containers to Store Your Staples
Another principle of pantry organization is to try to use clear, rectangular, storage containers whenever possible.
I prefer the rectangle shape because there is little wasted space between your jars.
Round storage jars are certainly very pretty but if you are working with a small pantry then you need every inch you can get.
Personally, I use the OXO Pop Up style food storage containers in my pantry.
5. Label Everything
The key to pantry organization is making sure that people actually use the system that you set up.
I swear my family needs a pantry map to be able to find and put things away correctly.
Since I know, they would never in a million years refer to a pantry map – labels are the next best thing.
I love this set of reusable chalkboard labels for the pantry and also this set of pre-printed waterproof labels for bulk items.
If you are feeling really creative, you can create custom vinyl stick on labels using a Cricut machine. (the new raspberry color is so happy! I have the mint colored one, which I like too.)
Bonus Tips
And, I'll throw one two little bonus tips in, too.
First, when you transfer ingredients like flour and sugar from their original containers into your clear containers, do it in the sink so you don't make a mess of your counters.
Second, create a space in your home to store extra items and the remainder of items in the original bags/boxes.
Please do not cram all of that into your small pantry.
I have a shelf in the storage part of our basement where we keep all of the extra non-perishables. It's a bit of a trek to go downstairs whenever I run out of something – but I could use the exercise, so it's all good.
See, Pantry Organization Can Be Simple!
Just try to
keep all of your non-perishable food in one place (the pantry),
store similar things together,
use clear containers
label everything.
Is Your Pantry Organized?
Tell us about your biggest challenge with keeping the space neat and tidy in the comments below.
I promise I will post pictures of our new pull out pantry shelves soon. I can't seem to get the lighting right – and well (sheepish grin) sometimes it does get a bit disorganized.
Pin this article to your favorite board on Pinterest to refer to later.