Rakuten Review: Save Money On Things You Buy Anyway
This post may contain affiliate links which means I make a commission if you shop through my links. Disclosure Policy
If you've never heard of Rakuten – pay attention! This service/browser extension can save you lots of money on things that you plan to buy anyway. Here is my review.
Over the past year or so, this app has saved me over 500 dollars.
And – no – I am not addicted to online shopping.
First, let me tell how this service works, and then I will tell how I was able to save so much.
What Is Rakuten?
Rakuten is a service that offers you cash back from online purchases at huge selection of stores.
These are places that you might normally shop at anyway.
For example, just this last Black Friday, I made purchases at stores like:
I would have bought all the things that I did regardless of whether I could get cash back from Rakuten.
But it was really nice to go through Rakuten and get a little bit more of a discount on my purchase.
How Do You Shop Through Rakuten?
The first thing that you need to do is sign up for a FREE account with Rakuten here.
Rakuten is always completely free for you to use – there is NO cost to you.
Once you sign up for account, you simply search the Rakuten site for the store at which you want to shop.
There will be a caption under each store on the Rakuten site that tells you the percentage of cash back you can get at that retailer.
This percentage can change from day to day. (Around holiday times many retailers offer up to 10 or even 15 percent cash back!)
Using the link on the Rakuten site, click through to the site where you plan to shop.
Shop as usual.
When you complete your purchase, your cash back will be added to your Rakuten account.
Once you exceed the threshold of $5 in cash back, Rakuten will send you a paper check (they call it a Big Fat Check) to your home address. Or you can choose to be paid via PayPal.
You cash it in – and that's it.
Rakuten Browser Extension Makes Shopping Easier
If you use Google Chrome as your browser on your computer – you can add the Rakuten browser extension to your browser.
Make sure to sign into your Rakuten account using the browser button once you install the extension.
This little button makes it easier for you to get cash back when you shop.
Simply visit the website where you want to shop and the Rakuten browser extension will pop up with a little window telling you the percentage of cash back that you will receive if you make a purchase.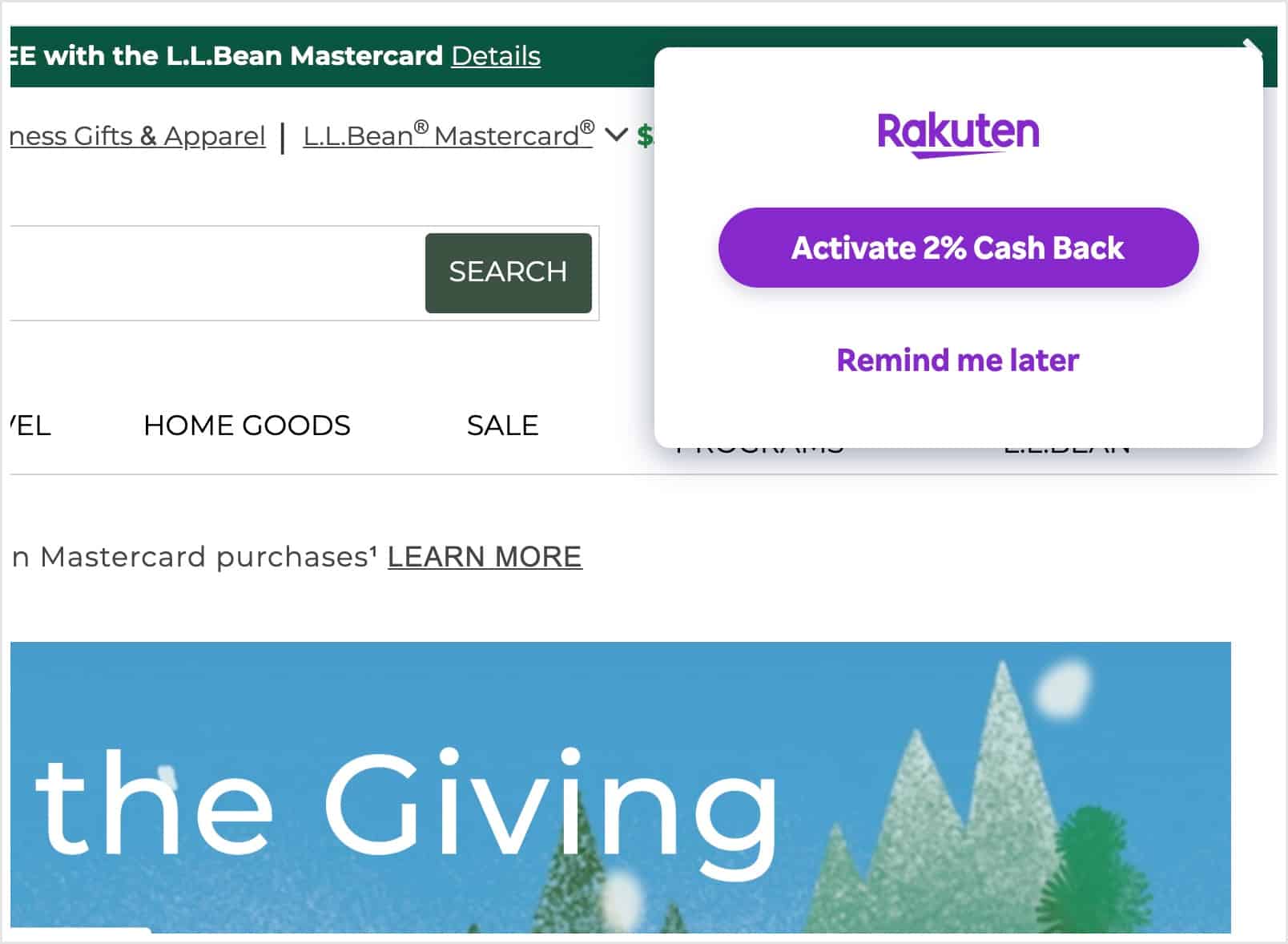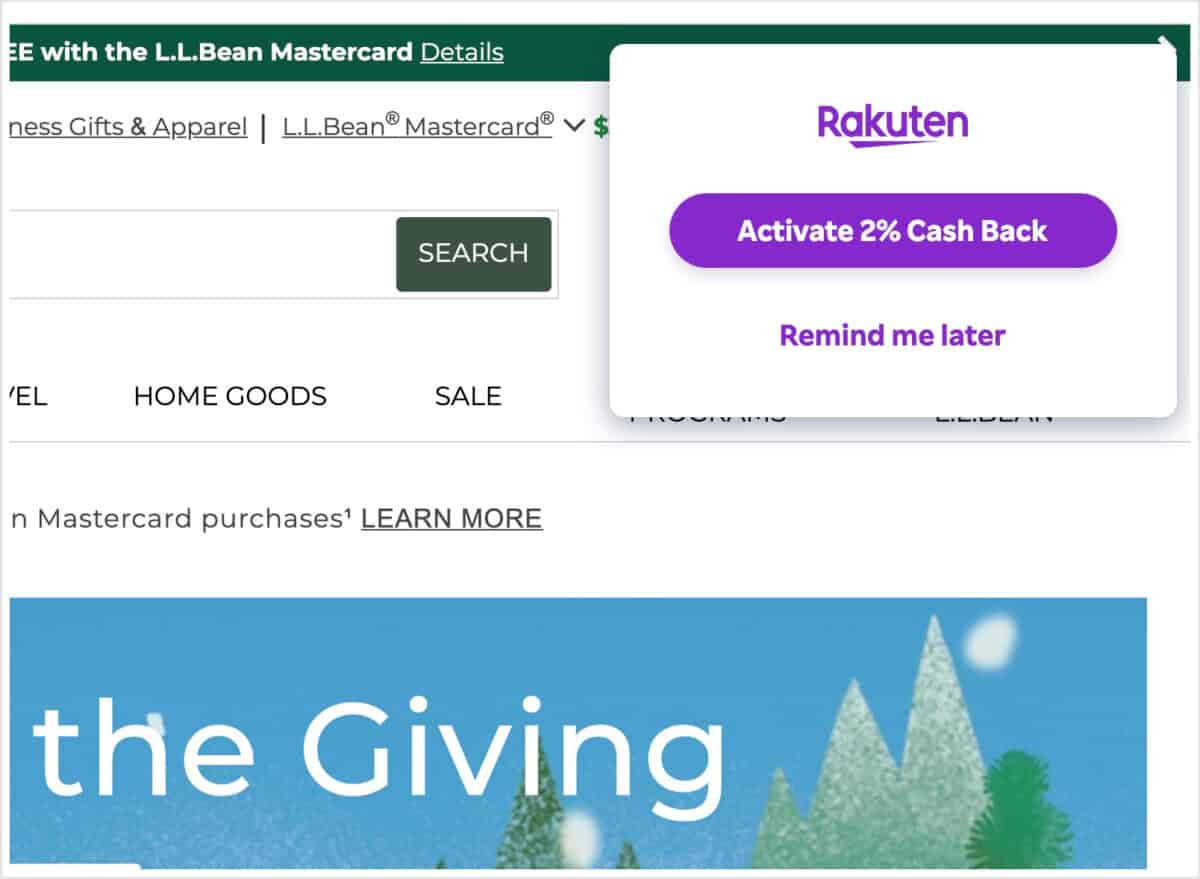 You need to press the button in the pop up window to activate the cash back and then shop as normal.
Mobile Shopping With The Rakuten App
If you shop on the go, Rakuten even has a mobile app that you can use.
However, I have never been able to successfully sign into the app on mobile. It keeps throwing me a connection error.
Luckily, I do most of my online shopping on a computer.
How to Save the Most Money
Obviously, if you need something right away – you have to buy it when you need it.
But, if you have some flexibility with the timing of your purchases, you can wait until the percentage of cash back is on the higher side for the stores at which you plan to shop.
As I mentioned before, the percentages at Rakuten tend to go up around the holidays.
Over Black Friday weekend, there were a ton of stores offering 10 percent cash back from Rakuten (and this was in addition to the sales that they were already having on their websites!).
On Cyber Monday, many stores were offering a whopping 15 percent back.
My cumulative money back is quite a big sum because I tend to shop only when the cash back percentages are high.
Of course, these high percentages don't happen every day, but throughout the year you will see them fluctuate.
If the percentage is low, wait a few days and see if it goes up.
You can also check the percentages at your favorite stores often, even if you are not planning to shop. Do this to just get a feel for what the average cash back percentage tends to be. Then if it increases – you know when you are getting a good deal.
Why you should sign up for Rakuten before shopping the Memorial Day sales.
Rakuten Pros and Cons
The pros of Rakuten are basically the dollars that you get back.
It's always nice to get a little something extra.
But there are a few downsides – mostly technical – that you should be aware of.
First, once you activate your cash back in your browser, you have to be very careful not to open several browser windows at the same store.
The cash back might be active in one window, but if you open a new window, you will likely need to activate the cash back in the new window as well.
If you forget to do this, you won't get the cash back.
Also, if you step away from your computer before you make your purchase, your Rakuten session can time out.
When you come back to your computer and your shopping cart, you need to remember to activate your Rakuten cash back again.
For me, another con is the mobile app – because it won't let me log in. Not sure if it's something on my end but it's annoying nonetheless.
Should You Use Rakuten?
Since there is no fee, it makes sense to give it a try.
There really is not catch that I can see.
It can be a little technically challenging.
Besides that, I do enjoy getting money back while shopping for things that I planned to buy anyway.
I hope you found this Rakuten review to be helpful. Check it out for yourself by signing up for a free Rakuten account here.
Happy shopping!