3 Quart vs 6 Quart Instant Pot – Which one is best for you?
This post may contain affiliate links which means I make a commission if you shop through my links.
 Disclosure Policy
It can be difficult to decide whether you should buy a 3 quart vs a 6 quart Instant Pot, especially if you have a small family or are cooking for yourself.
I originally bought a 6 quart Instant Pot DUO60 a few years ago as an upgrade from a standard stovetop pressure cooker.
The Instant Pot was very impressive in all that it could do – if you are not familiar, you can read my Instant Pot review here.
I liked it so much that I actually bought a second 6 quart Instant Pot (which my son now uses) and when the 3 quart Instant Pot came out, I bought that one too.
As an owner of both sizes, I can give you a little food for thought (yes, bad pun intended 😉 ).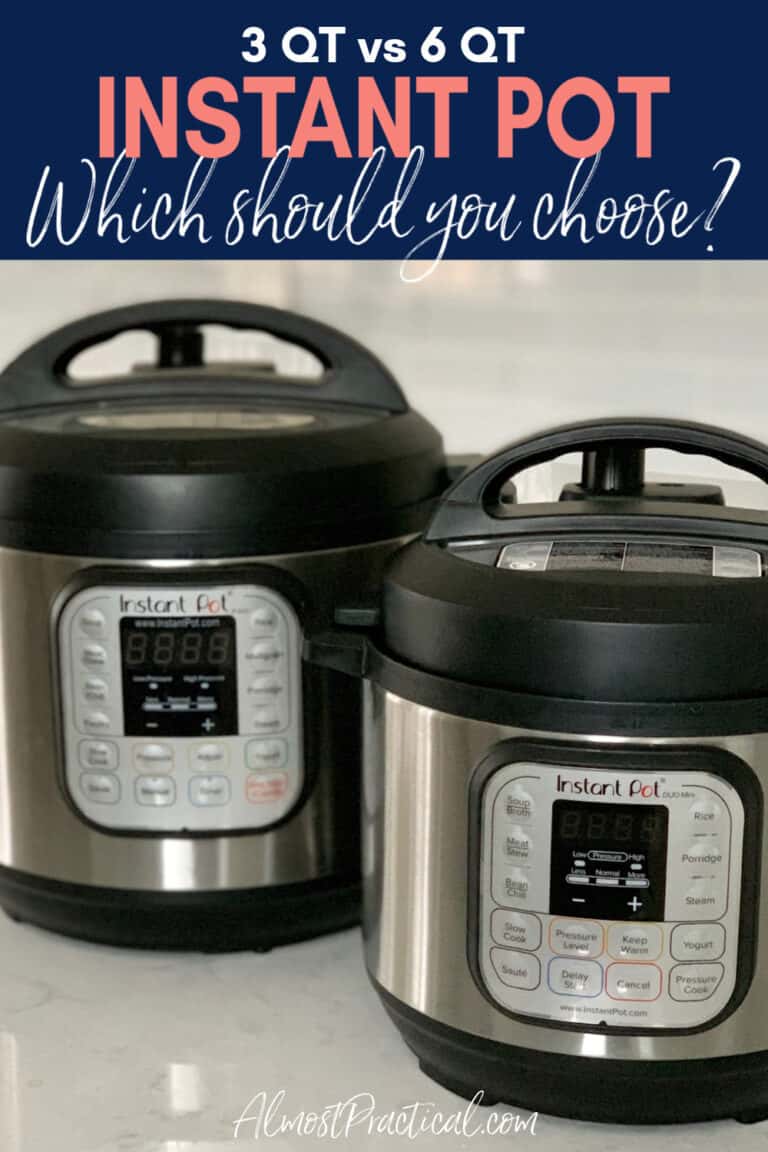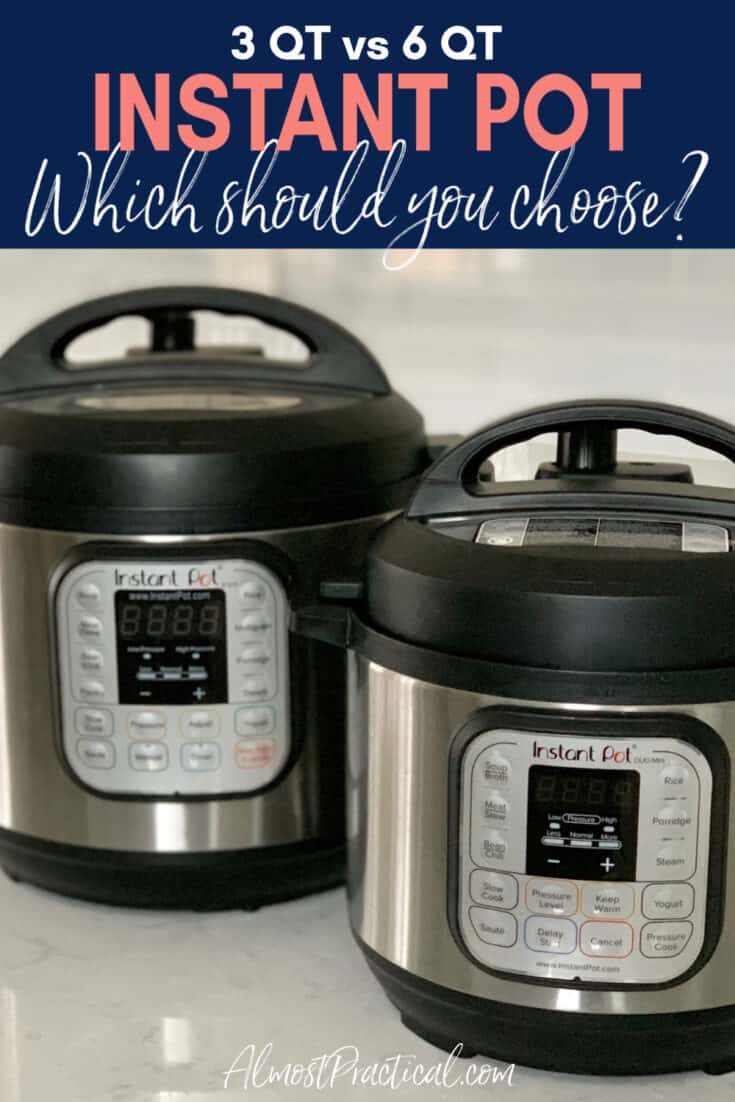 What Size Instant Pot Do I Need?
Before you buy an Instant Pot, there are a few things you should think about when it comes to size.
There are a lot of things to consider from how much space you have in your kitchen to how many people you need to feed.
You, of course, need to decide which factors are most important to your situation.
How Big is a 3qt Instant Pot vs. a 6qt Instant Pot?
Most people would tell you that the first factor to consider is whether a 3 quart Instant Pot is big enough for your needs.
But I am going to go against the grain here.
While you certainly want to be able to cook for the whole family I think that the first thing you should consider is how much storage space you have in or around your kitchen.
If the Instant Pot is constantly getting in your way or if you always have to move it from here to there – then you might end up getting frustrated.
The 3 quart Instant Pot definitely has a smaller form factor than the 6 quart model.
If space is limited in your kitchen, I would measure the space where you plan to keep your Instant Pot and compare it to the measurements of the actual Instant Pot itself.
The last thing you want to do is store it in the basement or someplace far away from where you cook, because you will be less inclined to use it.
Some people just keep their Instant Pot right on the countertop. But if your countertop space is limited as well, then this may not make sense for you either.
Personally, I use a lower kitchen cabinet to store both of my Instant Pots.
How Big is a 6 Quart Instant Pot?
According to the Instant Pot website the 6 Quart Instant Pot Duo measures in at 13.4" length x 12.2" wide x 12.5" height and cooks up to 6 servings (all though I feel that serving size really depends on the recipe that you are making.)
How Big Is a 3 Quart Instant Pot?
The same Instant Pot website lists the dimensions of the 3 quart Instant Pot at 11.4" length x 10" wide x 11.2" height and says that you can cook for up to 3 people (again, I feel that this number varies).
Will the 3 QT Instant Pot Be Too Small?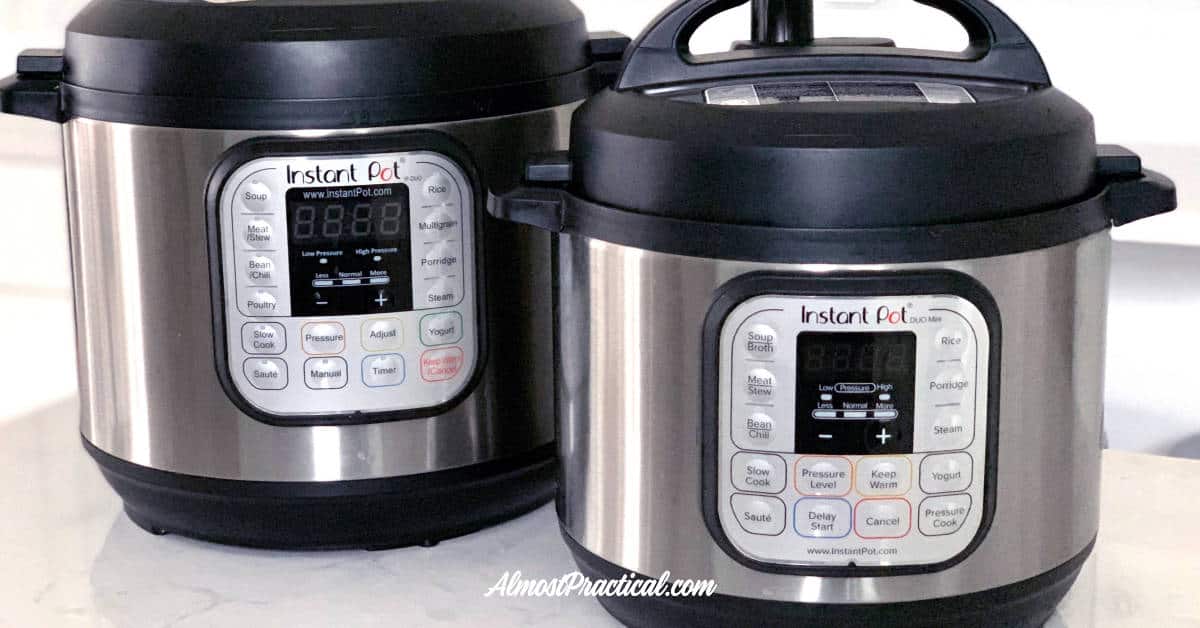 If you have a family of four or more – I would say that the six quart Instant Pot is a safer bet because you want to be able to make enough food for the entire family.
There are 6 people in my family, and I got my 6 quart Instant Pot when they all lived at home. I found it to be very adequate for our needs. There is a larger 8 quart size Instant Pot, but I never felt the need to get one that big.
So, you would think that if you had a smaller size family – say 1 to 3 people, that the 3 quart Instant Pot would be the best size Instant Pot for you.
But that is NOT necessarily the case – even if you cook for less people, you may still want to consider a 6 quart Instant Pot.
This is why.
Flexibility in Recipes and Quantities
While the 3 quart Instant Pot is a good size when cooking for 1 person or a small group it limits the amount of flexibility you have to make larger or more complex recipes.
It may also be harder to find Instant Pot accessories that fit into the smaller 3 quart model.
Remember this – you can always make a smaller quantity of food in a 6 quart Instant Pot but you can't make a larger quantity of food in a 3 quart Instant Pot.
For example, let's say that you wanted to make a large batch of soup so you could eat some now, have some for leftovers tomorrow, and freeze the rest.
The 3 quart Instant Pot might be too small for this task.
Or let's say you want to make multiple dishes in your Instant Pot at once using something called a pot in pot method.
There may not be enough space in the 3qt Instant Pot to do something like this.
My Choice Would Be …
Given a choice between a 3 quart and a 6 quart Instant Pot – personally, I would choose the 6 quart Instant Pot assuming I had enough kitchen space to store it.
For me, the flexibility of making larger quantities and the availability of a wide variety of accessories is very important.
But if you can swing it – you get both.
I have both sizes and use them in tandem all the time. For example, we like to serve this Instant Pot Lentil Soup recipe over white rice.
So, I make the soup in the 6qt Instant Pot and the rice in the 3qt Instant Pot at the same time.
When choosing which size to buy, keep in mind that it is a very personal decision and the factors that are important to you may different than the ones for me.
There Many Instant Pot Models to Choose From
Both of my Instant Pots are from the IP Duo line – in fact, these were the only ones available when I purchased them.
However, over the years the Instant Pot line has evolved to include different lines and even more sizes.
Here are the ones available on the market at the time of this writing:
Which Size Instant Pot Did You Choose?
If you were on the fence between the 3 quart or 6 quart Instant Pot – which size did you end up choosing and why? Please let me know in the comments below.