The Secret to Great Chocolate Buttercream Frosting
This post may contain affiliate links which means I make a commission if you shop through my links.
 Disclosure Policy
I hate to admit it – but I rarely make my own buttercream frosting – let alone chocolate buttercream frosting.
It's not that I am too lazy – well maybe laziness plays a teensy part – but the reality is that my buttercream icing never tasted all that great.
So, whenever I made cupcakes, I would default to some type of fluffy white frosting which my whole family seems to enjoy.
Well, yesterday I made some cupcakes and discovered that we did not have any frosting in the pantry. And that is when I made the ambitious decision to make my own buttercream.
The process was a complete comedy of errors, and the resulting cupcakes may look quite simple to some – but after all I went through they were a big deal for me.
And at the end of the day – the success was even sweeter than the cake!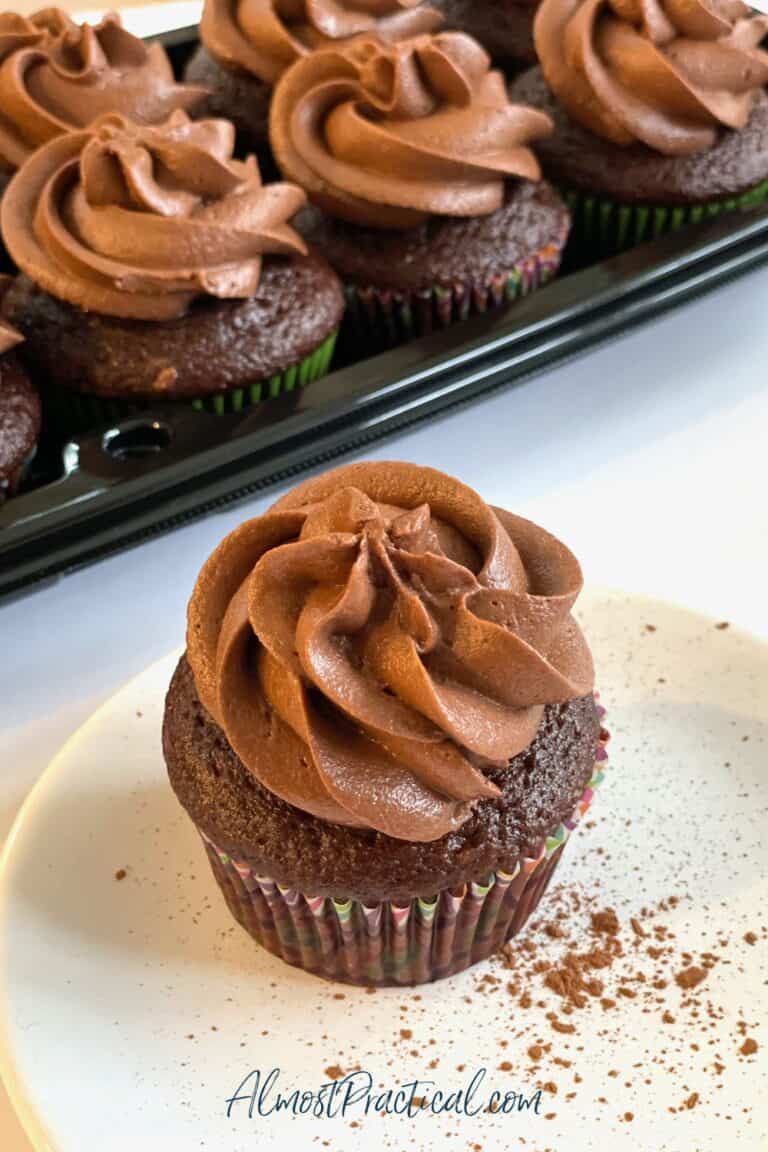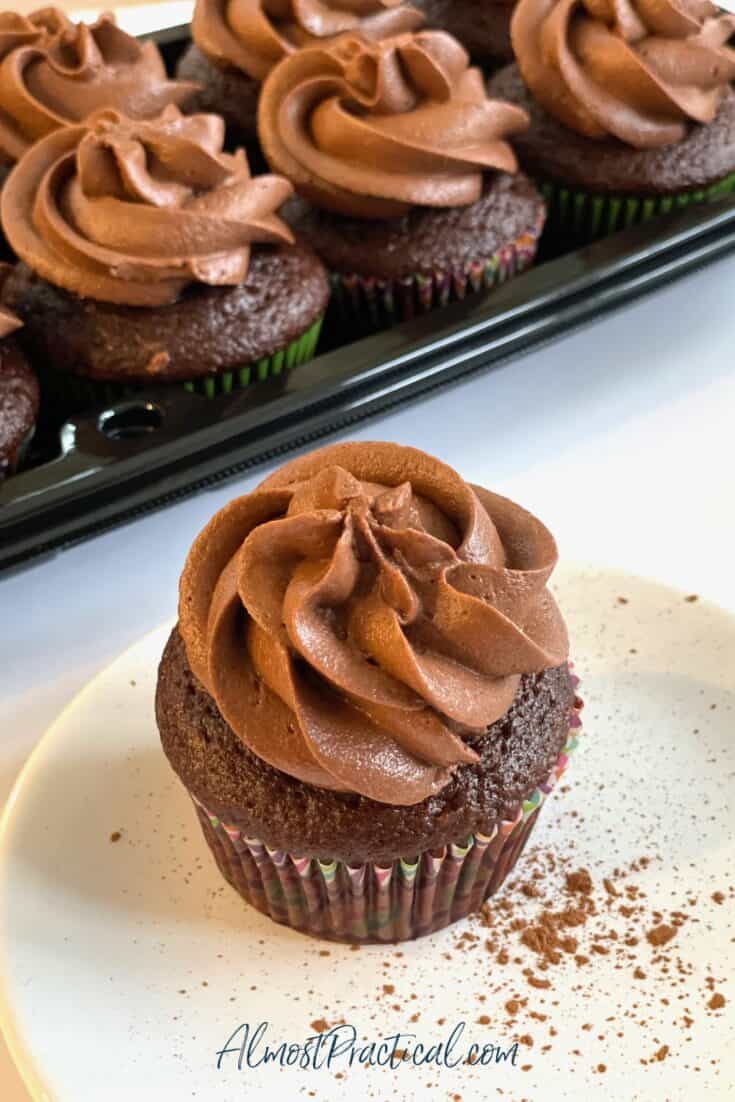 My Number 1 Buttercream Frosting Tip
Before I get into my whole story – I will tell you that my secret to making great buttercream frosting is mixing, mixing, and mixing some more.
I started by beating the butter until it was super light and creamy.
Then I added the powdered sugar and beat that for at least three minutes on a lower speed – and then as it became more airy, I beat it for at least 3 minutes more on a higher speed.
Then I continued to beat the mixture as I added vanilla and whole milk.
At the last minute, I decided to make chocolate frosting instead of vanilla – so I added in some cocoa powder and additional milk and beat it even more.
There was no science to how long I mixed it but when all was said and done, it was a really long time.
The result was a light and fluffy frosting that is still creamy a day later. It seriously tastes store bought – and I am so happy with the results!
How I Make the Cupcakes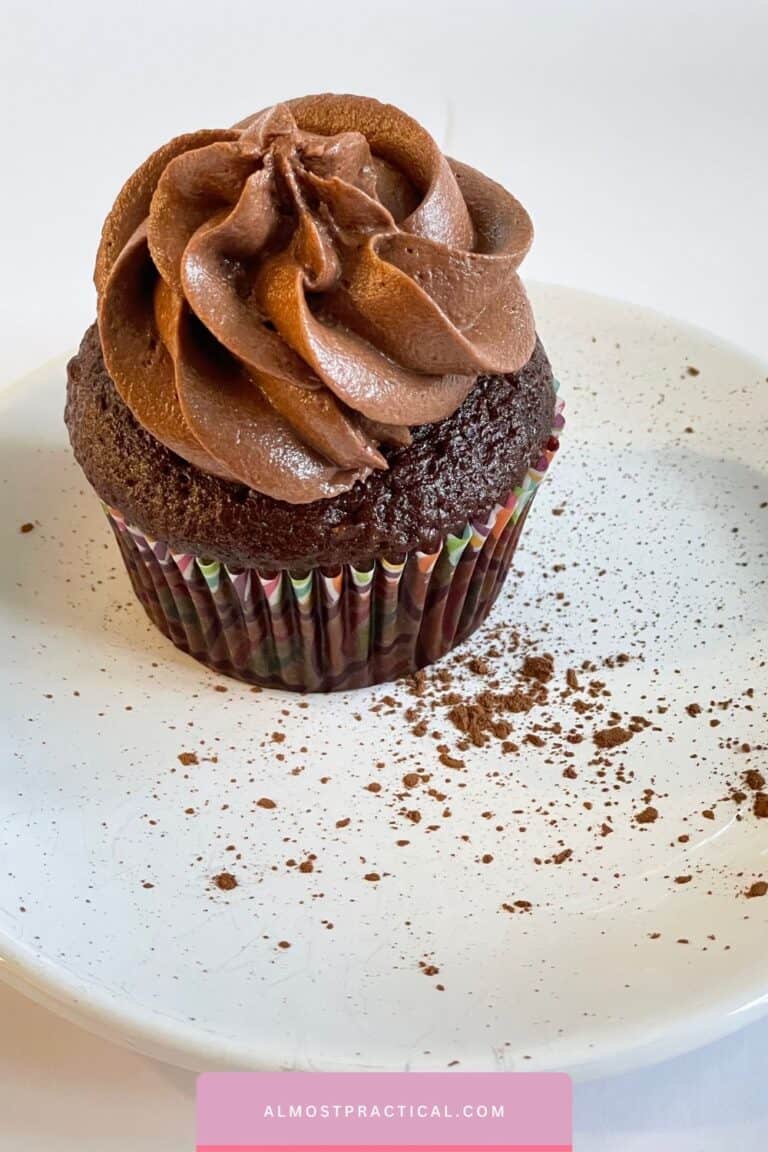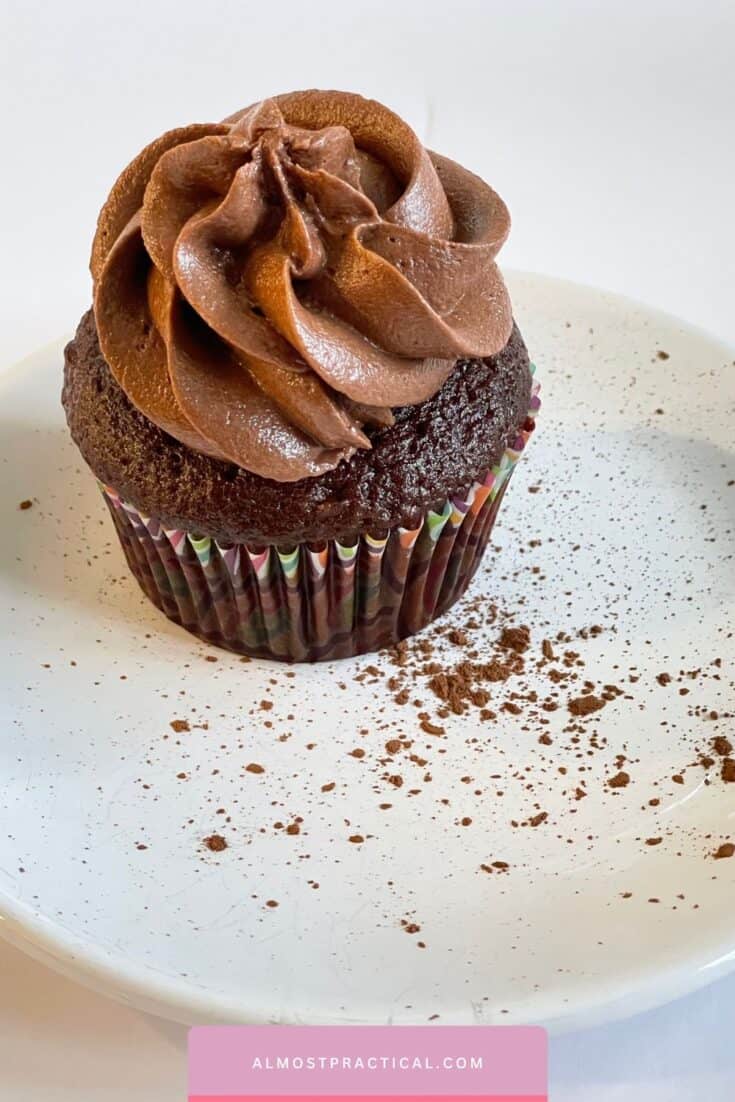 Making the cake part of these cupcakes is really easy.
I totally cheat and use a box cake mix.
My go to mix over the years has been either Duncan Hines Classic Yellow Cake Mix or Duncan Hines Devil's Food Cake Mix. I love them equally – and obviously for these cupcakes I used the Devil's Food option.
When you make cake from a mix, the box is typically designed to yield 24 standard sized cupcakes. But I aim for dividing the batter from one box of cake mix equally amongst 18 cupcakes.
This makes each cupcake slightly bigger which I think looks better when frosted and is more satisfying to eat as well.
Sometimes the center of the cupcake will pop up like a mountain while baking because the cup was slightly overfilled – in that instance I will use a serrated knife to slice a little off the top. The frosting will cover the cut so it will look fine when done.
Right now I am using my ancient muffin tins for baking the cupcakes – but I am hoping to upgrade to this set from Caraway Home in the near future. You can read my Caraway Cookware review hear – I just love cooking in these pans!
How to Make Basic Buttercream Frosting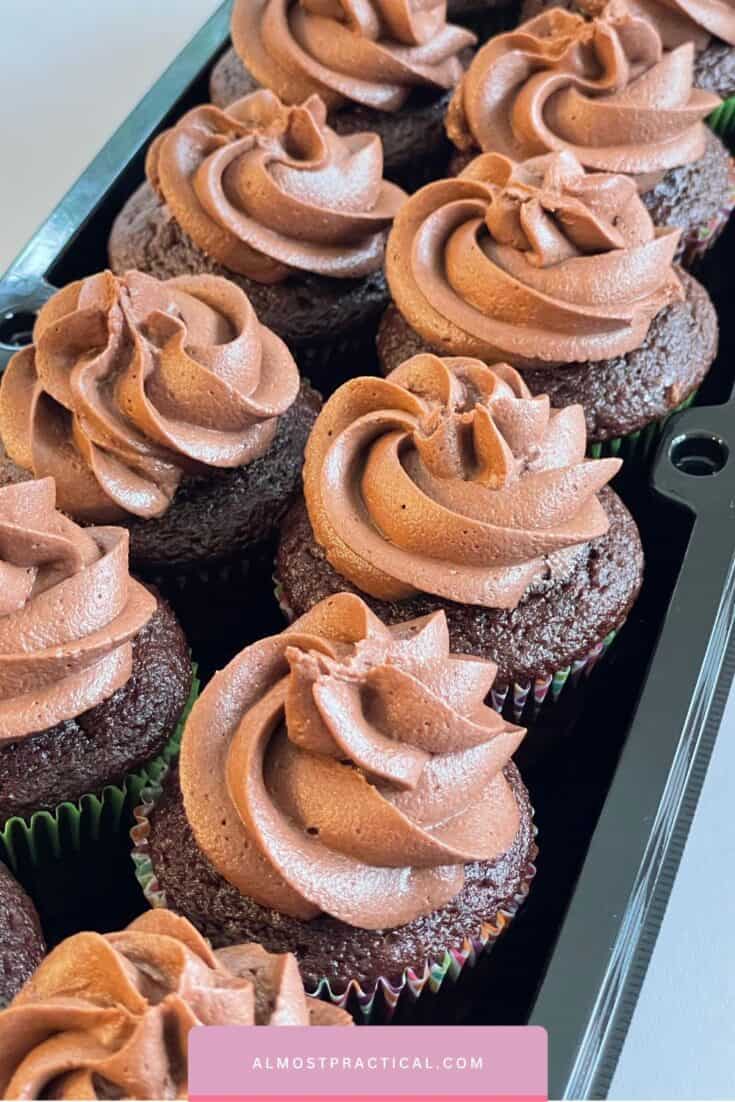 Making buttercream frosting should be pretty straightforward – and I was on a good path, until I decided to make the switch to chocolate.
I started with my basic buttercream recipe that calls for:
salted butter
powdered sugar
vanilla, and
cold whole milk (you can use cream – but I rarely have that in the house).
Basically you cream the butter in a mixer until it is light and fluffy.
But, what does light and fluffy mean when it comes to creaming the butter?
That is the million dollar question, right?
Basically, I put my Kitchen Aid stand mixer on about speed 4 and mix the butter that I left out but is still cool (not quite at room temperature) until the color goes from yellow to almost white.
Usually I gradually turn the speed up to about 6 to get the results that I want.
Mix in the powdered sugar.
Next you mix in the powdered sugar and continue mixing for at least 3 minutes or longer.
Again, I started on speed 3 and gradually increased to 6 as the mixture became more fluffy.
Just make sure your mixer can handle it as you don't want it to overheat and burn out the motor.
Total time was probably around 6 minutes.
Mix in the vanilla.
Next you mix in the vanilla.
Mix in the milk – one tablespoon at a time.
Finally add the milk to the mixer one tablespoon at a time and mix well after each addition.
Take your time here and don't rush it.
When your buttercream frosting is the consistency you like – you are done!
How To Make Chocolate Buttercream Frosting
It was at this point that I decided that I wanted chocolate buttercream instead of vanilla.
So (me and my bright ideas), I decided to add some cocoa powder into the mix.
Well, cocoa powder is a fine and lightweight substance – and sure enough – as soon as I started the mixer again, poof! – a huge cocoa powder cloud poofed out and coated the mixer and counter.
What a mess!
Based on my experience – if you want to make chocolate buttercream frosting – I would suggest that you add cocoa powder to the creamed butter at the beginning of the process before you add in the powdered sugar.
Then do everything else the same way.
You will likely need a little more milk with the chocolate flavor because the cocoa powder makes the mixture more stiff.
But just go slow and add 1 tablespoon at a time.
How to Pipe the Frosting On the Cupcake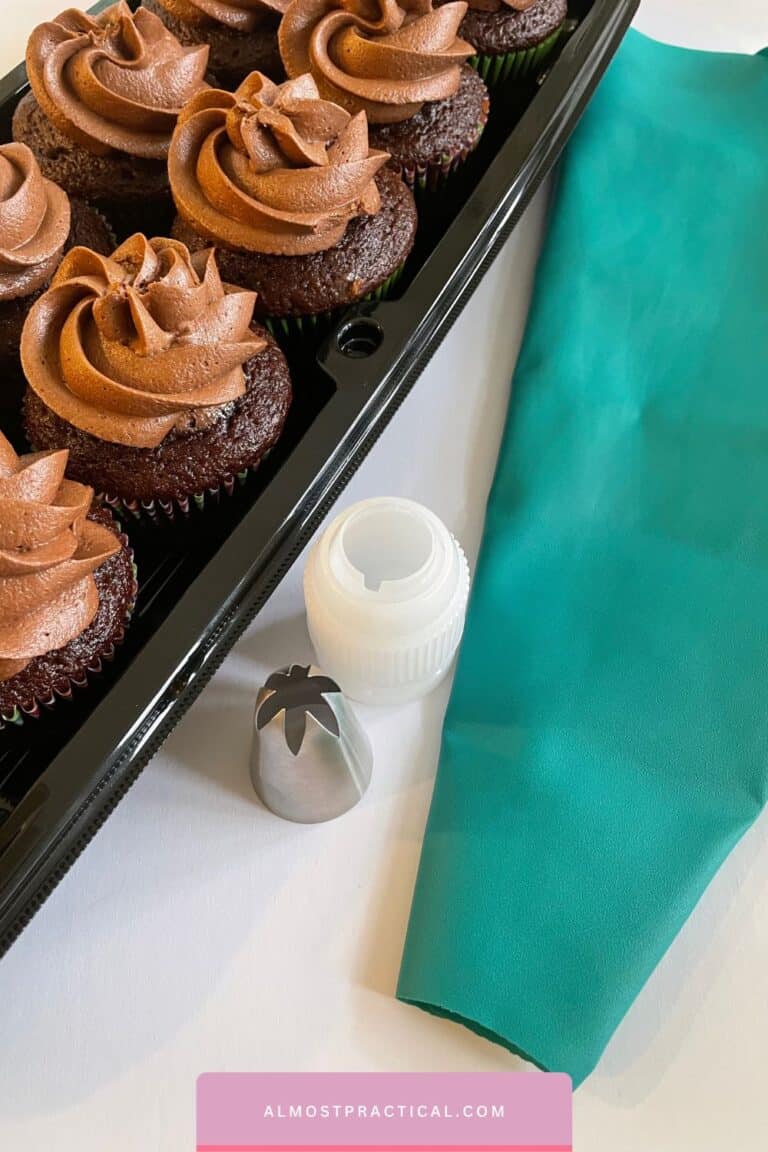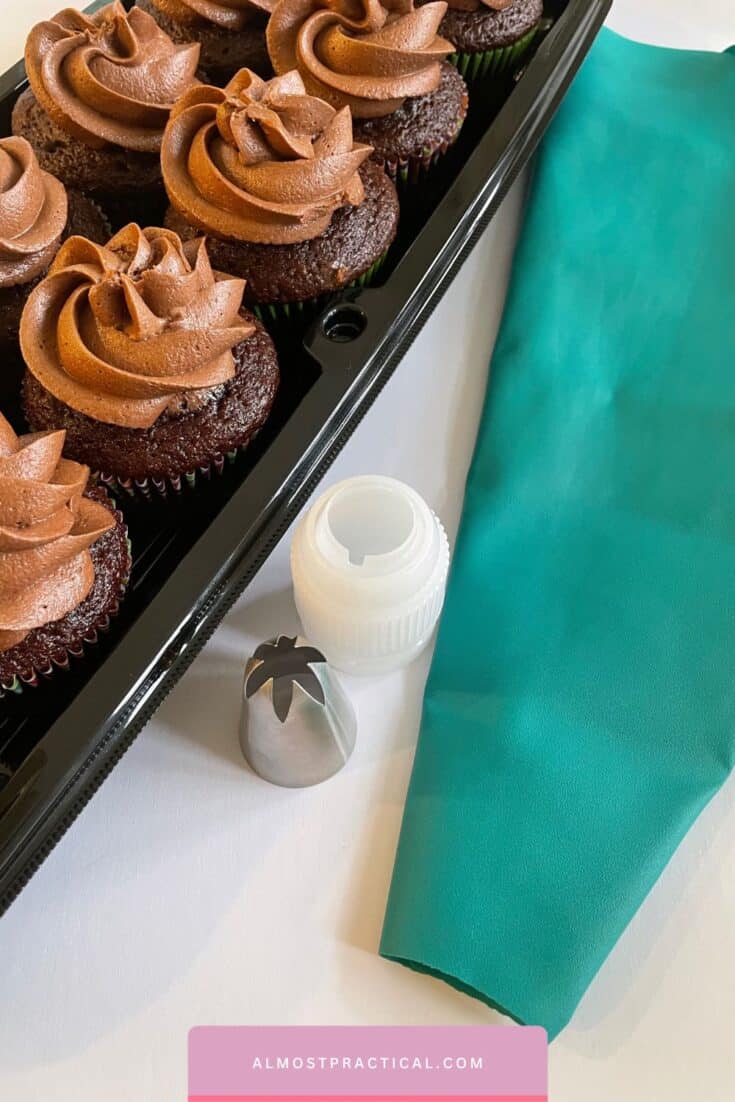 Once again, I had to do a little trial and error to get the piping just right.
To get the spiral I used the large open star tip from this Pampered Chef piping kit. But you can find similar large piping tips on Amazon.
Storing Frosted Cupcakes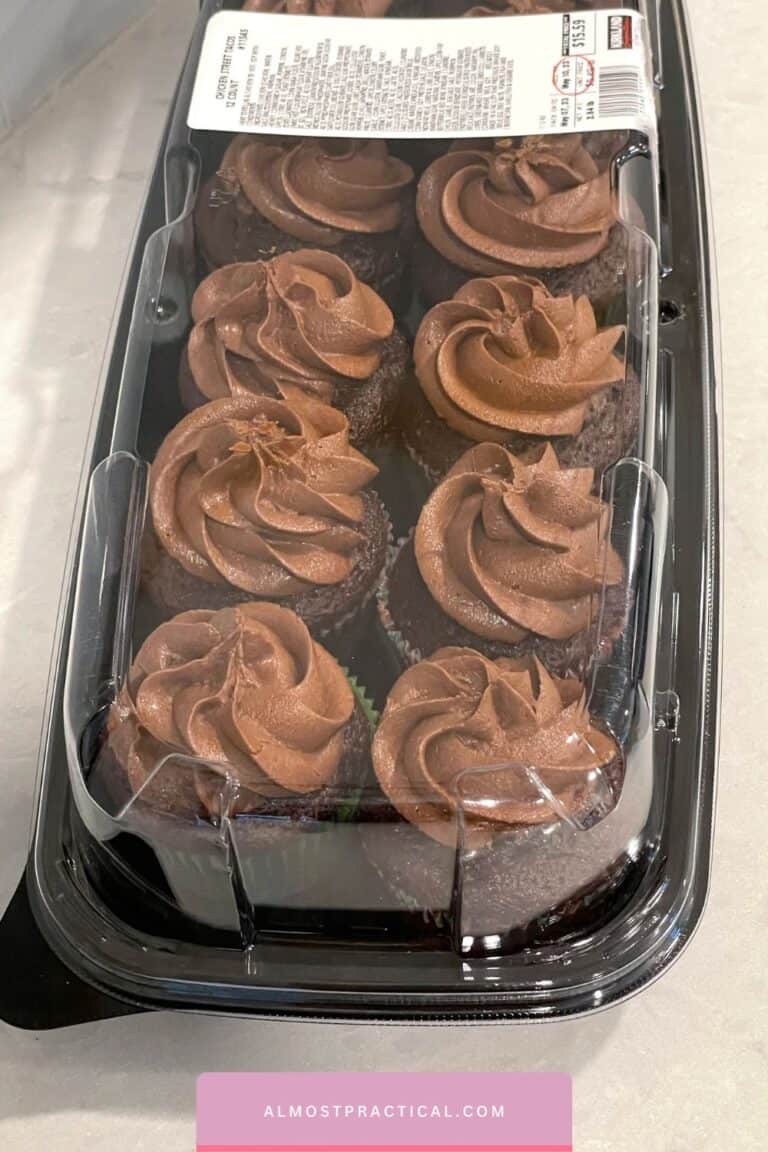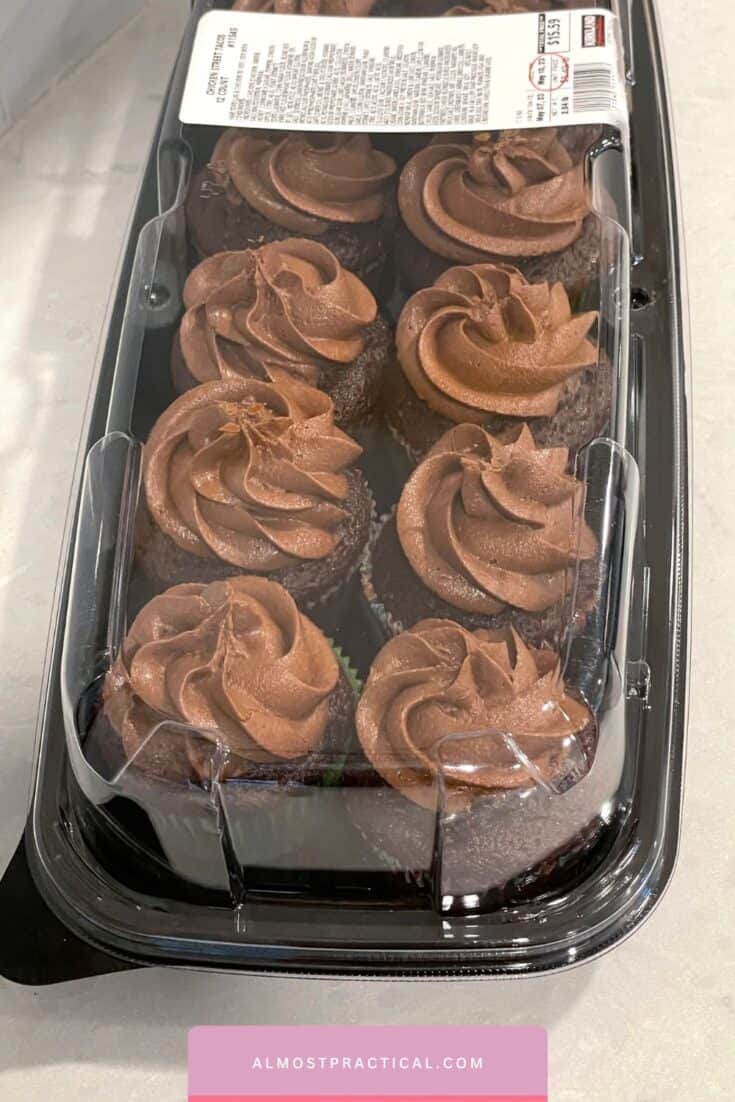 Although you may be tempted to eat all of your beautiful cupcakes in one sitting – the reality is that you will have some leftovers that you will want to store.
The trick is finding a container that is tall enough – so you don't mess up the frosting.
If you happen to be a member at Costco, you may be familiar with the Chicken Street Tacos ready to serve dinner that they sell.
This meal is sold in a long rectangular take out style container with a tall lid.
I found that 12 of my frosted cupcakes fit perfectly into the Chicken Street Tacos container.
They look so good, in fact, that someone just might think your cupcakes were store bought and not homemade!
But hey – whatever works, right?
Try Making Homemade Chocolate Buttercream
The next time you need cupcakes for a special occasion – try making a batch of homemade chocolate buttercream frosting.
It is so worth the effort!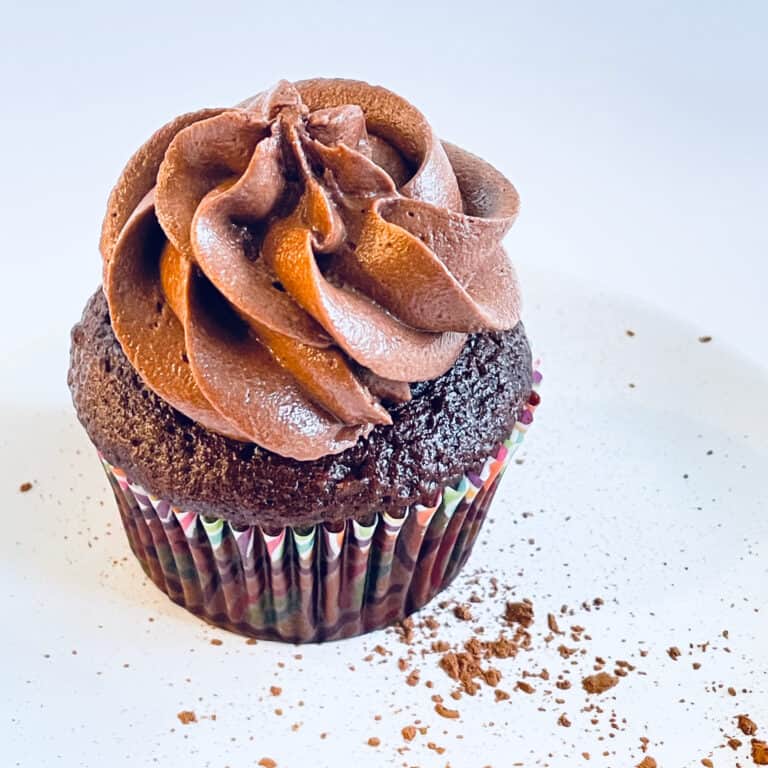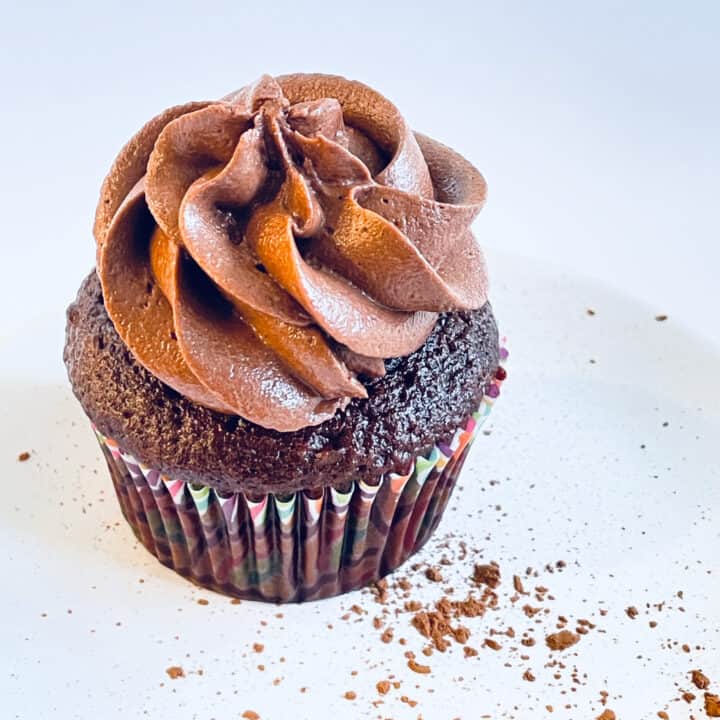 Chocolate Buttercream Frosting Recipe
Yield:
Frosting for 18 cupcakes
Ingredients
11 tablespoons salted butter, softened (about 2/3 cup)
2/3 cup cocoa powder
4 cups powdered sugar
1 teaspoon vanilla
3 to 5 tablespoons whole milk, cold
Instructions
Using a stand mixer, beat butter on speed 4 for about 3 minutes until light and fluffy.
Gradually add the cocoa powder until well combined.
Gradually add powdered sugar and beat for at least 3 minutes or longer.
Add the vanilla and beat for 1 minute more.
Add the milk one tablespoon at a time until you have achieved the appropriate spreading or piping consistency for your project.