Best Air Fryer Sweet Potato Fries Recipe
This post may contain affiliate links which means I make a commission if you shop through my links.
 Disclosure Policy
Making sweet potato fries in an air fryer is tricky. Here is a recipe that works best for me.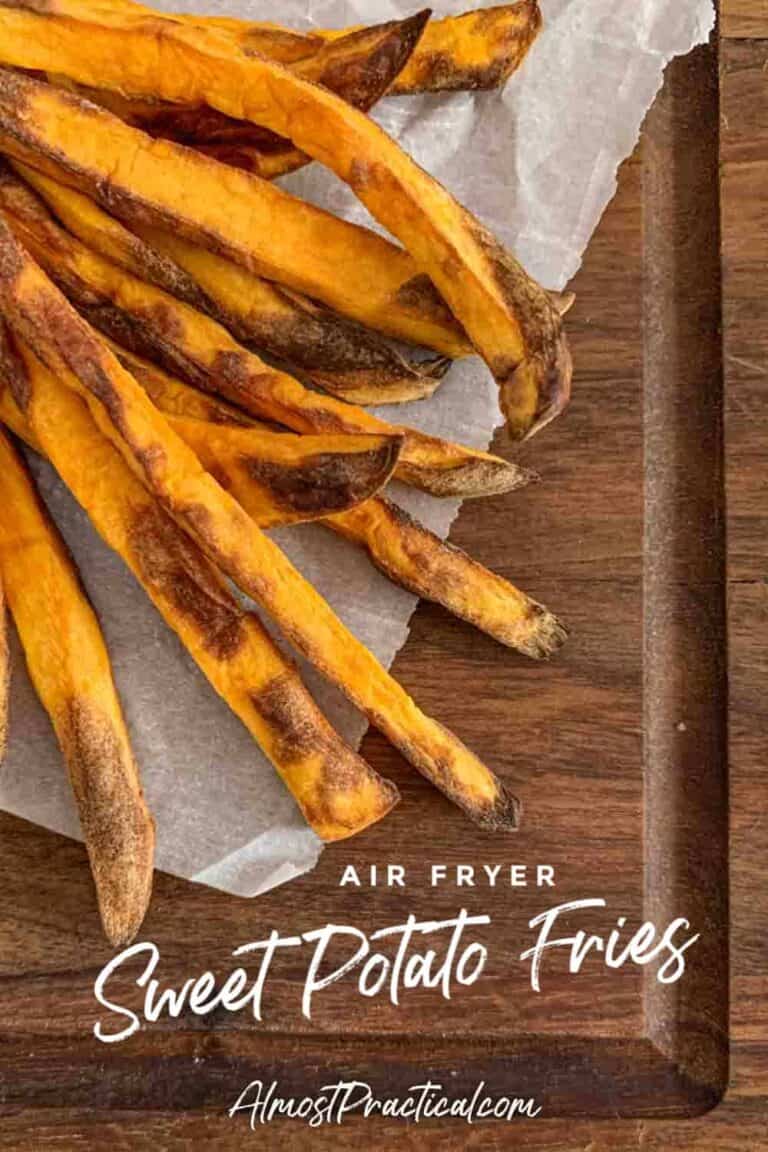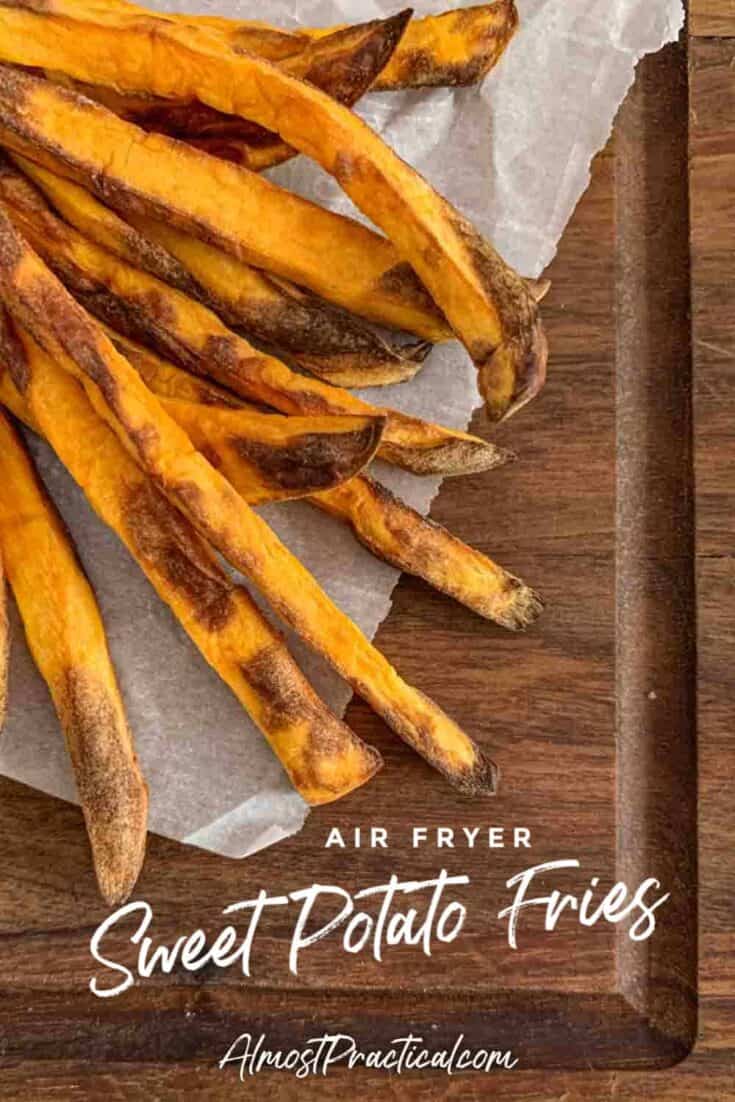 The thing about sweet potatoes is that, by nature, they have a very different composition from a regular russet potato.
So, no matter how you cook them, they don't typically get all crispy on the outside and fluffy on the inside.
My goal is to get them as close to that consistency as possible.
Should You Use An Air Fryer or an Oven?
An air fryer makes the job even more complicated because the basket is really small.
If the fries are too close together when cooking, they release a lot of moisture and become soggy.
So, in an air fryer, you have to cook them in small batches and only use a minimal amount of oil.
It's perfect if you are making fries for one or two people.
But if you are making a larger quantity, you might be better off making oven baked sweet potato fries instead.
What You Will Need to Make This Recipe
How to Cut Sweet Potatoes Into Fries
The general rule of thumb if you want crispy fries is to cut the sweet potato really thin.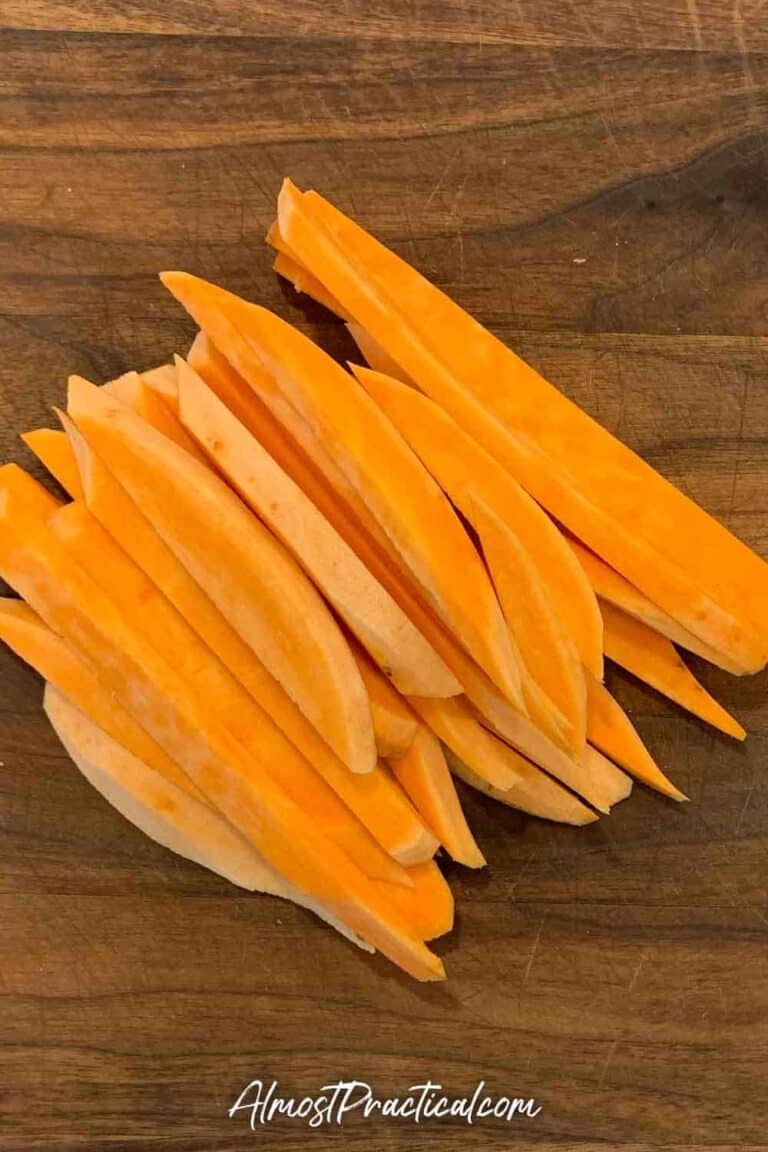 You can either peel them, or not – it's up to you. I do peel mine.
Make sure you wash and scrub the sweet potato, then place it on a cutting board.
Hold it horizontally on it's thin side.
Using a large, sharp knife – carefully slice the sweet potato in half lengthwise.
Then, place one half of the sweet potato, flat side down on the cutting board.
Slice the half lengthwise into slices that are no thicker than one quarter inch.
Turn each one of these slices on it's side and slice in half lengthwise again, to make the fries into more of a long cube shape.
Preheat the Air Fryer
Once your fries are all cut, preheat your air fryer to 390ºF.
You may have to experiment a bit with the temperature at which you cook the fries.
My Philips Air Fryer which is a model that has been around for awhile – is not digital, is 1425W, and only goes up to 390ºF.
You may need to adjust the time and temperature at which you make your fries to accommodate the watts and temperature options on your own air fryer.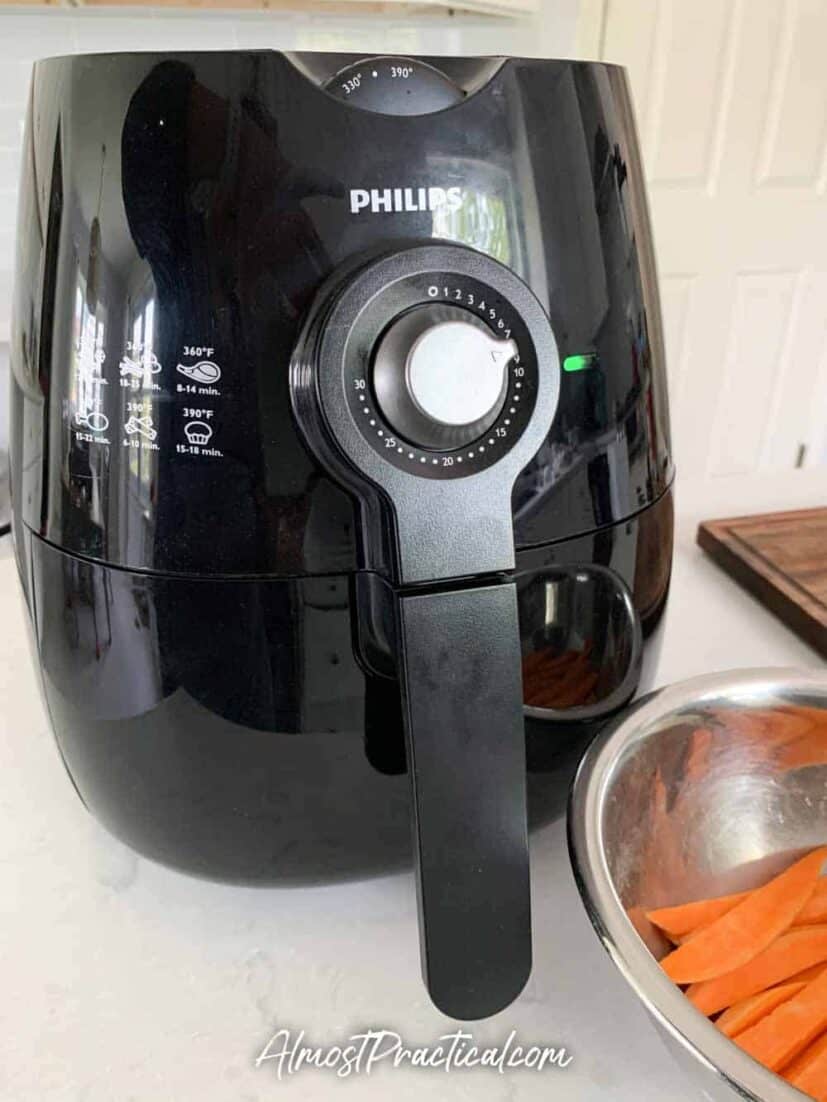 Toss With Oil
While the air fryer is preheating, toss the fries with avocado oil and salt.
I use avocado oil because it has a high smoke point.
People often complain that air fryer sweet potato fries have a burnt taste.
This is usually because they are using an oil with a lower smoke point like olive oil.
You can certainly use any oil of your choice, but just be aware that it can make a difference in your results.
Make Fries in Batches
Place a single layer of raw sweet potato fries in the basket of the air fryer.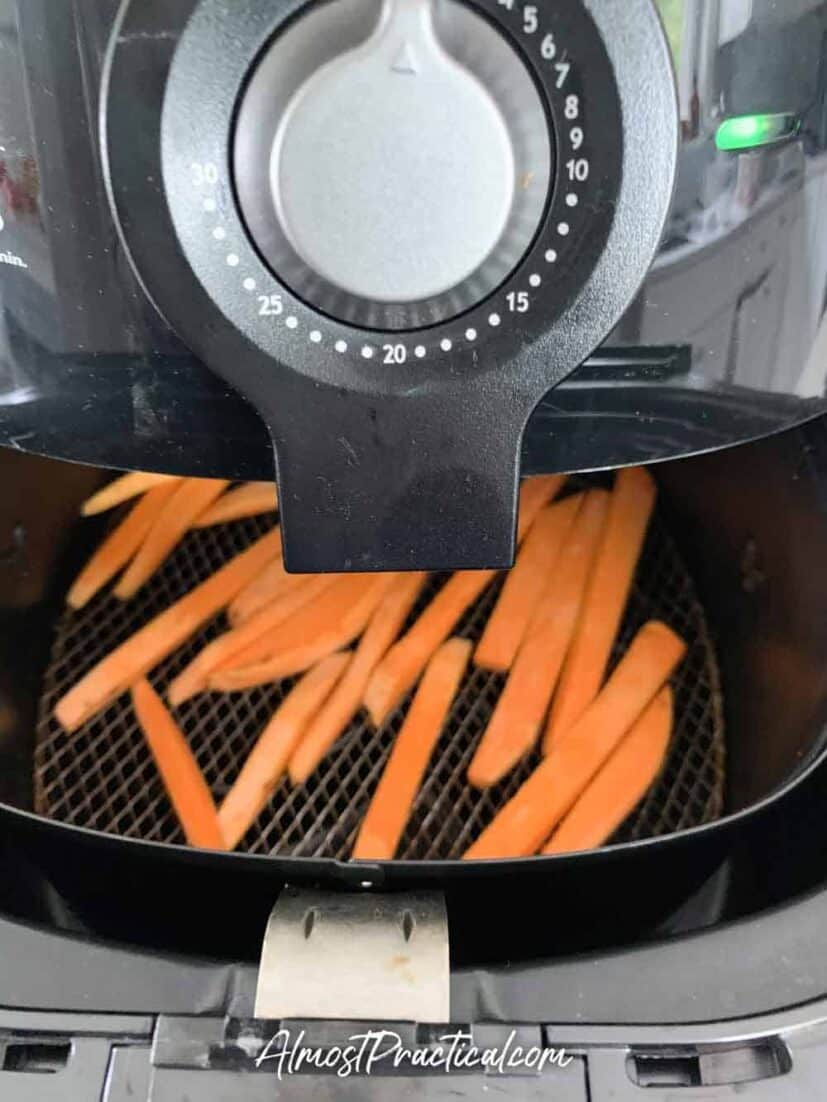 Cook for 6 minutes in total.
At about the 3 minute mark, take the basket out and shake up the fries to turn them, so that they cook evenly.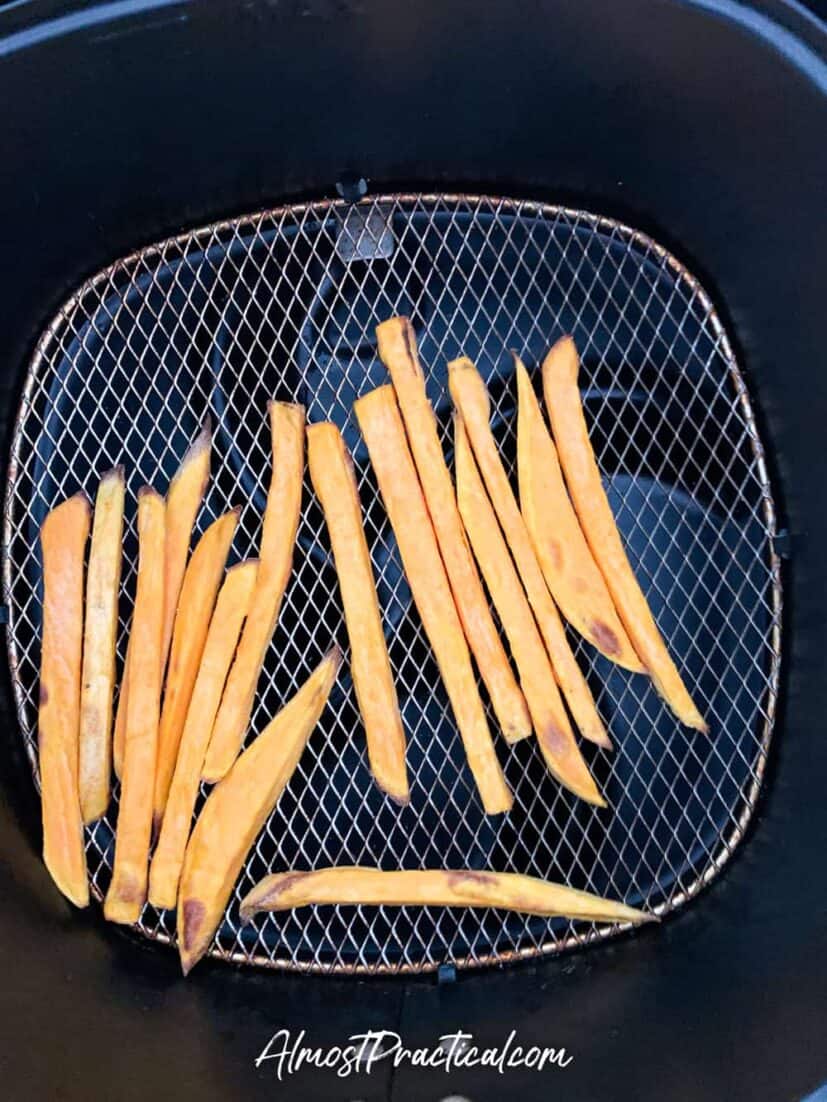 Also, be aware that the wattage on your air fryer can make a difference in the cooking time.
You may have to experiment with this a bit.
The Finished Product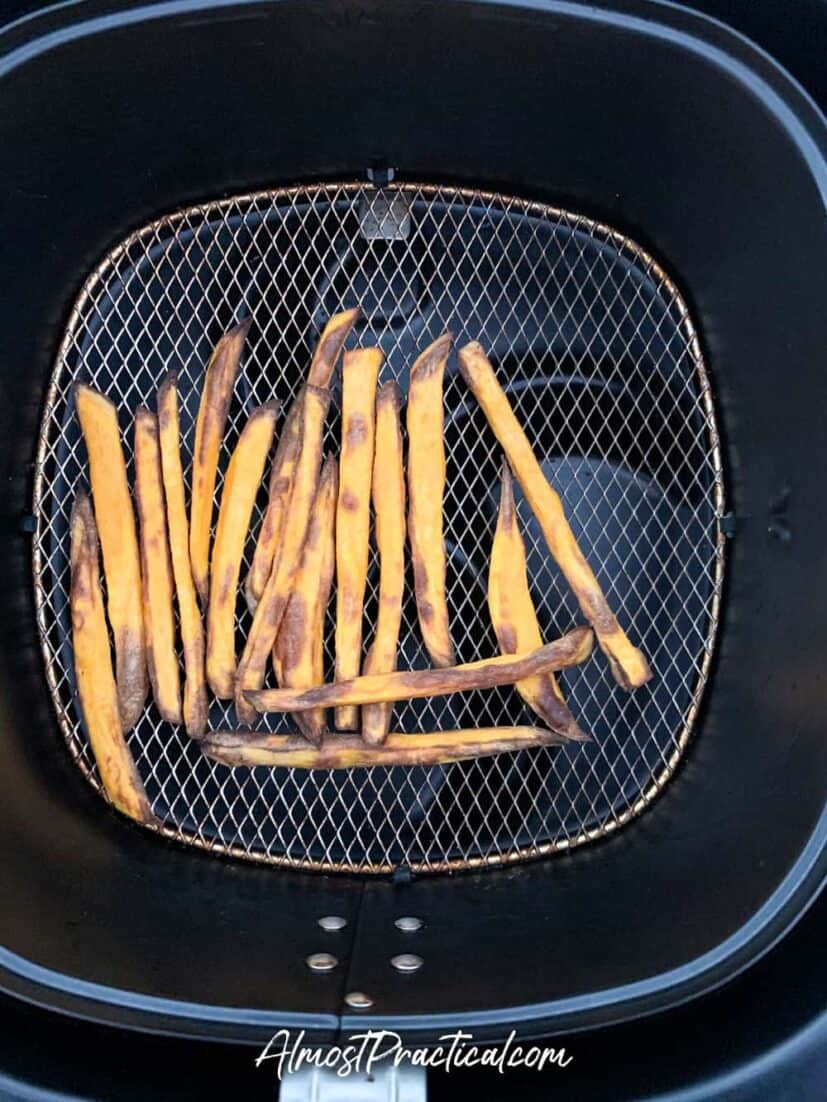 You know the sweet potato fries are done when they are brown around the edges and start to blister.
In my opinion they almost look a little burnt.
But because I use the avocado oil they don't taste burnt at all.
Tips for Crispy Fries
I experimented a few times with this recipe and here are some tips that I can share.
Do Not Use Too Much Oil
First, do not use too much oil otherwise you will end up with soggy fries.
I found that 1/2 teaspoon was more than enough for one medium sweet potato.
Do Not Overcrowd the Basket
Second, do not overcrowd the air fryer basket when cooking.
I know it is so tempting to just cook all the fries in one go. But you really need to set them in the basket with plenty of space in between.
If you put them too close together, they will become soggy.
No matter how I tried it, I found that fries cut from one medium sweet potato required 2 batches to cook.
Use a Cooling Rack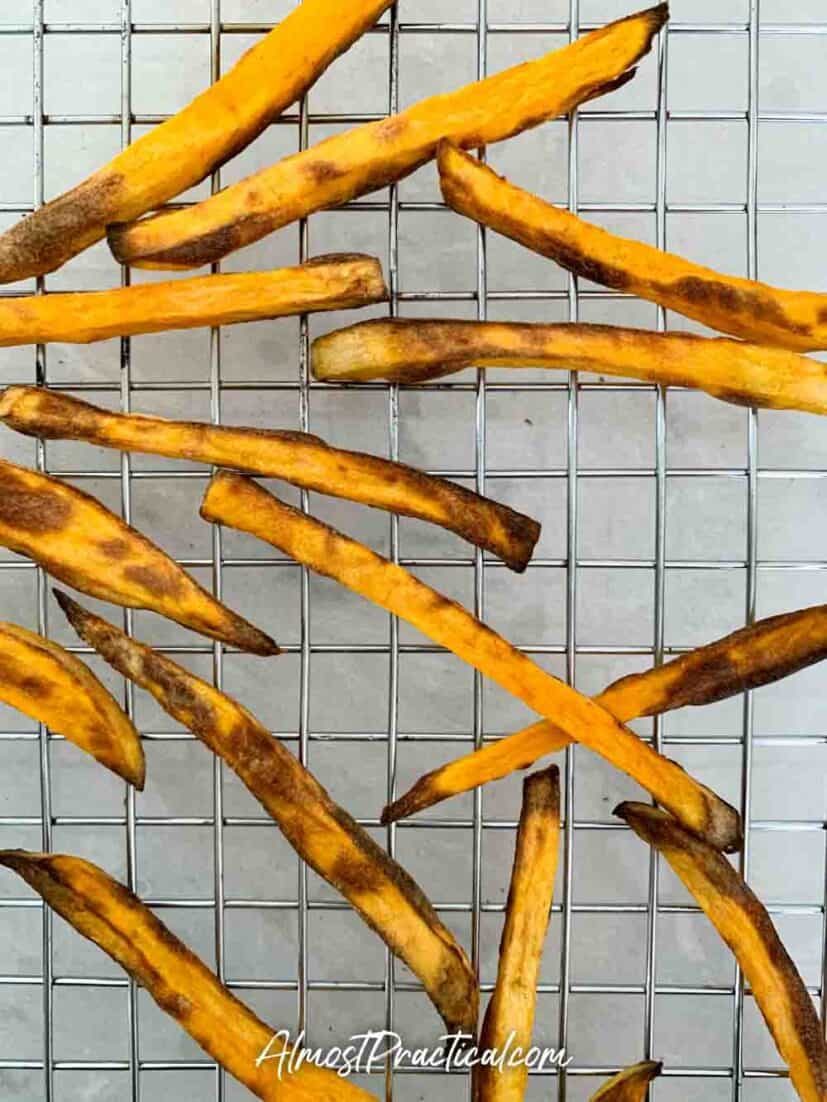 Third, it helps to dump the hot fries out onto a cooling rack.
This allows air to flow around the fries and keep them from getting soggy.
Eat Them While They are Hot
Fourth, and finally, if you can – go ahead and eat them right away. They taste best right out of the air fryer!
How to Season Sweet Potato Fries
Have a few seasonings at the ready to sprinkle on the hot sweet potato fries right out of the air fryer.
You can use things like:
season salt
Old Bay Seasoning
freshly ground black pepper
garlic powder
onion powder
paprika
Use whatever seasonings you like best.
One thing to note is that it is best to add the seasonings after they are cooked.
Some seasonings like garlic powder can actually burn during the cooking process and lead to less desirable results, so add them after to be safe.
Reheat All the Fries
If you had more than one batch to cook, you might want to serve all the fries hot at the same time.
To heat them all to serve, simply toss them all back into the air fryer basket at once, if they fit, and heat for one minute to make them warm.
What to Dip Sweet Potato Fries In
Of course you can use any type of dipping sauce with sweet potato fries – from ketchup to hot mustard to barbecue sauce and everything in between.
Personally, I like to serve these with a salty dipping sauce like ranch dressing.
The saltiness complements the sweetness of the potatoes nicely.
What to Eat With Sweet Potato Fries
You can serve sweet potato fries as a side dish with just about any meal.
Or you can serve them stand alone as a healthy snack.
I like to serve them with burgers, chicken sandwiches, or as a side with barbecue food.
More Side Dish Recipes You Might Like
Print This Recipe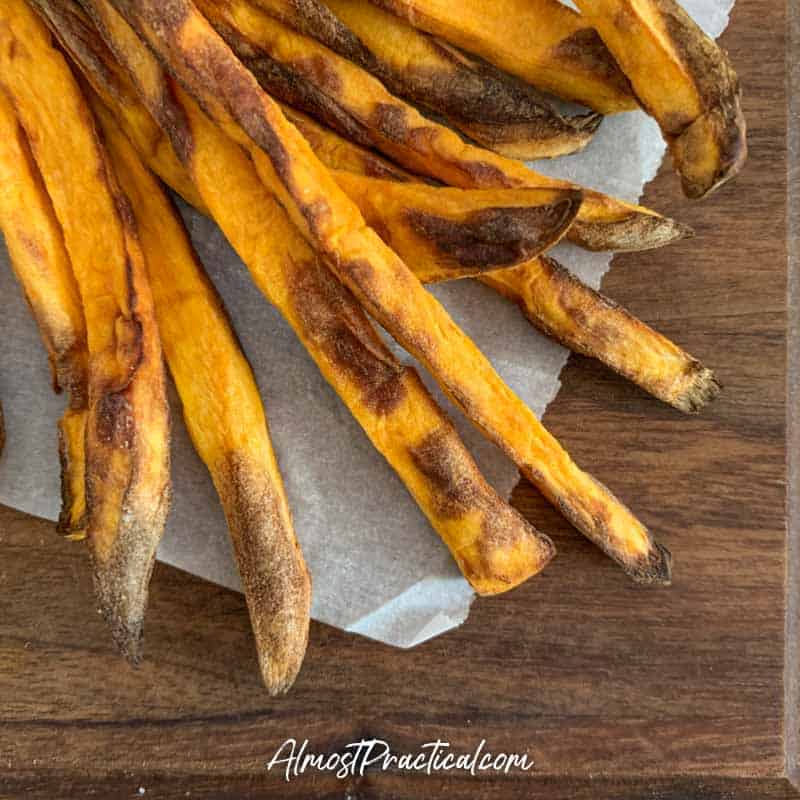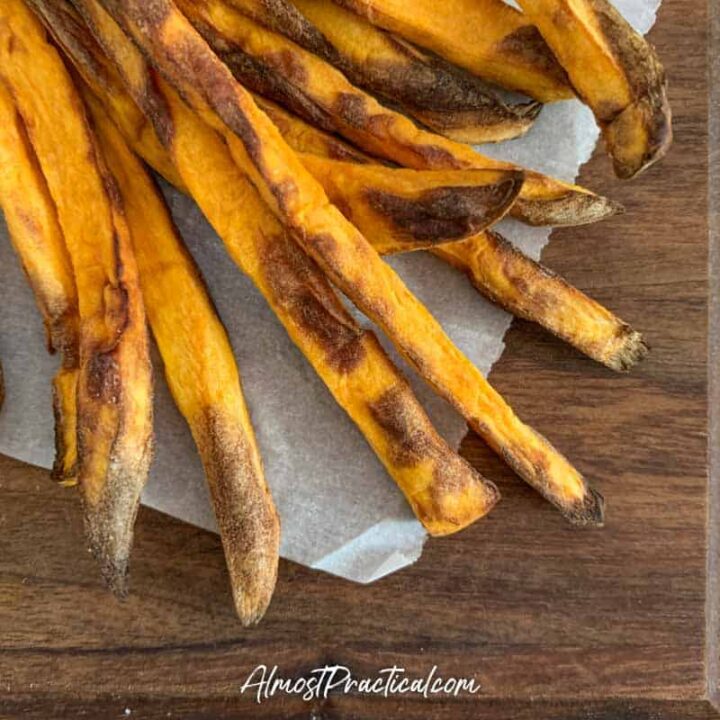 Air Fryer Sweet Potato Fries
Crispy sweet potato fries made in an air fryer.
Ingredients
1 medium sweet potato, peeled
1/2 teaspoon avocado oil
1/8 teaspoon salt
Instructions
Preheat the air fryer to 390ºF.
Thinly slice the sweet potato into lengthwise strips the size of traditional shoestring fries.
In a small mixing bowl, toss the sweet potato fries with avocado oil and salt.
Working in batches, carefully spread half of the fries into the air fryer basket. Make sure to leave space in between each fry for air to circulate.
Cook the fries for 6 minutes, making sure to remove the basket and give the fries a shake at the 3 minute mark.
Remove the fries from the air fryer at the 6 minute mark and serve hot or transfer to a cooling rack while you make the next batch.
Repeat for the second batch.
To warm up the fries, toss them all back into the air fryer basket and cook for one more minute.
Serve hot.
Recommended Products
As an Amazon Associate and member of other affiliate programs, I earn from qualifying purchases.
Nutrition Information:
Yield:

2
Serving Size:

1
Amount Per Serving:
Calories:

61
Total Fat:

1g
Saturated Fat:

0g
Trans Fat:

0g
Unsaturated Fat:

1g
Cholesterol:

0mg
Sodium:

147mg
Carbohydrates:

12g
Fiber:

2g
Sugar:

4g
Protein:

1g
Occasionally, you will find nutrition information provided with recipes on AlmostPractical.com - this information is created from online calculators and is an ESTIMATE only. I am not a nutritionist or registered dietician. Nutritional information can vary depending on the brands and the actual ingredients that you use. By using this site and it's contents, you agree to hold harmless AlmostPractical.com and its owners for any loss or damage you incur that results from your use of the nutritional information provided by this site.
Pin This Recipe to Your Favorite Board on Pinterest