I made these Spiderweb Halloween cupcakes this year, and got so many compliments that I just had to share.
The thing is, these cupcakes were so easy to make, that I can hardly call it a recipe at all.
Really.
You Martha Stewart types out there will scoff at the shortcuts I took.
But for me the shortest distance from raw materials to finished product is what works.
If it is too time consuming, it just won't happen.
So, to answer your questions: yes – I used a cake mix and yes – I used ready made frosting.
How to Make Spiderweb Halloween Cupcakes
This is how it's done.
1. Make the Cupcakes
I use a boxed cake mix to make the cupcakes.
Our family favorite is Duncan Hines Classic Yellow Cake Mix.
I have it used for years and am constantly amazed at how many compliments I get. After all – it's a mix.

The key is in the cooking time.
If you overcook cupcakes they get dry.
So, follow the directions on the box, set a timer, and know your oven.
2. Mix Up The Frosting
While the cupcakes are cooling, mix some orange food coloring into a tub of ready made white frosting.
I used Duncan Hines Whipped Fluffy White – but any kind will do.
Keep this in mind – if you are using liquid food coloring (probably a mix of red and yellow) then the food coloring itself will change the consistency of the frosting – making it a little less thick.
The DH Fluffy White may become too thin to use, so a thicker frosting would be better.
I used Wilton paste food coloring in orange – so it did not dilute the frosting too much.
3. Spread Each Cupcake With Orange Frosting
Spread a thick layer of orange colored frosting on each cooled cupcake.
4. Draw a Spiral With Black Frosting Over the Orange Frosting
Now take your can of black decorator's frosting and create a spiral design on top of the orange frosted cupcakes.
I used Betty Crocker Decorating Cake Icing.
It come in a pressurized can similar to whip cream.
Outfit the can with the small smooth round tip.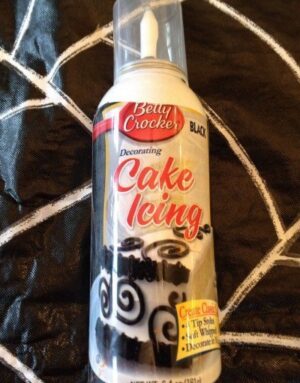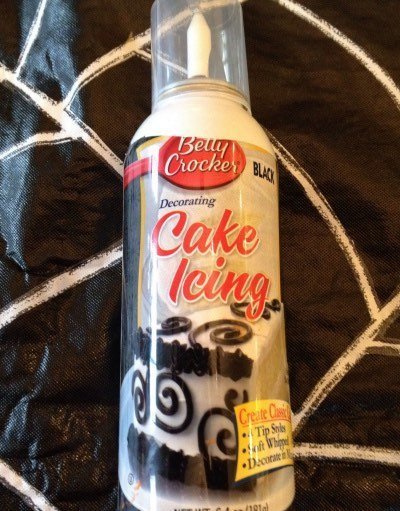 Now draw a spiral on each cupcake with the black frosting.
5. Create Spiderweb Design With Toothpick
Take a toothpick and starting at the center of each spiral drag the toothpick through the frosting straight to the outer edge. (like spokes on a wheel).
Repeat this at regular intervals around the cupcake until you arrive back to the beginning.
There you have it.
Add Some Spiders to your Halloween Cupcakes
You can make these Halloween cupcakes extra creepy, crawly by adding a spider to each cupcake:
pipe a small spider on each cupcake
pipe a large spider on a few of the cupcakes and leave an empty web on the rest
add a plastic spider ring into each web (NOTE – this is a choking hazard for small children – so only do this for older kids that know not to eat the plastic spiders)
decorate the Halloween cupcakes with edible candy spiders like these
These Spiderweb Halloween Cupcakes are an Easy Dessert Treat
Obviously, kids get a lot of sugary treats at this time of year.
I like that these cupcakes are a simple, easy Halloween treat that are not too over the top.
Share Your Halloween Favorites
What are some of your favorite baked Halloween treats?
Share in the comments below.