How to Make Instant Pot Beets
This post may contain affiliate links which means I make a commission if you shop through my links.
 Disclosure Policy
This is how to make Instant Pot Beets. This recipe is so easy to make that whether you love beets or not, you won't have any excuse not to eat more of them.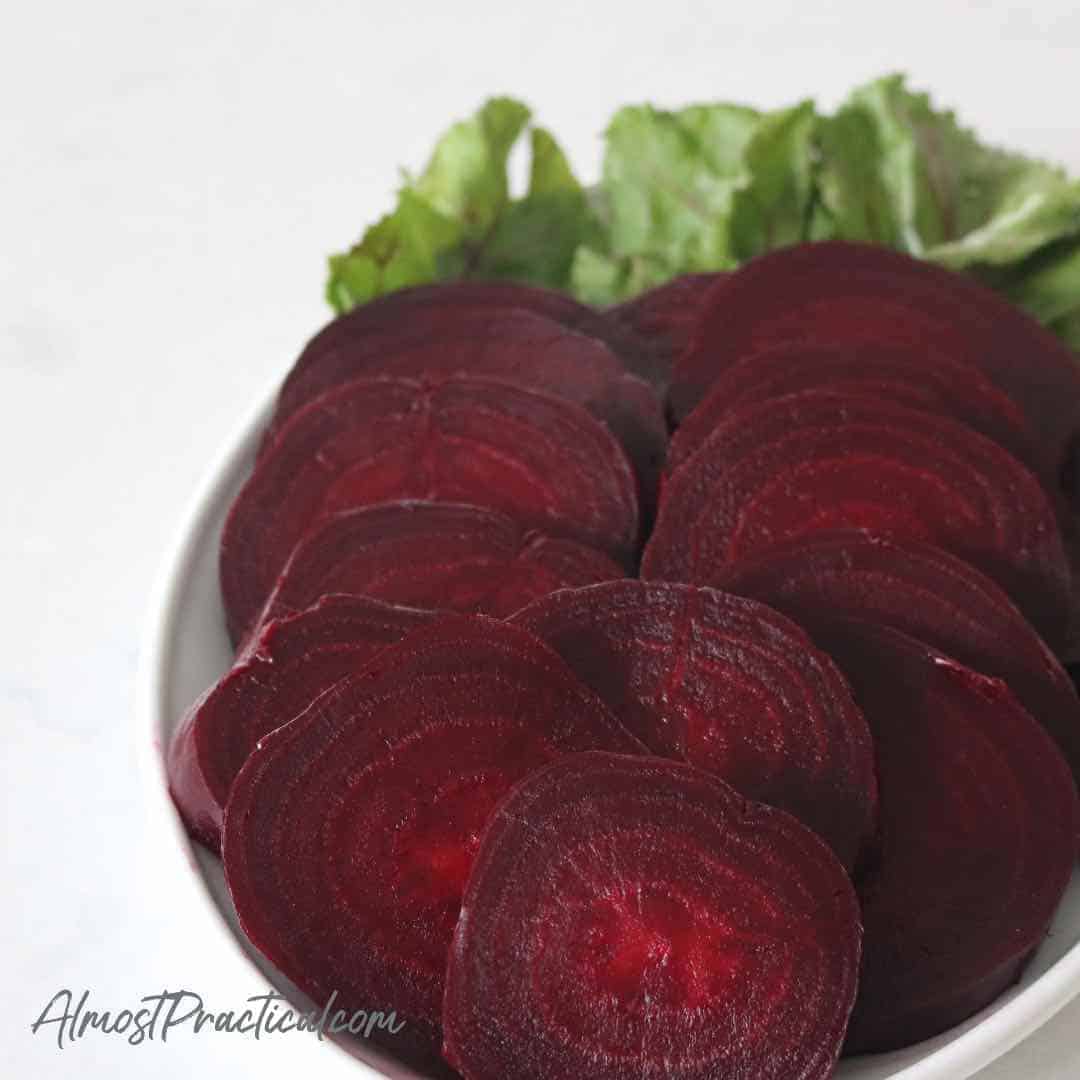 Before I got my Instant Pot I used to make beets in my stovetop pressure cooker with this recipe. So converting it to an Instant Pot recipe was simple.
Prep the Ingredients
All you need for this one is a bunch of nice, fresh beets and water.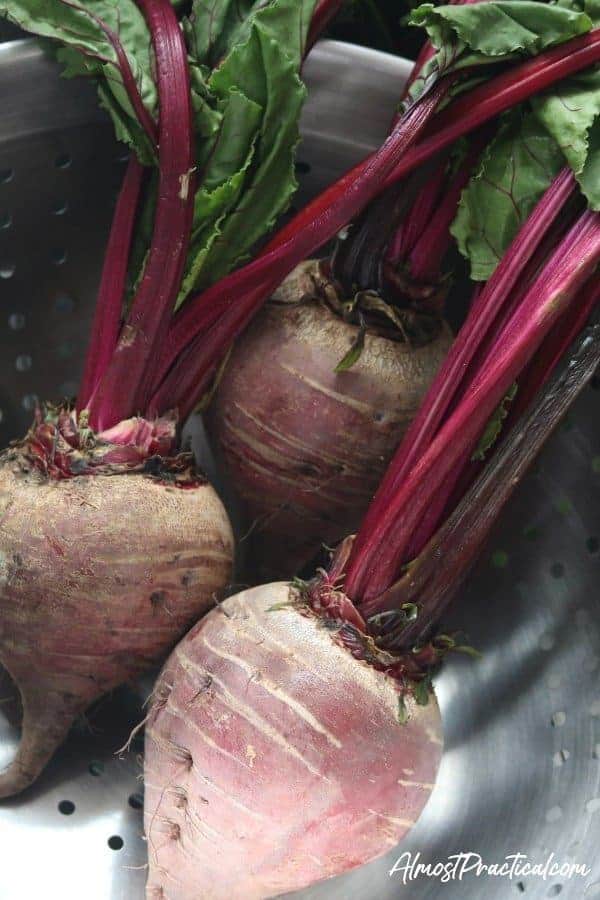 Try to choose a bunch that are even in size – not too small and not too large.
Thoroughly wash your beets and trim both the root ends, the leaf stems, and beet greens off of the bulb.
You do not need to peel the beets at this point.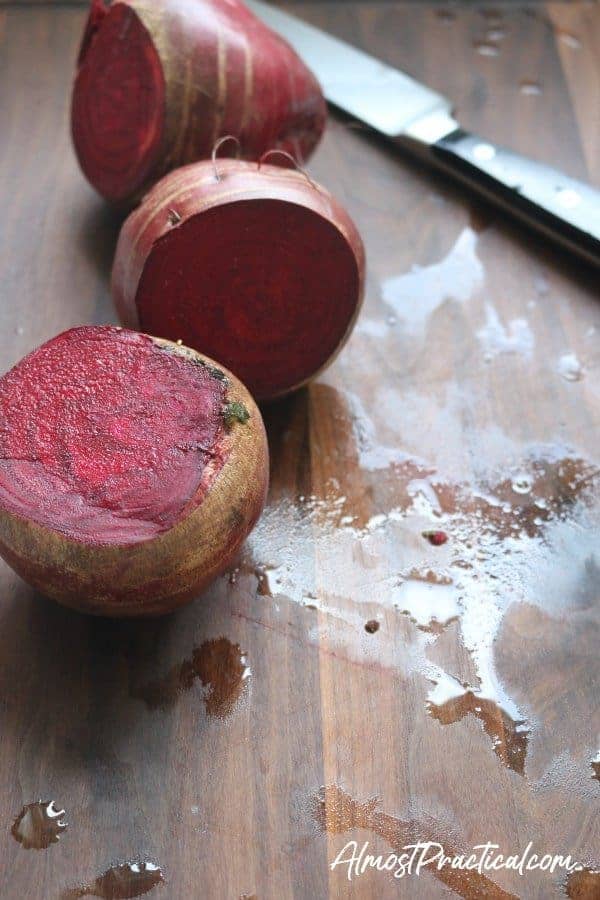 Before you throw away those beet greens, did you know that you can eat them, too? I have a few suggestions at the end of this post, so don't toss them just yet.
What You Will Need
To make this Instant Pot Beets recipe, I used a 6 Quart Instant Pot DUO60.
You can probably use a 3 quart or an 8 quart Instant Pot as well, but my steamer basket fits into my 6 quart just perfectly.
About that steamer basket …
You will need either a steamer basket like this one:
Or you can use the steamer insert that came with your Instant Pot – although I haven't tried this: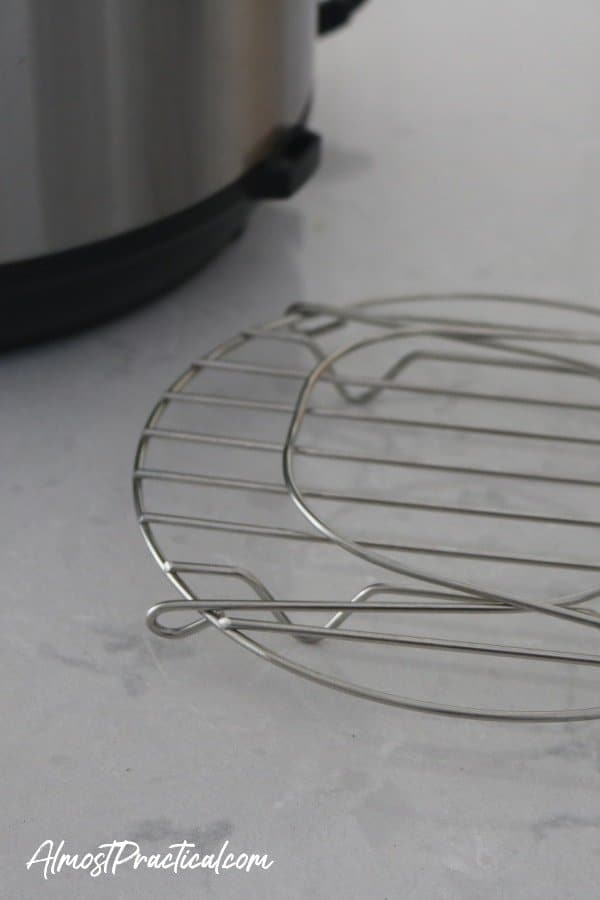 There are honestly a ton of options when it comes to steamer baskets for the Instant Pot – so just pick yours and go with it.

How to Make Instant Pot Beets
Now place the your steamer basket into the stainless steel inner pot of your Instant Pot.
Fill the inner pot with enough water so that the level is just under the bottom of the steamer basket. For me, this is about 1 cup of water, but it will vary depending on the steamer basket that you are using.
The important thing is that the beets should not be immersed in the water.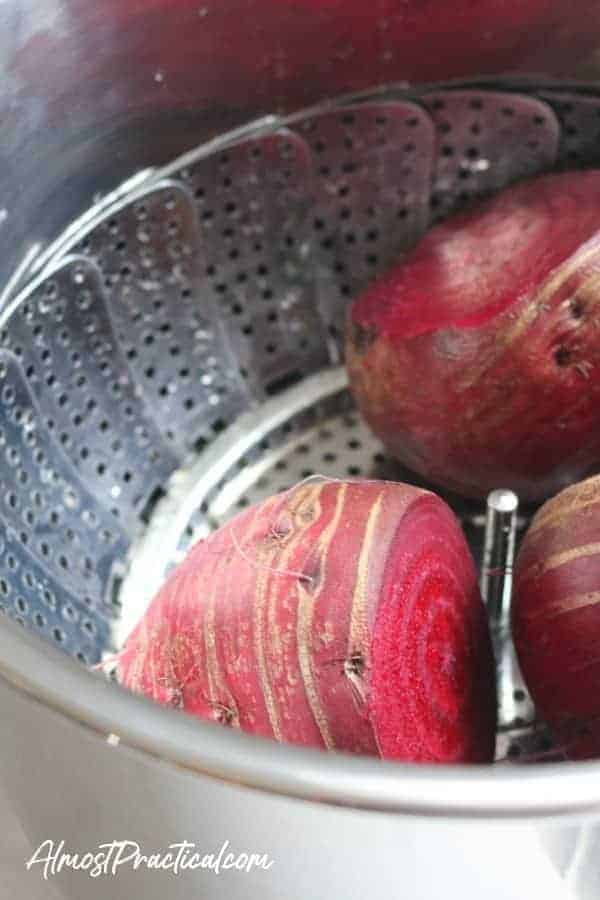 For this Instant Pot Beets recipe, I leave the steamer basket open as pictured above because the beets are too large to fold it closed.
Then close the Instant Pot and lock the lid with the valve in the closed position.
Set the Instant Pot on Manual at High for about 20 minutes - the time will vary a bit depending on the size of the beets. I cooked the ones pictured here for 20 minutes and they were perfect. But larger beets may take a little longer and smaller ones may have a shorter cooking time.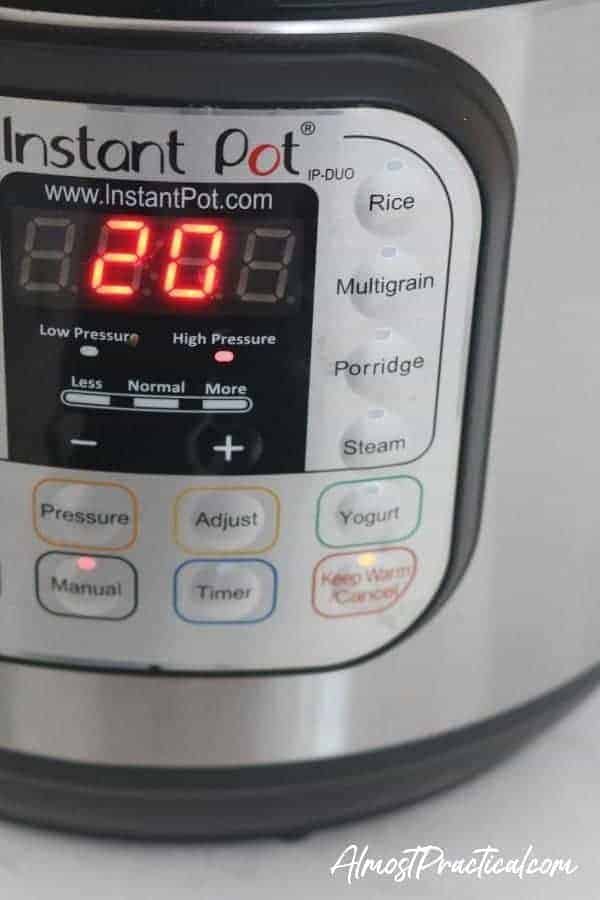 When the cycle is done turn off the Keep Warm function and let the pressure drop manually.
The beets will look like this when they are cooked. They should be fork tender meaning that you can easily stick a fork into the beet but still feel slight resistance.
They should not be so soft that they are mushy, unless you like them that way.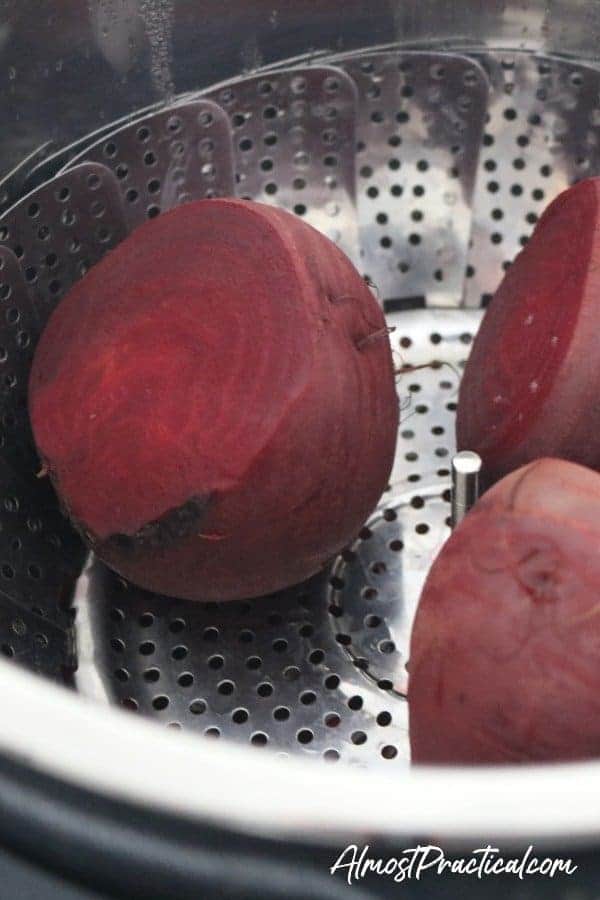 Remove the beets from the Instant Pot and let them cool to the point that you can handle them comfortably.
At this point you can peel the beets with your fingers. The skins should literally just slide right off the beets.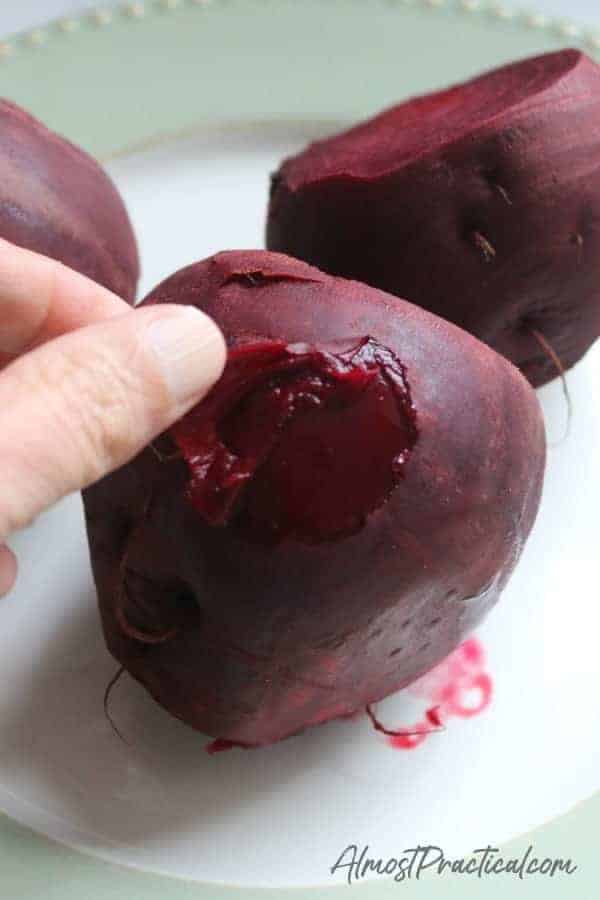 Slice, serve, and enjoy!
To store cooked beets, cover the slices with water in an airtight container and store in the refrigerator for a few days.
What to Do With Beet Greens?
So those beautiful, leafy beet greens - what should you do with them? It seems like such a shame to throw them out.
Well, I have tried a few different things with good results.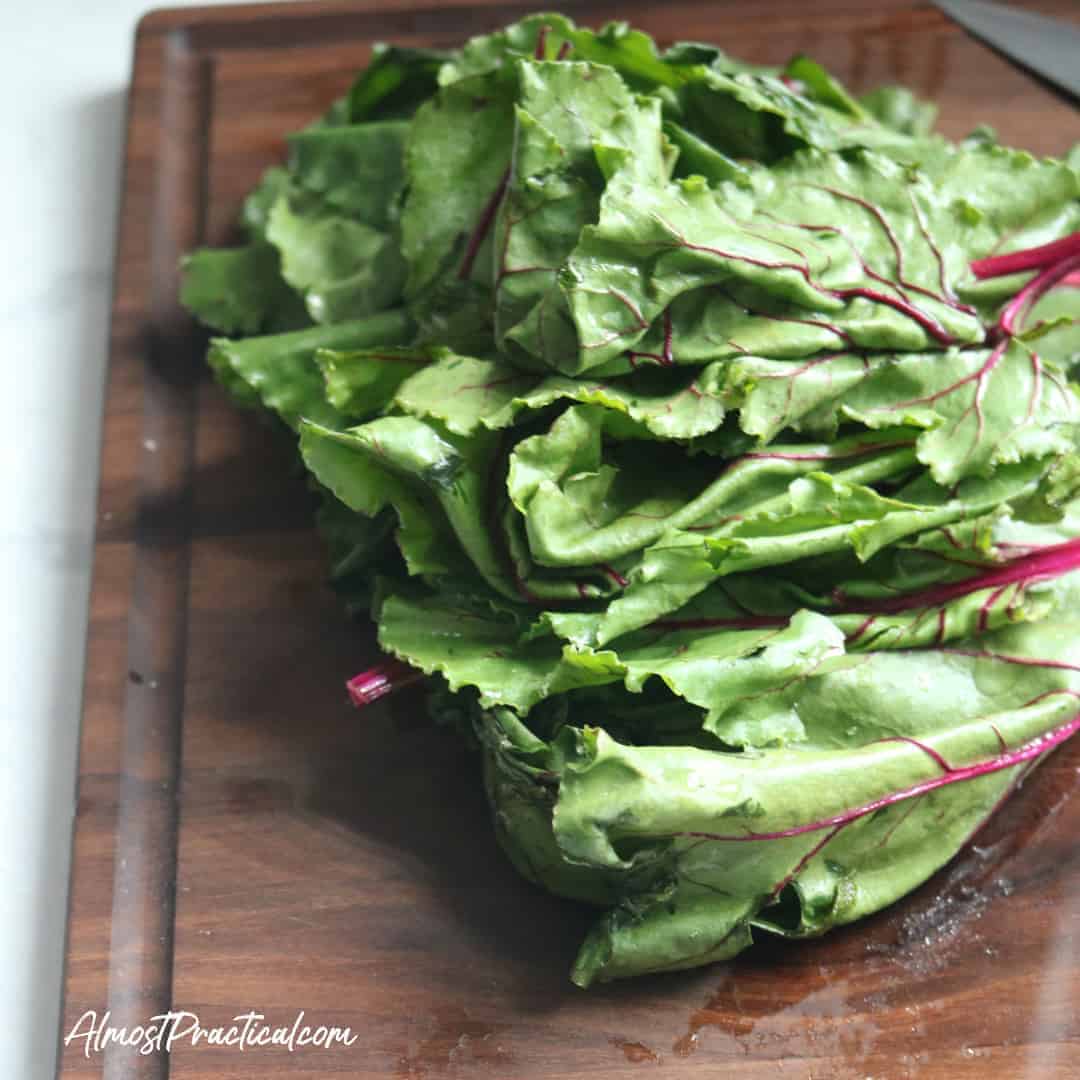 You can cook them similar to the ways you might cook spinach or kale. However, just like beets - beet greens are somewhat sweet.
Definitely sweeter than spinach and kale.
So, keep in mind that they will add some sweetness to whatever recipe you add them to.
Personally, I have chopped up some beet greens and added them to both my Instant Pot Lentil Soup Recipe here and to my Chole Recipe here.
But I don't use a whole lot because I don't want either recipe to be sweet.
At one point I got the bright idea (not) to try and make a quick bread using beet greens. My goal was to make something similar to a zucchini bread and take advantage of the inherent sweetness of the beet greens.
Let me just say that it was a flop. The bread was very crumbly and heavy. So, I shelved that idea for now.
If you have some suggestions for how to use beet greens - I would love to hear them.
More Instant Pot Recipes You Might Like
Print This Recipe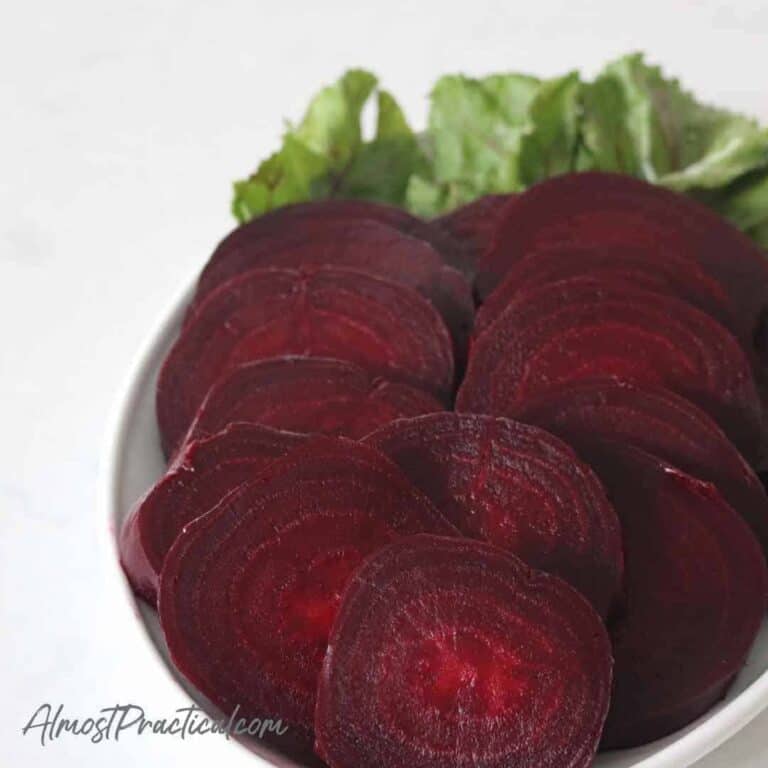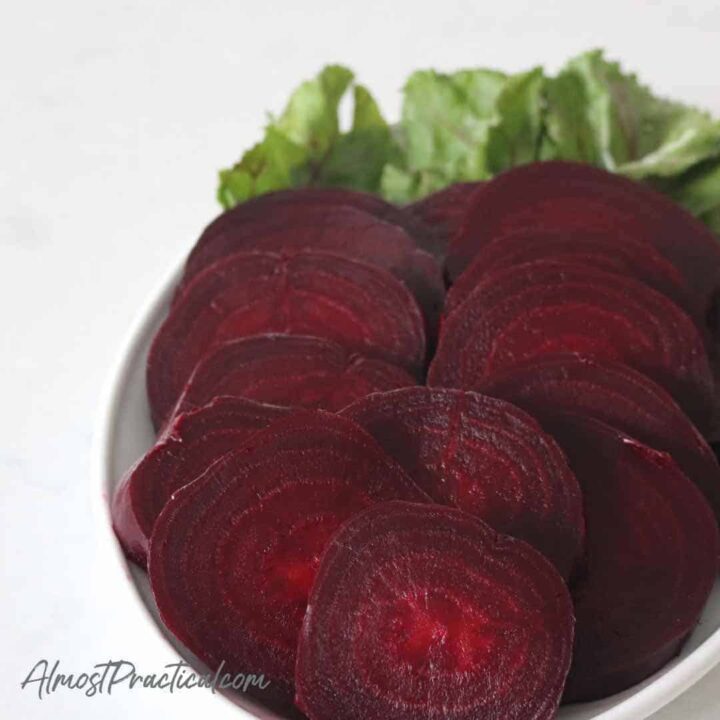 Instant Pot Beets
Ingredients
1 bunch medium sized beets
1 cup water
Instructions
Wash and trim the root end and the beet greens from the beets.
Place a steamer basket inside the stainless steel inner pot of your Instant Pot.
Fill the inner pot with enough water to a level that is just beneath the bottom holes of the steamer basket - about 1 cup. The amount will vary depending on both the size of the Instant Pot and the size/type of your steamer basket.
Close and lock the lid of the Instant Pot and set the valve to the closed position.
For medium sized beets, cook on Manual at High pressure for 20 minutes. You may need to adjust this time higher or lower for larger or smaller beets.
When cooking is complete, turn off the Keep Warm function and let the pressure drop naturally.
Remove beets from Instant Pot and let cool until you handle them comfortably.
Using your fingers slip the skins off the beets.
Slice and serve.
Cover leftovers with water in an airtight container and store in refrigerator for up to a few days.
Pin this article to your favorite board on Pinterest to refer to later.