How to Choose the Best Kitchen Trash Can Cabinet
This post may contain affiliate links which means I make a commission if you shop through my links.
 Disclosure Policy
Today I am going to talk a little trash. Kitchen trash can talk, that is.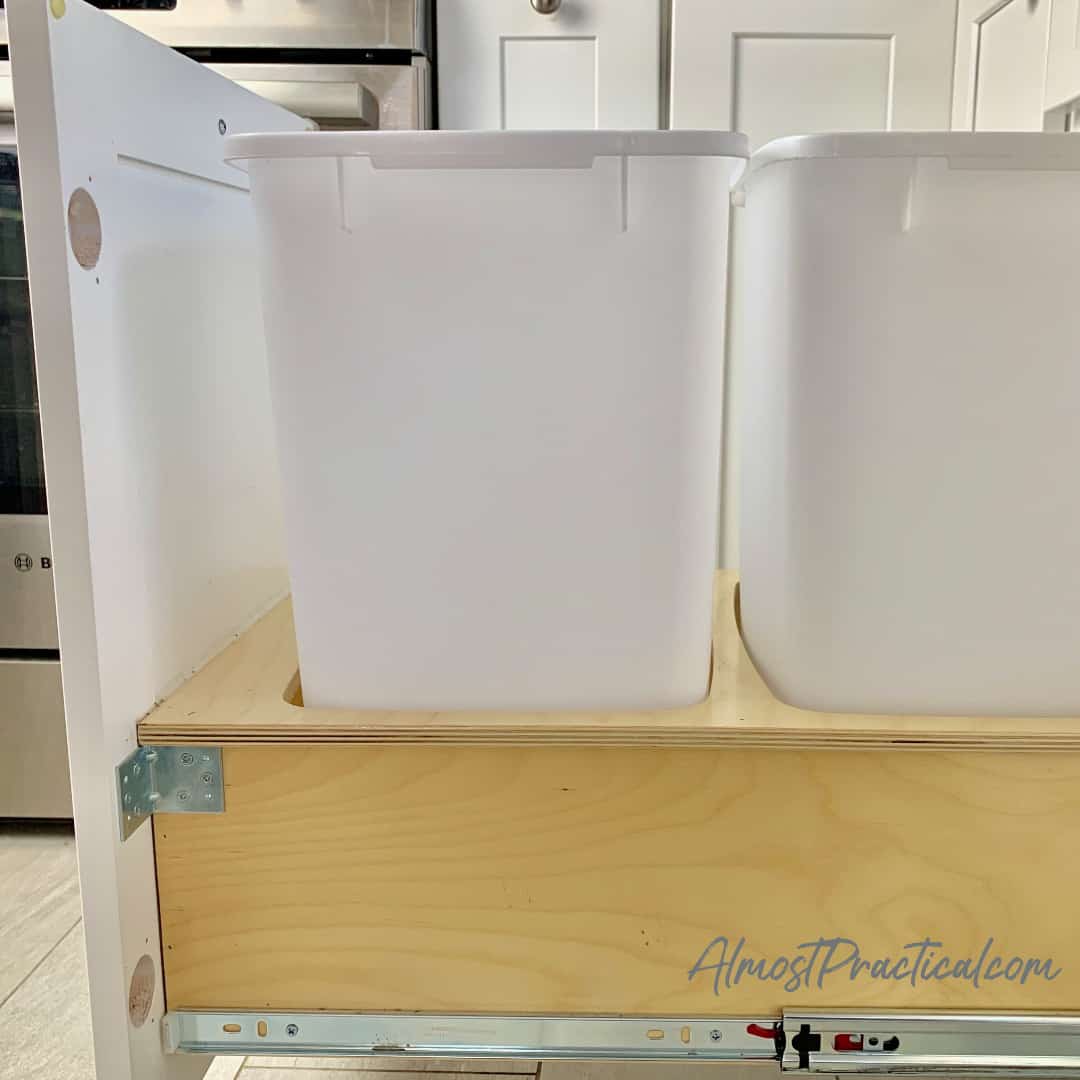 I can't believe that it has been exactly 1 year since we started our kitchen renovation – and up until now, I really haven't posted that much about it.
The process took 3 loooong and painful months from start to finish. It scarred me – even though I have been completely enjoying the results.
So, I think I am finally ready to share the details and decisions that we went through and hopefully give you some food for thought for your own kitchens.
Even if you aren't doing a kitchen remodel, you can use some of these ideas to redo and reorganize what you already have.
So, back to that kitchen trash can – of all the wonderful and beautiful things, it figures I would start here.
This is because it was our old pull out kitchen garbage cabinet that was "the straw that broke the camel's back" and made us decide to take on a renovation in the first place.
Remodeling Your Kitchen? You May Enjoy These Articles Too
The Most Used Cabinet in the Kitchen
Believe it or not, the pull out kitchen trash can cabinet is the most used and abused cabinet in our entire kitchen.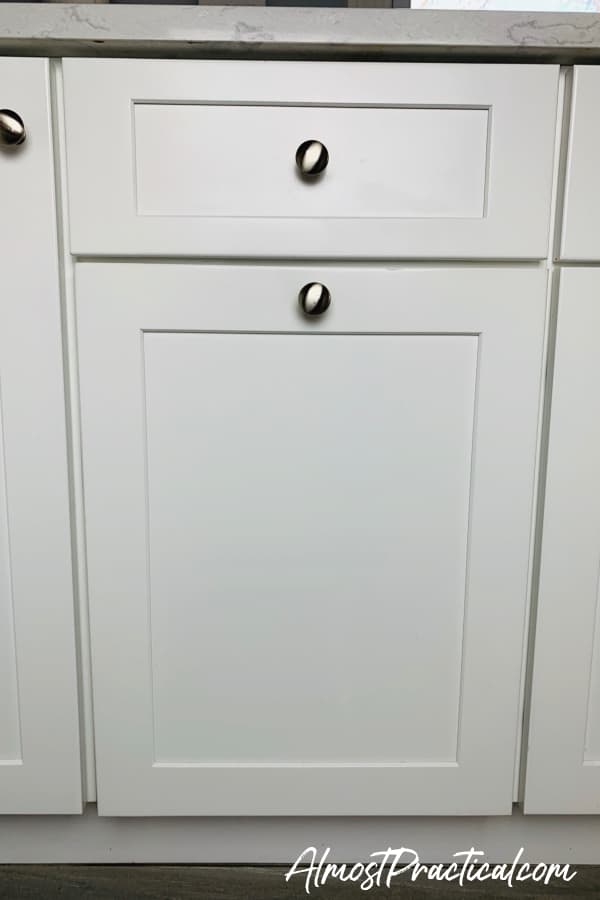 It is probably the same for your kitchen, too.
Ours was and still is a double kitchen trash can pull out – where we use the front can for garbage and the back one for recycling.
It is conveniently located to the left of the sink but also awkwardly located towards the corner of the common "L" shape kitchen layout.
It is convenient because it is easy to dump wet garbage and freshly rinsed containers for recycling. But this also means the cabinet sees a fair amount of water splatter.
The location is awkward because it is really close to the corner and is in a high traffic area so the garbage cabinet gets knocked around a good bit.
Think of this – someone is washing dishes and has the cabinet slightly open – someone else squeezes by to get to the stove, etc.
For these reasons, I knew that the pull out kitchen trash can cabinet would have to super sturdy and ready for anything.
Our Old Kitchen Trash Can Cabinet
Our old pull out trash cabinet was on it's last legs – I wish I had a before picture to show you.
This cabinet was a drop-in style, top mount set up.
When you pulled the cabinet open, there were cutouts for two trash cans that sort of hung suspended by the top rim.
This piece of board was flush with the top of the garbage cans – and so it got really wet and icky from all the use.
This was made of some type of particle board so over time it basically started to disintegrate.
Now, keep in mind that my old kitchen was about 22 years old – so that cabinet served us well.
But in the end, it was held together by lots of random hardware that we patched on to keep it from falling apart.
The Best Kitchen Trash Can Cabinet For Us
When we designed our new kitchen, I decided I wanted to try a different style of kitchen trash can cabinet because I was a little bit leery of the drop in style given our previous experience.
But I do want to say that I am sure materials and quality have changed a lot in 22 years and the drop in style is probably much improved these days. (In fact, this top mount pull out from Rev A Shelf looks sturdy and has gotten good reviews.)
However, I decided that I wanted more of a drawer style garbage can pull out.
So, I chose a bottom mount, drawer style design where the trash cans actually sit on the floor of the cabinet, so they are not suspended.
I feel like this design supports the weight of a filled trash can much better.
There is a cutout board to keep the cans in place and this particular cabinet fits larger sized garbage cans than my old one.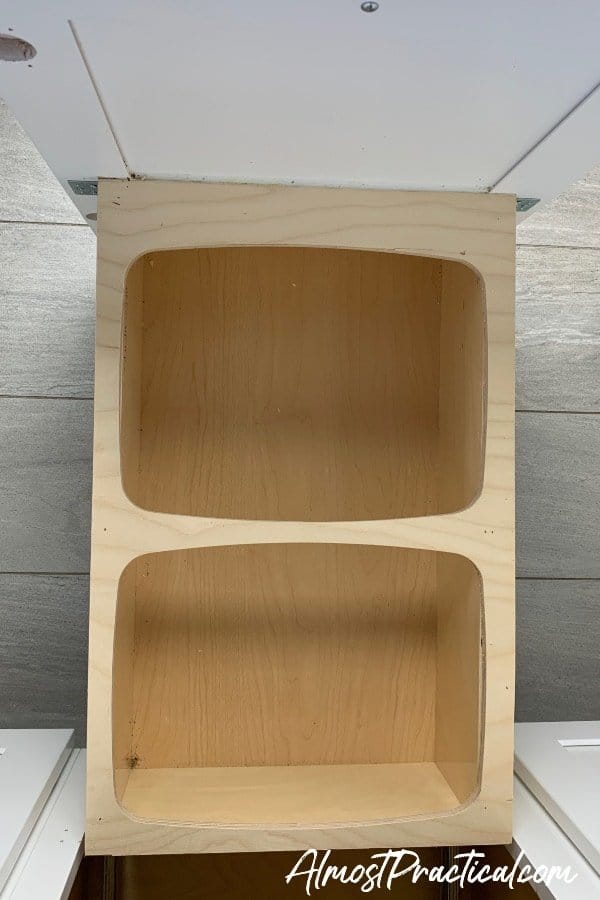 Since I went with stock cabinets instead of custom cabinets to keep my remodeling costs down, I ended up using an after market company to install a garbage pull out insert.
However, you can get a similar style and even do it yourself. Here is a similar bottom mount pull out trash can set up from Rev A Shelf on Amazon.
This means that you can turn almost any existing cabinet into a pull out trash cabinet! (pay close attention to size and dimensions if you do this)
I love mine and truly feel like it was the best choice for us.
Some Things to Consider
After 9 months of using our new kitchen trash can cabinet, I can tell you that this cabinet still takes a beating.
It sees more use than any of our other cabinets.
It Is Still Messy
There are usually some mystery drips and drops streaked on the outside and in.
You do need to clean out the drawer box and the top of the can cutout on a regular basis because they do tend to collect lots of crumbs and scraps – not everyone has perfect aim when they throw things out.
Hint: You can use a garbage bowl to help keep the area around your trash cans clean.
However, it seems to be easier to take the trash out and replace the bags in this style of cabinet.
Standard Garbage Cans Are Good
Whichever pull out style you choose, make sure that standard sized trash cans will fit in the cutouts.
If your trash can somehow becomes damaged, you don't want to replace the entire system – just the can.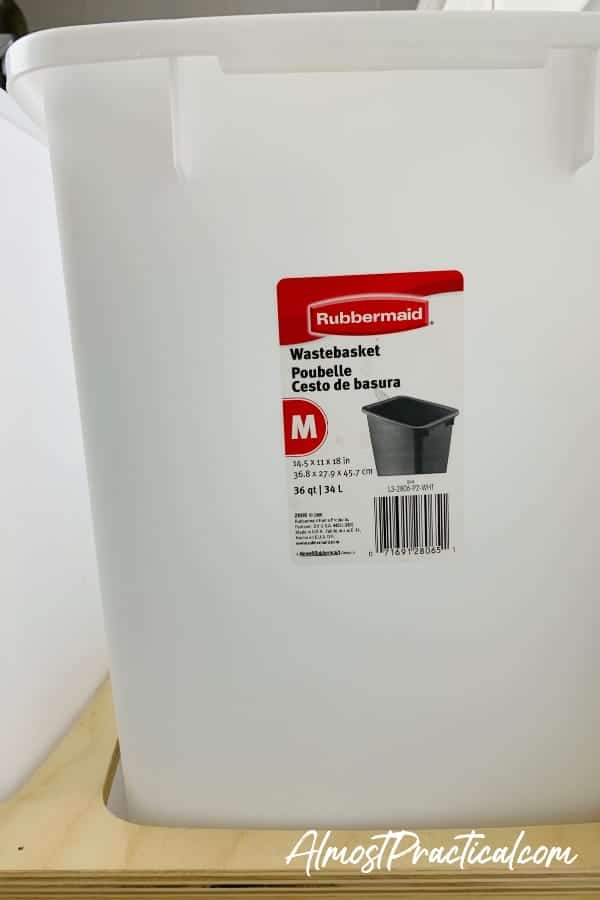 Get A BackUp
If your kitchen is large enough, you many also want to consider placing a free standing stainless steel trash can like this one somewhere completely opposite your kitchen trash can cabinet.
I have put one of these closer to our kitchen table near our "coffee station" (the counter that holds the Keurig machine).
This actually helps cut down on traffic (by now you probably think we have a highway in our kitchen) in that awkward "L" corner and also means that we use our garbage cabinet a little less than we would otherwise.
The Best Kitchen Trash Can Cabinet For You
At the end of the day – whether you go with a top mount or bottom mount kitchen garbage pull out is up to you.
If you have a personal preference, I would love to hear about it. So please leave a comment below.
Pin this article to your favorite board on Pinterest to refer to later.