How to Choose the Best Quartz Kitchen Countertop for Your Renovation
This post may contain affiliate links which means I make a commission if you shop through my links.
 Disclosure Policy
Getting a new kitchen? It's not something that happens everyday everyday. Here are some tips to help you choose the best quartz kitchen countertop for your home renovation.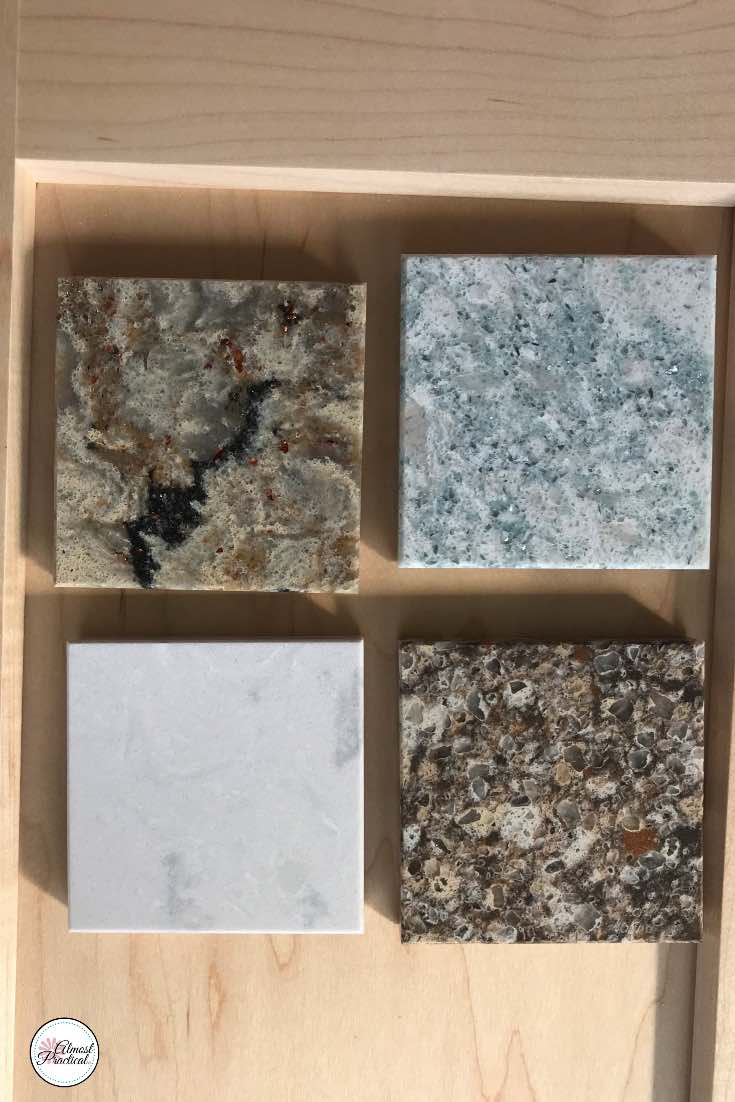 Right now we are in the process of a huge kitchen renovation. As I type this (ensconced in my basement) there are power tools whirring away above my head.
All of my design decisions have been made including which kitchen countertop material to use for my project.
Because I learned so much along the way, I am sharing what I know here – and hopefully it will help you with your own remodel.
After looking at many different options – I decided to go with a quartz kitchen countertop.
But that decision was only the beginning of the decision process.
There are so many choices in quartz – between brand and color/pattern etc. that the material was just the starting point.
Honestly, I only looked at a few quartz kitchen countertop choices before making my final decision. You may want to look at more.
What I want to do here is share how I went about making my choice.
All the Decisions that Go Into a Kitchen Renovation
When you renovate a kitchen, you have a lot of design decisions to make. The main categories for me were:
countertops
cabinets
floor
backsplash
appliances
lighting
I know it can be overwhelming if you try to make the decisions all at once.
Breaking it down into simple, systematic steps helped me to stay focused on one decision at a time.
Nail Down Your Overall Kitchen Design Theme
Before starting construction, I scoured Pinterest and even created an idea board for my kitchen remodel – you can follow it here.
I also looked at magazines, kitchen showrooms, and any place I could find a little inspiration.
I pinned and saved clippings, etc. of anything that caught my fancy.
At this stage I didn't make any judgements.
If I liked it, I saved it.
What I was searching for was a common underlying pattern.
Over time, a certain "look" will start to emerge.
You will start to see common colors, shapes, and styles throughout all of the photos.
Now you can evaluate whether what you like makes sense for your situation or not.
You can also incorporate design elements differently than how you started out.
For example, I kept gravitating towards a bit of bling in my countertops.
Quartz comes in so many different patterns and some of them have shiny flecks of silver and gold embedded within.
I loved the look.
My family? Not so much.
And they were right.
We may want to sell our house down the road.
So, it made more sense for us to go with more neutral colors throughout the kitchen.
Not everyone will love a little disco in their quartz kitchen countertop.
I ended up saving the bling for my chandelier.
But I am getting ahead of myself.
Pick Your Countertop Material First
One of the best pieces of advice that I received throughout this kitchen renovation process was to make my kitchen countertop decision first.
Your countertop is the first thing that people see when they walk into your kitchen.
It's on your center island, if you have one, and also around the perimeter of your kitchen, too.
Your cabinets?
They are under that beautiful countertop, right?
Of course, you will have some upper cabinets but the counters take center stage.
Not only that, think about this: your dishes will sit on your countertops.
My dishes totally clashed with my old dark green solid surface counters.
I didn't think about it too much, because – well, what can you do?
But if you are ripping everything out and starting over, then it is something to consider – don't you think?
Make sure the countertops you choose will not only complement your current dishes but also will work will with a variety of colors and patterns that you like – in case you buy new dishes in the future.
Select Kitchen Countertops that Are Durable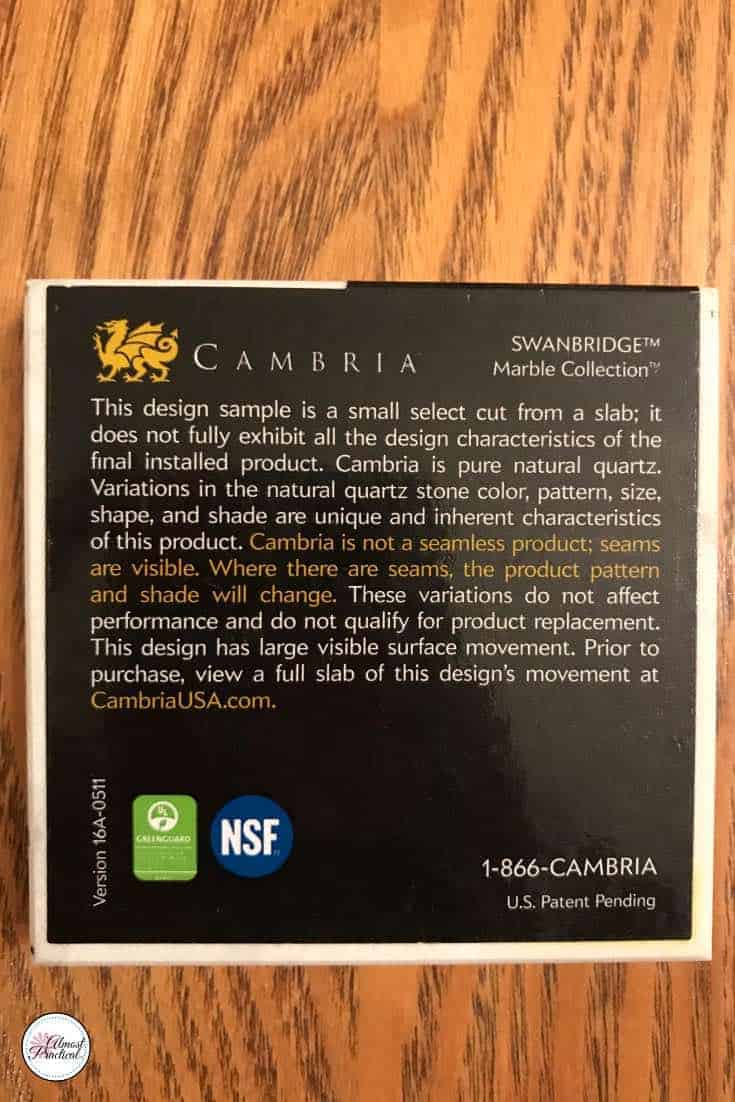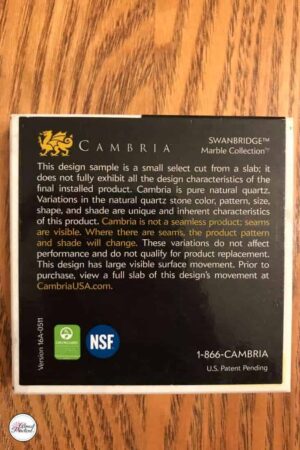 When it comes to your kitchen, looks aren't everything.
Durability is super important, too.
A kitchen is usually a heavily used room – it is in our busy house.
This is why I chose quartz kitchen countertops – because supposedly they can withstand some heavy use.
BUT, what I found is that …
All quartz is NOT created equal.
People just don't tell you that.
In fact, as I talked to more and more people who have quartz countertops, I learned that they vary quite a bit in durability.
Some of my friends mentioned that if they left a coffee cup with some spilt coffee on the quartz kitchen countertop, it would leave a ring that would be somewhat hard to get out.
Other people told me that their quartz counters were so easy to clean!
Talk about polar opposites.
The weird thing was that many people had no idea what brand or pattern of quartz kitchen countertops they actually had (because I did ask).
Come on – don't you know that this should be common knowledge? 😉
So, I took it upon myself to run some amateur Consumer Reports type tests to see what would be best for me.
Get Some Quartz Kitchen Countertop Samples
The first step was to get lots of quartz samples in the color I was looking for.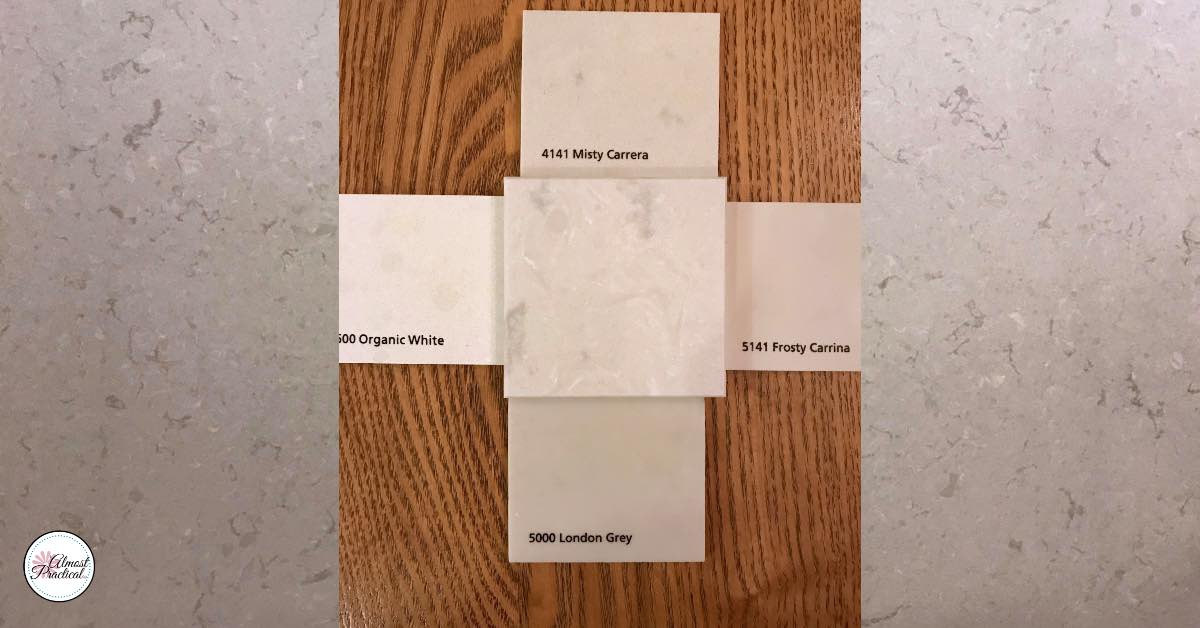 By this time we had narrowed it down to a white marble look quartz (you could say light gray – but I wanted it to run more towards the white side than the gray side).
This color felt a little risky to me because I worried that such a light color would not hide much as far as dirt and stains go (see the coffee cup story I shared earlier).
Evaluate the Look and Feel of the Quartz
I collected samples from:
Cambria – Swanbridge
LG Viatara – Minuet
Caesarstone – several different colors, I had samples from the whole collection
Right off the bat, I had a favorite – the Cambria Swanbridge.
The color was exactly what I was looking for with lots of white highlights.
The LG Minuet was a little more yellow.
And even the brightest of the Cesarstone had more gray than what I wanted.
As I looked at the different samples, I realized that each piece had a distinct surface feel.
Some were rough and others were much smoother.
So, right away, there were some I didn't like because I didn't like the way they felt.
I also wanted something that was as close to a natural marble look that I could possibly get with a man made stone.
Abuse Your Quartz Countertop Samples
This was the fun part.
I picked 3 finalists from the quartz samples that I had on hand and set up my own little test.
You see, I like my coffee and red wine. I also cook with a lot of turmeric.
These 3 things are strongly colored.
If anything was going to stain my countertops on a daily basis, these 3 foods would do it.
So, I made a paste out of turmeric and water.
On each of the four corners of each sample, I put some turmeric paste, black coffee, red wine, and a dollop of ketchup for good measure.
I left this mess on my quartz countertop samples for a few hours, then rinsed it off with a paper towel and water.
Here's the thing – my test was not scientific at all.
So, I am not going to tell you my results for each brand.
What I am going to tell you – is go ahead and abuse your own quartz countertop samples (assuming you own them or have permission to do so) before you make your final decision.
Whatever you do on your regular countertops – do it on your samples.
If you cut food directly on your existing countertops without a cutting board, cut some food on your samples.
If you put hot pots directly on the countertop (which is a no no with quartz) put a hot pot on your samples.
Try to stain them.
Beat them up.
It's better for you to test your small sample than to ruin your installed quartz kitchen countertops.
Just sayin'.
Once you have a clear winner in your sample test, it's time to ….
Visit the Stone Place
I don't know what the stone place is officially called – but I am talking about the stone yard or whatever it is that has full slabs of the quartz kitchen countertop that you chose.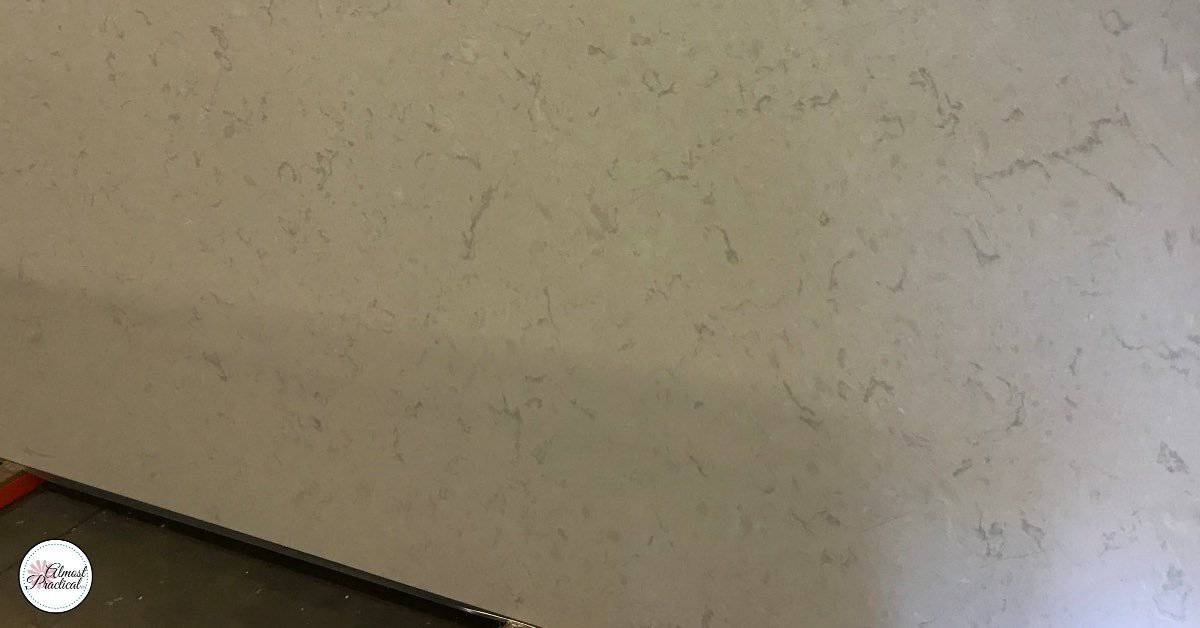 It is really a good idea to see what the full slab of your small sample looks like.
The little piece that you have may look very different from a full slab.
The veining will definitely be more prominent on a full slab of quartz.
You will be able to visualize how this quartz will actually look in your kitchen.
It's even better if you can pick the actual slabs that you will buy.
Quartz is supposed to be pretty uniform – with no real "dye lots".
But when I looked at the slabs, I thought that there was a slight variation.
So, I was happy to be able to pick 2 slabs of my choosing.
What Was the Best Quartz Kitchen Countertop for my Renovation?
After all my shenanigans, I decided to go with the first one I saw (doesn't it always work out that way?).
I chose the Cambria Swanbridge and I can't wait to see it when the kitchen is all done!
Now that my countertop decision was made – it was time to move on to choosing the cabinets.
Did You Go With Quartz in Your Kitchen?
If you have done a kitchen renovation recently – and you decided on quartz kitchen countertops – do tell us about your decision process in the comments below.