How to Plan a Kitchen Remodel
This post may contain affiliate links which means I make a commission if you shop through my links.
 Disclosure Policy
Well, it's official. We are taking on a kitchen remodel.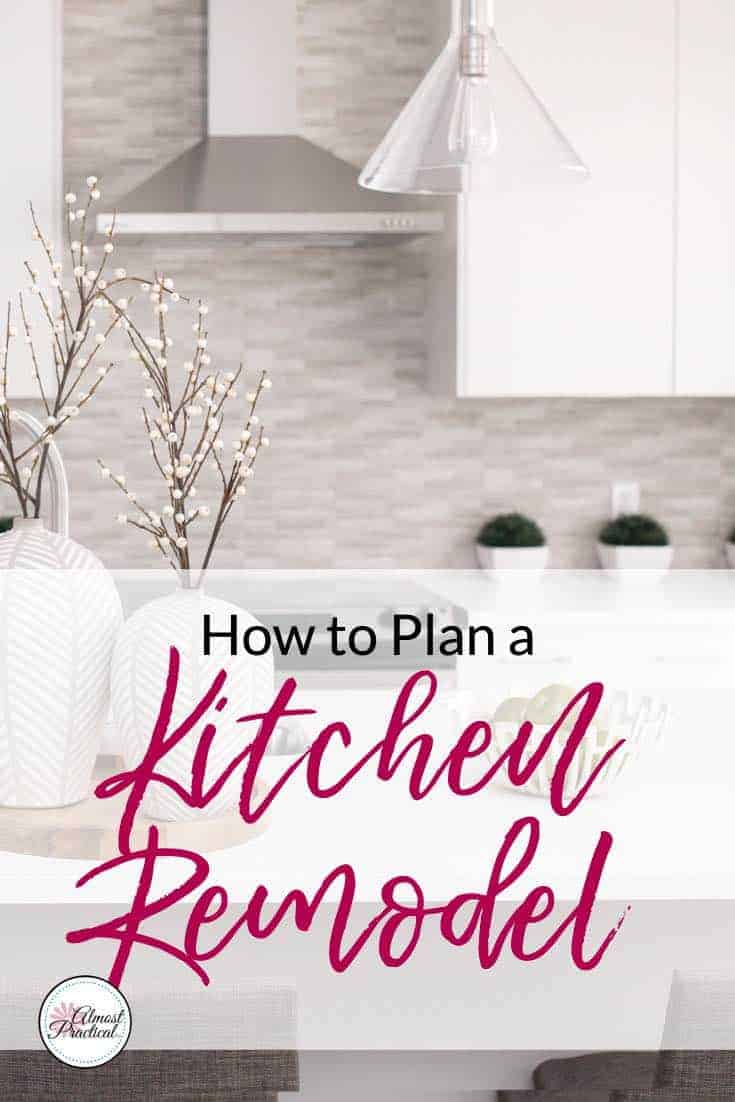 Crazy, right?
And while I don't know exactly how to plan a kitchen remodel – I am pushing my way through with trial and error.
I want to share what I learn with you, in case you are grappling with some of the same decisions that I am.
Kitchen design and layout, cabinets, countertops, backsplash, flooring, appliances – there are so many choices and so many things to consider before you even start.
In this post, I will give you a little background on our existing kitchen and why we need a full kitchen remodel.
I will also run you through some of our initial decisions and catch you up to where we are today.
Please, let me know in the comments if you would like to learn more about my thought process on any of the choices that we have had to make.
I am not an expert – just a homeowner that is going through this kitchen renovation in real time. So the choices that I make for me may not be the right ones for you. They also may not be the best choices (only time will tell). But given the information that I have at the present time, this is how I have chosen to proceed.
If you would like to follow along with our kitchen renovation, please fill out the form below and I will email you with updates along the way.
A Little Background on Our Old Kitchen
Let's start with this fact – our kitchen is 21 years old.
It's time.
On the surface, the kitchen actually doesn't look that bad. It has white thermofoil cabinets, green solid surface countertops, mostly stainless steel appliances, and a maple floor.
But when you dig a little deeper, you start to see the cracks – literally.
The counter has cracked near the cooktop.
The thermofoil cabinets are peeling along the edges and the garbage cabinet is falling apart. (See our new kitchen trash can cabinet here!)
The buttons have fallen off the oven (it still works, though), and the garbage disposal has become a bit of a danger. Even the floor is at the end of it's useful life – being a hardwood veneer.
We could attempt to repair and replace but investing in new appliances in kitchen that has been bandaged together here and there over the years just did not make sense.
However, the thought of undergoing a kitchen remodel – well, it was enough to make us want to move, but that really isn't a choice.
In our busy household – the kitchen is central to life.
How we are going to manage without a kitchen for several weeks still remains to be seen.
But the decision to renovate has been made and now we are moving forward.
Decision #1 – Working With a Kitchen Renovation Company
Because we are not "handy" people and because we lack the expertise to make the best judgments – we decided to work with a kitchen renovation company right from the start.
A few years ago we did some construction on our house including a bathroom remodel (actually 2!).
Related: Home Remodeling – 10 Tips for a Stress Free Remodeling Project
I coordinated the projects myself and while the end result was beautiful, the work involved nearly did me in. It took up all my time and juggling those projects with my other responsibilities was tough.
So, for this kitchen renovation project I decided to bring in some help.
Hopefully, I will be able to sit back and relax. 😉
Decision #2 – Kitchen Layout and Design
Our kitchen is small and narrow.
Many years ago we opened up the dining room to become the eat in part of our kitchen – and we love that.
This time around we decided not to take down any walls. We will work within the space that we currently have.
I will give you a tour of the space in another post.
But for the purposes here, the first thing we did after hiring a kitchen renovation company was nail down the kitchen layout and design.
Actually, we paid to have the company do our design first.
The deal was they would credit us with the cost of the kitchen design if we ended up hiring them for the project – which we did.
I think the official way they refer to their service is a "design and build" firm.
So, the first step was to agree on a kitchen design that was both functional and beautiful.
Our narrow kitchen posed some challenges but by adjusting some cabinet widths we are able to even squeeze in a permanent island, which I am super excited about.
Decision #3 – Cabinets and Countertops
This is the stage that I am in right now.
And the next few decisions all kind of work in tandem.
I decided to start with the cabinets and countertops because the counters are what you see first when you walk into a kitchen.
They take center stage and cover a lot of surface area.
I know lots of people choose cabinets and countertops based on looks – but my main concern was durability.
My kitchen is a workhorse.
We have 5 chefs in the house (my husband doesn't cook but all my teenagers do – because they are hungry all. the. time.)
Again, I will go into my decision process for choosing my kitchen cabinets and countertops in another post. But this was the logical next step as I thought about how to plan a kitchen remodel.
Related:
Decision #4 – Floor Tiles
As I narrowed down my cabinet and countertop selections, I felt that it was time to start looking at floor tiles.
We decided to go with tile on the kitchen floor for a few reasons.
First, it abuts to our existing oak hardwood floors throughout the rest of the downstairs area and I don't like having different woods right next to each other. (yes, the floors we are replacing are maple – I have disliked this combination of wood floors but they were there when we moved in).
Second, if we tried to weave in a matching wood floor or replace the entire floor through our main level – well, I don't think I could handle the disruption. We would literally have to move everything out of the main level and then move back in.
So tile it is!
Again, durability is the main factor. My kitchen is a heavy traffic area. More on this in another post.
Decision #5 – Kitchen Backsplash Tiles
While I was at the tile store, I also started thinking about the kitchen backsplash.
Some people even say to do this last – after your whole kitchen is in.
Personally, I think that approach would drive me crazy because I just want the whole kitchen remodel done in one swoop.
For sure I am going with something more neutral on the backsplash, so picking out a few sample tiles at this stage seems like the right thing to do for me.
I will make the floor tile decision first – before I choose the backsplash.
Decision #6 – Appliances and Plumbing Fixtures
I have also started the process of choosing appliances, too.
But, I had no idea how difficult this decision would be.
I want to stay within my budget, make sure the appliances have good ratings, are the right size, and offer the functionality that I need.
Yikes!
Can you imagine? Picking all of these out at the same time:
range
refrigerator
microwave oven
dishwasher
garbage disposal
and possibly a range hood (might go with the over the range microwave for space reasons).
So much research!
I guess you know what I will be doing today.
How To Plan A Kitchen Remodel – It's a Work In Process
I hope this post about how to plan a kitchen remodel has helped you out with your own project in some way.
Obviously, there is more to it than I can write in one sitting.
I broke down the process into this series of decisions:
Whether to work with a kitchen renovation company or not
Finalizing the kitchen design and layout
Choosing cabinets and countertops
Selecting the right flooring for your space
Finding the right tile for your kitchen backsplash, and
Picking out your appliances and plumbing fixtures (sink, faucet, etc.)
Given all the choices that you need to make – my best advice is to give yourself some lead time when you decide to undergo a kitchen remodel.
At least a few months.
Use that time to research your options, visit showrooms, order samples, place samples in your own kitchen to see with your lighting, and test the samples that you receive.
You can also follow along on my Home Renovation – Kitchen Redo board on Pinterest here.