10 Home Renovation Tips for a Stress-Free Remodeling Project
This post may contain affiliate links which means I make a commission if you shop through my links.
 Disclosure Policy
Your home renovation will stress you out – because things rarely go smoothly. So, take a deep breath and use these 10 home renovation tips – to find a little zen in the middle of the chaos.
The home renovation process is often painful – but you hope the result is worth it.
Our home was built in the 70's so we've gone through a few projects of our own.
I have done the general contracting on a few projects and have hired a general contractor on others.
As a result, we have had to deal with a lot of weird contractor situations. Things like getting the wrong columns for our front porch to complete work stoppage.
Here are a few things that I learned that helps a home remodeling project run a little more smoothly.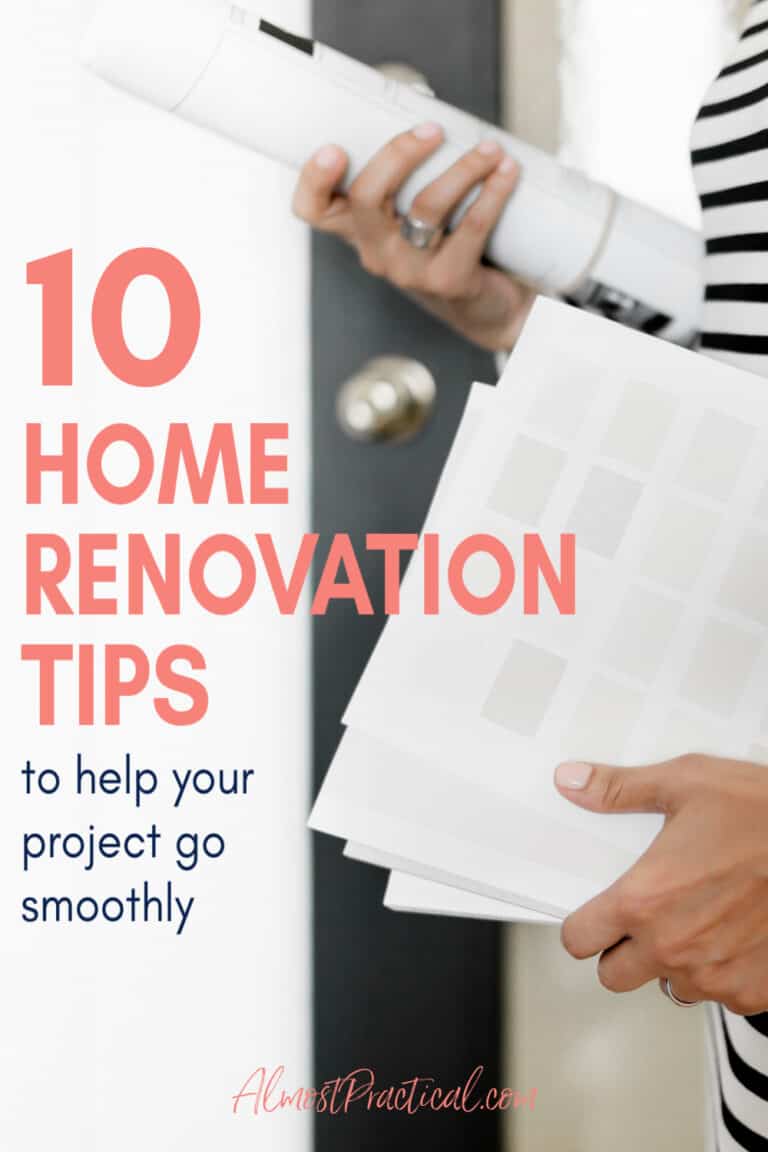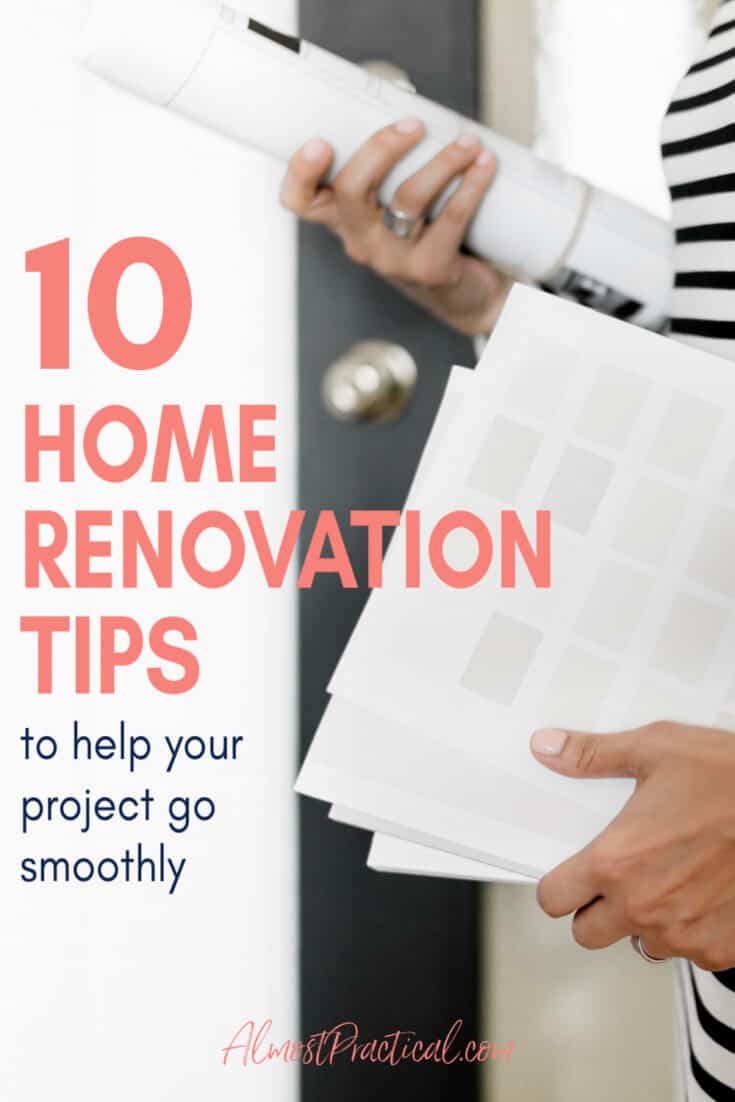 1. Check Your Contractor's References
Before you get started on any construction project – check your builder's references!
I cannot stress it enough.
It's a pain to do – I know.
But doing your research in the beginning can save you a lot of heartache along the way.
Google the company. Check reviews on Google, Facebook, Yelp, Reddit, and even search any local Facebook groups that you belong to.
Also, ASK your contractor for references that you can call.
I know it seems counterintuitive – after all, if the contractor is going to give you references, obviously the references are going to be good ones. Duh!
So why bother calling?
Well, you would be surprised the things that you can learn in a conversation.
Another person might be happy with a service that might not make YOU happy.
As you speak to the reference, you might learn that the crew was not careful about taping off the construction site, or maybe they left tools lying around.
The reference may not have had an issue with this. But maybe you have allergies or small children.
Even good references are good sources of useful information.
2. Identify Your Goals Make Sure Your Contractor is Clear on What You Want
Prior to starting your project, make sure that your contractor is 100 percent clear on what you want him to do and vice versa.
You don't want to get half way through and then hear – "well, I thought you wanted it this way".
When we built our front porch, I actually took my contractor on a "field trip" to my friend's home. She had a porch that I loved and I wanted my contractor to see first hand what I had in mind for our house.
Once you are clear on the details – make sure they are spelled out, written down, and signed off on by both parties in the contract.
This way the scope of the project is defined which will also help you to stay on budget.
Also, be aware that whenever you change something that was in the contract – that change could end up costing you additional money.
If you do make a change – be sure to put it in writing with signatures from both yourself and the contractor.
2. Take Advantage of Your Contractor's Strengths
Every person has their strengths. Remember these on the days that you are questioning whether you hired the best person for the job.
Some people are good at planning, some at doing, and some at selling.
On my kitchen renovation, I realized that the general contractor I hired didn't know that much about the nitty gritty details of construction.
What!
He had a business background and was great at sales and client relationships.
Thankfully the job foreman knew exactly what he was doing and our project came out beautifully.
2. Your Sub Contractors Might Not Get Along
If you get involved as the general contractor on your own remodeling project – be prepared for personality differences.
On one of my home remodeling projects, I hired two of my favorite contractors to do different things.
Individually they were amazing but together they were like oil and water.
It was definitely not something that I expected.
Everything worked out well in the end and the job got done – but there were some dicey moments along the way.
3. Your Contractor May Not Be Good at Planning and Paperwork
Not everyone is good at planning. Even when they should be.
You might end up doing more of the logistics than you originally planned for – especially if you are working with someone who is in business for themself.
I recognized this on one of my home improvement projects right away – and it was very frustrating.
While I liked the home remodeling work, I had to keep track of details like my invoices and even some of the delivery of supplies and materials.
It was only the anticipation of the end product that kept me from going over the edge.
4. Do Not Compromise on Features That Are Important to You
Sometimes your contractor may try to sway you to change your mind on some aspect of your project.
Some reasons are valid, like unexpected structural issues – but others not so much, like contractor convenience.
For our powder room project, I wanted tile wainscoting around the entire room (it's a small room).
My contractor, on the other hand did not want to delay the project until the tile was complete.
So, he tried to sway me out of my original decision – saying that tile was more expensive than just painting.
But I am glad I stuck to my original plan on this one – because I so love the way the powder room looks now.
I know I would have regretted making a different decision.
7. Pay Attention to Construction Details
Be there for your contractor without being a pain in the butt – it will be beneficial to both of you.
During a home renovation, there are micro decisions that need to be made daily.
If you are not around, they can't ask you for your preference – so they will do what they think is best.
When my contractor installed the island in our kitchen remodel, there were 3 flat panels to be installed on the back – two narrow and one wide.
These panels actually mimicked the cabinet doors on the other side of the island – one cabinet had two narrow doors and the other had a wide door.
My contractor was going to install these panels on the back in a similar pattern – narrow, narrow, wide.
Thank goodness I was there that day because I felt that the island would look much more symmetrical with the panels in a narrow, wide, narrow pattern.
It was just a matter of personal preference – but you have to be there to communicate what you want.
8. Do Not Be Afraid to Ask Questions
Sometimes, out of politeness, you might be afraid to ask a question.
Um – why are you installing this that way?
You could either come off as sounding really stupid (shouldn't everybody know the answer to that?), or offensive (doesn't she trust what I am doing?).
But the reality is that this is your home renovation project.
YOU are paying to make this happen and you have to live with the results long after the contractors are done with the job.
So, ask away and make sure you are getting exactly what you want.
9. Pay Attention to the Sub Contractors Work
If you go the "all inclusive" route and hire a general contractor – you may feel like you can sit back because the project is being taken care of.
However, you should still be very involved.
Subcontractors might cut corners to meet the budget of the GC.
Or they might misunderstand what it is that you want.
10. Communication Is Key to a Smooth Home Renovation
A home renovation can become YOUR full time job even if you hire a general contractor.
My advice is to expect that it is so.
Engage with your contractors so you understand exactly what is happening each step of the way.
This communication will keep everyone's stress levels down.
Make a Home Renovation Checklist
Another great idea is to keep a home renovation checklist.
Make sure to write the following things down:
your goals for the project,
your budget,
the construction milestones
deadlines
questions
a punch list of things that still need to be done
before, during, and after pictures
inspiration photos from magazines or other homes that you have seen.
Follow These Home Renovation Tips
Many of these home renovation tips are based on mutual respect between you and your contractor.
If you keep the lines of communication open, have a contract, stay involved, ask questions, and are understanding of unforeseen issues that crop up along the way then your project should run smoothly and be (hopefully!) stress-free.