A6 Hobonichi Techo Planner Book Review – 2023
This post may contain affiliate links which means I make a commission if you shop through my links.
 Disclosure Policy
As we head into the new year – I continue to do reviews of some of my favorite planners. Today I will show you the Hobonichi Techo Planner Book in English for 2023.
Two years ago I added the Hobonichi Techo Planner Book in the A6 size to my planner line up and I really loved the open ended planning layout that it provides.
Last year I used the Hobonichi Techo Weeks (see my review here) as my main planner – which I also love. But I truly missed the space that the Hobonichi A6 provides.
So for 2023 I am adding both the Weeks and the Techo A6 to my planner stack.
Today I want to show you the new version of the Hobonichi Techo for 2023, explain how I use it to stay organized, and go over some of my favorite features.
What is the Hobonichi Techo Planner Book?
Hobonichi is a Japanese planner company that makes a few different very popular planners and notebooks.
The defining characteristic of these planners is the super thin Tomoe River paper that the planners are printed on.
This paper allows Hobonichi to pack tons of pages into a small format.
The Hobonichi planner line up includes the following planners
What's New for 2023 in the Hobonichi Techo Planner Book
In this post I am reviewing the Hobonichi Techo Planner Book – which is the English version.
It is often referred to as the Hobonichi Techo Original – but in actuality the true "Original" Hobonichi Techo is the Japanese version which is also A6 and has a very similar page layout although it is not identical.
If you have used this planner in the past, it is pretty much the same for 2023.
However, there are two new versions being offered (both are Japanese):
a themed book based on the hit manga series One Piece
HON which is a hard cover Techo
What Size Is the Hobonichi Techo Original?
The Hobonichi Techo Planner Book is an A6 size planner.
An A6 paper size measures about 4.1 x 5.8 in inches.
So, to keep it simple it's about 4×6. For perspective you could think about a 4×6 index card or photograph.
Cover Options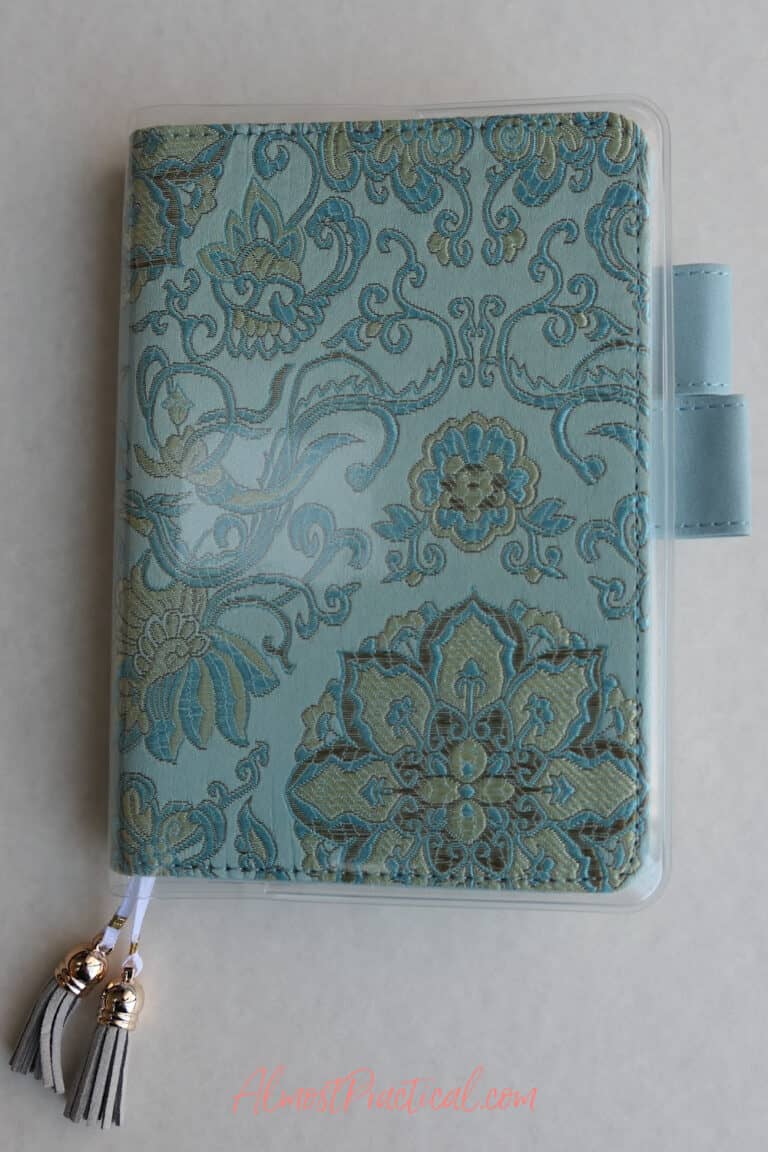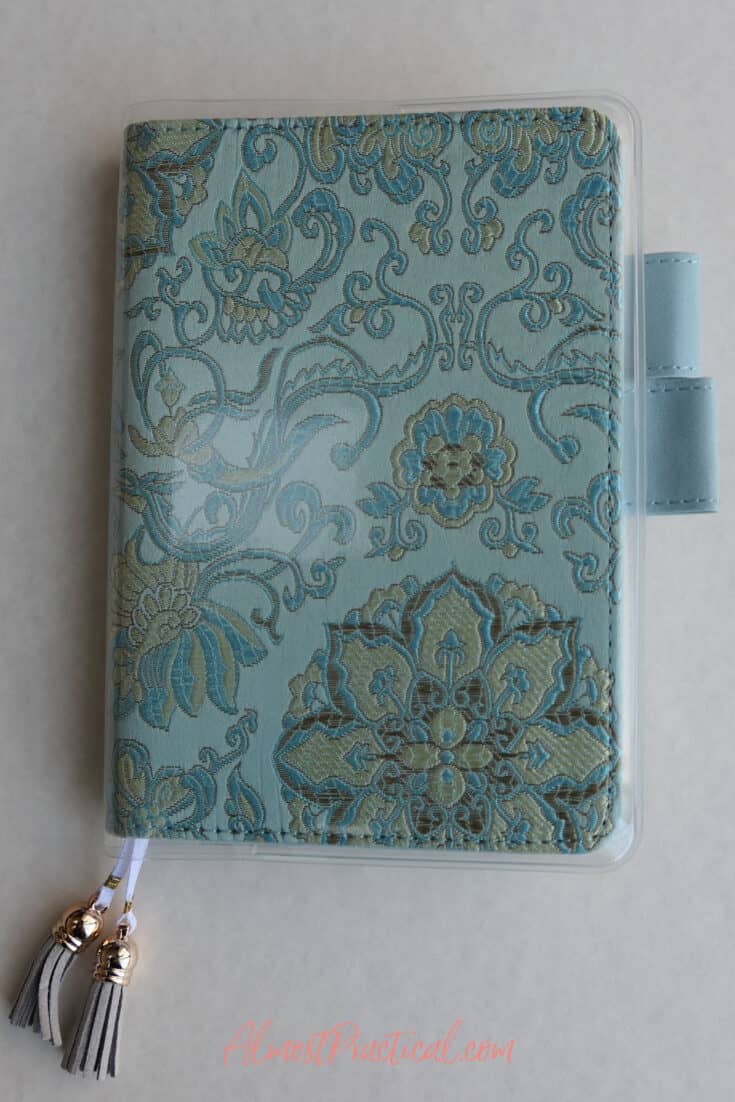 Unlike the Hobonichi Weeks, the Hobonichi Techo Planner Book does not have a variety of cover options.
The cover is a textured black flexible covered cardboard. Basically, it is pretty flimsy and if you don't put a cover on it – then the book will surely show signs of wear.
But the good news is that there are so many fun covers available for this planner.
Some are produced by Hobonichi for each year – like this fruit tree inspired design.
And others are available from third party vendors.
Unfortunately the third party teal mandala flower cover that I use on my book in this review is no longer available in the A6 size. You can find it in the A5 size here but it will NOT fit on the Hobonichi Techo Original or Planner Book.
Another interesting thing that fans do is use a clear plastic cover over their decorative cover. This clear cover is made by Hobonichi and is called a cover on cover because it is designed to go over another cover and will be too big to fit on the book itself.
Hobinichi Techo Planner Book Walk Through
So, enough about the covers – what you really want to see is the inside of this planner.
Mini Months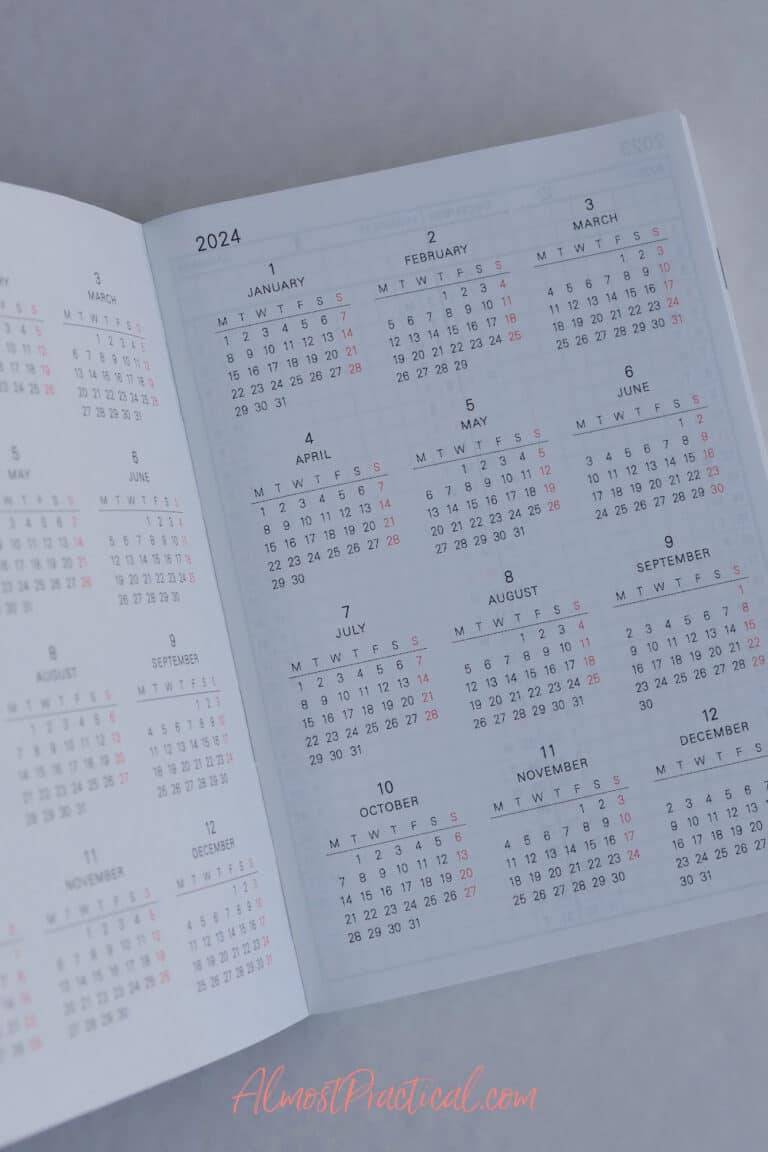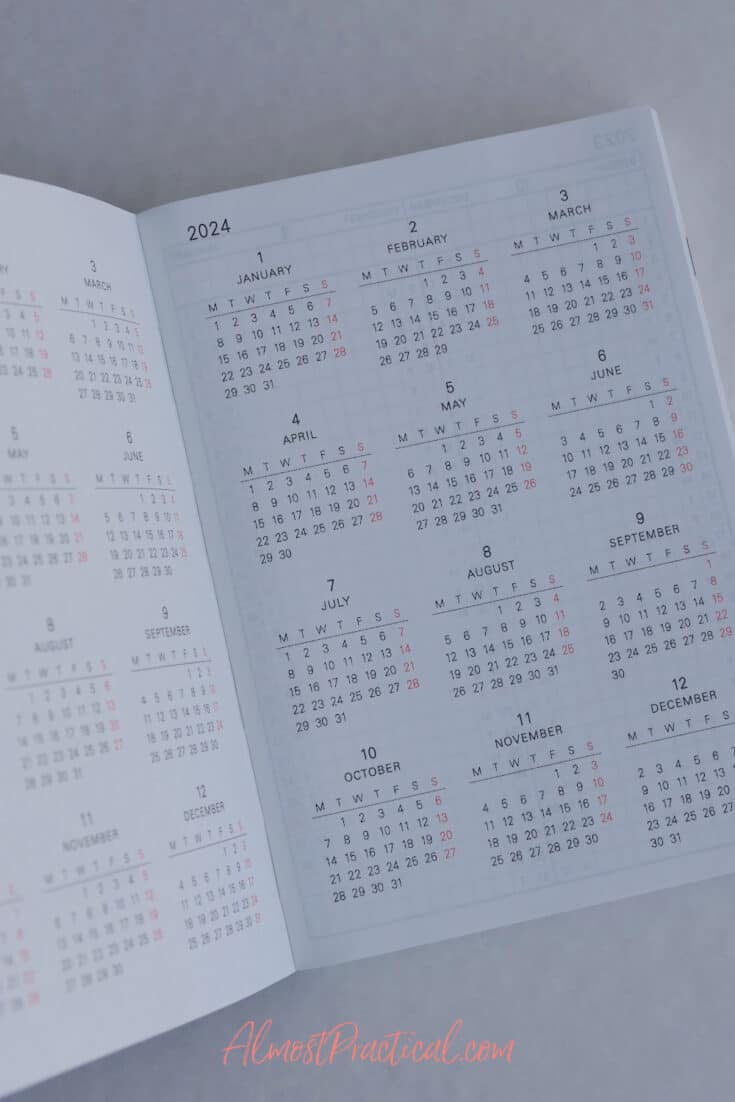 The planner begins with a set of mini months for both 2023 and 2024.
Planning Pages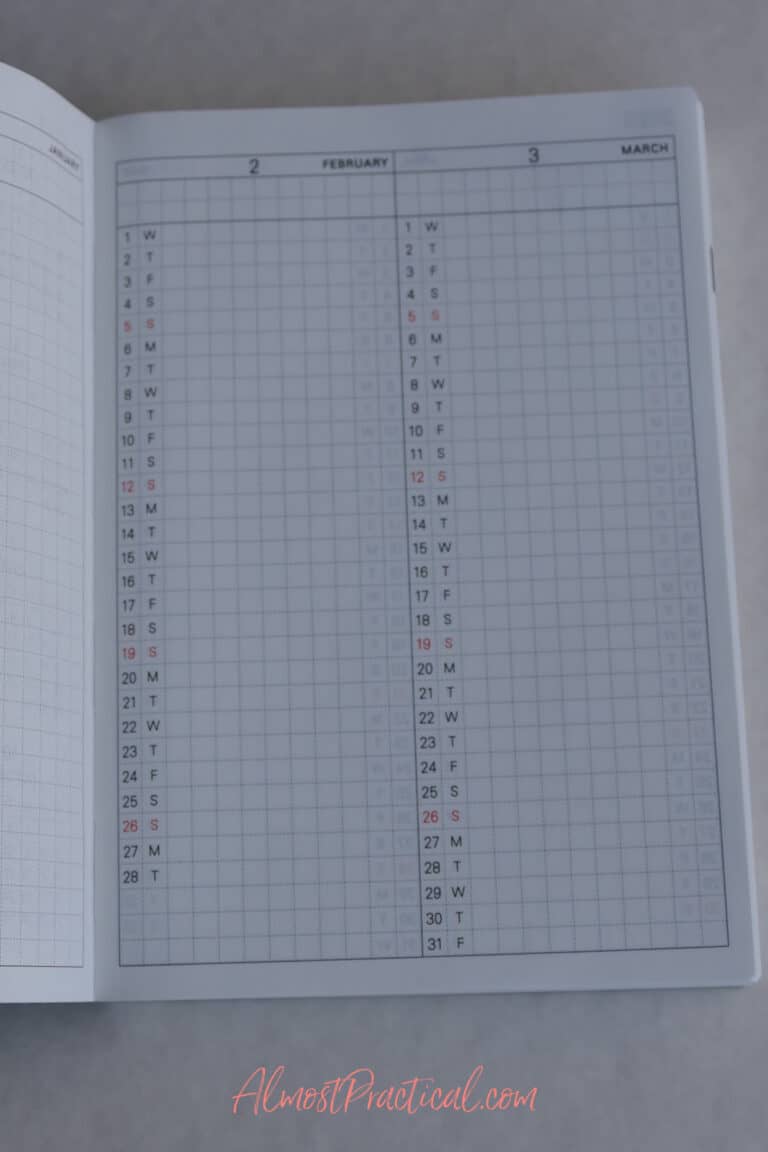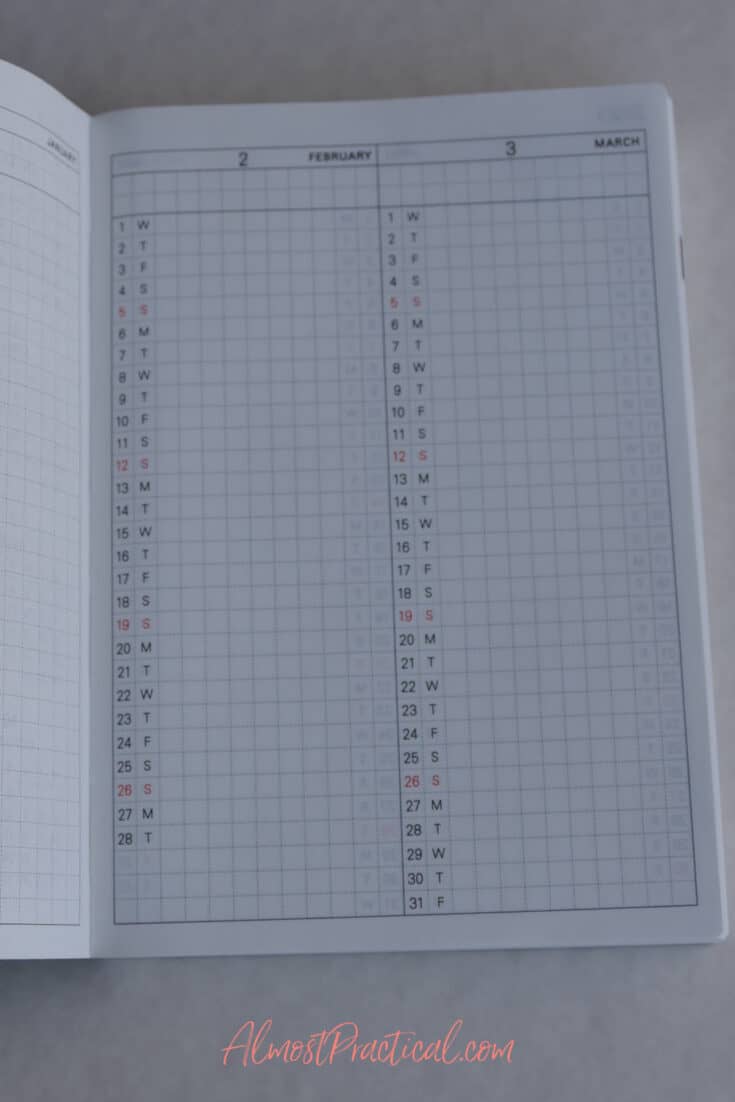 The next few pages are what I call planning pages. These feature a column for each month starting in December of 2022 going through to March of 2023.
Each row in the column corresponds to each day of the month. You can use theses to plan ahead by entering appointments or use them to keep track of things that you do daily – like exercising, working on a goal, or drinking enough water.
2 Page Monthly Spreads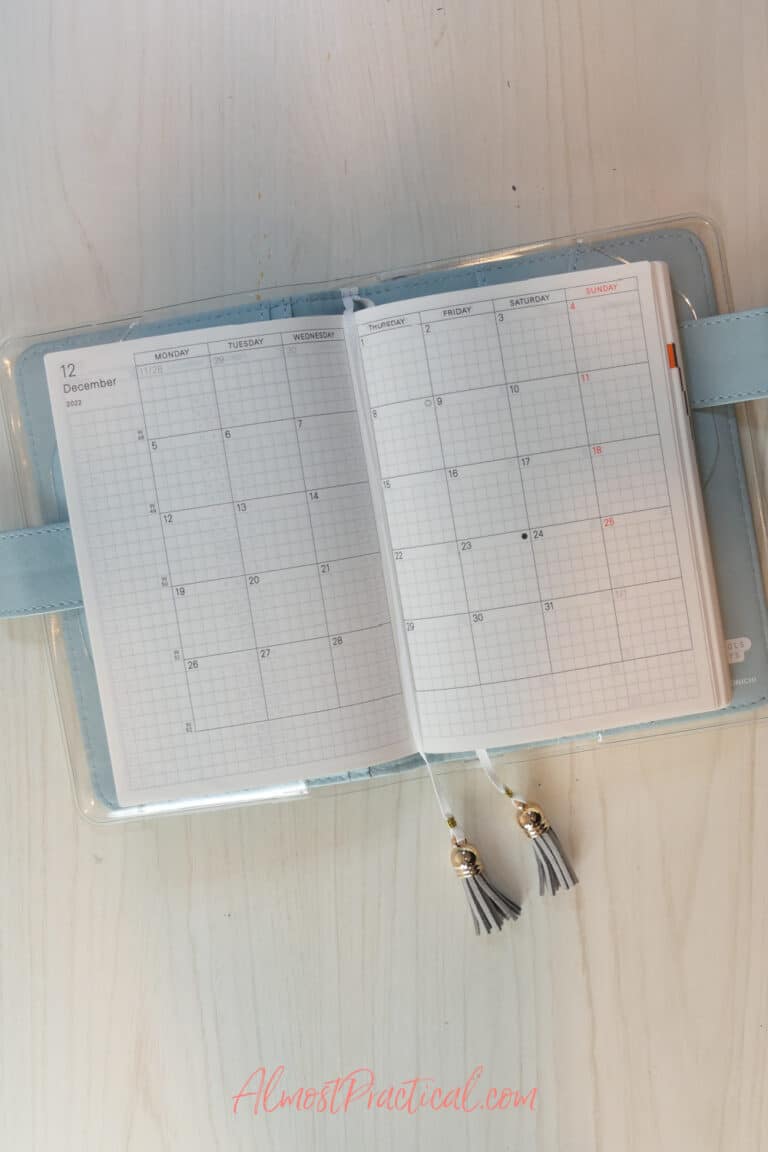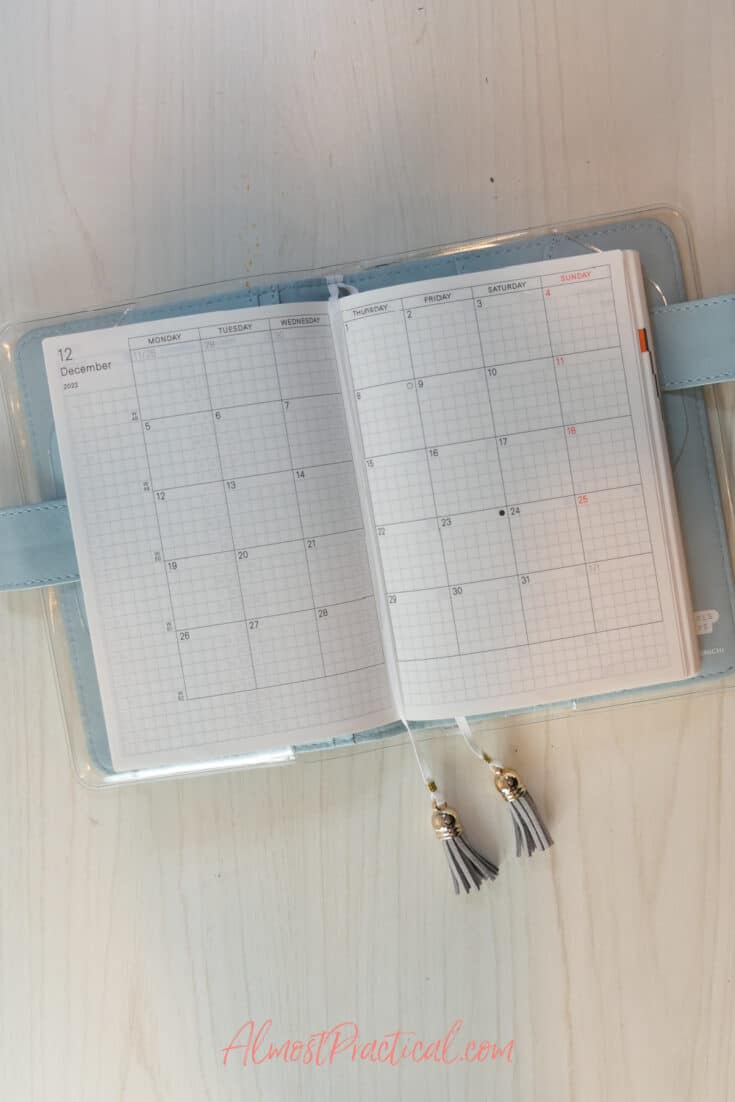 Following the planning pages are your standard 2 page per month monthly spreads.
Here you can see each month at a glance.
Remember that the Hobonichi Techo Original Planner Book does not have a weekly layout – so these monthly pages are important.
I like to use these pages to detail any appointments that I have and to give me the big picture of each month.
Daily Pages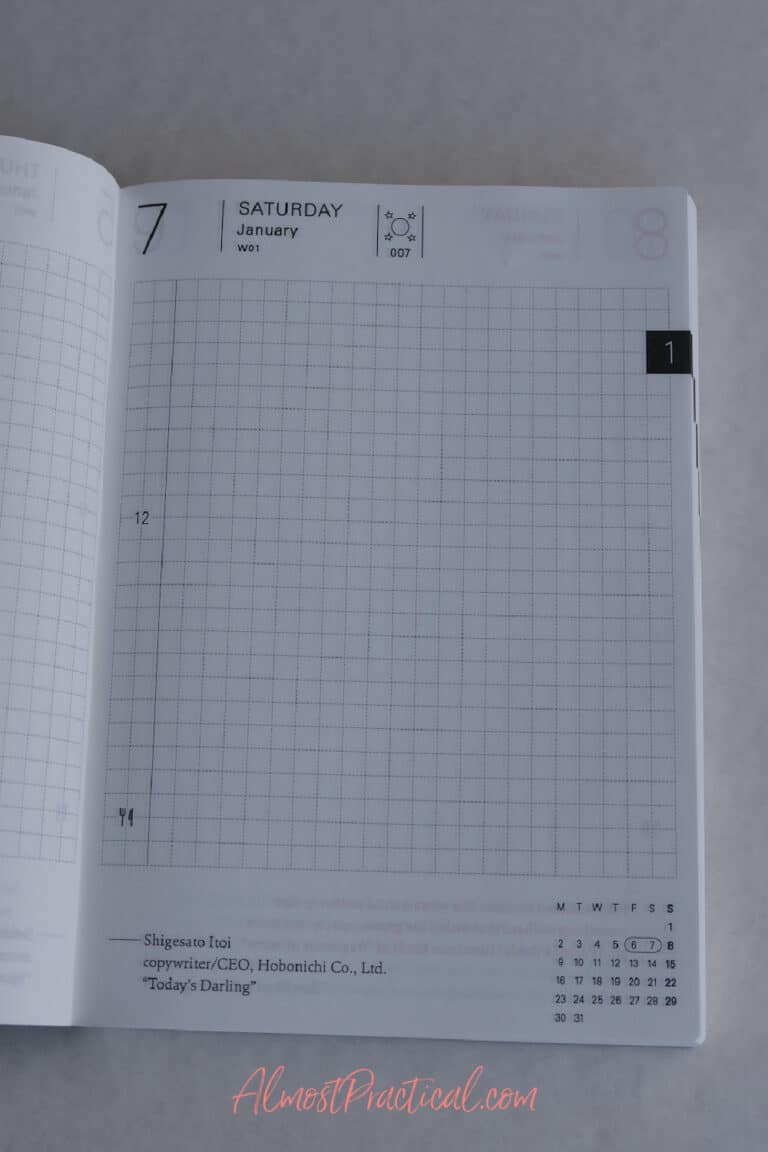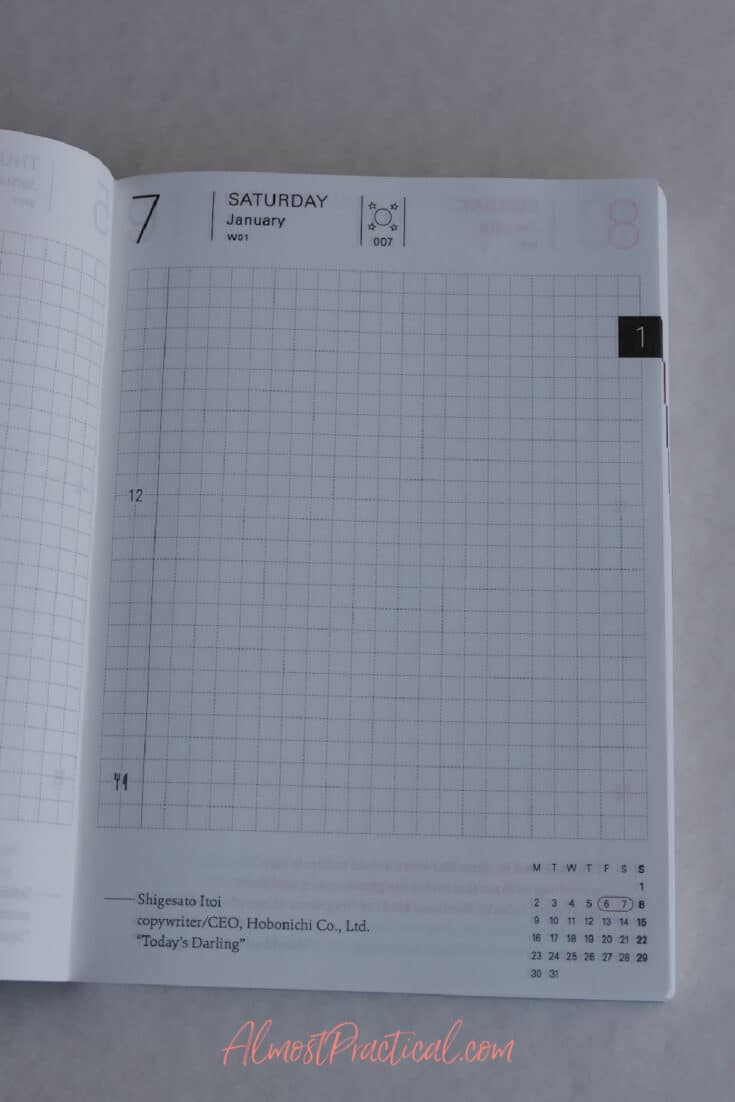 The daily pages are where the magic of the Hobonichi Techo Orignal happens.
This is the space that you can use in any manner that you choose.
Each page has the day and the date in the top right hand corner. There is a singular quote on the bottom right of each 2 page spread and a mini month in the bottom left.
The page itself is gridlined in a light gray color and there is a very narrow column on the left hand side with a simple number 12 written halfway down the page.
Towards the bottom of the narrow column is a fork and knife icon.
Presumably the 12 stands for 12 o'clock noon. Anything that you write above would be morning activities and anything below would be afternoon and evening appointments. You can write your meal plan in next to the fork and knife.
BUT you don't have to do any of that if you don't want!
The bulk of the page is blank – an empty slate where you can jot notes, write a journal entry, paste in photos or stickers or anything else your heart desires.
You can essentially use this planner to create a memory book for the whole year.
Just keep in mind that the Tomoe River paper is super thin to reduce bulk – so if you plan with lots of sticky notes, stickers, washi tape, or photos/memorabilia then your planner will become bulkier, too.
Notes Section
At the end of the planner, the daily notes section is followed by a few blank dot grid pages for notes.
Random Information Unique to Hobonichi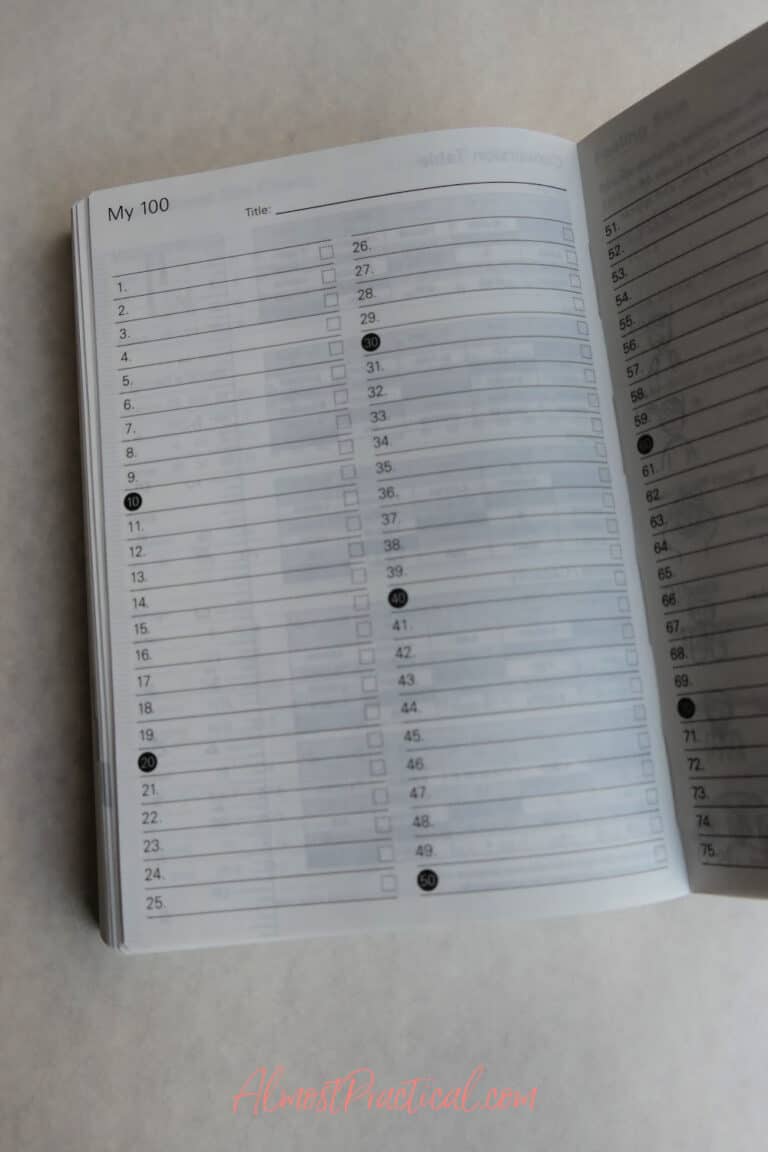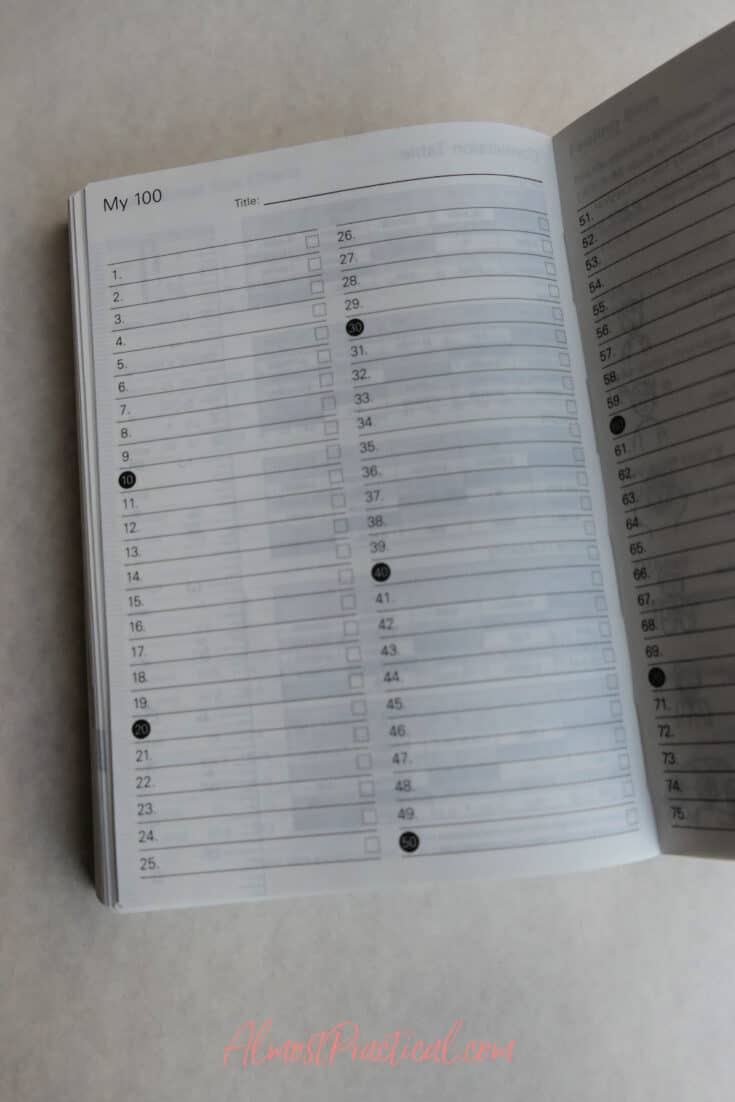 Finally all Hobonichi planners have a few pages with random information.
In the Hobonichi Techo Planner Book there are some:
International size charts
Conversion tables for measurements
the famous "My 100" where you can list 100 items of just about anything,
and something called Anko – the Secret of Japanese Sweets.
Hobonichi Techo Planner Book Pros and Cons
It is hard for me to list the pros and cons of the Hobonichi Techo Planner Book because, in this case, the main pro is also the main con.
What makes this planner great is the one full page per day that is completely open to your creativity.
But the sacrifice you make is that there is no weekly layout in this book.
In order to stay organized and productive, I need to see my whole week planned out on one page, and I don't get that with this planner.
However, no one ever said that you need to use just one planner, right?
I plan to use my Hobonichi Weeks in tandem with the Techo Planner Book to get the best of both worlds.
If you are also torn on the decision because you like to see a weekly layout – you may want to take a look at the Hobonichi Techo Cousins which has monthly, weekly, and daily pages. Take note that the Cousins planner is definitely larger and heavier than the Original.
Will You Be Getting a Hobo Techo Planner Book?
I love the Hobonichi Techo Planner Book for so many reasons.
The A6 form factor makes it a cute little book that is a convenient size to carry around.
But my favorite feature by far are the open ended daily pages. I am really looking forward to planning in 2023!
What planner will you be getting? Let us know in the comments below.