Lion Brand Off The Hook Yarn Review – No Knitting Needles Needed
This post may contain affiliate links which means I make a commission if you shop through my links.
 Disclosure Policy
Disclosure: I received a skein of Lion Brand Off the Hook Yarn from Lion Brand to review in this post.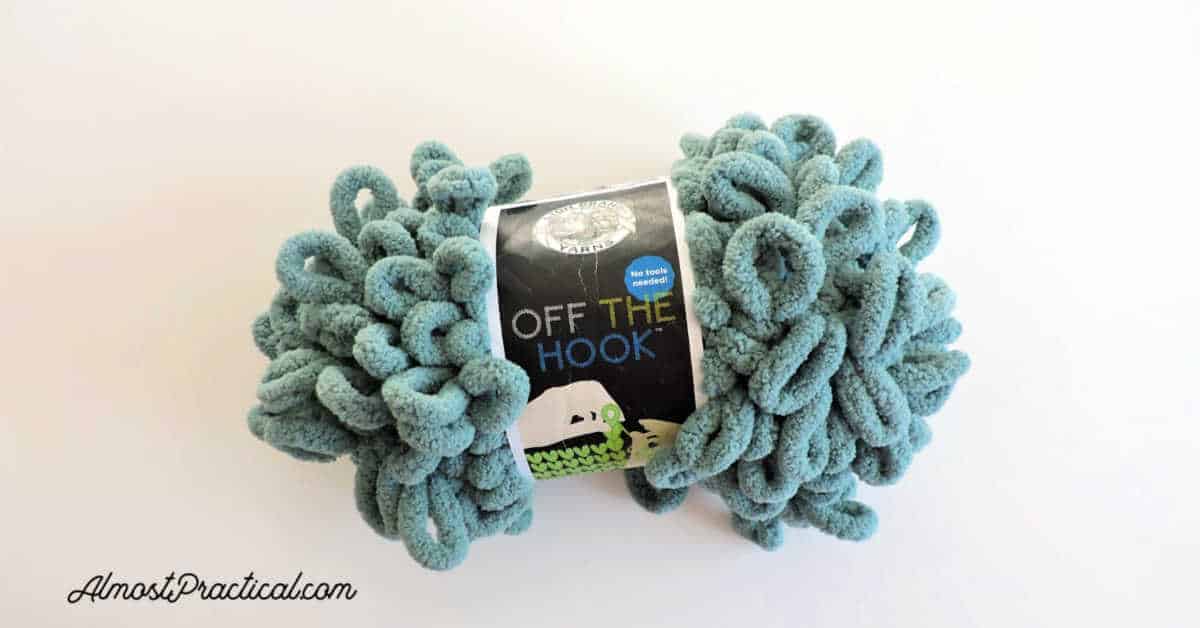 You may remember that over the summer I attended the Sweet Suite 2018 Conference. Well, along with that I also attended the "Stuff for Moms and Dads" event by Consumer Products Events.
It was there that I met some reps from Lion Brand and learned about a new product that they have called Off The Hook Yarn – meaning no knitting needles required.
Right away I was drawn to this stuff because it is a thick, loopy, super soft chenille material that makes you want to just touch it all day long.
I also happen to be a crochet hobbyist – but I really stink at knitting. Dropping stitches like all. the. time.
So, this Off The Hook Yarn really intrigued me.
First, it felt like a project that I could handle.
But I also saw some possibilities for the younger set.
What a great product for children that want to:
learn how to knit,
make a gift for a friend or relative, or
just want to join mom (or dad) in a knitting session.
So, I picked up a complimentary skein to bring home and give it a try. (And to tell you about it, obviously.)
It definitely falls into my scope of a practical product that is fun for families and makes a fun activity to do with your kids.
Let's Talk About the Lion Brand Off The Hook Yarn
The color I chose is called Vintage Flower.
It is a muted bluish-green color that I really love.
But you don't have to stick with that.
Lion Brand Off the Hook Yarn comes in a rainbow of colors. Here are just a few:
How To Use Lion Brand Off The Hook Yarn
Below is the instructional video from Lion Brand which does a pretty good job of illustrating how the Off The Hook Yarn works.
As you can see, you knit without needles.
This is made possible because the yarn itself has loops in it.
The finished product is a big, chunky weave – which is really rather popular right now.
This Is My Attempt
I decided to start out by making a 12×12 inch square. My thought was that yarn would make a nice accent pillow especially for the winter months ahead.
What I found was that 1 skein makes almost exactly a 12×12 square – I had just a bit left over.
Since I only had one skein, I will need to order one more and a 12×12 inch pillow form to finish my project.
Here are a few pictures I took as I learned how to use the Lion Brand Off The Hook Yarn myself.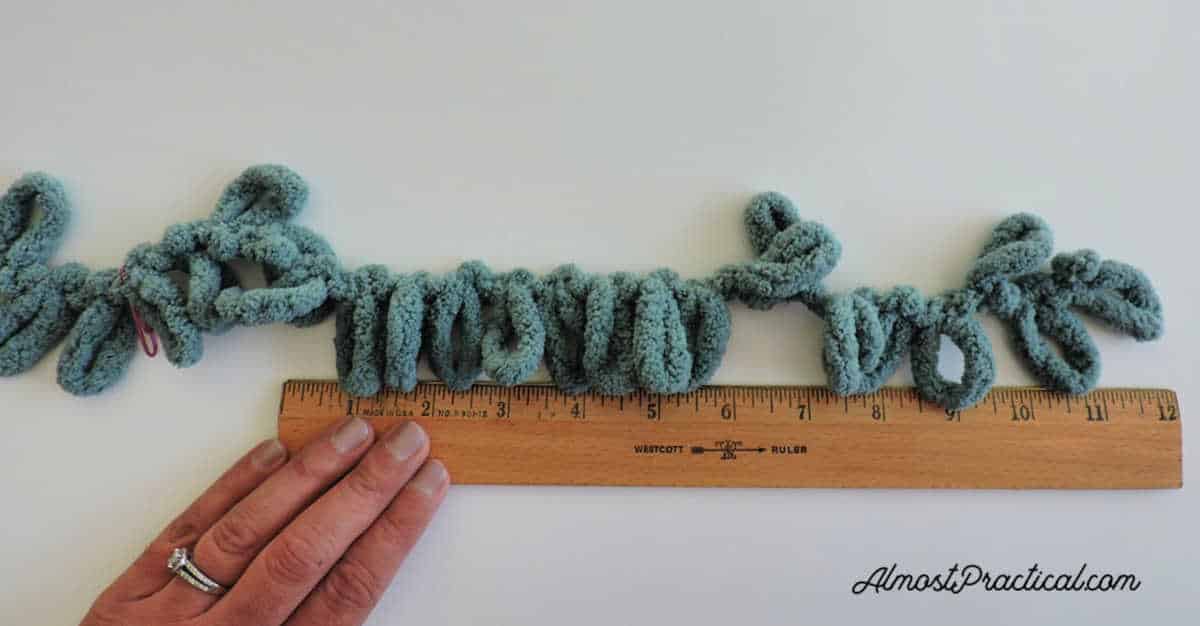 The first thing I did was measure out my first row.
Since I wanted a 12×12 square I actually measured out about 13.5 inches to allow for the fluffiness of the pillow. Again, I am a newbie with this – so, hopefully I didn't go too big.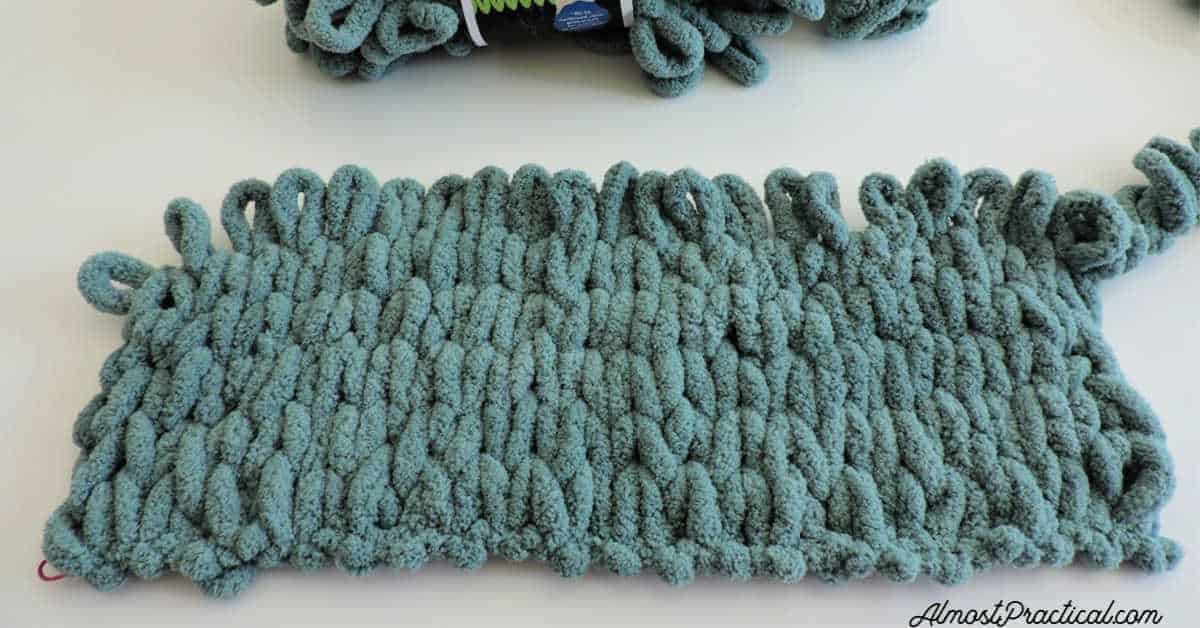 What I found is that knitting by hand is fast and fun to do. you just keep going back and forth. You don't ever flip the piece over except to look for dropped stitches (see below).
But, here's the kicker, there is no escaping from dropped stitches – no matter whether you knit with knitting needles or use this Lion Brand Off the Hook Yarn.
Arrgh!
If you miss a loop, it's basically a dropped stitch and you will need to go back and fix. Voice of experience speaking here.
But, luckily it is easy to fix with a chunky yarn like this.
Also, you can catch your misses if you periodically turn the piece over and look at the back. Here you will see any missed loops sticking out.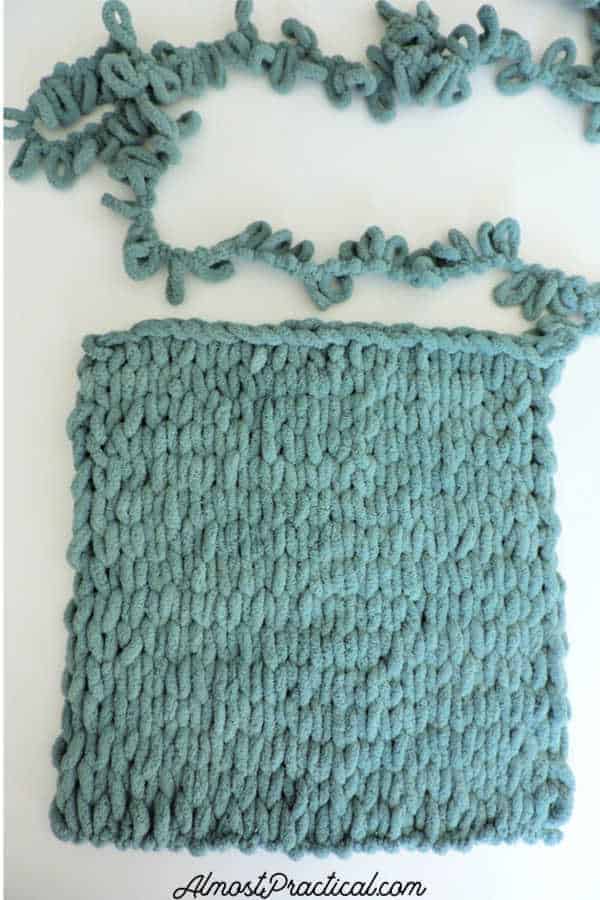 And that was it!
Here are a few pictures of the front and the back of the knitted square: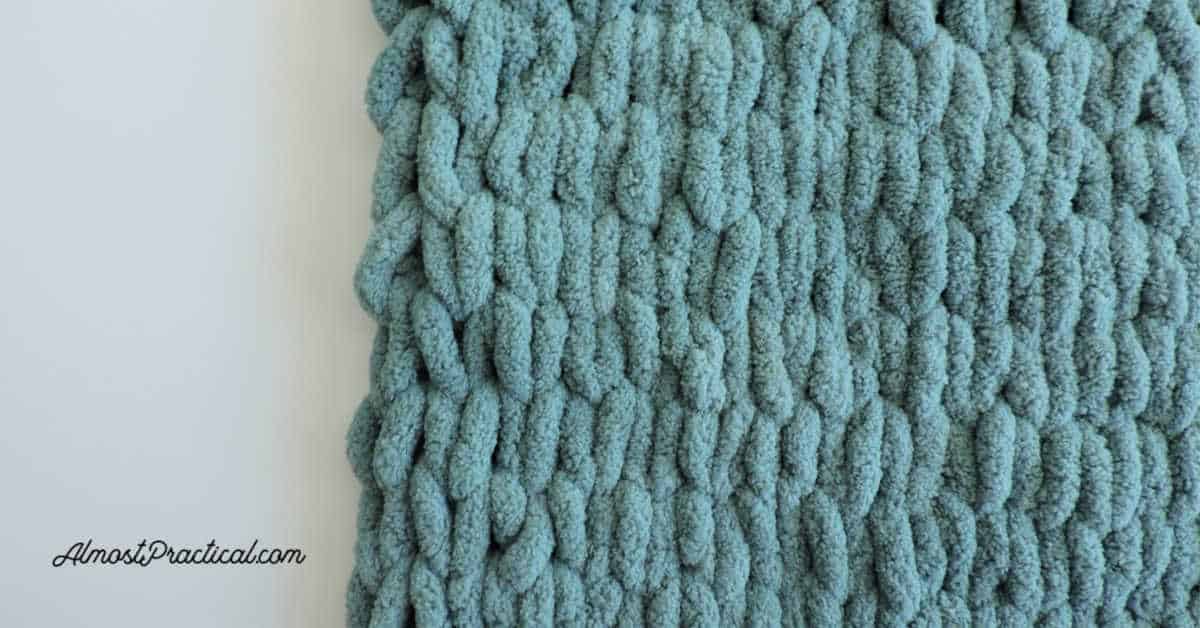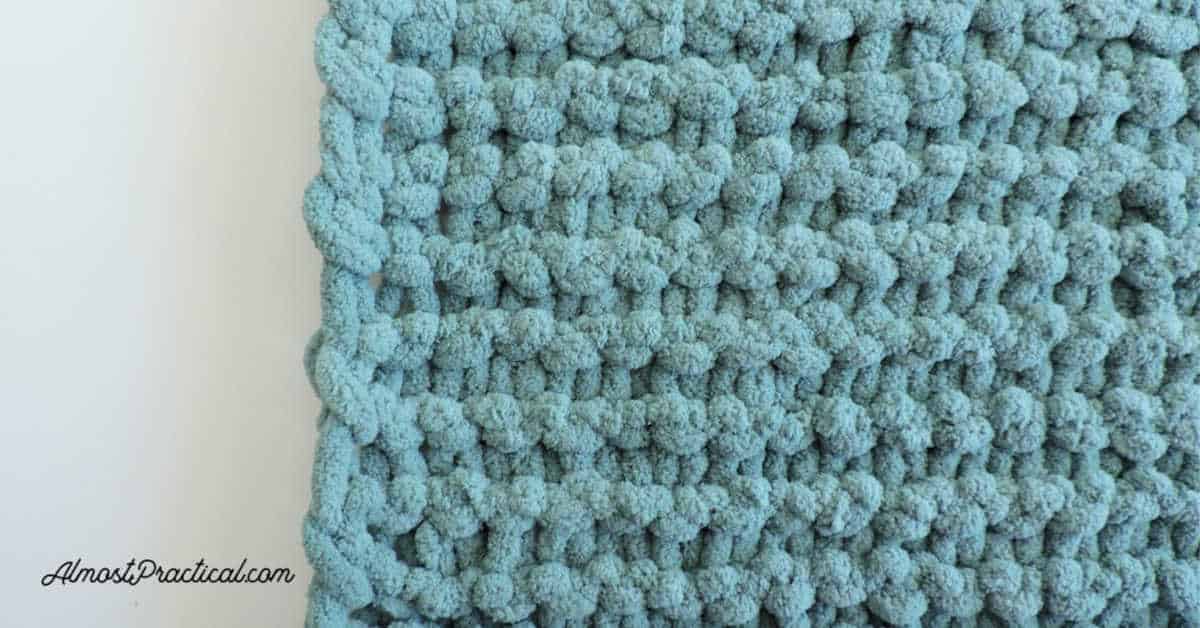 Pros and Cons of Lion Brand Off The Hook Yarn
Let's start with the Pros.
Knitting is very easy with this yarn.
It is great for kids who want to learn how to knit.
It's even great for adults who want to create a nice, cozy blanket or scarf.
And Now for the Cons
Personally, I don't see much variety in what you can make with this yarn. But I am not an experienced knitter so maybe I am missing something.
It seems that you are limited to a project that is square or rectangular and flat (i.e. blankets and scarves).
However, such a project is perfect for children.
And you could even make a case for a decorative pillow for the couch or sofa by sewing two knitted squares together.
The cost is a little high compared to other chenille yarns that I saw on Amazon – however this is a novelty yarn with loops already sewn in. So, the two products aren't really comparable.
My Take On This No Knitting Needles Required Yarn
I think it's a good idea for kids that want to learn how to knit.
If mom or dad is a knitter – kids often want to do what their parents do and feel successful at it. So, this is a nice way for kids that are too young for knitting needles to join in.
And once they get the hang of it, well, maybe it will keep them occupied long enough for mom (or dad) to get a quick knitting session in of their own.
It also makes a fun holiday gift or stocking stuffer for kids that enjoy DIY and crafts.
More DIY Projects and Crafts that You Might Enjoy
Pin this article to your favorite board on Pinterest to refer to later.