Pilot Frixion Pens – Unleash Your Creativity with Magical Erasable Pens
This post may contain affiliate links which means I make a commission if you shop through my links.
 Disclosure Policy
Have you tried the Pilot Frixion pens?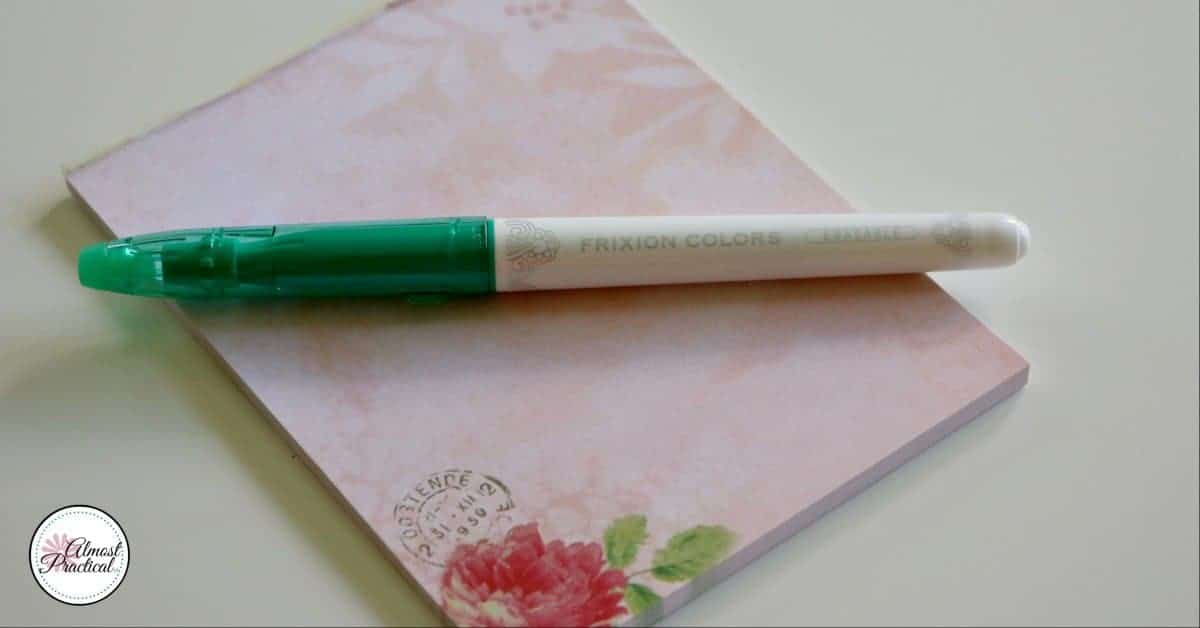 They are amazing.
I am a bit of an office supply hoarder. And pens – well, you can never have too many.
Whenever I get the chance to try out a new pen, I'm on it.
What's So Special About Pilot Frixion Pens?
They are erasable! Seriously.
Those of you who are of the same, shall we say "vintage" as me will remember the very first version of erasable pens.
That was back when we actually took handwritten notes in class and had to turn in essays written in cursive writing. Yes. Cursive.
The concept of erasable pens was a godsend. Except that they didn't really work that well.
You could still see the writing that you just erased. And if you erased too hard, you would rub right through the paper.
Based on past experience, I didn't have high hopes.
But, wow! Pilot Frixion Pens actually do erase. And erase well.
This is how I first heard about them:
Rocketbook Uses Pilot Frixion Pens
Recently, I was reading about the Rocketbook Wave notebook.
This is a reusable notebook.
Stick with me here. I will get to the pens in a second.
The gist is this:
You fill up the notebook with your scribblings.
When you are done, you stick the notebook in the MICROWAVE and all your writing will disappear.
Then you can reuse the notebook.
The Rocketbook by itself blows my mind. (Check out their Everlast model as well – this one erases with a damp cloth.)
But I am getting to the pens …
How Does the Ink Disappear?
In order for the magic to happen, you need to use Pilot Frixion Pens.
Frixion is cute way of referring to the word "friction".
And the ink in the Pilot Frixion pens disappears with heat.
Yes – heat. (You can read about all the science behind it here.)
On a regular sheet of paper, you make it happen by erasing the ink using the little plastic nub eraser that is on the end of every Pilot Frixion pen.
Just exactly where you would expect the eraser on a pencil to be.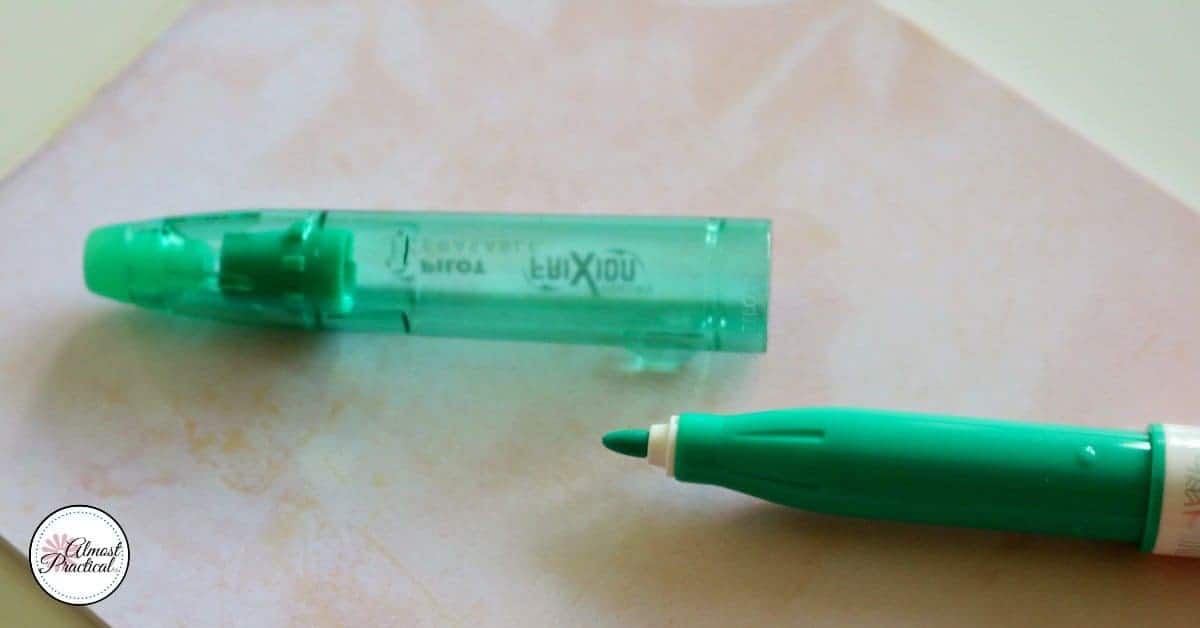 Aha!
Now I knew the secret.
At which point I filed it to memory and moved on.
Until one fine day.
A Pilot Frixion Marker Entered My Life
I just happened to buy a pack of Pilot G2 pens that included a free Pilot Frixion marker.
Oh yes, I thought. This is the pen that erases with heat.
I was so excited to try it – and I even recorded a short video for you:
So Many Possibilities
As you can see from the video, the Pilot Frixion pens really do work.
As a productivity nut and a collector of planners (Planner Pads, Erin Condren, and more) – I see so many possibilities.
Because you can erase your work with Pilot Frixion Pens – you no longer are constrained to the world of pencils.
Woohoo!
You can add color, highlights, and notations to my heart's content and know that any mistakes or errors are erasable.
Think bullet journals, planners, calendars, presentations. Oh how these will color your life!
Is The Technology Perfect?
The short answer? No.
To be honest, I do see a slight shadow of what was written and then erased.
But it is sooo much better than the alternative of writing something and then crossing it out.
For my purposes, the Pilot Frixion pens have opened an avenue of creativity that I didn't have before.
They come in a variety of options:
Your Thoughts on Pilot Frixion Pens?
What do you think? Tell us in the comments below.
A Little Disclaimer
Just so you know, this post was NOT sponsored.
I tried Pilot Frixion pens and thought they were pretty cool. The Rocketbook also looks pretty amazing, but I don't have one yet.
All opinions expressed here are my own.
Pin This
If you see how useful the Pilot Frixion pens can be – please take a moment to share them with your audience by pinning the image below.
I am sure they would love to hear about how they can add erasable color to their own creation – and will also be so happy that you shared this amazing secret with them.