2020 Erin Condren LifePlanner Review
This post may contain affiliate links which means I make a commission if you shop through my links.
 Disclosure Policy
I can't believe that we are already two weeks into the new year and I am just now posting this 2020 Erin Condren LifePlanner review.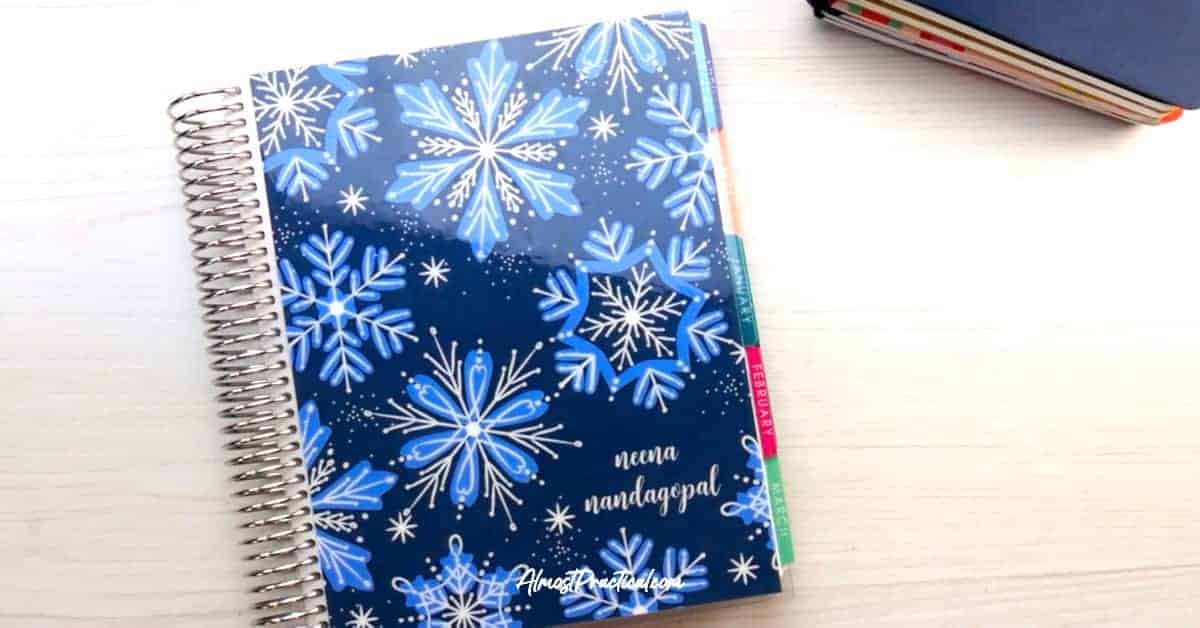 The coiled LifePlanner is known as Erin Condren's flagship product.
It is a fabulous planner on so many levels.
But I would say the one thing that makes it stand out from the pack is that you can customize it to make it your own.
For this review, I will start from the outside to the inside and explain all the awesome features to you.
Watch the Review
You can either watch my 2020 Erin Condren LifePlanner review on YouTube or scroll down to read all about it.
The Coiled Erin Condren LifePlanner Book Itself
Let's begin talking about the book itself.
The coiled LifePlanner measures about 7×9 inches without the coil and about 8×9 inches with the coil.
So, its form factor is almost a chunky square that is really satisfying to carry around.
Typically, it's a 12 month planner but if you buy it mid-year you usually have the option to add the remainder of the current year for a nominal charge.
The planner itself is printed on sturdy paper that minimizes bleed through and is a joy to embellish.
For 2020 all the Erin Condren LifePlanners sport elements of a kaleidoscope pattern throughout.
The Coil on the LifePlanner
The coil on the Erin Condren LifePlanner is about an inch and a quarter in diameter and is made of a heavy duty metal that is customizable.
The platinum color (silver) is standard but you can upgrade to:
Personally, I always stick with the platinum because I like the silver color.
The large diameter of the coil makes turning the pages of the LifePlanner really easy – the pages just slide effortlessly around the coil.
If you happen to use multiple LifePlanners – perhaps one for work and one for home – you might want to choose a different color coil for each one.
This way, if you have them on a shelf, you can differentiate the two with just a glance.
The LifePlanner Covers
One of my favorite things about the Erin Condren coiled LifePlanner is the cover.
Actually – I should say COVERS – as in multiple.
When you order a coiled LifePlanner, you can customize in so many different ways.
Choose Your Design
First, there are tons of designs to choose from. You can even upload photos and create a cover with those.
Choose Your Colorway
Once you choose a design, you can choose a colorway.
For many of the designs you have the ability to customize the actual colors in the design!
So, while you and I might choose the same design for example – we might choose different colors, so our covers will be similar but not exactly the same.
Personalize Your LifePlanner Cover
You can also add personalization to a majority of the Erin Condren LifePlanner cover designs.
Some designs allow for more characters than others – so depending on the design you choose you can add things like:
your name (first name, last name, or both)
initials
business name
year
quote, etc.
There are so many ways to make it your own.
Don't Just Stop With One Cover
When you order your Erin Condren LifePlanner it comes with one cover of your choosing.
But you don't have to stop there.
The covers are actually interchangeable!
You can order additional covers a la carte – so you can change the outside look of your planner as often as you like.
My goal is to build up a collection of LifePlanner covers that I can change out once a month.
There are even seasonal covers to choose from so you can dress your planner up for the holidays.
Choose Your LifePlanner Layout
While the customizing the outside of the planner is fun – the real test is all about the stuff inside.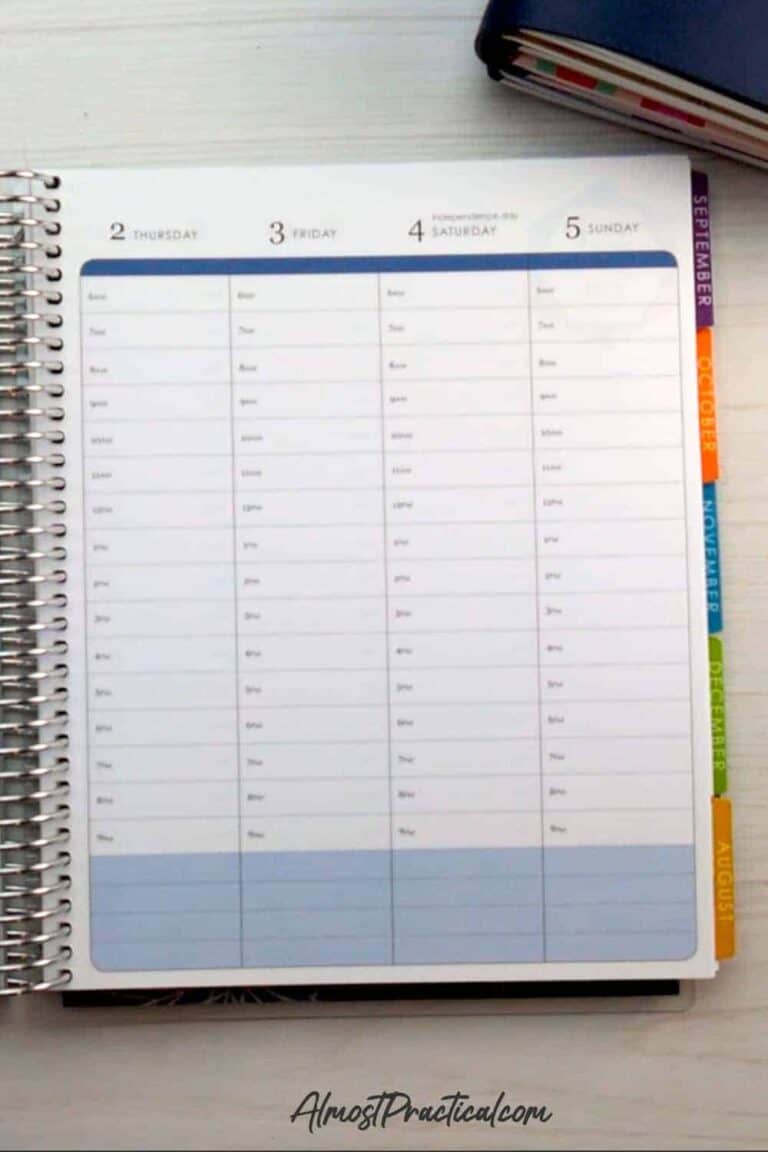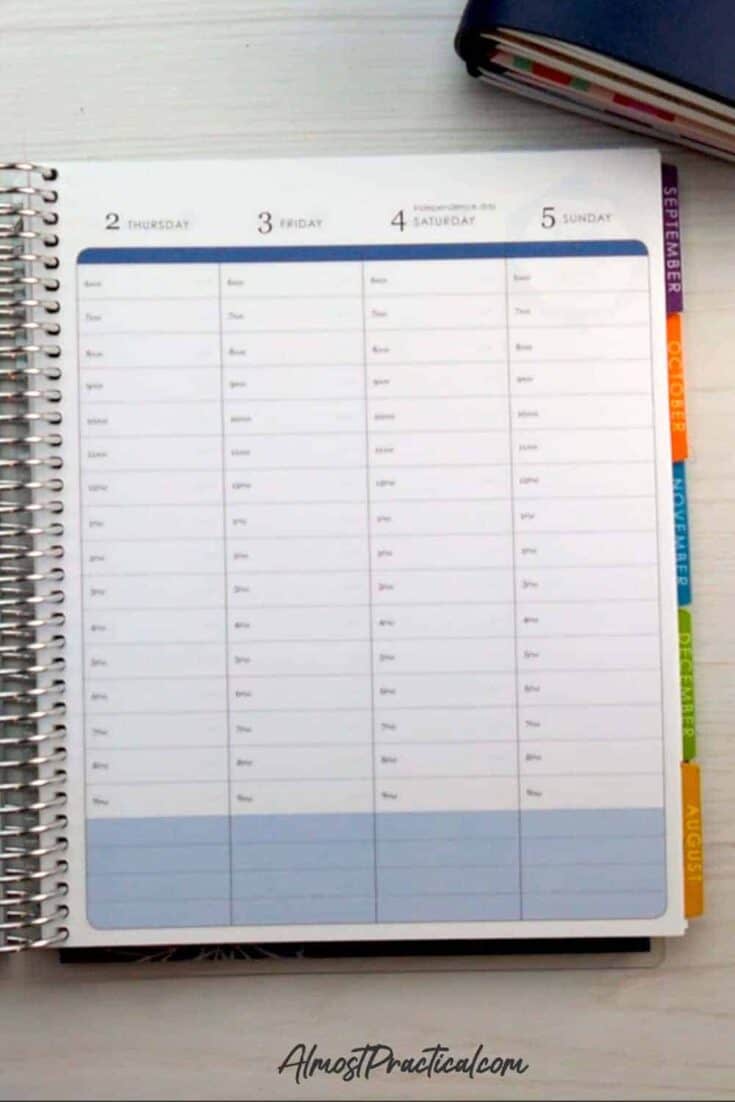 After all, the planner has a job to do – and that is keep YOU organized.
This is where the Erin Condren LifePlanner really shines.
I don't believe that there is a one size fits all planner because everyone has a different way of thinking and different organization needs.
With the LifePlanner you actually have 3 different page layouts to choose from – so you can pick what works best for you.
All of the layouts are two pages per week but the way the pages are structured is different.
Choose from:
hourly layout,
vertical layout, or
horizontal layout.
I like the hourly layout the best for home because I can plan out my day and visually see any gaps in time that I can take advantage of.
However, I tend to take a lot of online courses and for my coursework I like the horizontal layout the best because I use each block to record my daily progress.
Choose Your Color Theme
As if choosing a layout is not enough – you can also choose a color theme for your LifePlanner.
The colorful theme features bright colors in the kaleidoscope pattern, accents on the pages, tabs, and the sticker sheets in the back.
The neutral theme features more black, white, and grays as well as soft pastel colors in the accents and stickers.
This article will help you choose the right Erin Condren color theme for you.
Honestly, I really like both themes in the 2020 LifePlanner – it is a tough choice!
Other LifePlanner Features
Every Erin Condren LifePlanner has a few standard features.
These include:
mini months at the front and back of each planner
inspirational quotes throughout
goals pages at the beginning of each month
a monthly calendar for each month
a lined notes page at the end of each month as well as a few lined and dot grid pages at the end
a tab page to add a few contacts
four sheets of functional stickers
a sturdy folder at the end
a perpetual calendar booklet
Why I Love the Erin Condren LifePlanner
The Erin Condren LifePlanner is one of my favorite planners (and believe me – I have tried quite a few!).
The options to customize your planner are amazing.
I think you feel more organized just by looking at it. 😉
But in all seriousness – I find that looking at the 2 page per week spread helps me to visualize my time.
This helps me make better decisions on what projects I can and cannot do during the week.
So far in 2020 I have seen an increase in my productivity and anything that helps me get more done is priceless!
Be sure to stop by at Erin Condren and see if it is right for you.