Erin Condren Petite Planner Folio System Review
This post may contain affiliate links which means I make a commission if you shop through my links.
 Disclosure Policy
Disclosure: I received the Petite Planner Folio System from Erin Condren for purposes of this review. All opinions are my own.
Finding the perfect planner is a challenge.
If you want your planning system to be successful, it has to mesh with the way that you think.
The problem is that no two people think alike.
We all have different priorities, different responsibilities, and different lifestyles.
So, whenever you choose a planner, you really have to make it your own.
A one size fits all system is hard to find – which is why the Erin Condren Petite Planner Folio System is pretty amazing.
Instead of having one big planner, you can combine four smaller petite planners of your choosing, into a folio cover. By doing this, you are essentially creating a customized planner tailored to your needs.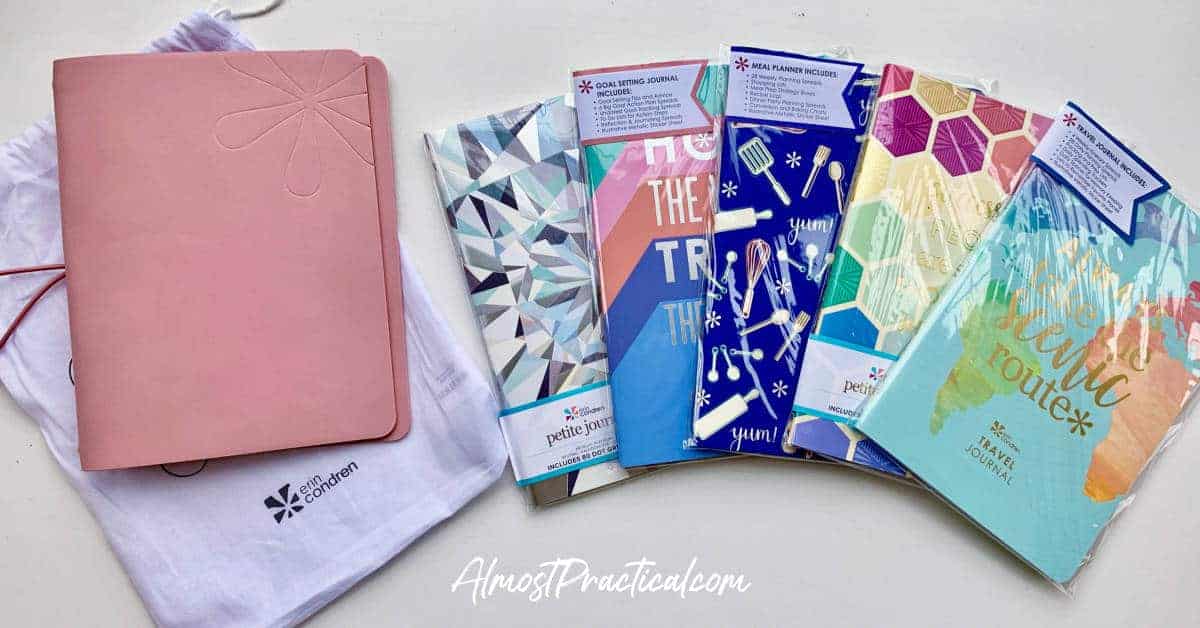 More Erin Condren Reviews You Might Like
What Is the Erin Condren Petite Planner Folio System?
The Erin Condren Petite Planner Folio system is basically a selection of planners that you can customize to fit your own specific needs.
It consists of a beautiful faux leather folio with loops that will hold up to four interchangeable Petite Planner books.
You can order as many Petite Planner books as you need and switch them in and out of your folio as you need them.
Each Petite Planner book has it's own "theme". For example, there are Petite Planner books for:
your monthly or daily calendar,
goal setting,
checklists,
meal planning,
budgeting,
journaling,
travel,
medical tracking,
and more!
Instead of telling you about the Erin Condren Petite Planner Folio System – let me show you!
I will go through the Petite planners that I got and then mention a few that I really like but haven't ordered (yet!).
Related Post: Digital Planner or Paper Planner – Which one should you use to stay organized?
The Petite Planner Folio
Let's start with the actual "folio".
This is the faux leather cover.
It has four elastic loops inside that hold up to four Petite Planners in place.
There is also an outside loop to hold the whole bundle shut.
When you order the folio, it comes empty (unless you buy one of the bundles) – so you can choose which Petite Planners that you want to order to place inside.
I ordered the mauve folio because it matches the cover of my current LifePlanner – and I just really like the color.
While you don't necessarily need a folio to use the Petite Planners, it really does bring it all together.
The look and feel of the folio are reminiscent of an comfortable journal or scrapbook that is just so fun and useful to carry around – and it screams organization.
Guaranteed that people will ask you about it whenever you pull it out.
See The Petite Planners Up Close
My Petite Planners
I ordered the following five Petite Planners for my folio system:
Checklist Petite Journal
Kaleidoscope Neutral Dot Grid Petite Journal 5mm
Petite Planner Travel Journal
My plan is to keep the first four in the Folio for the most part and then switch one of them out for the Travel Planner whenever we have a trip or a vacation coming up.
I did not order the Calendar Petite Planner because I use my Erin Condren Life Planner to schedule out my day to day – but I was tempted.
There is a monthly Petite Planner Calendar that has monthly spreads and a daily Petite Planner Calendar that has one calendar quarter in each book.
So, if you don't want to carry around both a Life Planner and a Petite Planner Folio – you could order the Petite Planner quarterly books and and just carry one quarter around at a time (which would leave you three open slots for other Petite Planner books).
When I saw the Erin Condren Meal Planner Petite Journal, I knew it was the one for me.
I sit down on Sunday mornings to do my meal planning. However, jotting notes on random papers just wasn't working.
What I needed was a dedicated meal planning notebook where I could pull everything together.
The pages inside the Erin Condren Meal Planner Petite Journal give you space to map out your meals, assemble your grocery shopping list and outline a meal planning strategy for the week.
There are also pages at the end for:
planning dinner parties
tracking grocery prices and
jotting down recipes.
This meal planning journal comes with a fun sticker sheet too.
The Erin Condren Checklist Petite Journal is exactly that – a book of blank checklists.
If you are a list maker, this is your dream come true! (Here are some tips on how to use checklists to stay organized)
This journal contains 80 checklist pages – each checklist has one wide column and 7 narrow columns that you can use to tick the things that you have completed.
The Erin Condren Goal Setting Petite Planner is designed to keep you focused on what you need to do to accomplish your own personal goals.
Big or small, you can use these pages to:
identify your vision,
break down your goals into actionable steps, and
track your progress on a regular basis – monthly, weekly, or daily.
You can read my full review of this EC Goal Setting Journal here.
The next Petite Planner that I got was the Kaleidoscope Dot Grid Petite Journal.
This notebook has 80 dot grid pages that you can use to doodle, take notes, bullet journal, and keep track of whatever your heart desires.
Personally, I use this journal in conjunction with my Erin Condren LifePlanner.
This is where I keep track of phone conversations, thoughts, personal research, and planning.
The Erin Condren Petite Planner Travel Journal has to be one of my favorite notebooks.
Not only can use this to plan your travel, but it also makes for a great scrapbook where you can keep track of your memories as you make them.
You can read my full review of the EC Travel Journal here.
Which Petite Planners Will You Choose?
As you can see, the sky is pretty much the limit when it comes to Erin Condren Petite Planners – there are so many to choose from!
I honestly had a hard time deciding which ones to get.
I bought mine a la carte – but I was eyeing some of the bundles as well.
Let me know which PetitePlanner is your favorite in the comments below.
Happy planning!