Erin Condren 2021 Holiday Collection – Sneak Peek!
This post may contain affiliate links which means I make a commission if you shop through my links.
 Disclosure Policy
Disclosure: Product for this post was provided by Erin Condren. All opinions are my own.
Today I am so excited to share with you the all new 2021 Erin Condren Holiday Gift Collection.
This collection will land on the website on November 4, 2021 – so take a look here and start building that gift list!
UPDATE: View the 2022 Erin Condren Holiday Gift Guide here.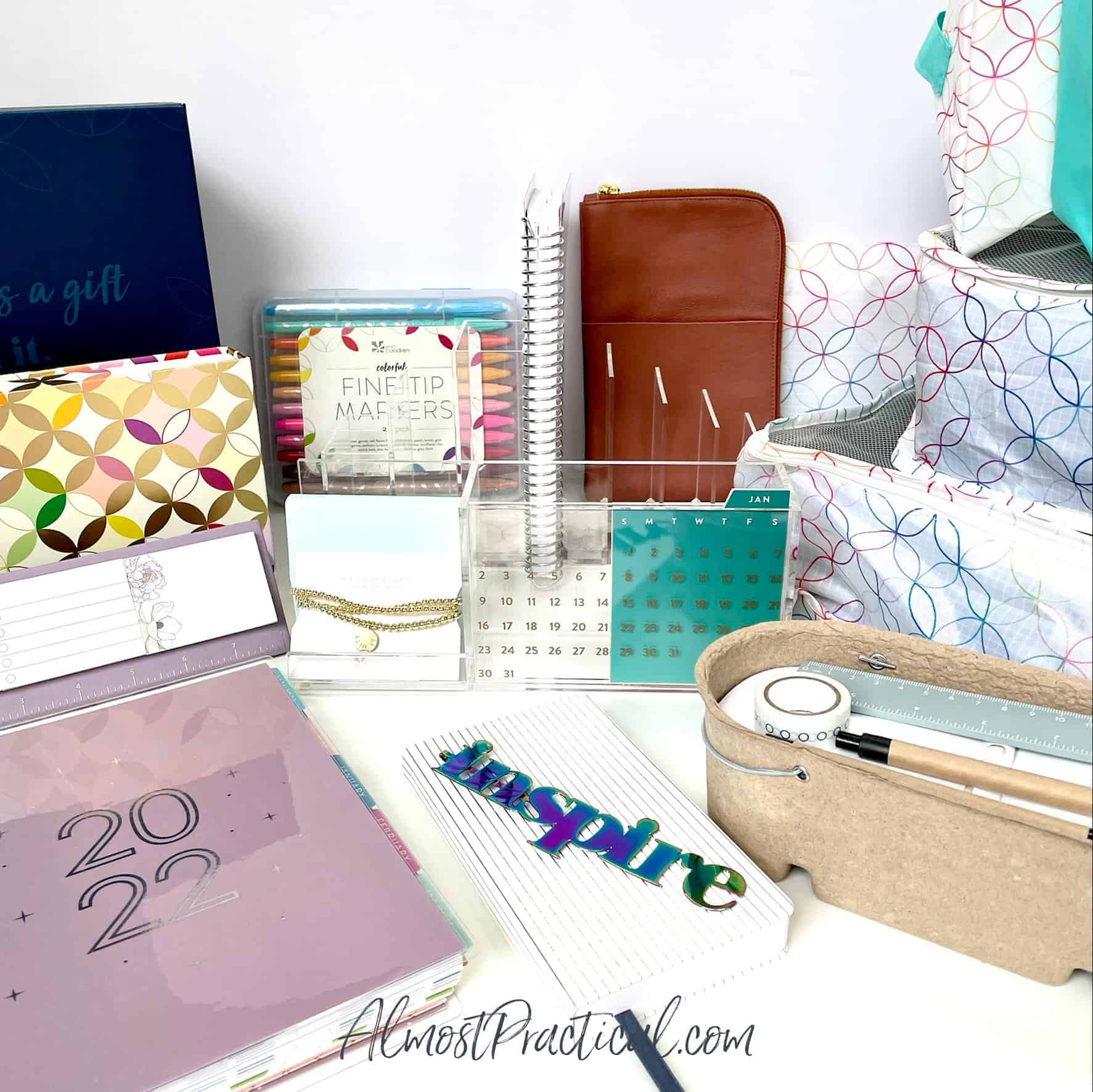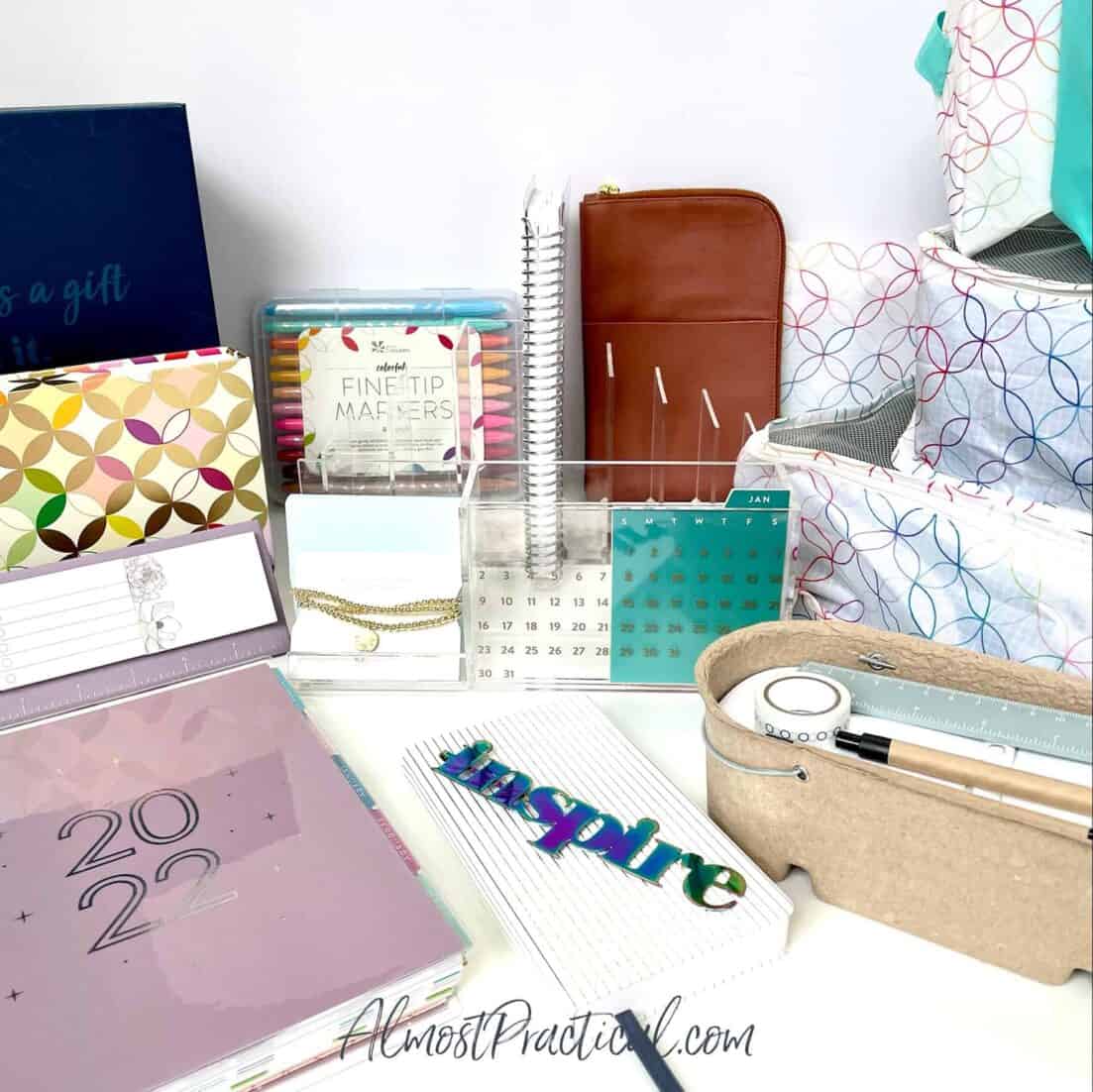 There are lots of fun new items – this is just a little piece of the entire collection.
The collection is divided into several categories to give you a starting point:
Gifts for Kids
Gifts for Parents
Gifts for the Professional
Gifts for the Self Care Enthusiast
Gifts for Travelers
But lots of items cross over and will appeal to many people on your list.
I have so much to go over with you that I, myself am not sure where to start!
So, I'll just dive in with some of my favorites.
Acrylic Storage Bookends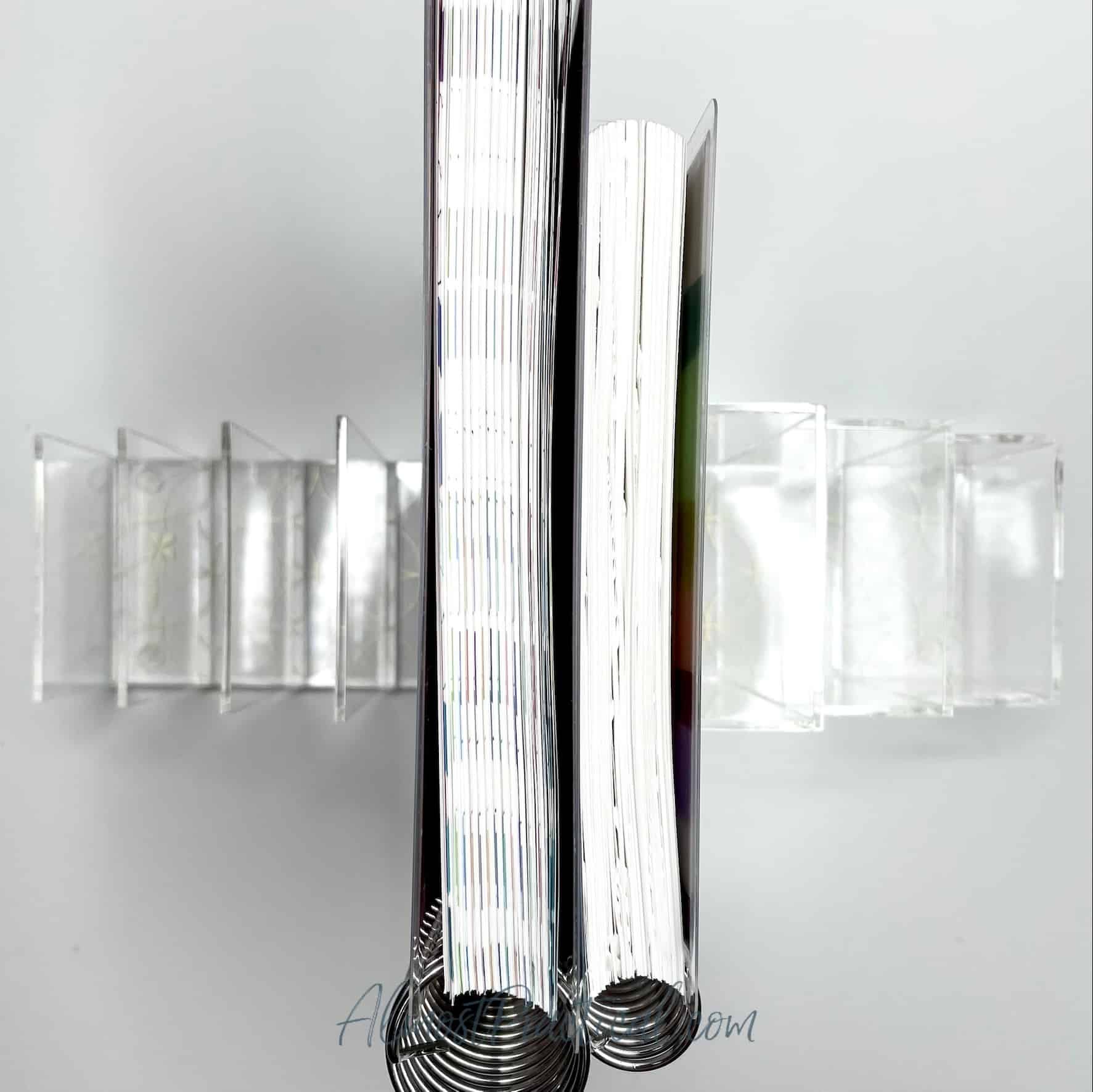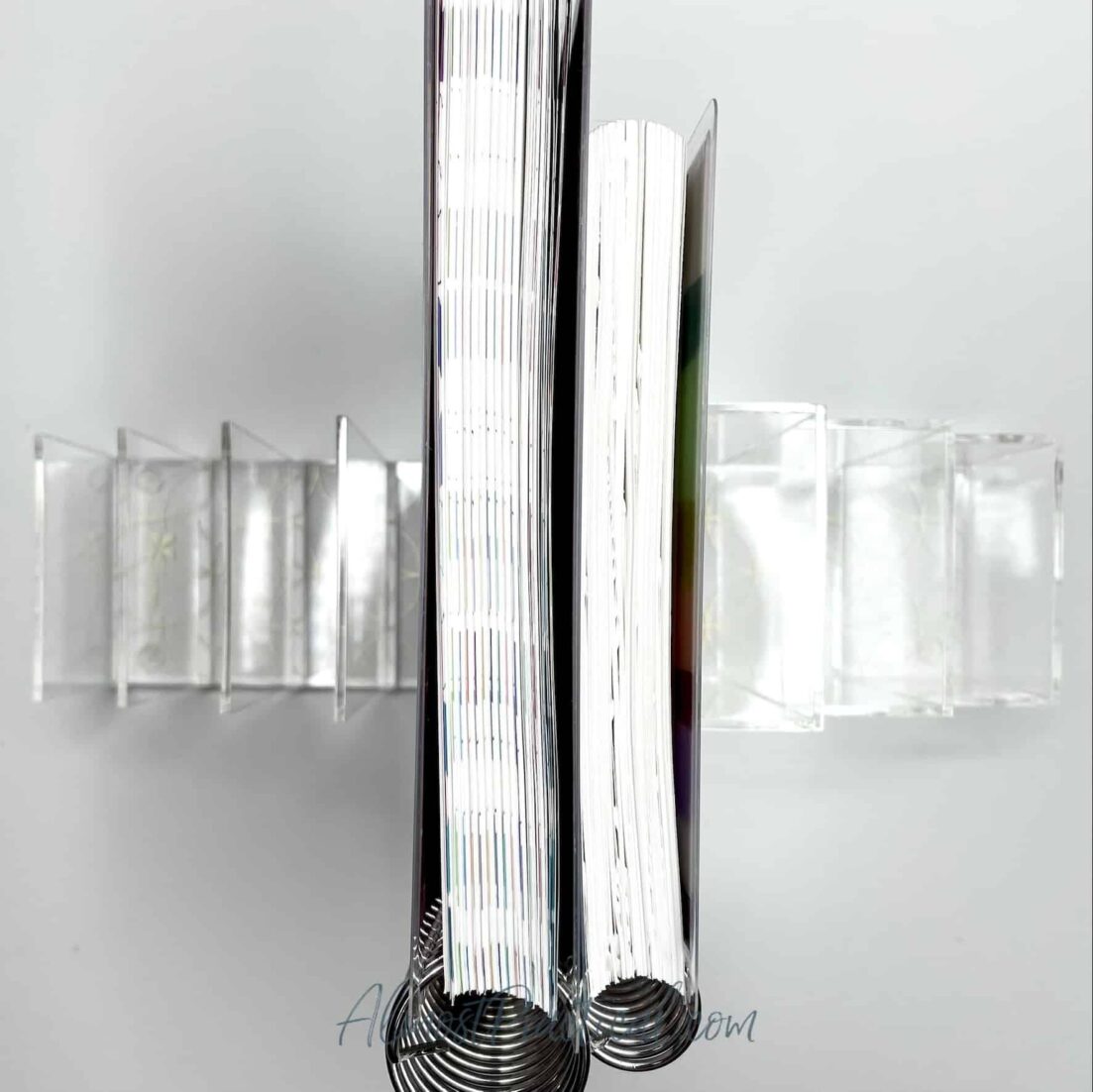 I think that my all time favorite item from this collection is this set of Acrylic Storage Bookends.
They are both functional and beautiful.
Basically, these function like normal bookends – where you place books between them.
But each bookend offers storage in and of itself.
One side has slots where you can place notebooks, file folders, and store other items upright.
The other bookend has graduated "cups" for your office supplies – things like pens, pencils, highlighters, and scissors.
Both bookends feature a subtle, gold, mid century circles design on the bottom.
They are so pretty!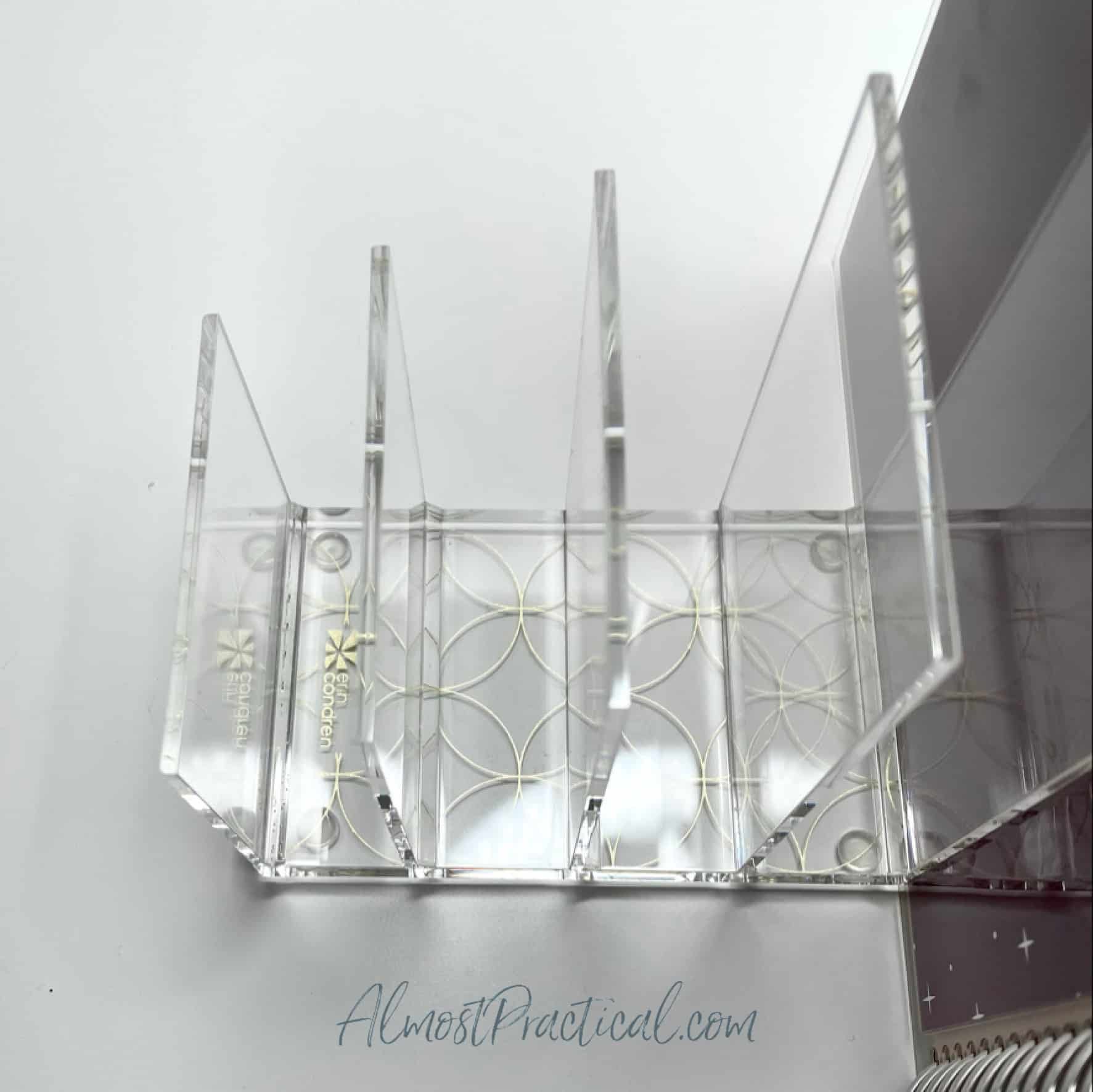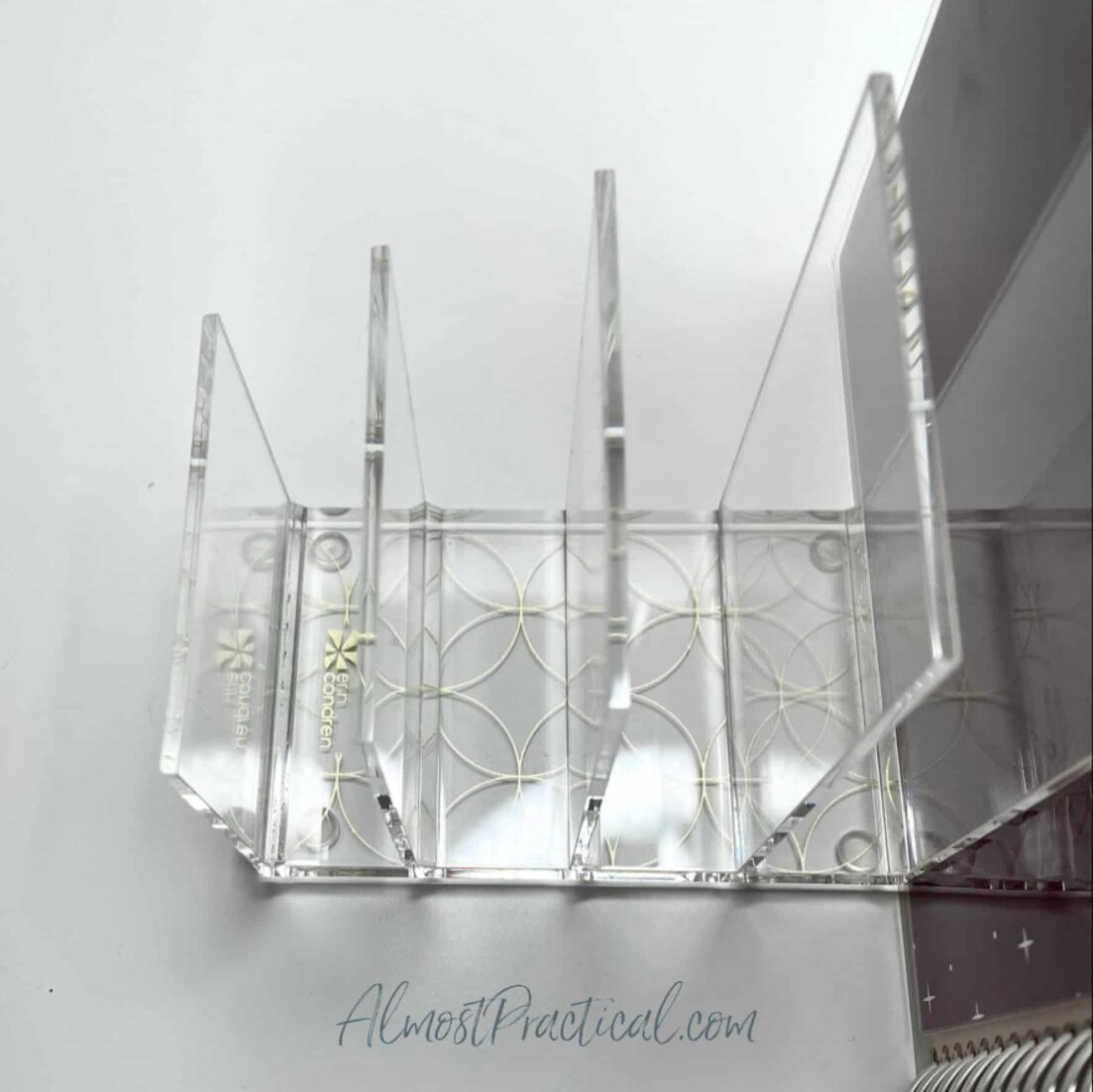 Erin Condren Packing Cubes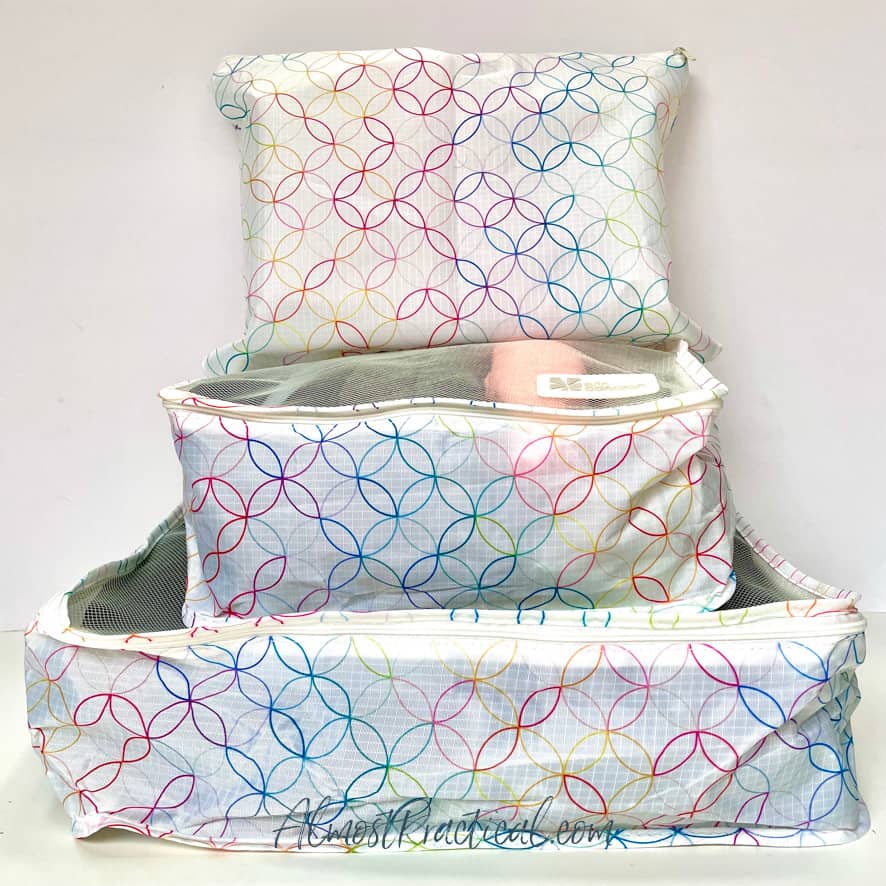 Another one of my favorite items from the 2021 Erin Condren Holiday Collection is this set of packing cubes and coordinating accordion pouch (accordion pouch is sold separately).
Packing cubes are a travel essential – they help keep you organized.
And they make a perfect gift for just about anyone – whether they tend to take quick weekend trips or long vacations.
The Erin Condren packing cube set comes with a large cube, a small cube, and a large pouch.
These are great for your clothing type items.
In addition, there is a coordinating accordion pouch (sold separately) that has three compartments. This is wonderful for packing things like toiletries, makeup, hair accessories, and even chargers for your electronics.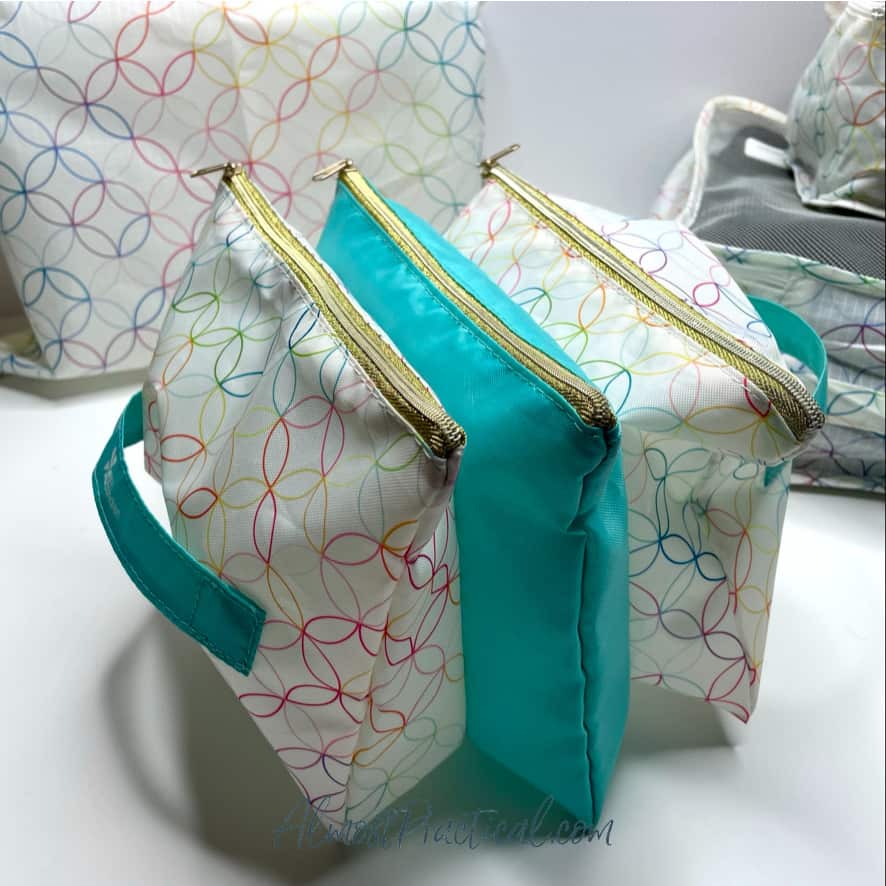 The set of packing cubes that I received feature the colorful mid century circles design – but they also come in the gorgeous Flora pattern, too.
A5 Year Over Year Journal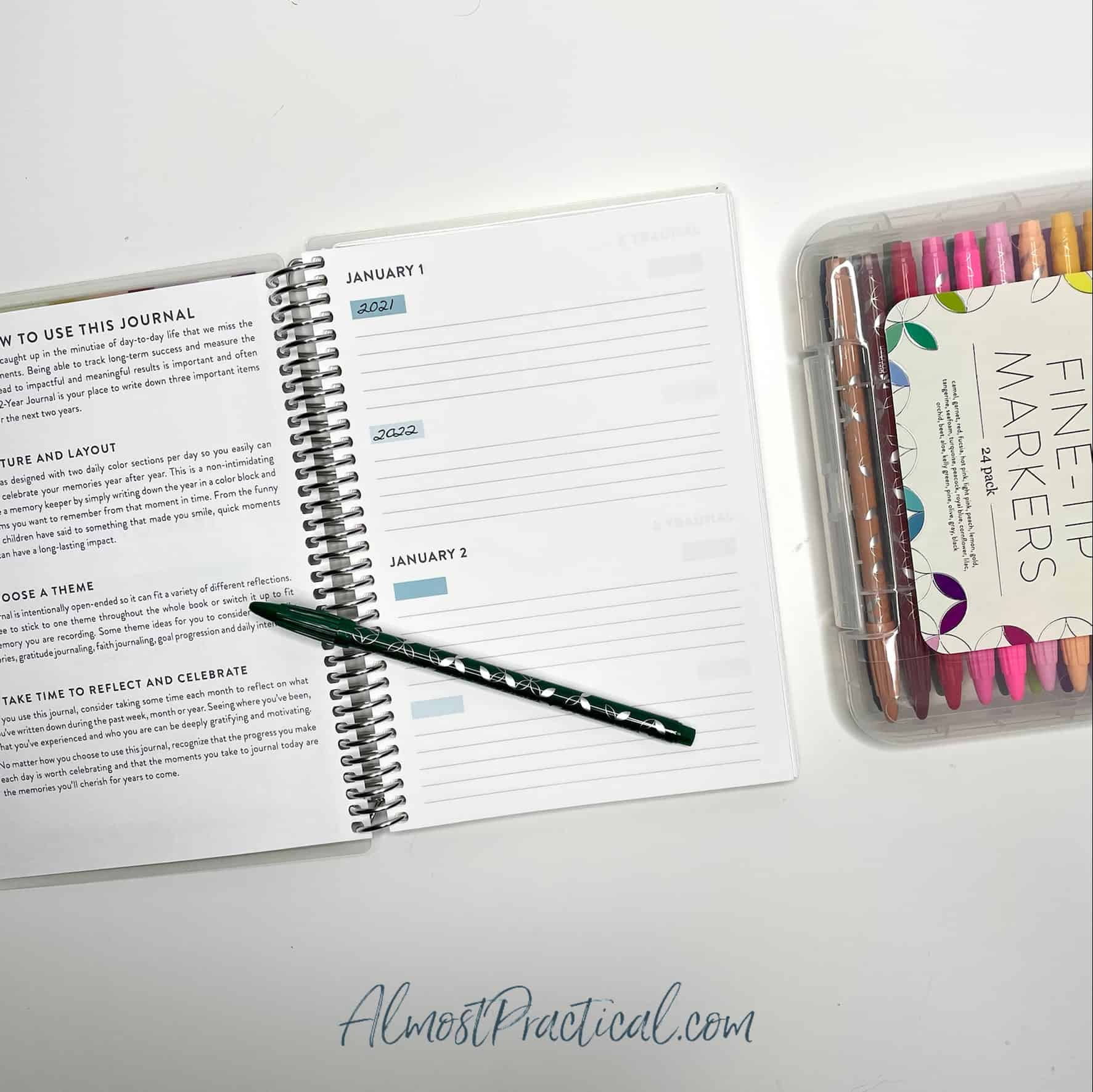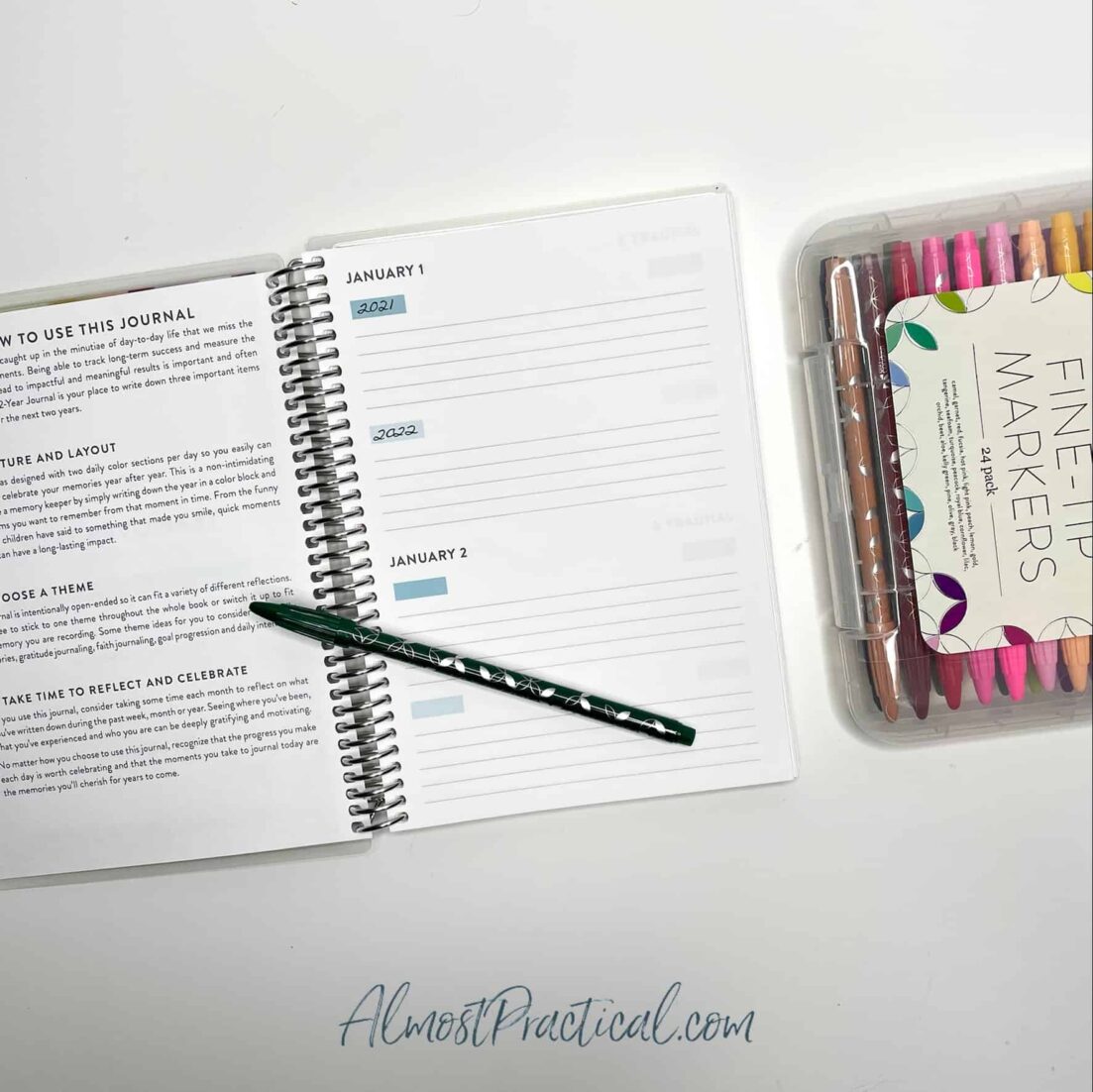 Another gift that I would personally love to receive is the all new A5 Year Over Year Journal.
This journal has space for you to write a blurb for each day of the year – and then next year start over at the beginning and write an entry for the second year right below the entry you wrote for the year before.
Sounds confusing – but it is quite simple.
This gives you space to highlight something special that happens each day and next year be able to compare what you did the previous year.
It's a great way for families with young children to create memories of how they grow.
My kids are all grown but I still can't wait to use this journal to reflect on all the things that are important in life.
If you have a printer that prints small photos on sticker paper – like the Canon Ivy printer – then you can even sprinkle some photos in throughout and create a scrapbook type journal with this book.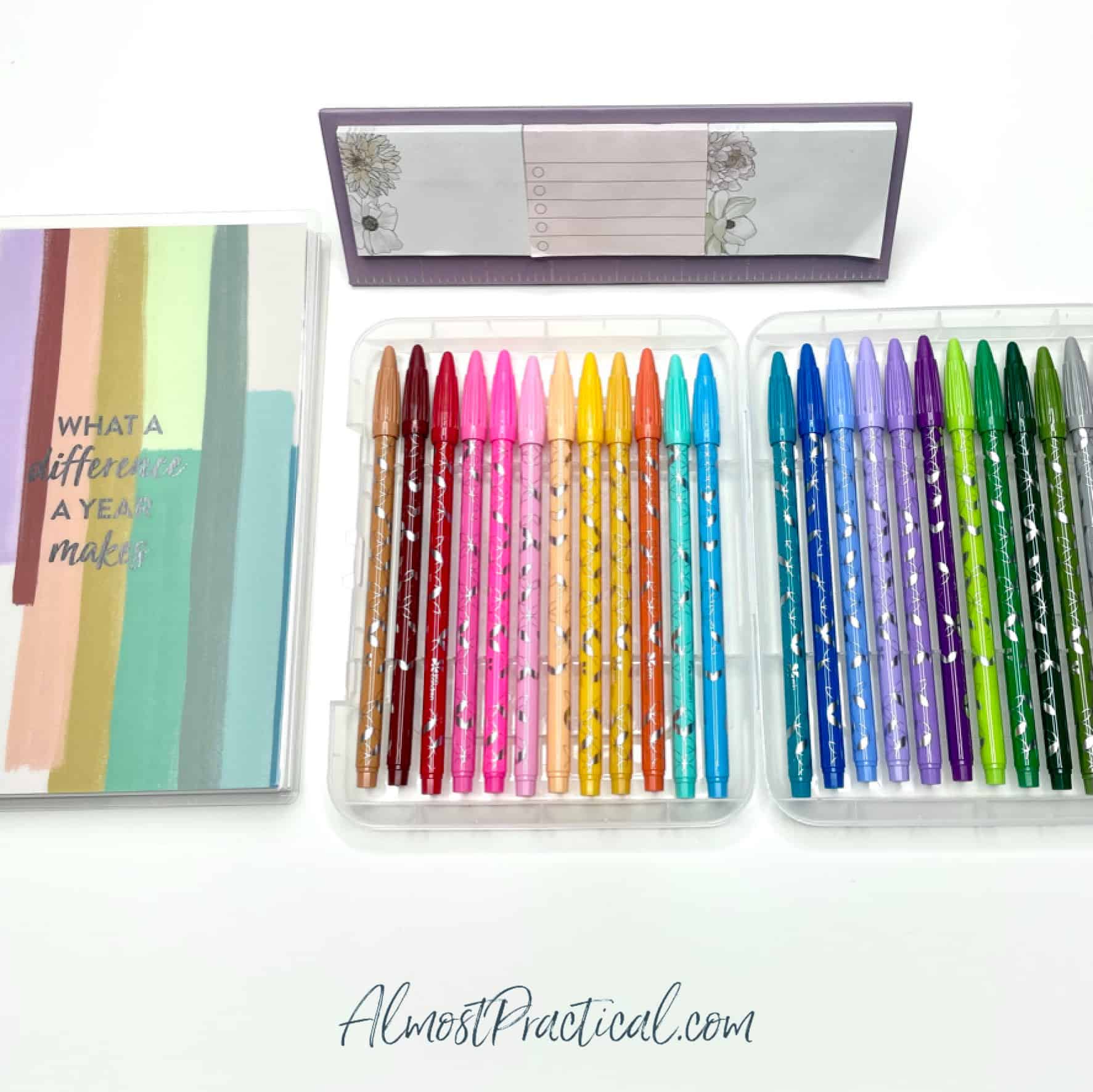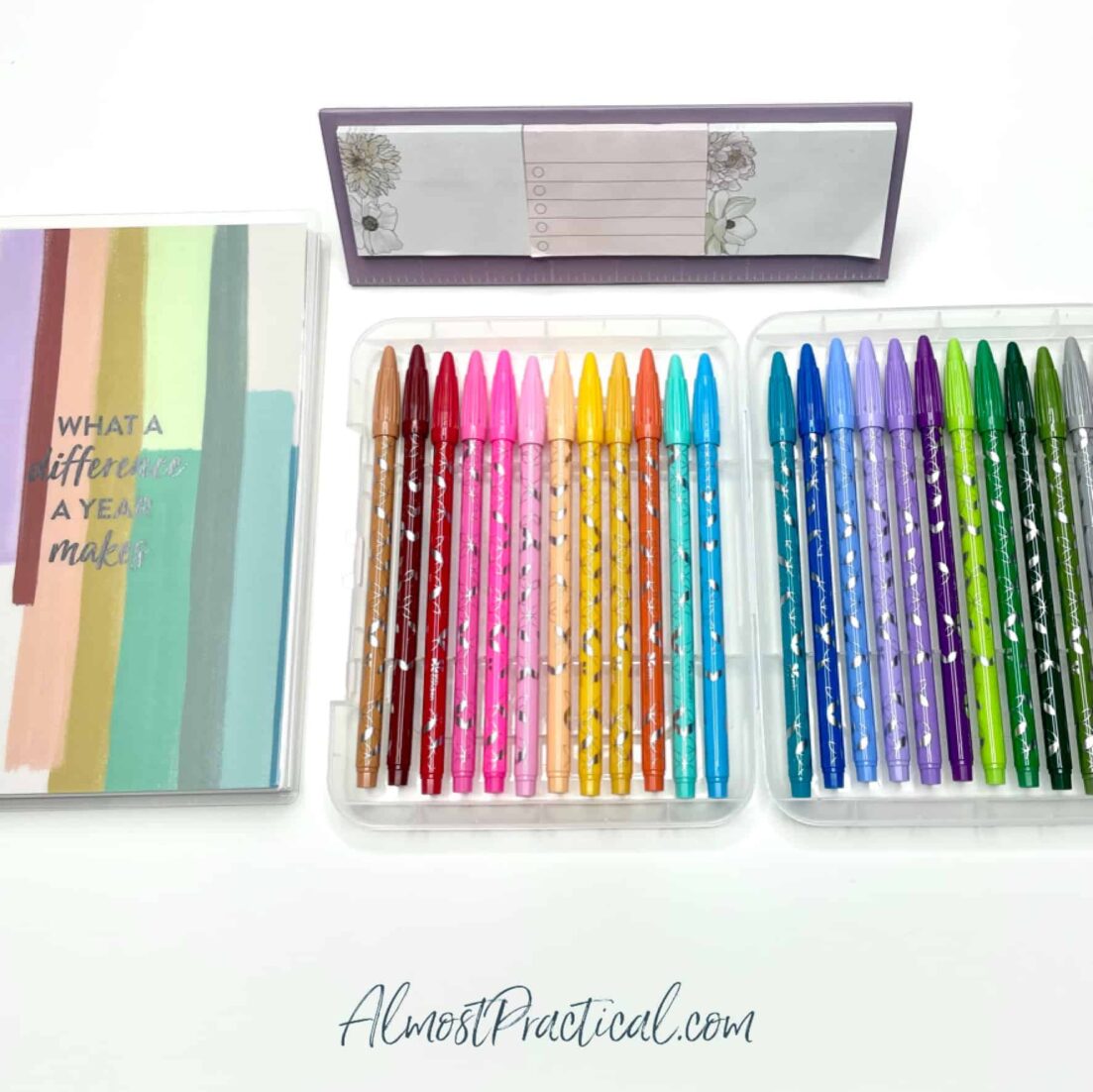 Consider adding the plastic case of 24 fine tip markers so you always have the color marker that fits your mood right at your fingertips.
Holiday Gift Sets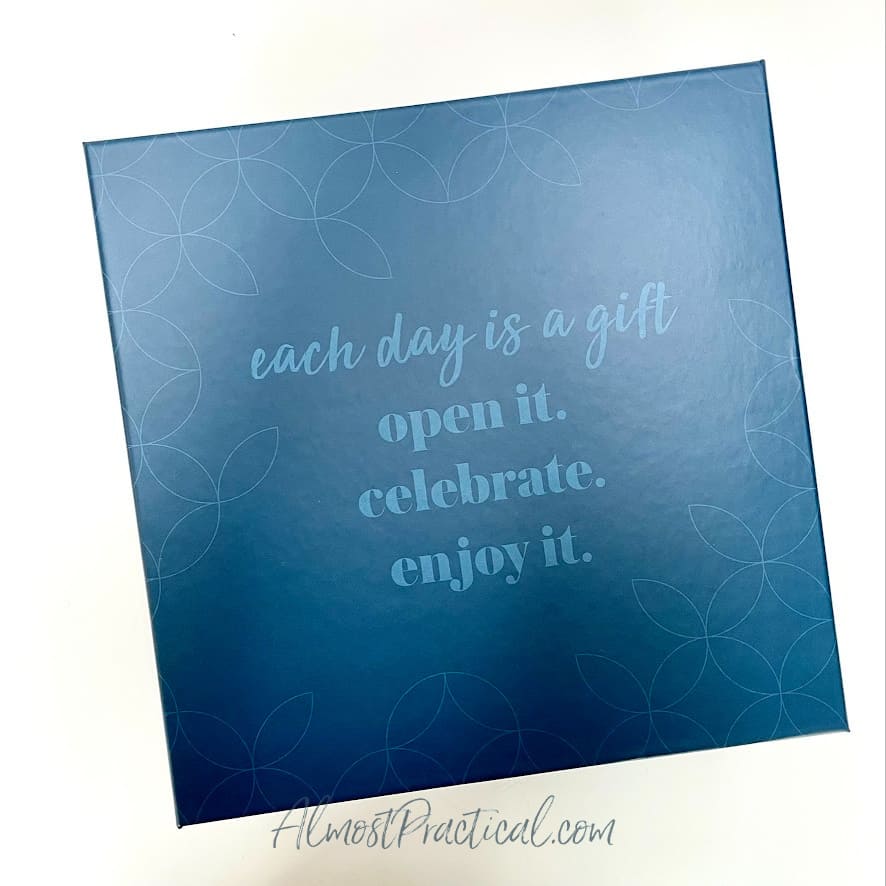 This year Erin Condren is introducing boxed Holiday Gift Sets.
These gift sets come in a sturdy, beautiful blue box with lid.
Inside are a collection of items that revolve around a particular theme.
All you need to do is add a bow (or not) and give it to your special someone.
It's a gorgeous presentation and made for easy gifting.
There are a few different gift sets to choose from:
Teacher Gift Set
Plant Lover Gift Set
Kitchen Gift Set
Wellness Gift Set, and
Travel Gift Set
I encourage you to click through each link to see the items inside.
For example, I received the Teacher Gift Set pictured below.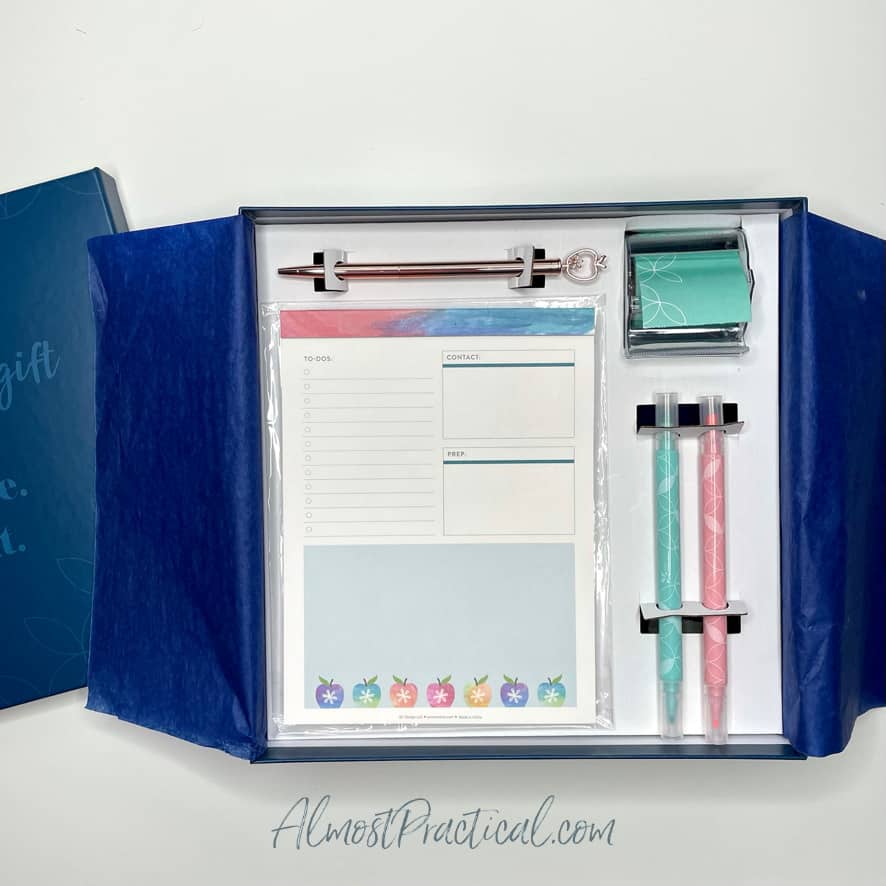 Inside is a planning pad, rose gold ballpoint pen with an apple embellishment, 2 dual tip highlighters, and a roll of sticky notes that you can rip off to make any size you like.
It makes for a perfect holiday gift for teachers.
My only criticism about the gift sets in general is that the box is rather large for the items inside (of course this depends on which gift set you choose).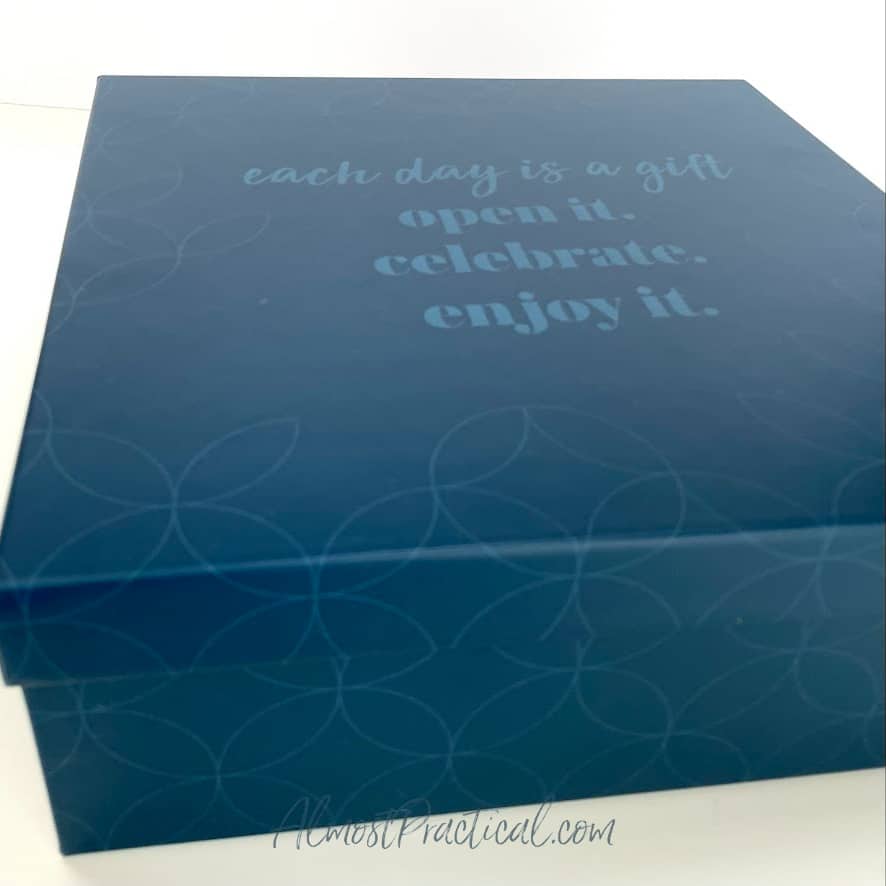 For the Teacher Gift Set, I could probably add something else into the box on my own if I wanted to give something in addition to what comes in the set.
Eco-Friendly Gift Set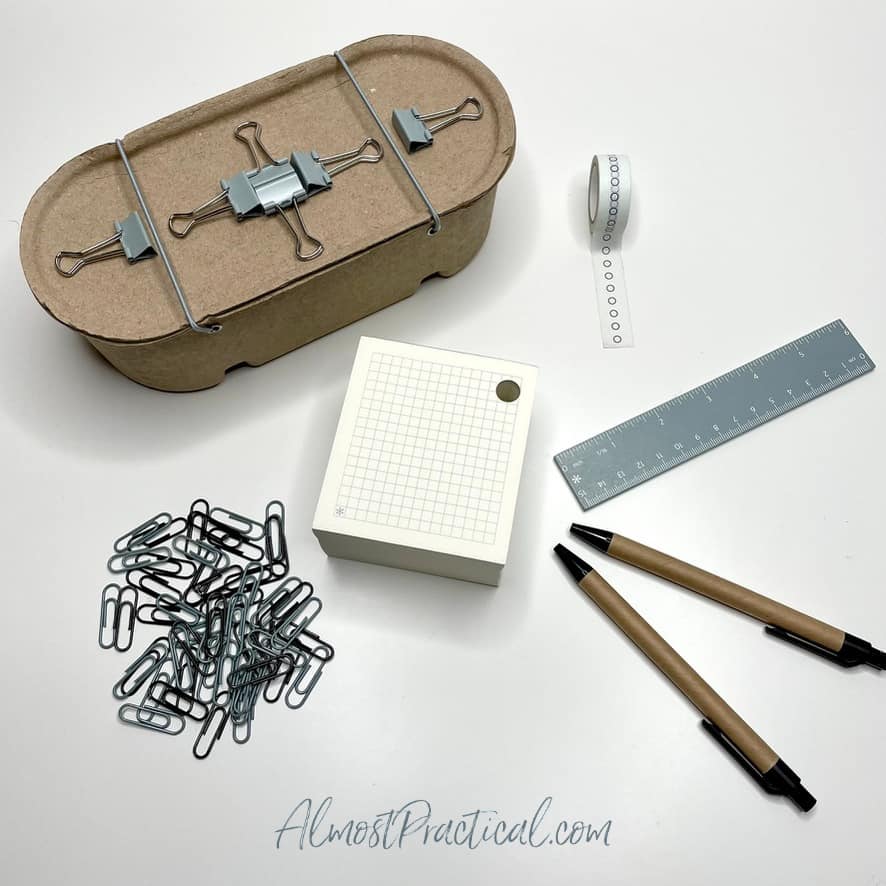 The Erin Condren Eco-Friendly gift set would make a for a great token of appreciation towards a special co-worker or student in your life.
This set comes in a unique recycled cardboard container that is secured with elastic straps.
Inside are two ballpoint pens with cardboard barrels, a notes cube (not sticky notes) with a grid pattern, a dusky blue ruler, a roll of washi tape with "to-do list" style check circles (these line up with the lines in your Erin Condren
LifePlanner), a set of dusky blue binder clips, and a mix of black and dusky blue paper clips.
Acrylic Perpetual Calendar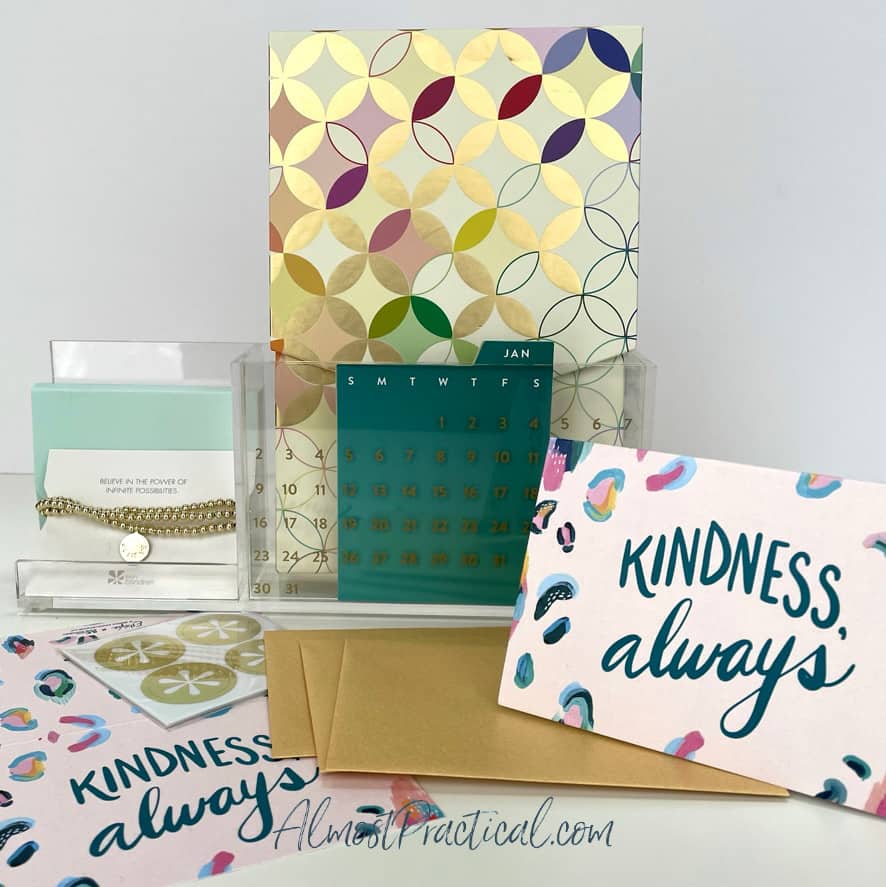 Another fan favorite is the Erin Condren Acrylic Perpetual Calendar – and the 2021 version is even more useful and creative.
The calendar is combined with an area to prop your phone or other items vertically (where you see the bracelet in the picture above).
There is also a compartment behind the calendar (where you see the Mid Century Circles card box in the photo).
The dates for the calendar are printed in gold on the front of the acrylic holder.
And the months and days are listed on cards that color coordinate with the month tabs in the colorful LifePlanners.
These cards fit into a slim slot right behind the numbered front panel.
To use this perpetual calendar, you simply line up the 1st of the month with the correct day column and everything else falls into place.
It is such a fun idea!
Also pictured in this photo is a beautiful beaded bracelet (or you can wear it as a necklace) with a pendant that says "Believe".
The personalized stationery pictured is part of the EttaVee Collection that says "Kindness Always". You can personalize the set with your name or saying, pick the color of the envelope, and also the style of the card box (colorful Mid Century Circles or the Pinstripe pattern from the Focused Collection).
Of course, in addition to the EttaVee Collection, Erin Condren offers a HUGE selection of stationery patterns – so you can pick something that fits the personality of the person you are buying for.
Planners and Accessories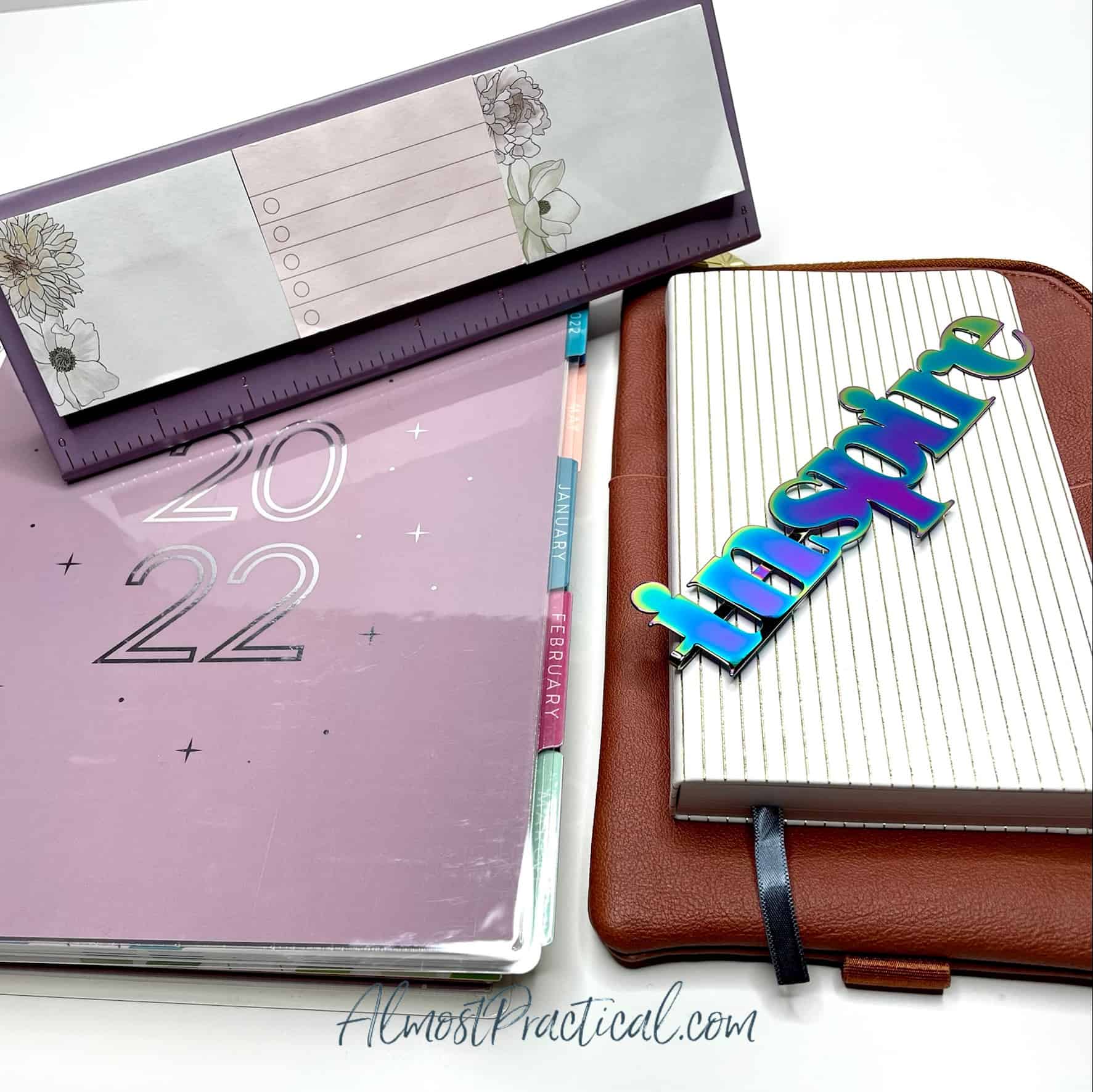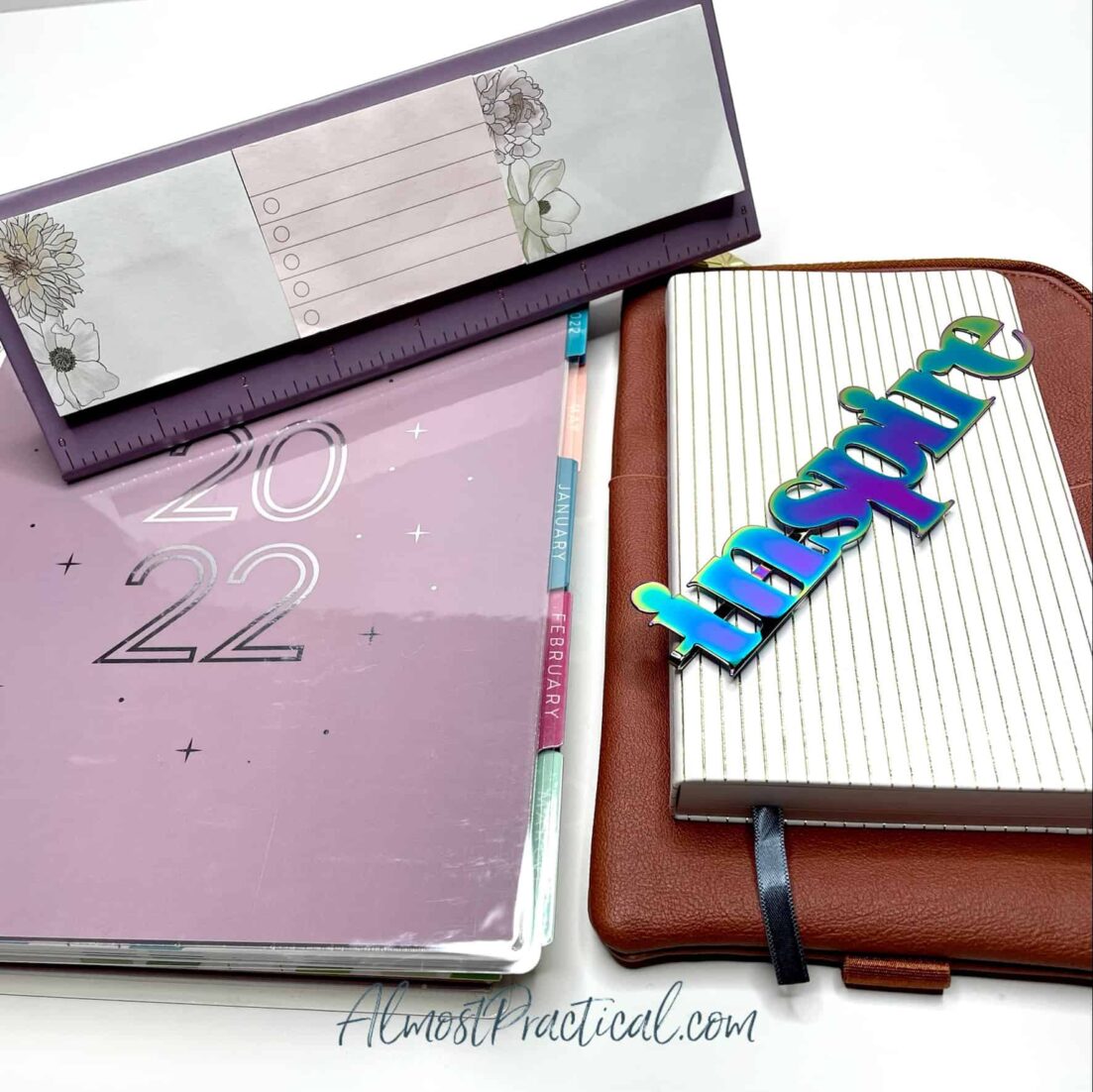 Last but not least, what would an Erin Condren Holiday Gift Collection be without … PLANNERS?
With the new year just around the corner it is a great time to gift a planner.
Erin Condren has so many to choose from.
Pictured above are the Monthly Planner in Mid Century Circles and the Pocket Planner in the Pinstripe design.
But you can also choose from:
Coiled LifePlanner
SoftBound Planners
Daily Duo Planner.
All of these come in a variety of designs, layouts, and sizes.
You may also want to consider gifting planner accessories to the planner fanatics on your list.
This year, Erin Condren revamped the Planny Pack to bring you the Deluxe version of it.
The Deluxe Planny Pack has the pocket on the front instead of the back and is zippered on 2 sides for easy access.
It comes in a variety of colors and designs.
Also pictured above is the Stand Up Sticky Notes Pad.
Mine is in the Flora pattern but it comes in the Focused Collection as well.
And finally, there is an inspirational metallic bookmark for marking your place in your planner or latest bestseller.
You can compare this seasons holiday offerings to the 2020 Erin Condren Holiday Collection here.
That's Not All, Folks
The items that I have shared with you today are only a small portion of this HUGE Erin Condren 2021 Holiday Collection.
Take some time to browse the full collection on the Erin Condren website here.
I am sure that you will find something for everyone on your holiday shopping list – from planners to desk accessories, to gift sets for people with lots of different interests.
Enjoy – and happy holidays!