Erin Condren Lap Desk Review
This post may contain affiliate links which means I make a commission if you shop through my links.
 Disclosure Policy
Disclosure: Product for this post was provided by Erin Condren. All opinions are my own.
Erin Condren just released an all new Lap Desk and I was so excited when they asked me if they could send me a sample to review.
I was particularly interested in this product because so many people are now working remotely – and finding a space to work inside your home or apartment can be quite a challenge.
So, anything to make working (or even leisure) a little easier is something worth looking into.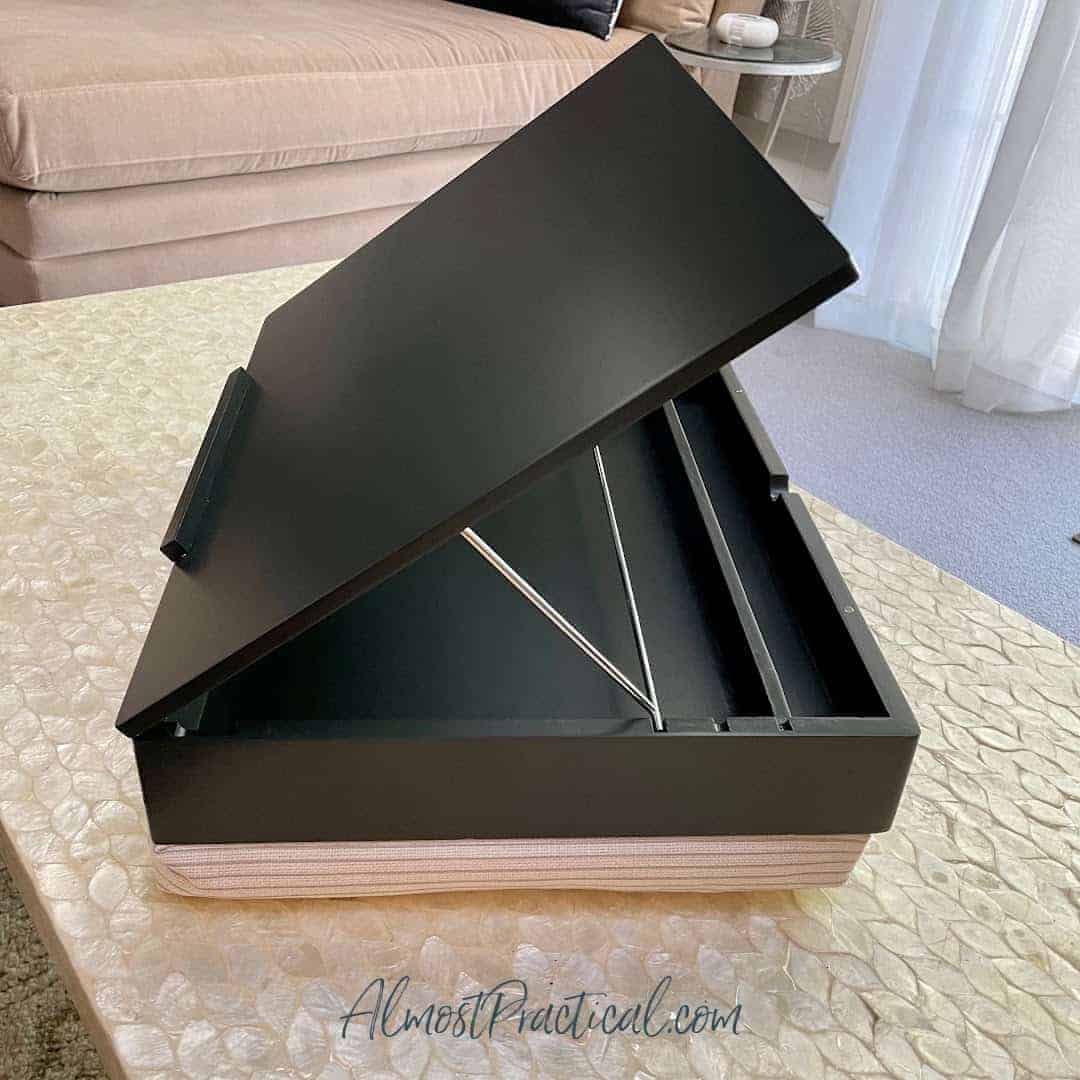 The Erin Condren Lap Desk is a portable work station solution that is not only sturdy and functional, but also works great with your decor.
What is the Purpose of a Lap Desk?
Let's start with what a lap desk is all about.
A lap desk is a solid surface that you can place on your lap where you can work when you are away from an actual desk or table.
Typically you would use a lap desk while sitting on a couch or chair or even working from your bedroom.
Many lap desks have a cushion on the bottom for comfort – so you are not resting a hard surface on your lap.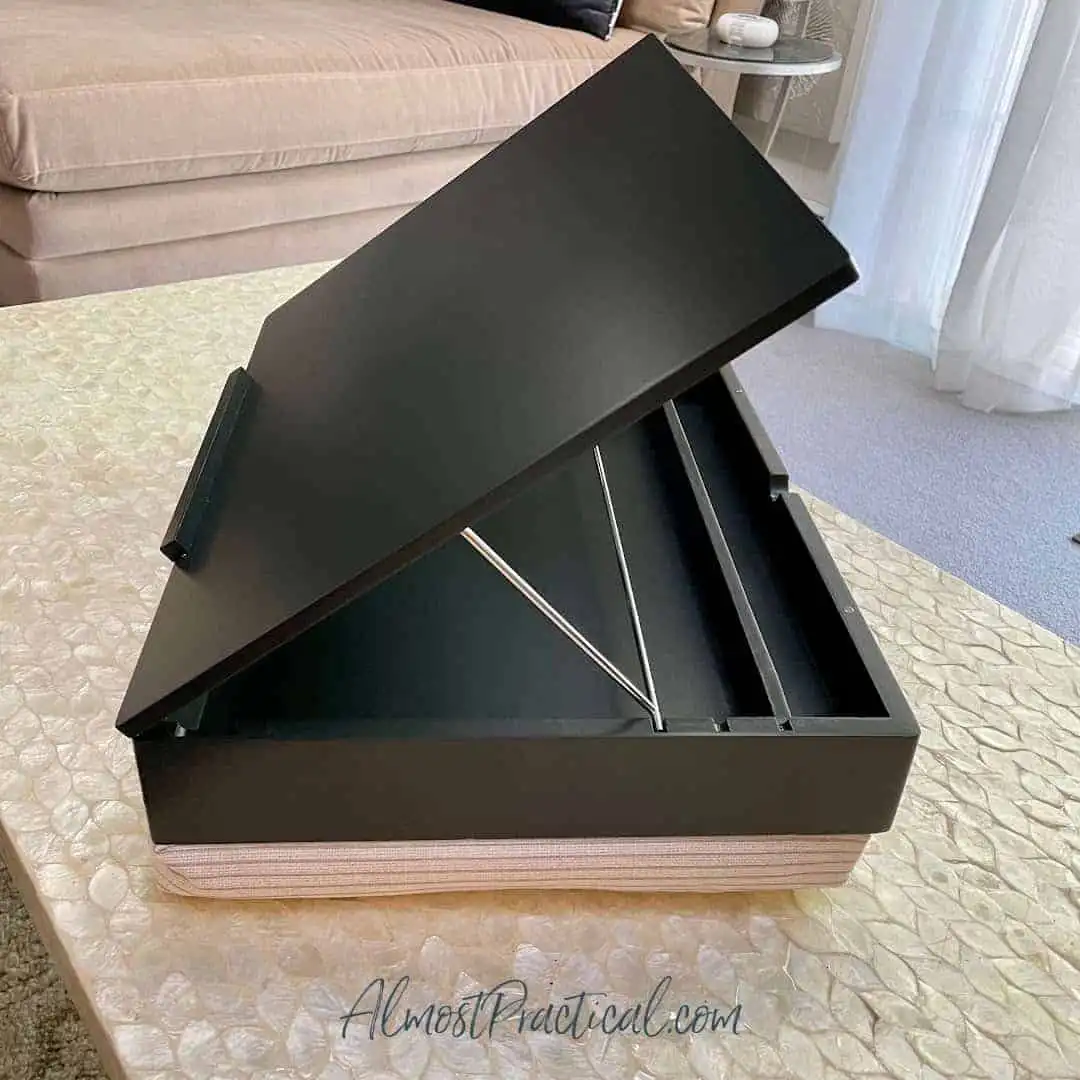 Erin Condren Lap Desk
Don't have a home office? The Erin Condren Lap Desk is a perfect solution. This generous sized lap desk provides ample workspace and storage so you can work comfortably from anywhere in your home.
Buy Now
Features of the Erin Condren Lap Desk
The Erin Condren Lap Desk has many useful features.
It comes in two patterns:
a neutral Pinstripe pattern (Focused Collection) and
a colorful Mid-Century Circles pattern.
I received a lap desk in the Pinstripe Pattern which is pictured below and also the one you will see in the photos throughout this post.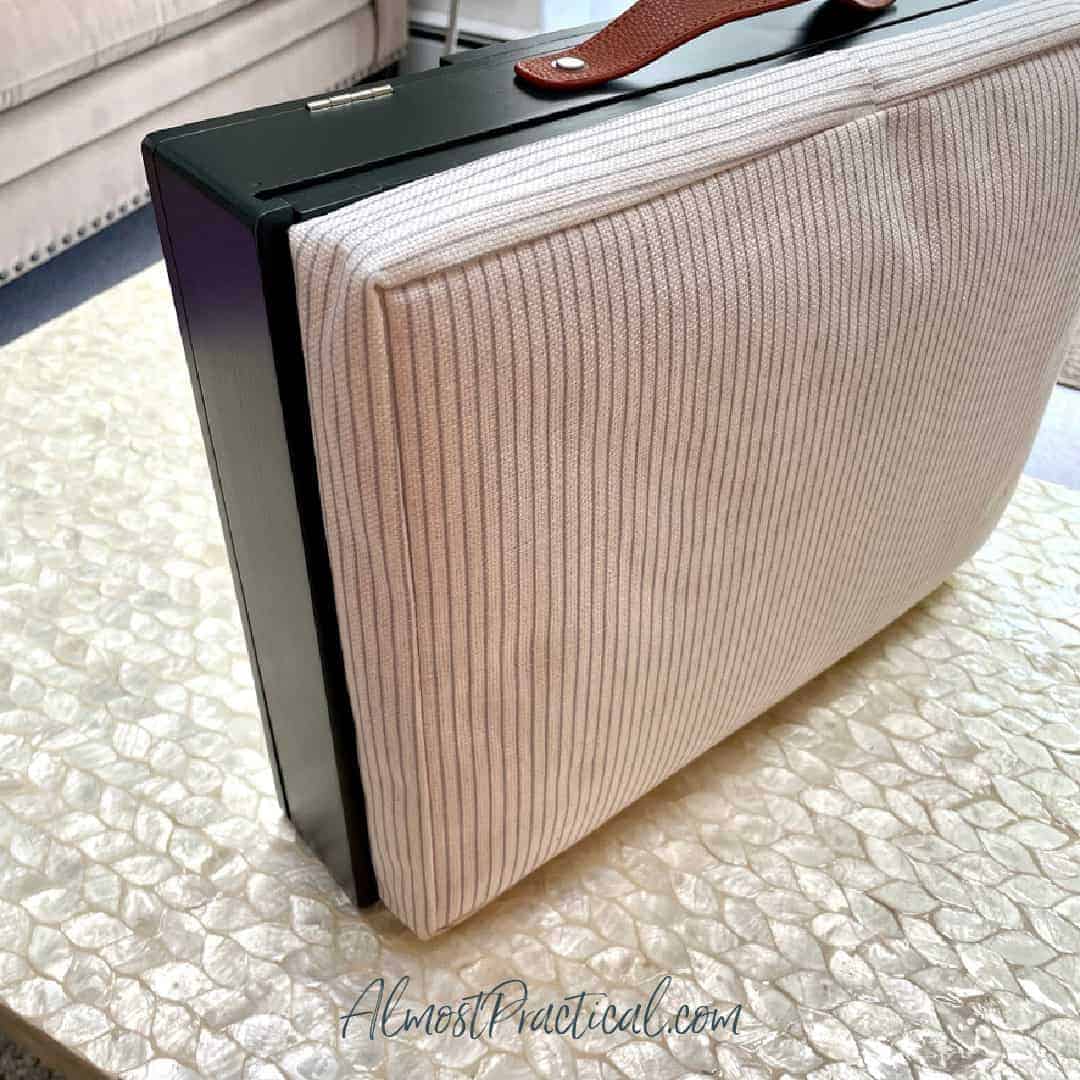 But for reference – here is a photo of the Mid Century Circles desk as well.
Sturdy Construction
My initial reaction to the Erin Condren Lap Desk was that it felt very sturdy.
The desk itself feels a bit heavy and it has a good amount of depth to it – about 4.25 inches – including the cushion.
Lap Desk With Storage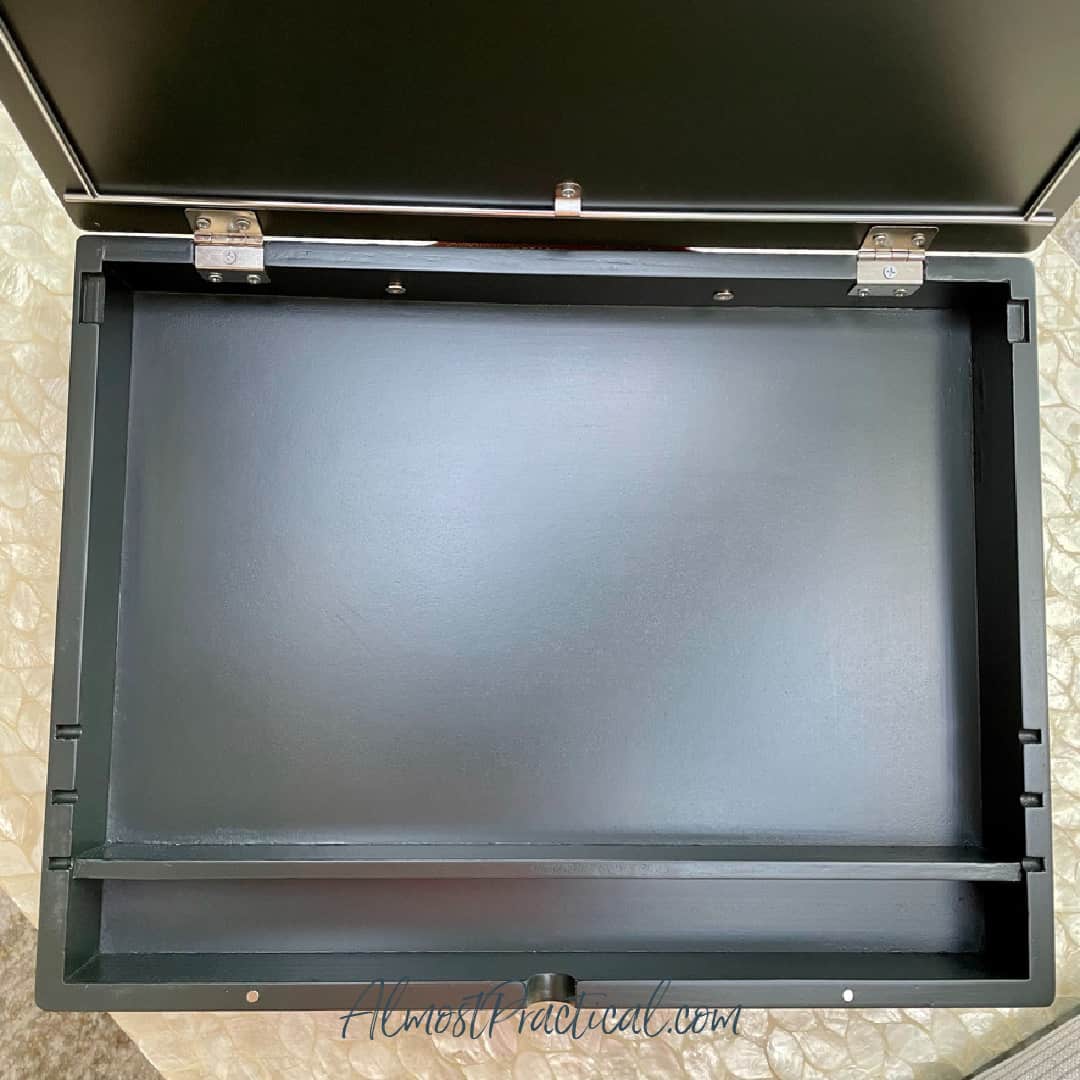 The reason why the desk is deep is because the solid part of the lap desk has a storage compartment under the lid.
The lid is hinged so you can open the top (similar to an old school room desk). Inside is a large section for your planners (be sure to check out my review of the Erin Condren LifePlanner in the Flora design here) and notebooks and a narrow section for your pens, pencils, and other writing instruments.
Another nice feature is that the lid has a "soft magnetic" close. There are small magnets embedded in the lid that are designed to keep the lid shut when you lightly move the desk about.
There is also a faux leather handle on one end to make it easier to tote.
However, this is a desk and not a suitcase or briefcase – so it is not meant for commuting or travel, just light movement from room to room etc.
Computer Riser
The Erin Condren Lap Desk is also a computer riser.
You can adjust the lid of the desk at 3 different angles from which you can work on your laptop, tablet, or even use to just prop up a book.
There is a finger width bar along the bottom edge that serves as a ledge to keep your work from slipping.
Removable Cushion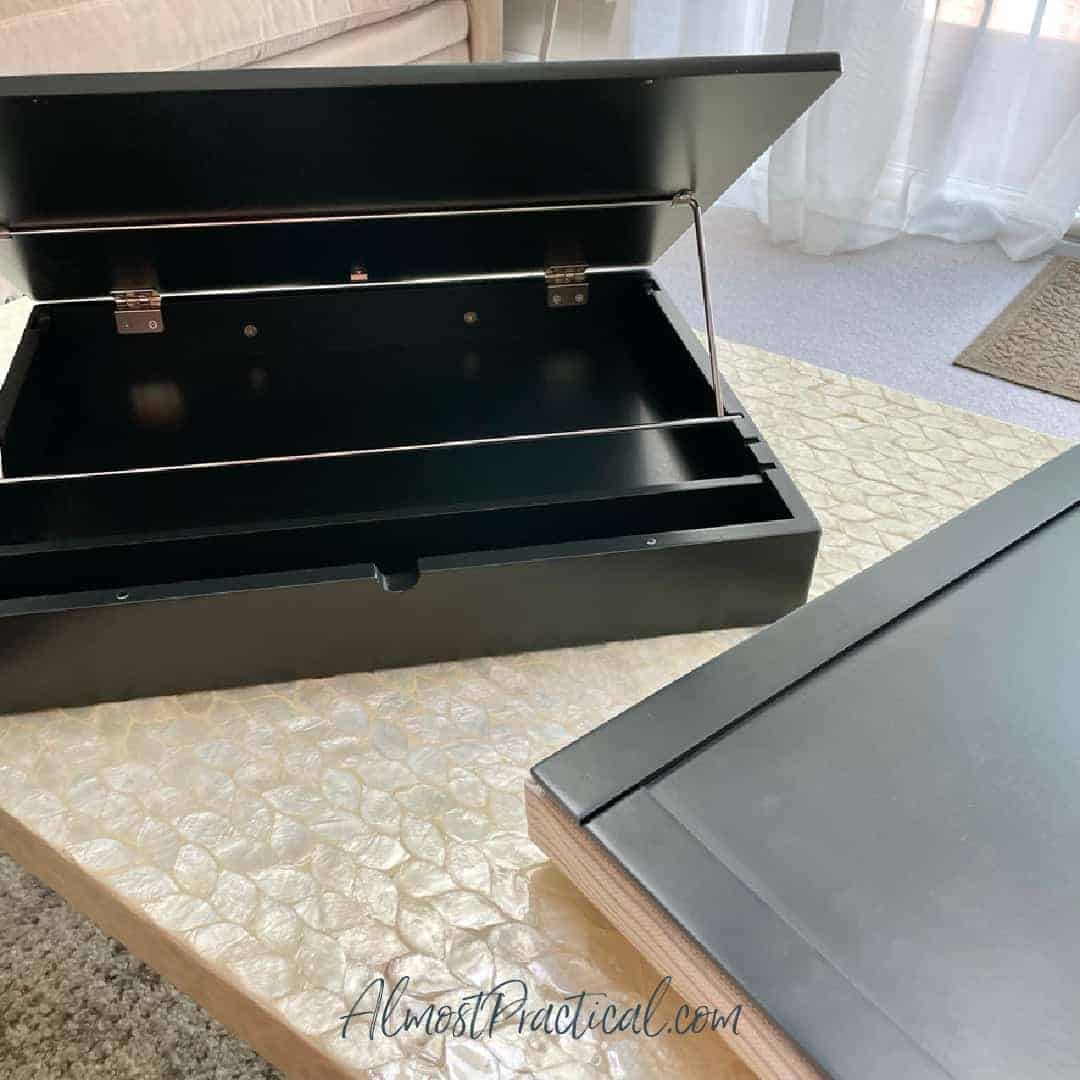 What makes the Erin Condren Lap Desk even more versatile is that the cushion part is actually removable.
It simply slides right off.
The cushion section has a solid surface top, so if you want to use just the more lightweight cushion part on your lap, you can.
You can also use the top desk section as a stand alone laptop riser or for additional storage on your traditional desk.
This can help you achieve the correct camera angle for Zoom type online meetings.
What I Think Could Be Better
Overall, I've been really pleased with this lap desk – but there are a few things that have some room for improvement.
First, I noticed that on the Pinstripe version the dark color of the desk does tend to pick up smudges from my hands.
The surface itself was a bit rough in spots but definitely not a big deal for me.
Finally, because of all the amazing features (storage, cushion, riser, etc) the desk feels a bit bulky.
I'm a bit on the short side and don't have a very big lap but I still enjoy the desk and will be using it quite a bit.
The Best Lap Desk for Students
I also think that the Erin Condren Lap Desk would be great for college students and even for kids in grade school or high school.
They can store their supplies right inside the desk and work from their dorm room bed.
My Experience with the Erin Condren Lap Desk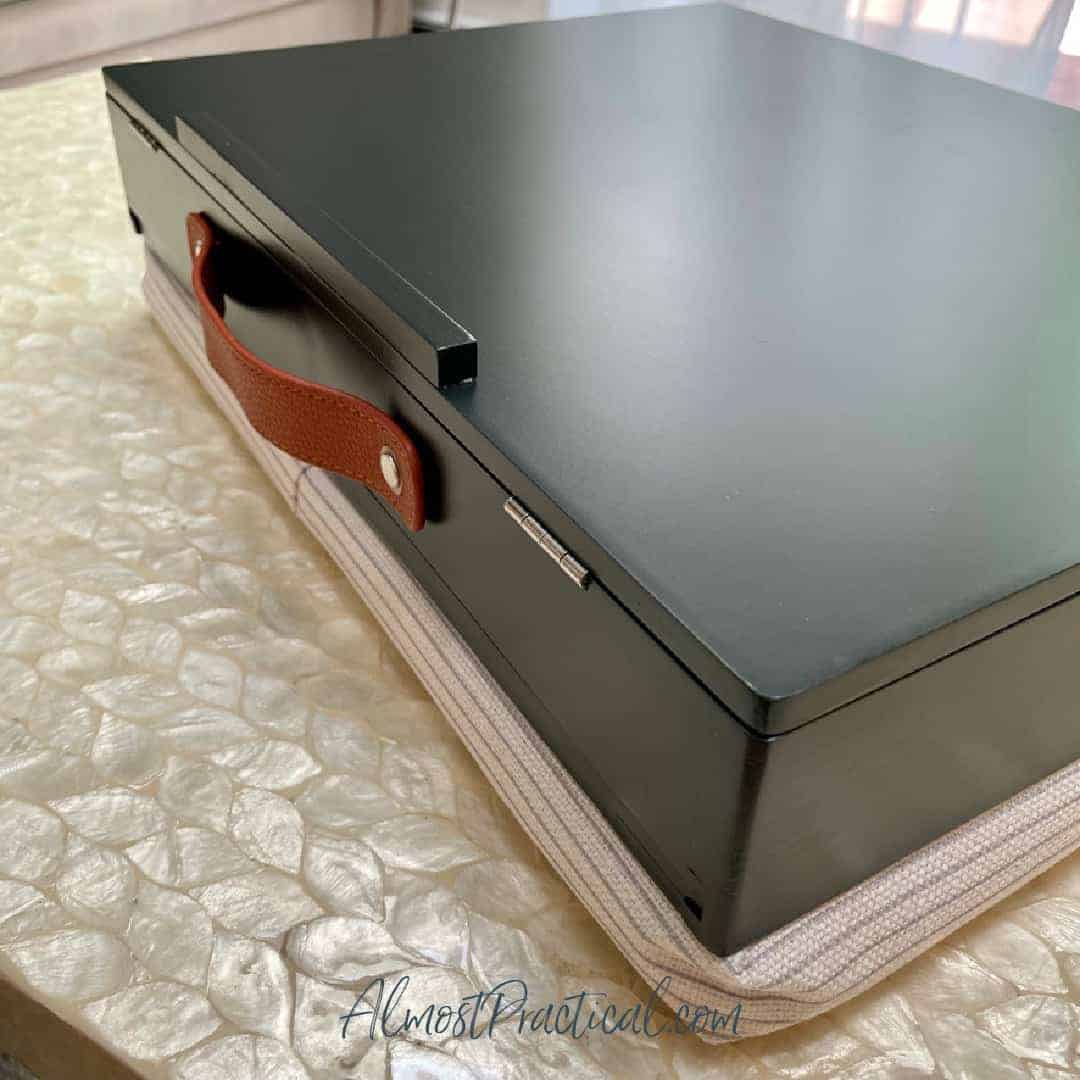 I've only had the Erin Condren Lap Desk for a few days and so far I have really enjoyed using it in the evenings after my long work day.
I cozy up in my favorite recliner, put on the latest series that I've been binge watching, grab my iPad, and use the lap desk to catch up on bills, surfing the web, and general paperwork.
My favorite colorway is the Pinstripe desk that I received – I find that it goes well with all my decor. I can place the desk next to my chair or even on the coffee table which gives me an elegant way to store the things I am currently working on and planner supplies in plain sight.
I hope you found this Erin Condren lap desk review to be helpful. Be sure to check out the desks on the Erin Condren website here.