Erin Condren Travel Journal – How I Use It
This post may contain affiliate links which means I make a commission if you shop through my links. Disclosure Policy
When it comes to travel journals – one size never fits all.
Every trip is different so it is hard to find a journal that has all the line items that you need.
But, I don't like using a blank notebook as a traveler's notebook because I do like to have a little guidance – otherwise I would probably forget to use it.
So, when I saw the Erin Condren Travel Journal Petite Planner, I was pretty excited to try it. So excited, in fact, that I wrote a review of the travel planner as soon as I received it.
But the proof is in the pudding, right?
You have to actually use a planner to get a good understanding of whether it will really work for you.
I am happy to report that I did put the Travel Journal Petite Planner through the paces on our last mini vacation to Lake Placid New York.
And today I am sharing some of my thoughts about how to use this Erin Condren planner with you.
Watch the Video Here
You can watch the video with my tips on how to use the Erin Condren Travel Journal here or scroll down below to read all about it.
What is the Erin Condren Travel Journal?
The Erin Condren Travel Journal is notebook that you can use to both plan your trips and record the details of your travels.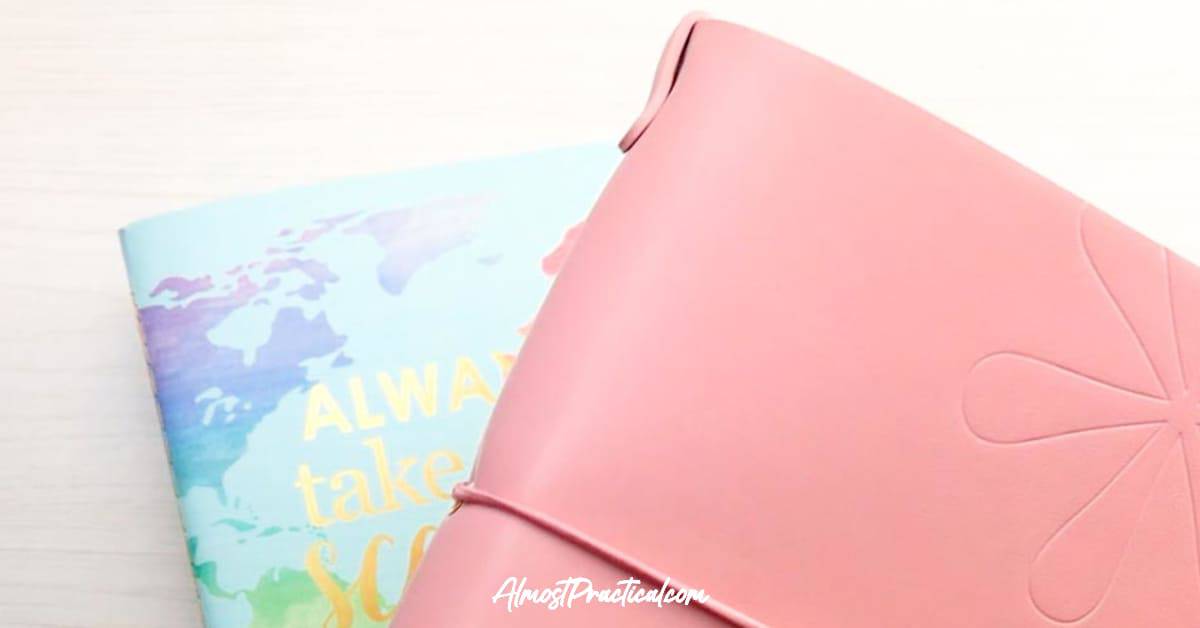 You can either use it as a stand alone journal or slip it into an Erin Condren On the Go Folio cover with a few other Petite Planners.
You can read my review of the Erin Condren Petite Planner System here , if you are unfamiliar.
How I Use this Petite Planner
The Erin Condren Travel Journal has space for you to:
Plan your trip,
Record the details of your trip, and
Create memories to reflect back upon.
It also has the additional benefit of helping you to plan future travels based on details of trips you have already completed.
You can include details for 4 itineraries per journal – but if the duration of your trips are short, you might be able to squeeze in a few extra.
Planning Your Trip
When you open up the Erin Condren Travel Journal the first two pages for each itinerary are planning pages.
There is space to record details of your:
flights,
hotels,
rental cars,
packing lists,
things you want to see and do,
places you want to eat, etc.
I found this section to be both helpful and limiting when planning my trip, and this is how I worked through it.
The Pros of the Travel Planner
I really liked the different sections on the planning pages because it gave me a singular place to create my packing lists and record my trip details.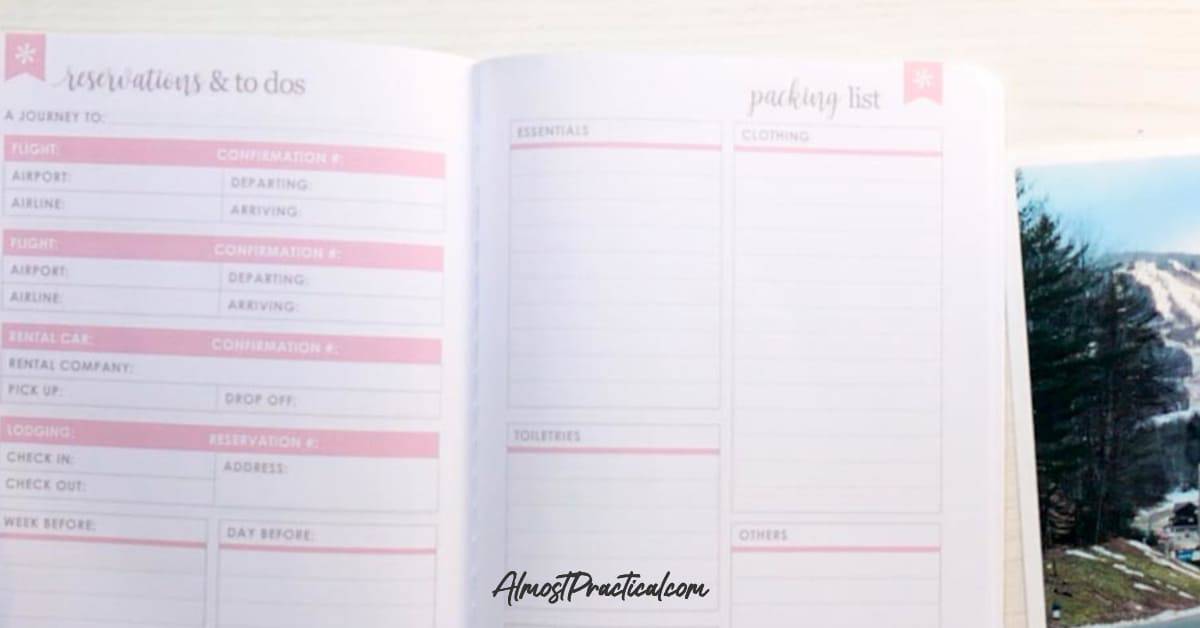 The minute that I booked the hotel, I recorded the details of our reservation and started brainstorming the different items we would need to pack.
As I researched the area that we would be traveling to, I recorded information about sightseeing, activities, restaurants, etc.
I even made a list of the road trip snacks that I planned to pack.
The reality of my planning however, was that it did not all happen in one session.
I would Google something on one day, and then big chunks of time would go by before I picked it up again to look at something else.
Because I was using this Erin Condren Travel Journal – I had a "official" place to write things down – instead of little stickies and random notes here and there.
It sounds really simple but my planning was more efficient because I did not have to backtrack or search for things that I already looked up before.
The Cons of the Travel Planner
On the flip side, having these structured sections was also somewhat limiting.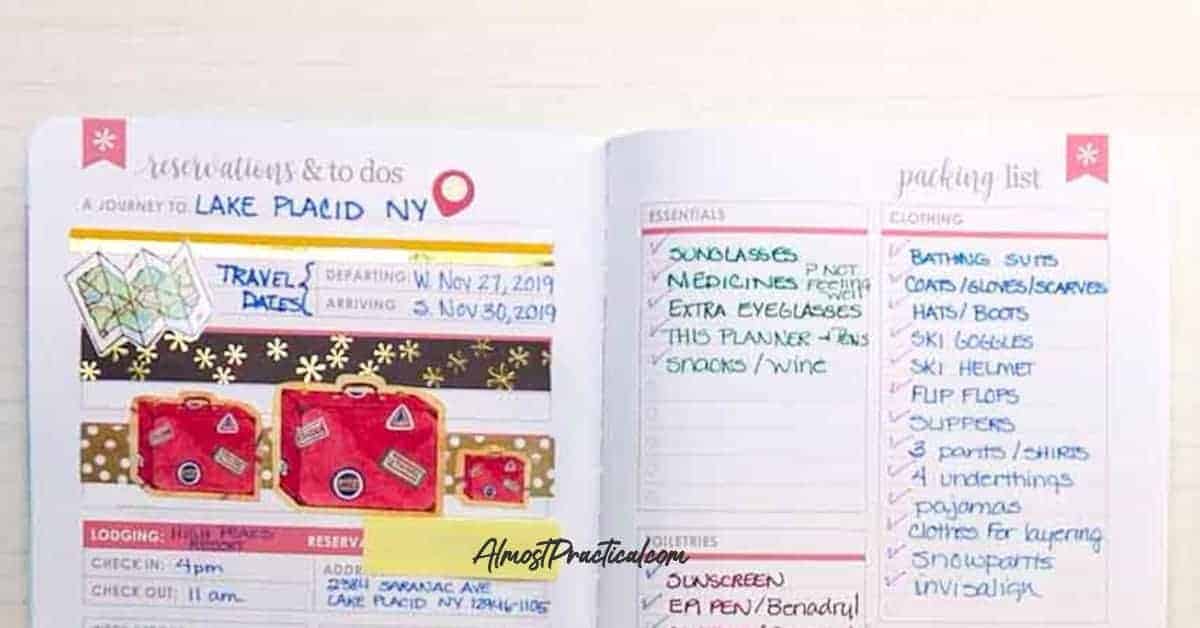 Our trip to Lake Placid was a road trip.
We did not have flights or rental car arrangements to worry about.
With me being the rule follower that I am, I would typically just cross these sections out and then move onto the next.
However, my goal was to use this Erin Condren Travel Journal as a memory book or scrapbook of our trip as well.
Crossed out sections was not the look that I was going for.
So, I pulled out some washi tape and stickers (here are some great places to buy washi tape, by the way) and transformed the planning pages into a spread that I love.
Record the Details of Your Trip
Once your planning is complete – it's time to go!
In the Erin Condren Travel Journal you have space to record up to seven days of travels for each trip.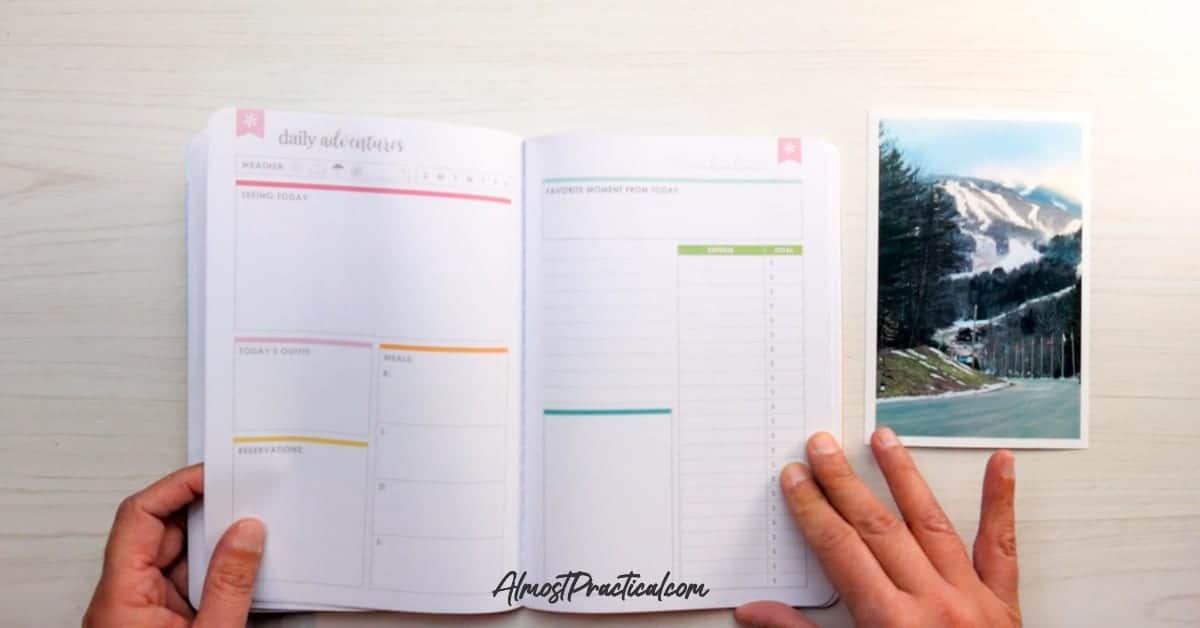 It features a two page per day layout and has space to record:
memories,
things you wore,
places you ate,
what you did,
and your costs for the day.
I love this!
At the end of each busy day, I would come back to the hotel and take a few minutes to reflect back on the days events and capture the special moments.
I would also flip through the receipts that I collected and record my spending. By doing a daily check in with my finances I knew where I was with my travel budget at all times.
I knew that I wanted to paste some photos in the travel journal as well, so I wasn't pressured to write in every corner of available space.
After printing out our Lake Placid trip pictures, I realized that our printer at home was not a very good photo printer.
So, I actually invested in a Canon Ivy portable printer, which I plan to take with me on future trips so I don't have to wait to get home to finish the layout.
Create a Memory Book or Scrapbook
The best part about the Erin Condren Travel Journal is that it doubles as a scrapbook of your adventures.
I used stickers and added photos but you can even use fun washi tape to tack in ticket stubs and other memorabilia.
Unlike a traditional photo album or scrapbook – this is something that won't collect dust on your bookshelf.
You actually end up revisiting those memories when you plan your next trip using the Travel Journal.
In fact, reviewing the packing lists from your previous travels may even help you plan your future ones.
Planner Supplies You Will Need
To really create something memorable in your Travel Journal, you will need a few planner supplies and accessories.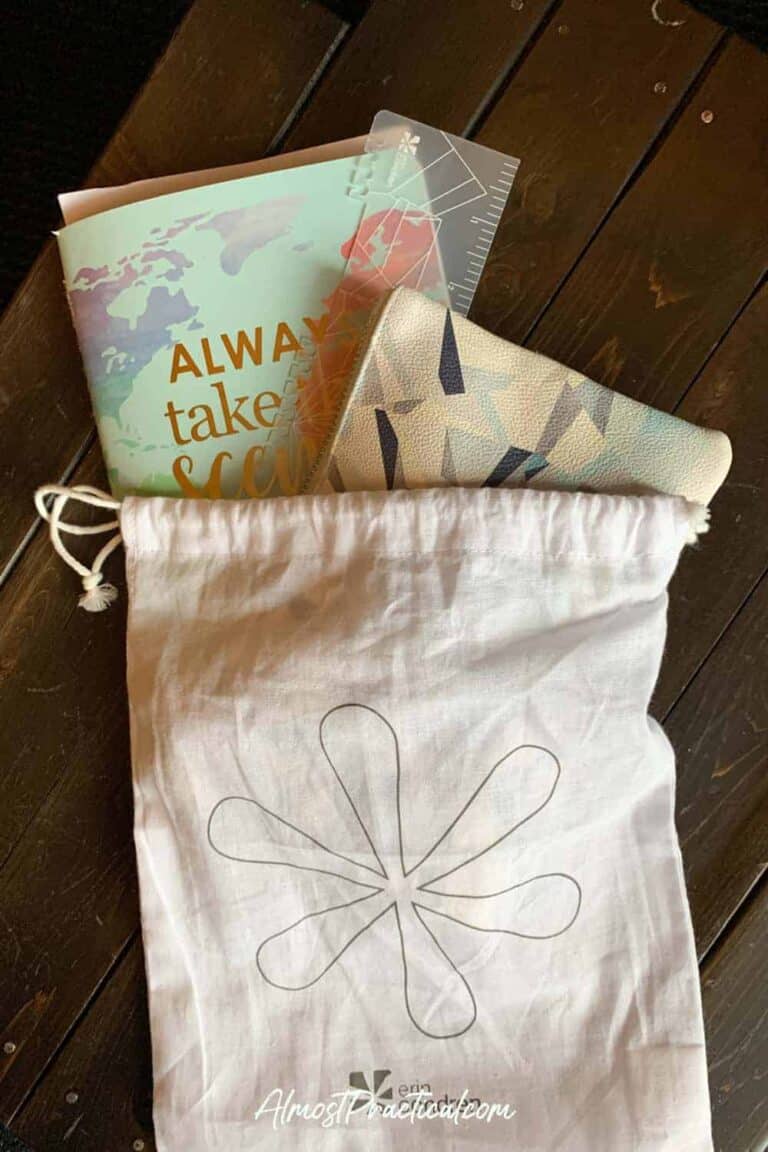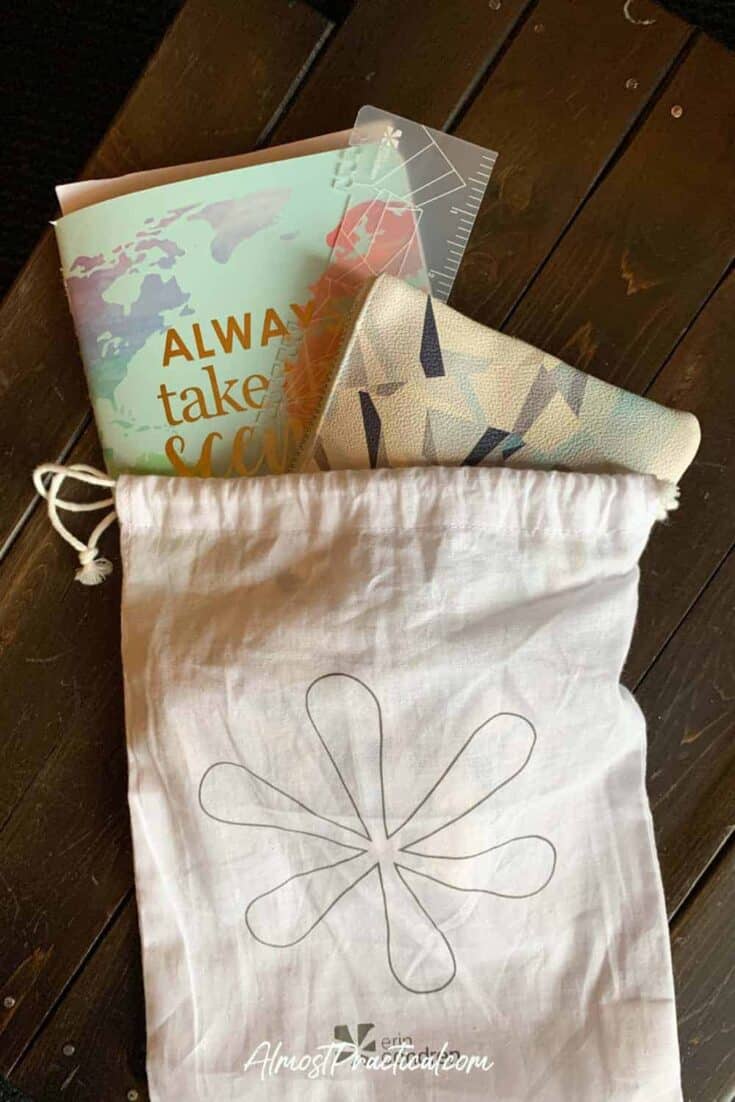 It's a balancing act between taking too much and not enough – because space is always in short supply when traveling.
The way I made it work was this …
First, I pulled the Travel Journal out of my Erin Condren Petite Planner Folio cover and just took that one notebook with me on my trip.
I also packed up my Planny Pack (see my Planny Pack review here) with the following essentials:
I actually used the dust cover that my Folio came in to transport my Travel Journal, Planny Pack, and ruler.
The size was perfect and the drawstring bag kept everything together.
In Summary
I really enjoyed using the Erin Condren Travel Journal to record the details of our trip to Lake Placid and I am looking forward to using it on my future travels.
Happy travels!
More Erin Condren Petite Planner Reviews You Might Like