2019 Erin Condren Winter Surprise Box Unboxing
This post may contain affiliate links which means I make a commission if you shop through my links.
 Disclosure Policy
Watch the unboxing of the 2019 Erin Condren Winter Seasonal Surprise Box – and see what I think about the value.
Spoiler Alert: If you have not opened your 2019 Winter Seasonal Surprise Box yet – and you want to be surprised, then stop reading now. 🙂
You also might want to check out these other seasonal surprise boxes:
Watch the Unboxing Video
The Contents Of the 2019 Erin Condren Winter Surprise Box In Detail
Let's talk about all the Erin Condren accessories that are inside this beautiful box.
I found this box to be full of useful items that will make planning both fun and focused in the new year.
2020 Petite Planner Folio Cover
I am a big fan of Erin Condren Petite Planners and I love using folio covers to keep them all organized.
This exclusive 2020 Petite Planner Folio Cover in charcoal will be useful to use throughout the year and also to store my completed 2020 Petite Planners when the year is over.
See the full Erin Condren collection of Petite Planner Covers here.
Black and Gold Foil LifePlanner Cover
The Winter 2019 Erin Condren Box also contains a beautiful black and gold foil LifePlanner cover in a floral/paisley type all over design.
I think it is really elegant and matches the 2020 Petite Planner Folio cover as well.
It's a perfect New Year's theme for your planning system.
See all of the Erin Condren LifePlanner Covers here.
2 Petite Planner Journals
What good is a Petite Planner Folio Cover without a few Petite Planners to tuck inside, right?
The 2019 Winter EC Surprise Box includes 2 of these notebooks.
There is an exclusive coral and pinkish dot grid journal and a sneak peek beautiful floral/paisley Goal Setting journal.
See all of the available Petite Planner Journals and Notebooks here.
Planner Stickers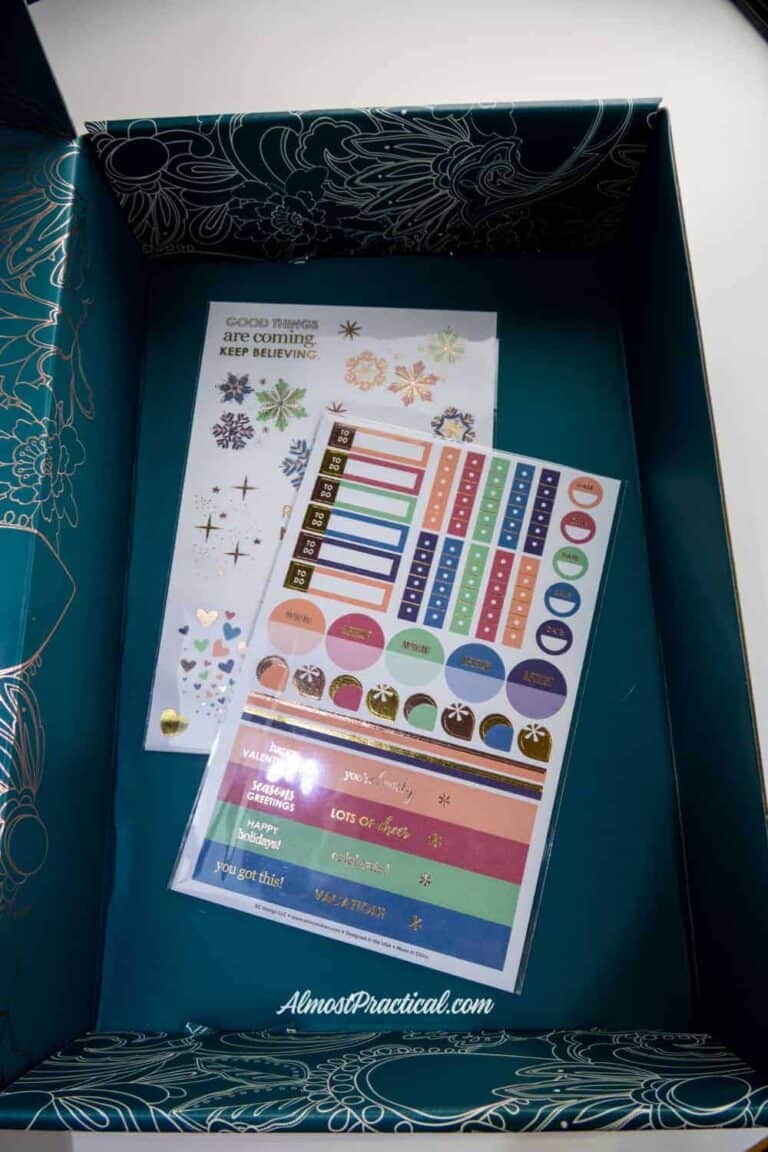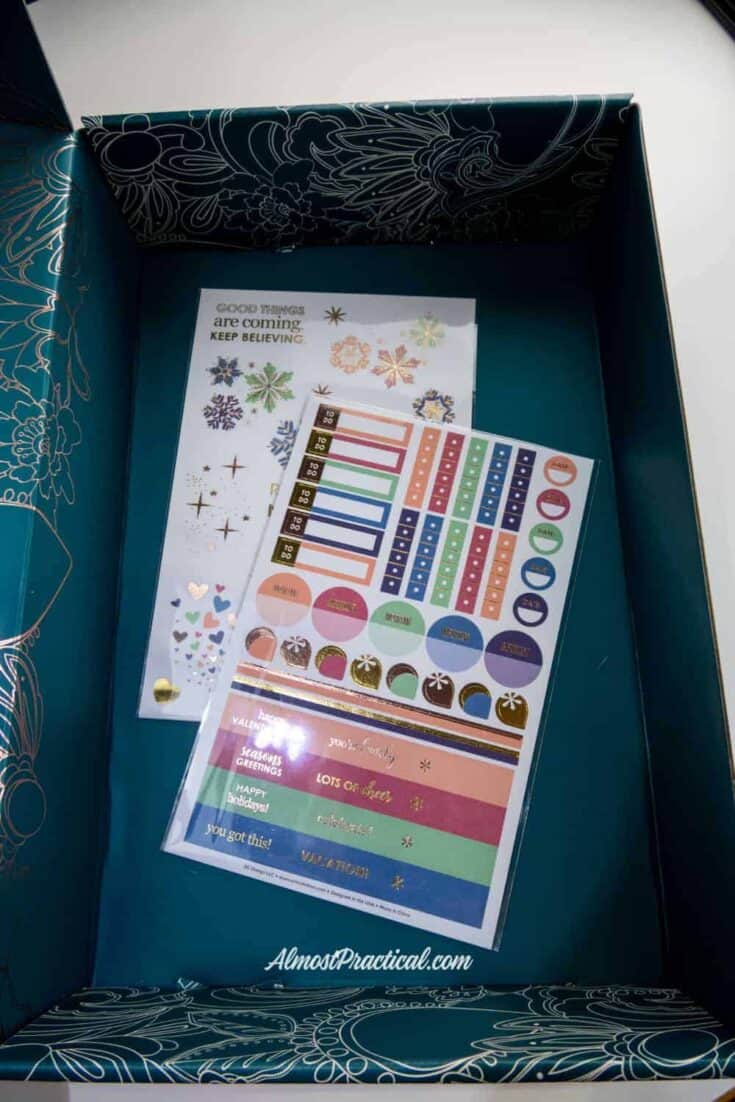 I have been focusing on building my collection of planner stickers, so these sheets are a welcome addition.
One sheet is quite seasonal with a winter and New Year's theme that could even extend to Valentine's Day (there are some heart stickers, too).
The other sticker sheet is more functional with markers, flags, and checkboxes that you can use to bring attention to your events, appointments, and tasks.
See the full selection of Erin Condren Stickers here.
Other Erin Condren Accessories
Other Erin Condren accessories included in this surprise box are:
a sparkly pink pen covered in glitter (it writes so smoothly!) and
2 greeting cards with envelopes and seals
See all Erin Condren Greeting Cards here.
The Box Itself
Let me not forget to mention that the box itself is stunning and reversible – so you can use it as a gift box or display it in your home office and use it store all your Erin Condren loot in plain sight.
What is an Erin Condren Seasonal Surprise Box?
You have probably figured out most of the details by now 😉 but I will elaborate just in case.
Every quarter the team at EC curates a box of Erin Condren accessories and other fun items that revolve around the upcoming season.
They sell this box at a bundle price that is less than what you would pay if you were to buy each item individually.
The box includes both exclusive items and sneak peeks.
Exclusive Items Defined
Exclusive Items are products that were made specifically for the Seasonal Surprise Box – and are NOT sold on the website to the general public.
Sneak Peek Items Defined
Sneak Peek Items are products that are not yet available for sale, but will appear on the Erin Condren website shortly.
Of course, the contents of the box is a surprise, so you don't know what you are getting until the boxes ship.
My Thoughts on the This Erin Condren Surprise Box
The 2019 Winter Surprise Box is the first Erin Condren box that I have ever purchased – so I was pretty excited to see what would be inside.
Overall, I was very pleased and am looking forward to using all of the items in the box.
One of the unique things about Erin Condren products is the ability you have to change the look of your planners with interchangeable covers.
I do use both the Petite Planner System and a LifePlanner (or two) to manage my busy household and my blogs (which are my work/business).
So, I loved the 2020 Petite Planner Folio cover and the gold and black LifePlanner cover – these give me more options to for spicing up my planners on a monthly basis.
I also will absolutely use both of the gorgeous Petite Planners that were included in this box.
The pink glitter pen is a lot of fun and writes beautifully.
As for the stickers, I am working to build up my collection – so the sticker sheets are much appreciated.
What did you think of the 2019 Erin Condren Winter Seasonal Surprise Box?
Leave me a comment below.