Pros and Cons of the Erin Condren Daily Duo LifePlanner
This post may contain affiliate links which means I make a commission if you shop through my links. Disclosure Policy
I have been using the Erin Condren Daily Duo LifePlanner since July and I thought I would share a few of my takeaways with you.
Now that we are heading into the last quarter of the year – you might be in the market for a new planner and this one might be on your radar.
Hopefully, this will help you to make your decision.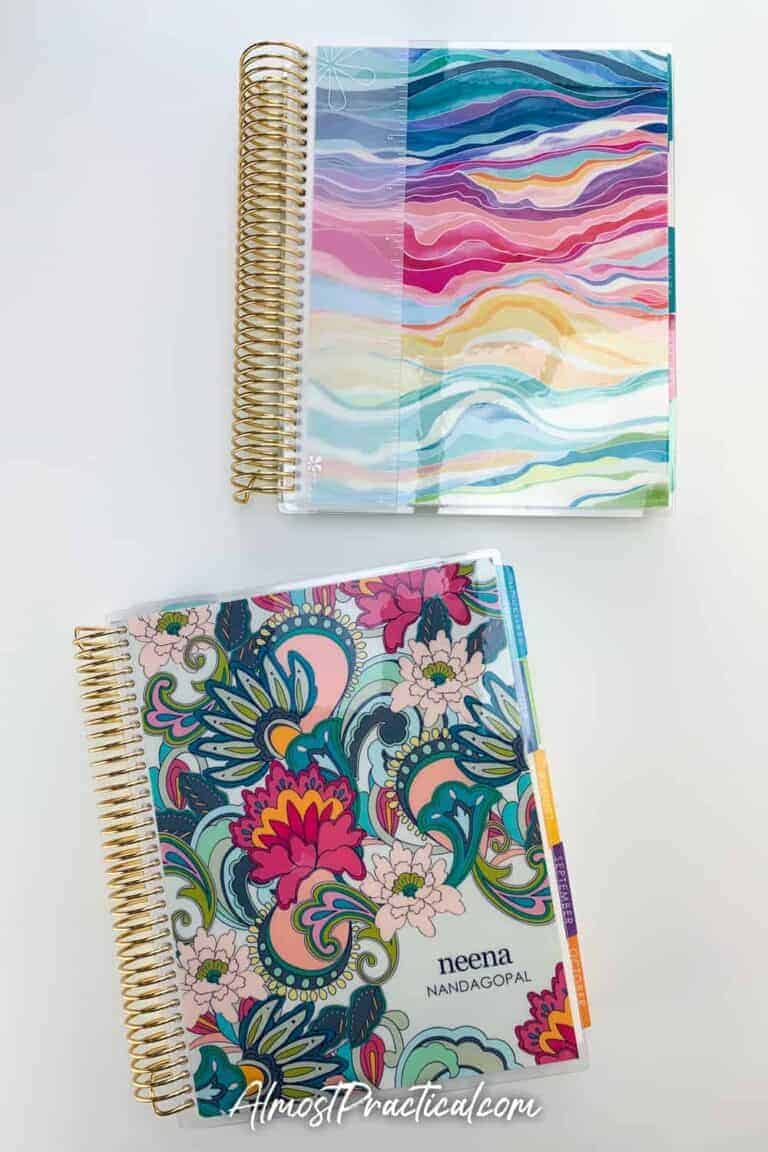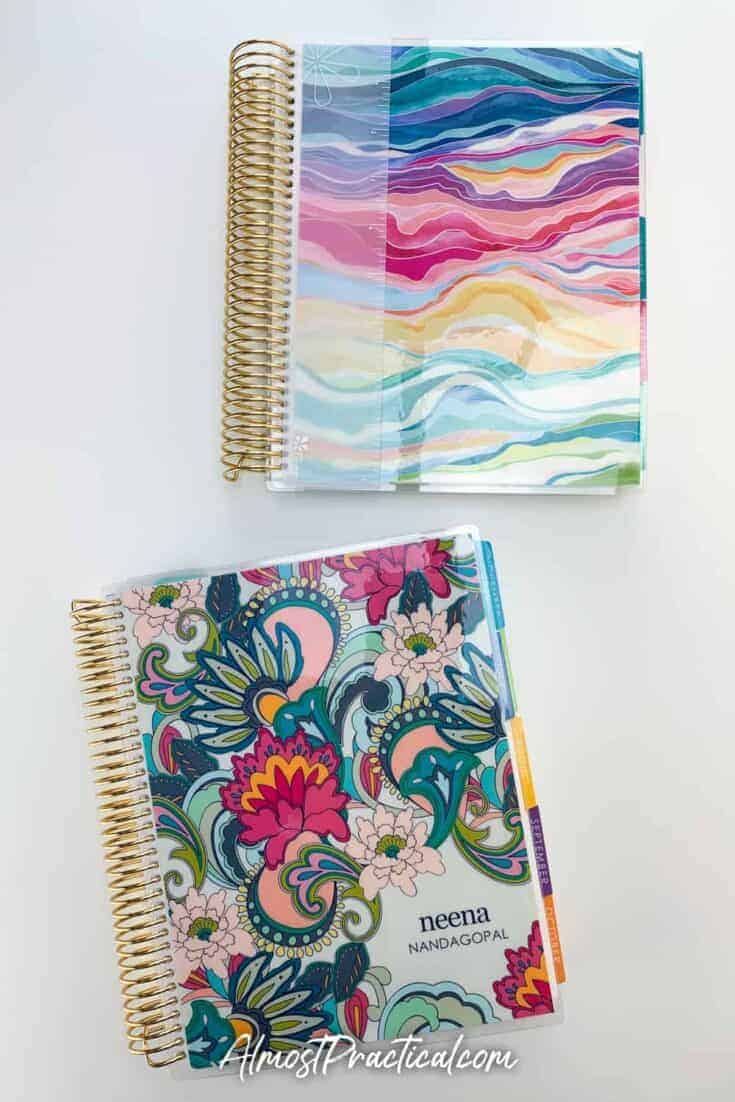 What is the Daily Duo?
Earlier this year, Erin Condren introduced a new version of the LifePlanner called the Daily Duo.
This planner is essentially one page per weekday, with both Saturday and Sunday sharing a single page.
Because the one page per day layout is a lot of pages – the Daily Duo is actually two books instead of one.
Each book holds six months – but they are sold as a set of 2 books – hence the name Daily Duo.
You can see my full review of the Erin Condren Daily Duo LifePlanner here.
Why I Chose the Daily Duo Planner
For the first half of 2020 (before the Daily Duo was introduced) I was using an Erin Condren LifePlanner in the hourly layout.
I liked this format a lot because I could see a whole week of my plans on one two page spread.
However, the hourly layout had it's limitations.
There just wasn't much space to jot down notes or create a daily to do list.
To make up for the lack of space, I would use sticky notes, snap in dashboards, and/or a supplemental petite planner to capture my planning overflow.
Honestly, it worked well for me.
But, when the Daily Duo debuted, I was drawn to it primarily because of the planning space that it offered.
At this point I would love to say that the Daily Duo is everything I wanted and more.
And in some ways it is – but maybe it is too much of a good thing.
Let me explain this by going through the pros and cons.
Related: Erin Condren Goal Setting Journal Petite Planner Review
Pros – What I Like About the Daily Duo
As I mentioned, the Daily Duo has PLENTY of space for all my planning.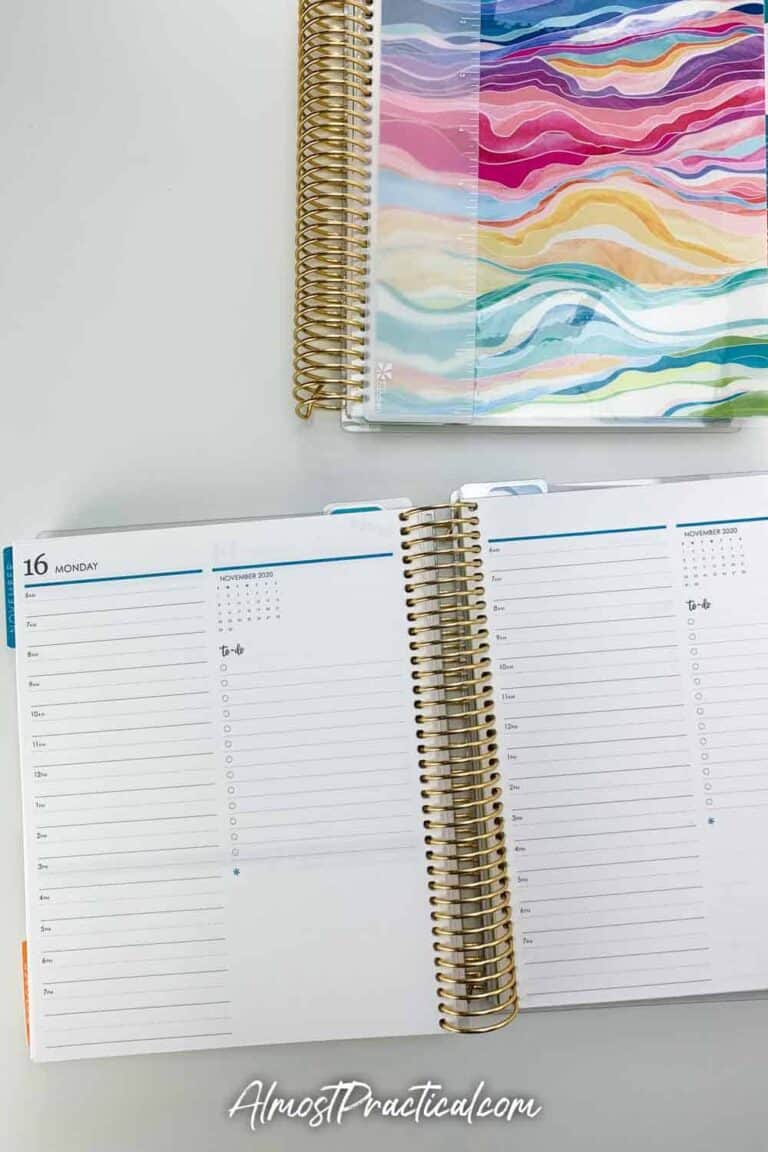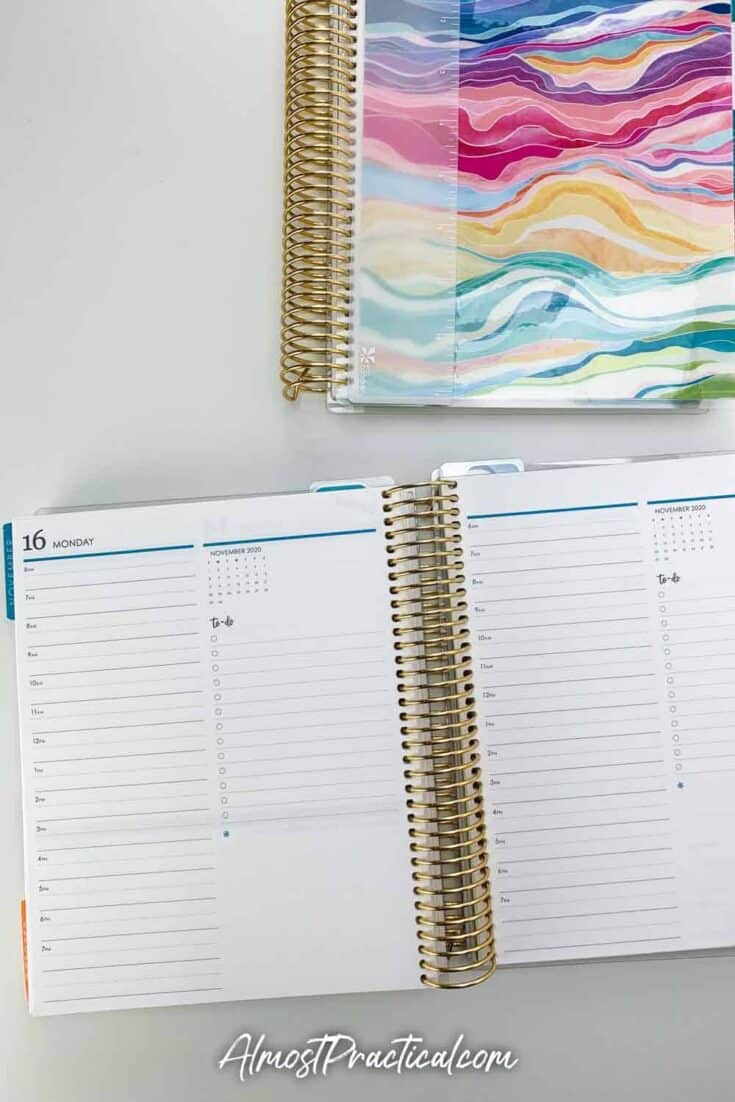 There is a 2 page monthly spread at the beginning of each month – which I use as my high level view of all my important appointments and events.
This is followed by 2 Productivity Pages where I keep a running To Do list of the month and also keep track of projects, highlights, books I read, and more.
Then you go right into the daily pages where you have an hourly column for planning out your day, a "to do" list column, and a blank section for notes.
There is tons of space.
At the end of the month there is a blank lined page which I use to journal a monthly reflection.
Because each volume of the Daily Duo only has 6 months of pages, the book itself is a manageable size.
I also like that I can sort of reevaluate my planner after 6 months. If I want to switch back to the hourly LifePlanner, I can fill up one book and make a clean break halfway through the year. (of course, I would be wasting the second book in that case).
It's perfect.
Except for one con.
Cons – What I Don't Like About the Daily Duo LifePlanner
All that space is fabulous – until it isn't.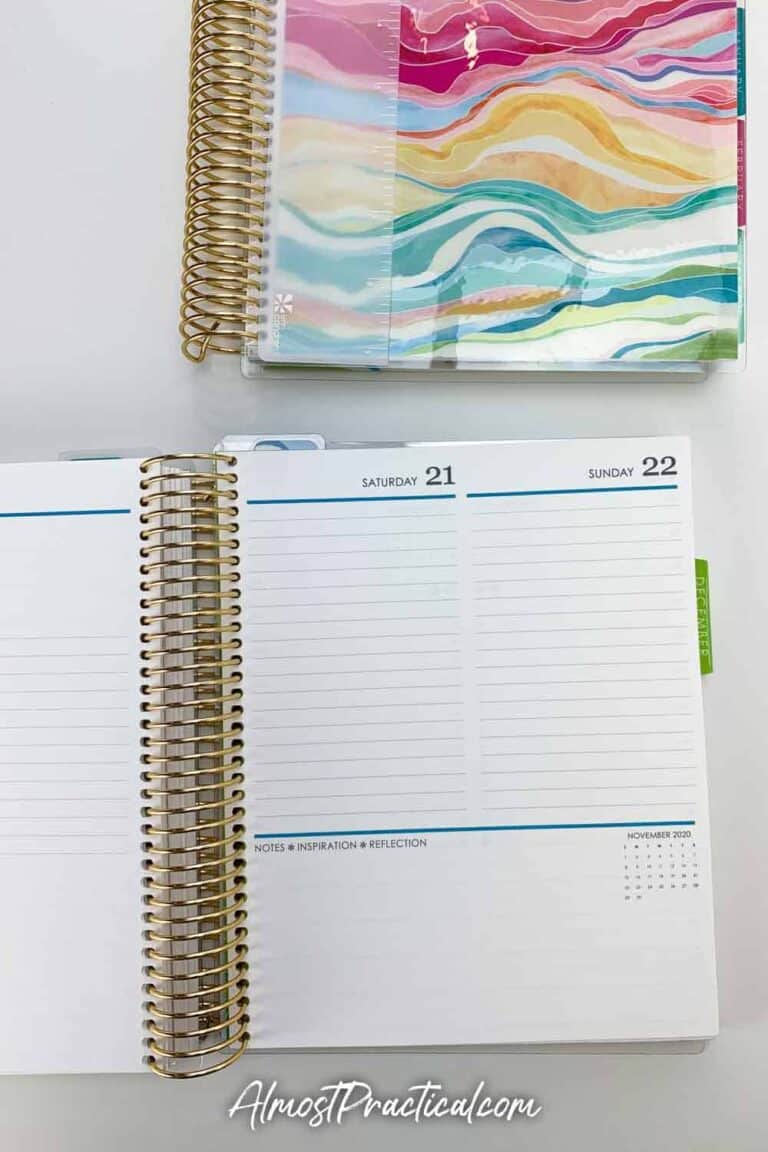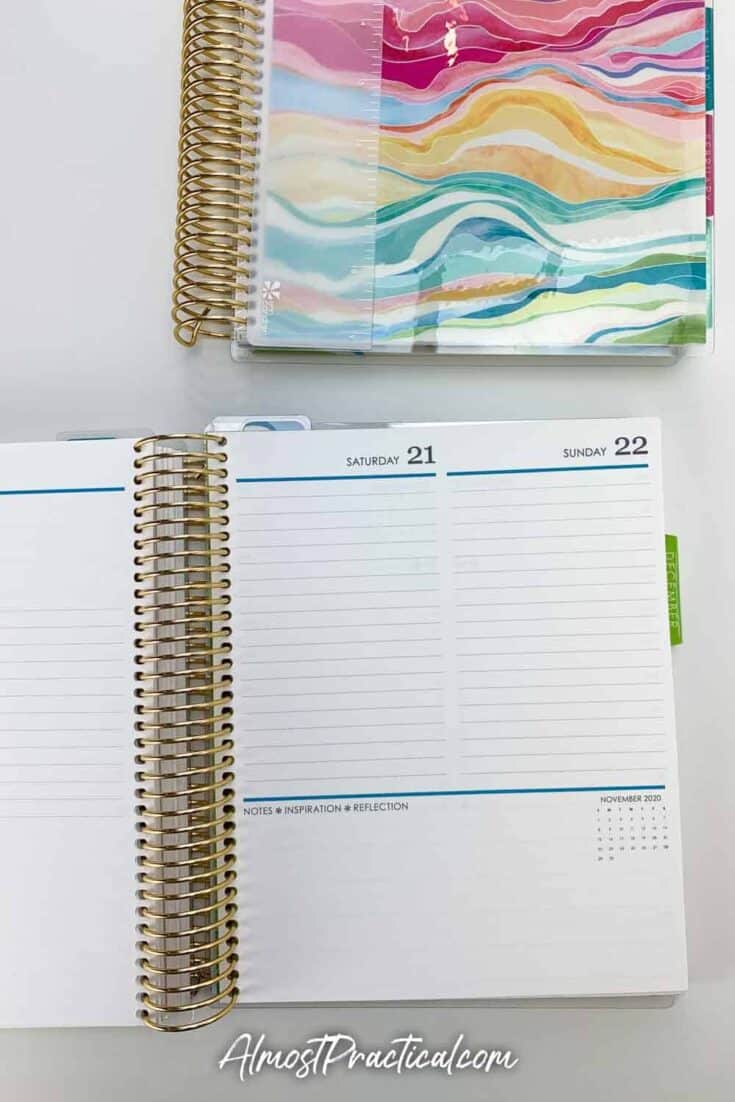 There are days that I honestly don't have much to write.
I mean, I am busy, but if I am sitting and writing an article all day – well I don't need a whole page to plan that.
So, there are some days or weeks that are just kind of blank.
And somehow that puts pressure on me because I feel like I need to fill it up.
Yet, there are other days when I am on a super tight schedule, take lots of notes, and meticulously track my to do items. On days like this – I fill up the entire page with notes and sometimes even spill onto the next one.
In my Erin Condren Hourly LifePlanner, my weekly layouts were generally packed no matter what I had going on.
Did It Meet My Expectations?
The Daily Duo is really good, maybe too good. 😉
At the end of the day, I think that I will be sticking with my Daily Duo because I really do love it.
You can see more detail into how I use the Daily Duo here.
Which Erin Condren LifePlanner layout is your favorite? Leave me a comment below.