Erin Condren Desk Accessories and 2020 Back To School Collection
This post may contain affiliate links which means I make a commission if you shop through my links.
 Disclosure Policy
Disclosure: Product for this post was provided by Erin Condren. All opinions are my own.
You may be familiar with the Erin Condren LifePlanner – but did you know that the company makes awesome desk accessories, too?
Today is Launch Day for a ton of Back to School accessories. But guess what? They are not just for students.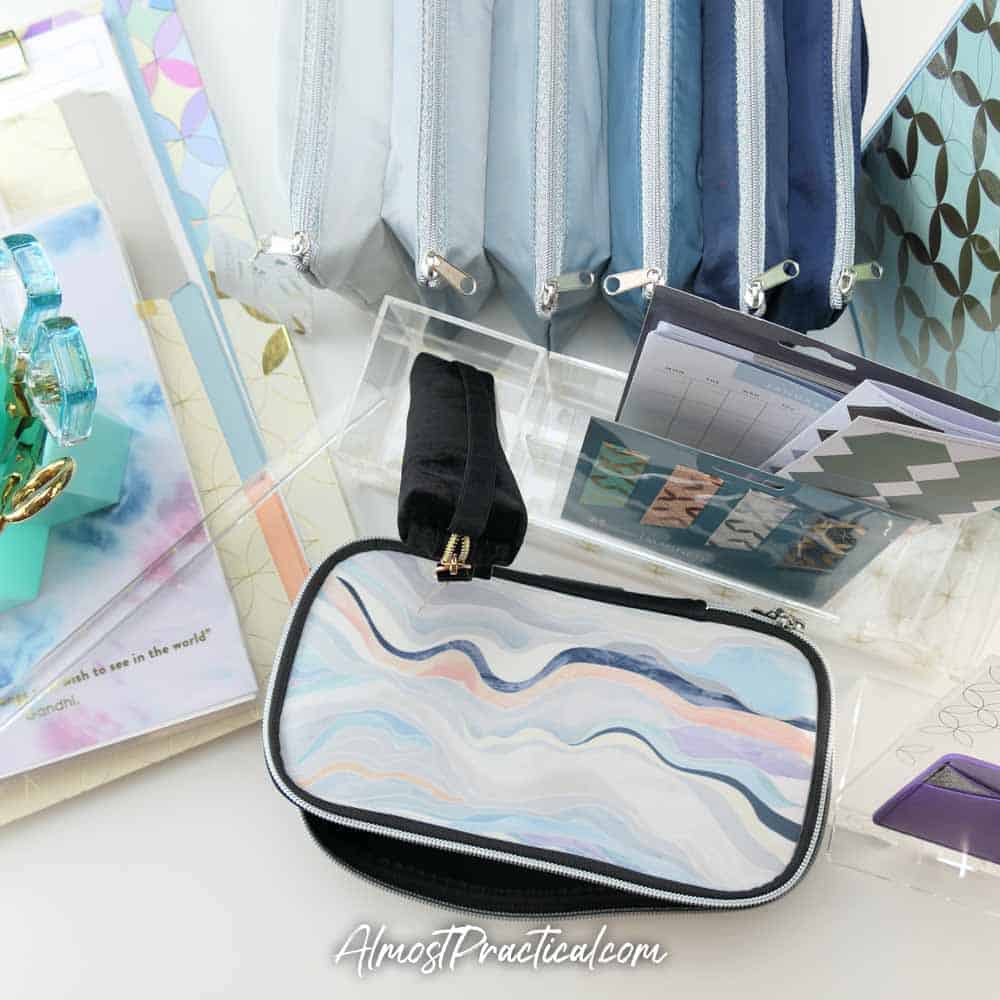 You can use these to dress up your own home office desk or your place at work.
And there are lots of tools for on the go planning as well.
Stick with me, and let's explore this fabulous collection together. Also be sure to check out my review of the all new Erin Condren Lap Desk here.
Acrylic Desk Stand
I think my favorite item in this collection is the Acrylic Desk Stand.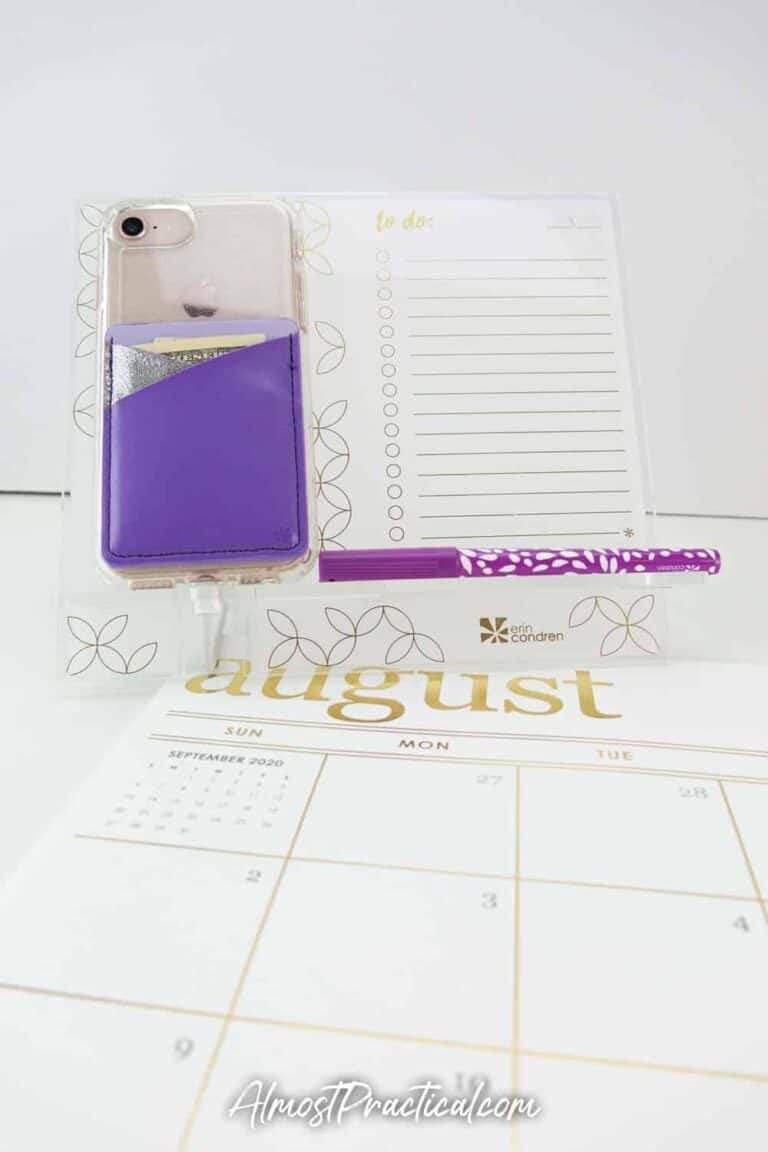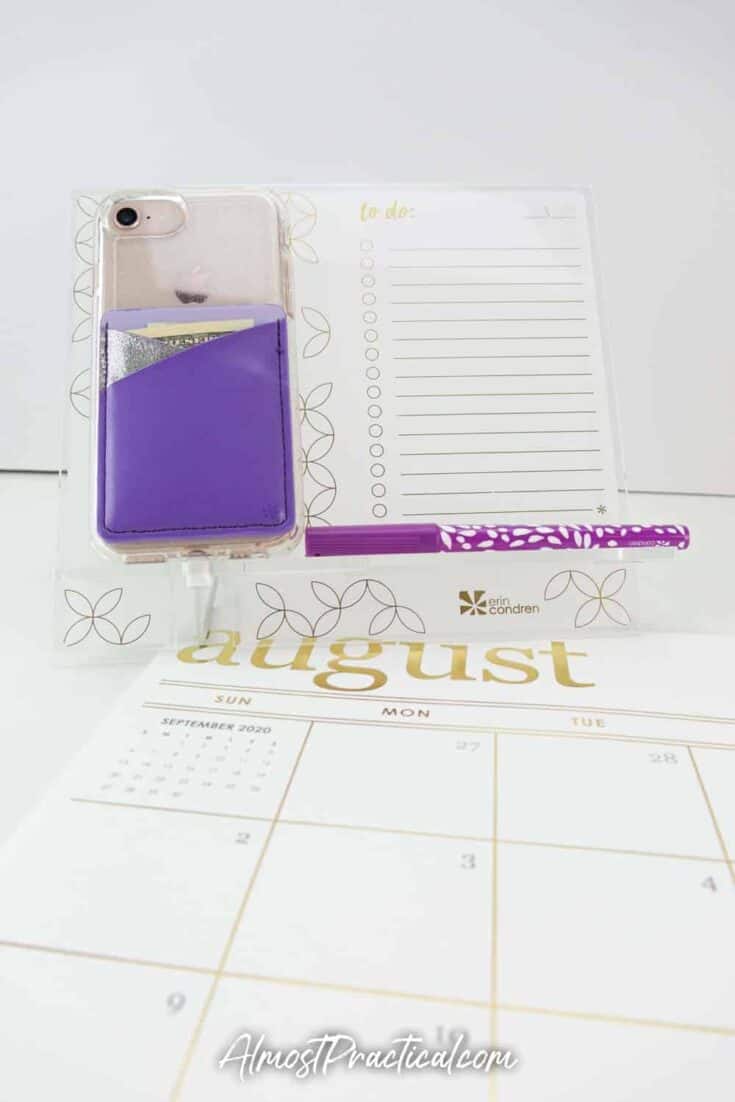 It does double duty as a phone stand and a wet erase board for your to do list. There are even openings in the base for you to snake your charging cable through.
You can use any wet erase markers to make your to do list, but Erin Condren has several sets on the website.
The Desk Stand itself comes in 2 designs – the Mid Century Circles that you see here, and a Focused Design.
Phone Card Holder
New to Erin Condren is a very pretty phone card holder.
This is an adhesive backed pocket that you can stick onto the back of your phone case.
It is not repositionable, so be careful when you stick it on.
This pocket is perfect for storing your student ID, a couple dollars, your license, or a credit card.
I found that the back section was better for money, because it was a little too tight for a credit card. But a card fit comfortably in the front diagonal.
This phone card holder comes in three colors:
Blush Glitter
Pastel
Purple Glitter (pictured here).
Desk Organizer Sets
Included in this collection are two fun options in desk organizers: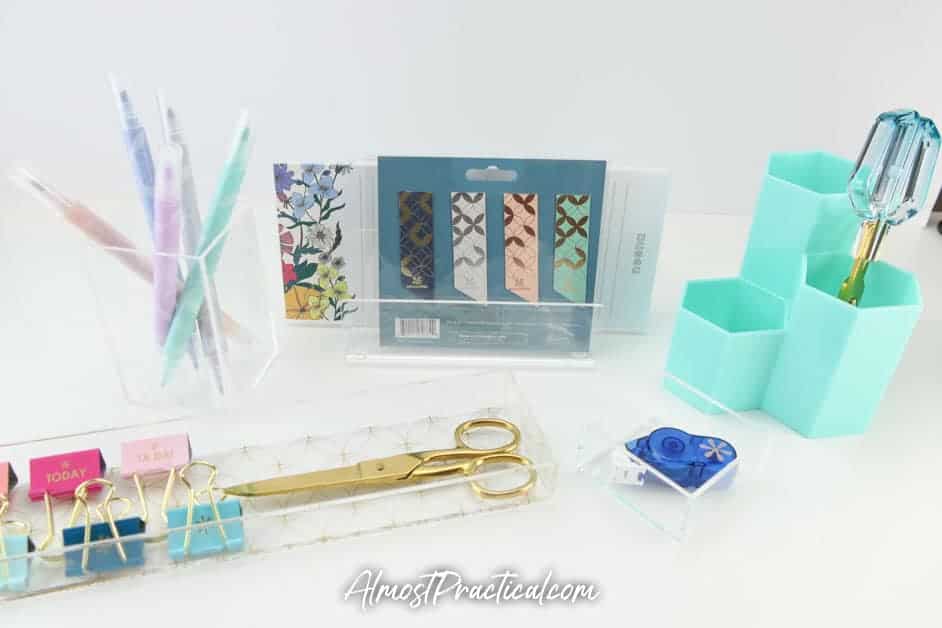 Nesting Desk Organizer Set
I just LOVE this desk set! It consists of 4 pieces:
a longish tray with the Mid Century Circles design on the bottom,
a letter organizer,
a pencil cup, and
a small square catch all – perfect for smaller items like the new Productivity Binder Clips and the like.
All of the pieces nest into the long tray for storage (but who is going to be storing this beauty!? You will want this out on your desk for sure!)
Hexagon Pencil Holder
The Hexagon Pencil Holder are 3 hexagonal shaped cups that sort of fused together, so it is a one piece unit.
Each cup is a different height, so you can store pens, pencils, and accessories with different heights.
More Back To School Supplies
Also picture here are:
Magnetic Bookmarks (mid century circles design – other designs available)
Glue Tape Duo
Flower Power Notepad
Scissors Galore
Every desk needs a pair of pretty scissors. With this collection you get 3 options to choose from.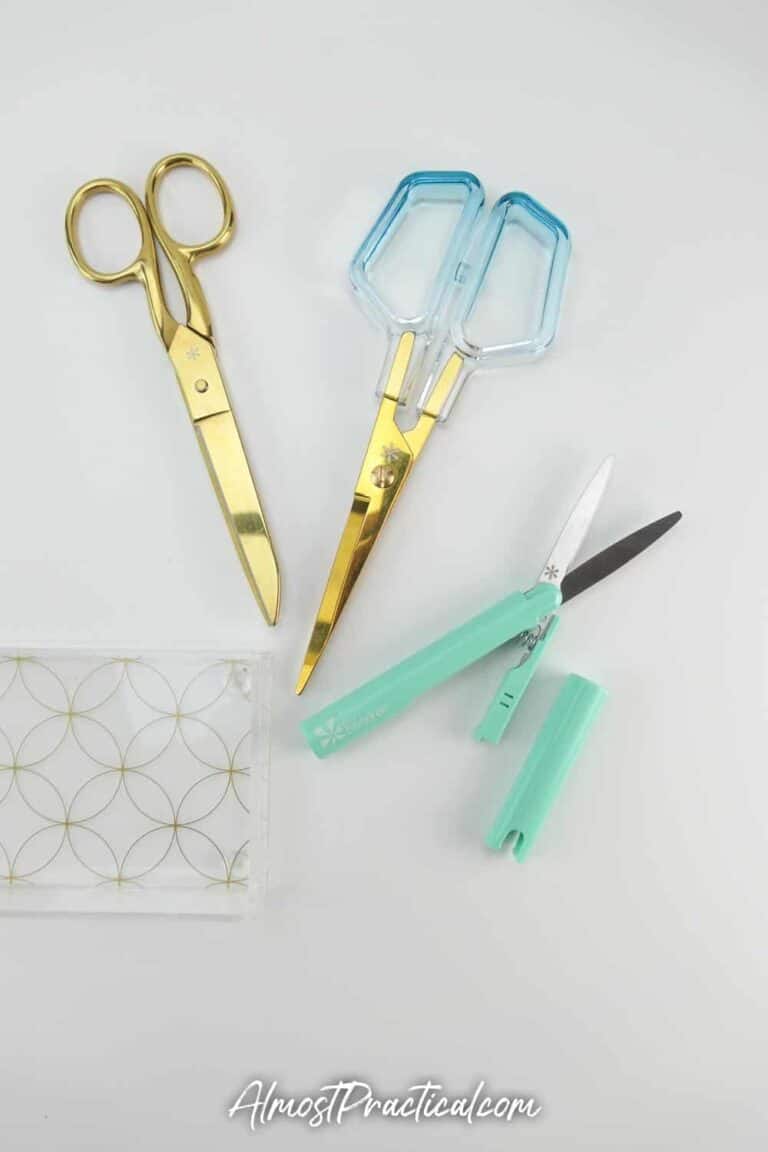 The Gold metal scissors are gorgeous. They are sturdy and have a nice weight to them.
Another choice are the Turquoise Ombre Acrylic Scissors. These have gold colored metal blades and plastic handles that go from turquoise to clear.
So pretty!
Finally, there is a set of Pocket Scissors. These are compact scissors that collapse into a case that is the size of a pen.
If you purchased the Erin Condren Summer Surprise Box, you will be familiar with these.
Pencil Pouches
Every planner girl knows that you need to carry your supplies in style.
The 2020 Erin Condren Back to School Collections has you covered with lots of options.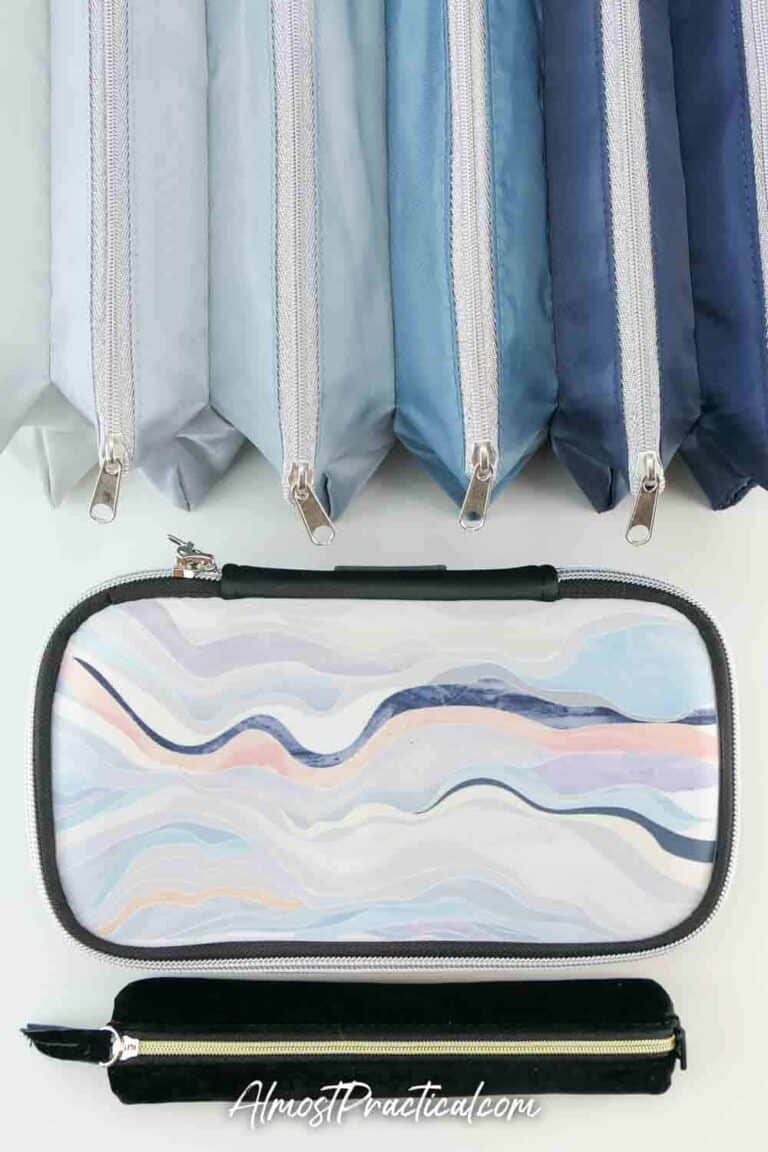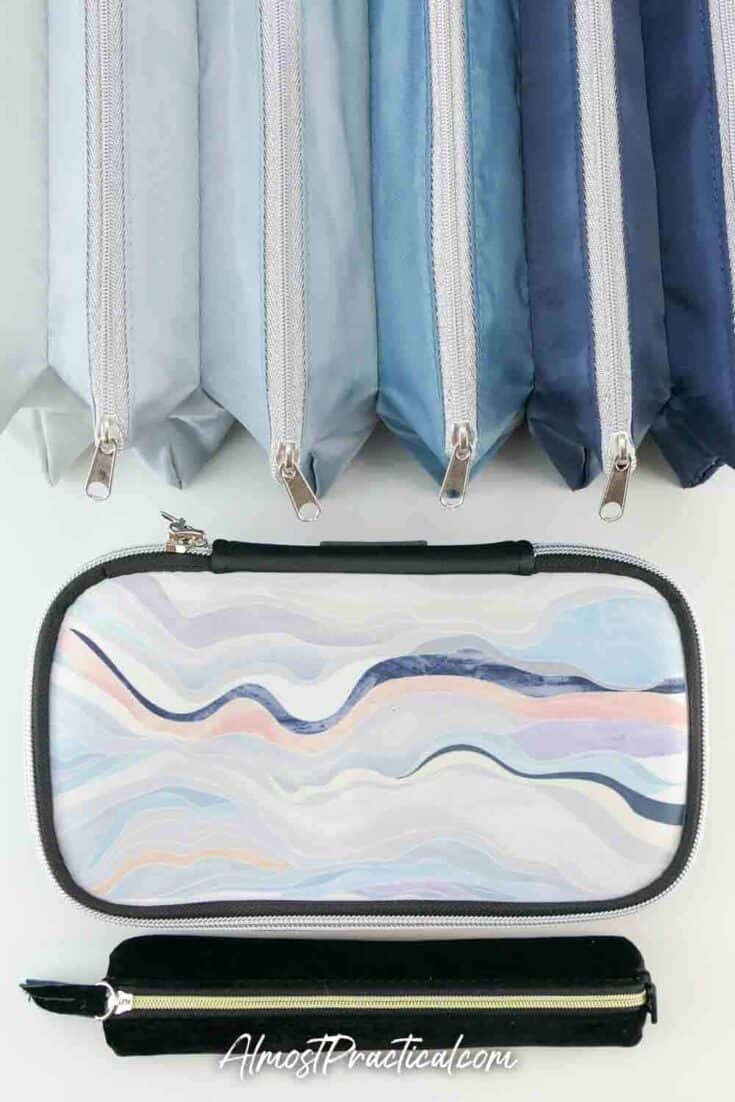 Accordion Pouch
The best news is that the popular Erin Condren Accordion Pouch is BACK.
It is available in 2 colors – the navy ombre that you see here and a plum version as well. Both colors have silver zippers.
If you have the previous multi color version, you will notice that the fabric on the new version is softer, lighter, and more supple than before.
I like the new material better because it not as stiff.
Neoprene Pencil Case
The roomy neoprene pencil case has loops to hold 10 of your favorite pens plus a deep pocket for all of your supplies.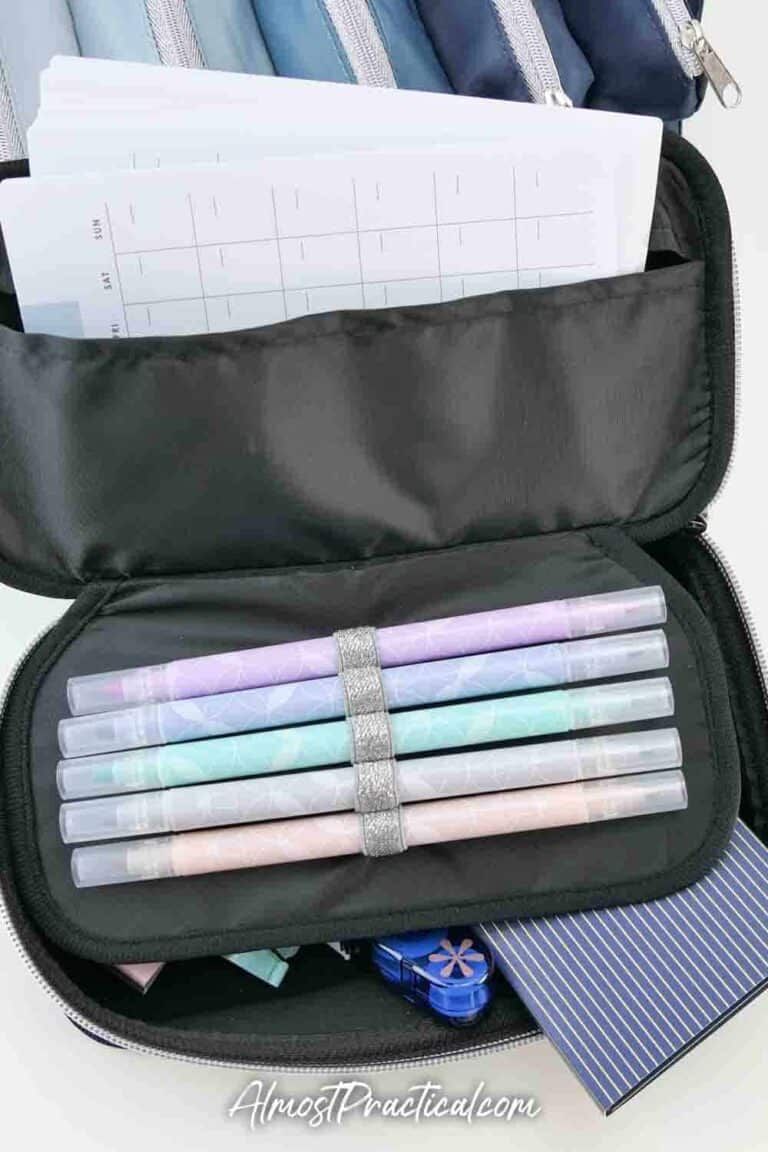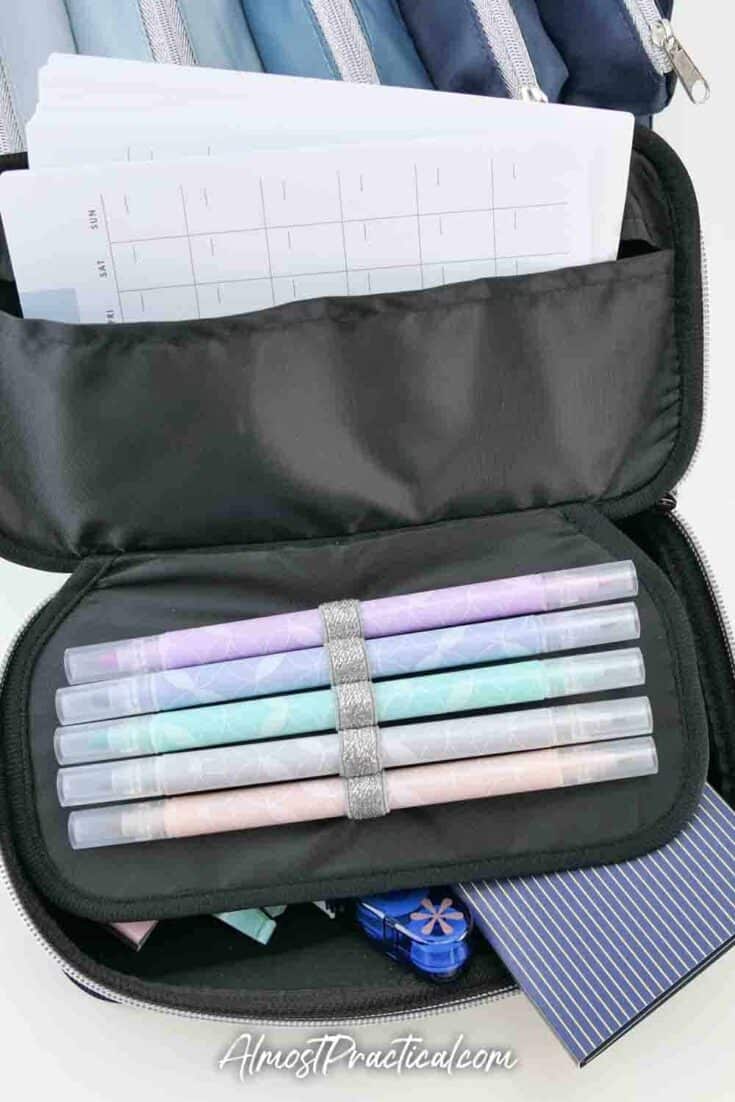 It comes in the Layers neutral that you see here and a Layers colorful version as well.
You can see my full review of the Erin Condren Layers Collection here.
Pencil Pouch
The black velvet pencil pouch that you see here is perfect for holding a few of your favorite pens and a small ruler like this gold one.
It has a gold zipper and an elastic band on the back so you can wrap it around your LifePlanner where it does double duty – you have your planner supplies on the go and the pouch serves to keep your planner closed and secure.
This pouch comes in the black velvet that you see here, as well as a new pink corduroy option.
Pastel Highlighters
Another highlight of this Back to School Collection is a set of Pastel Dual Tip Highlighters (see what I did there? 😉 ).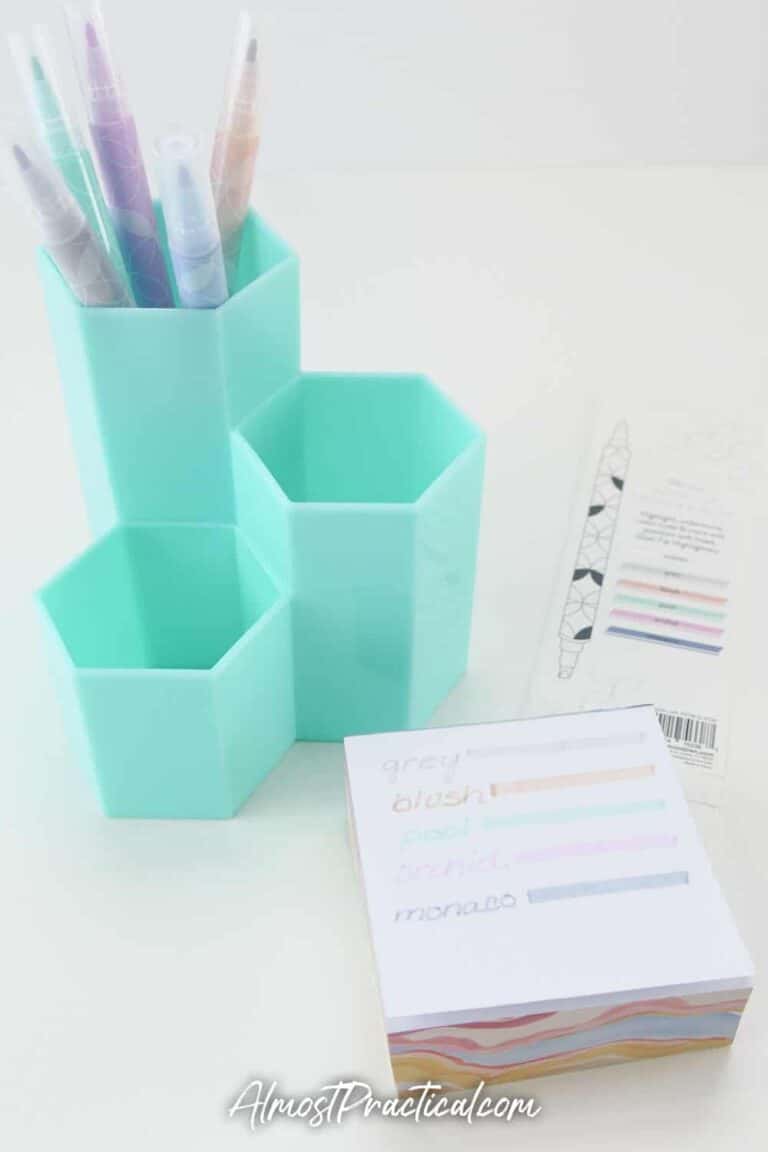 This set of five pens have a highlighter nib on one end and a broad tip marker on the other.
The shades are so pretty and muted – not like the neon highlighters that you find in a standard office supply store.
Layers Memo Cube
I tested them out on the new Layers memo cube that you will also find in the store.
This is a convenient scratch pad that you can store in plain sight right on your desk.
Just a note that these notes are NOT sticky – they are just plain paper and designed to be used for notes.
Metal Clip Pen Holder
Have you ever noticed that whenever you need a pen, you can't seem to find one?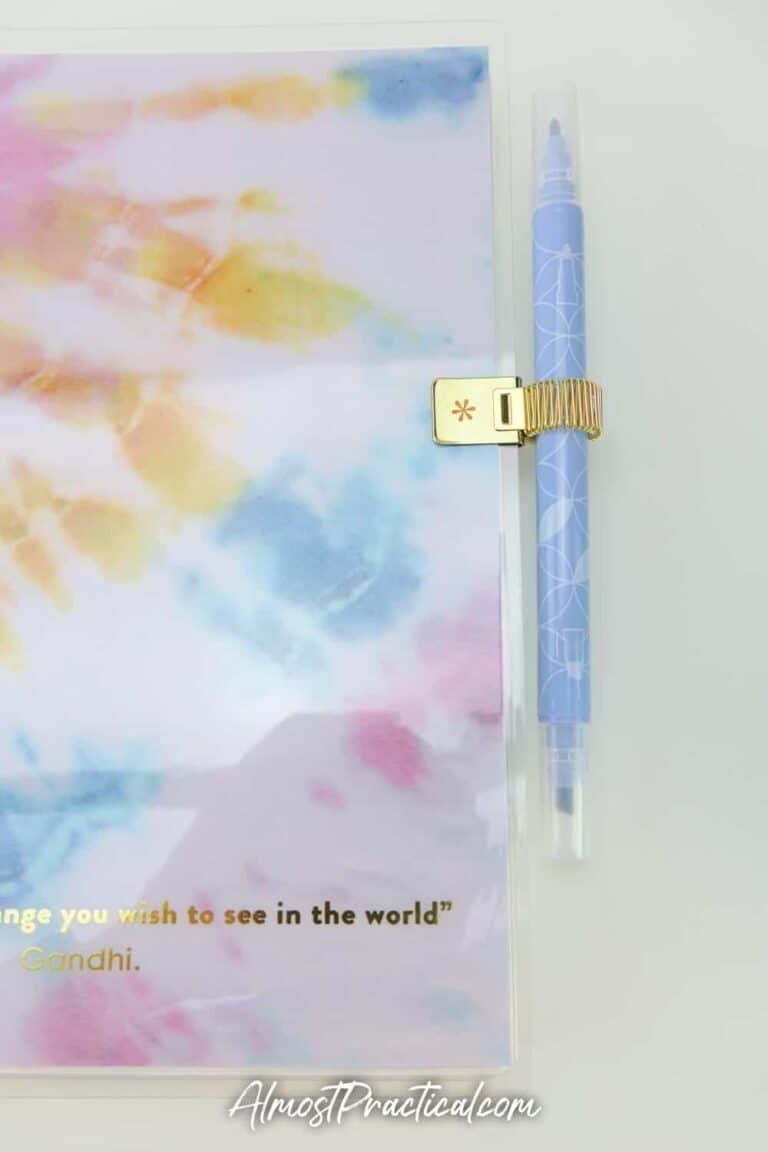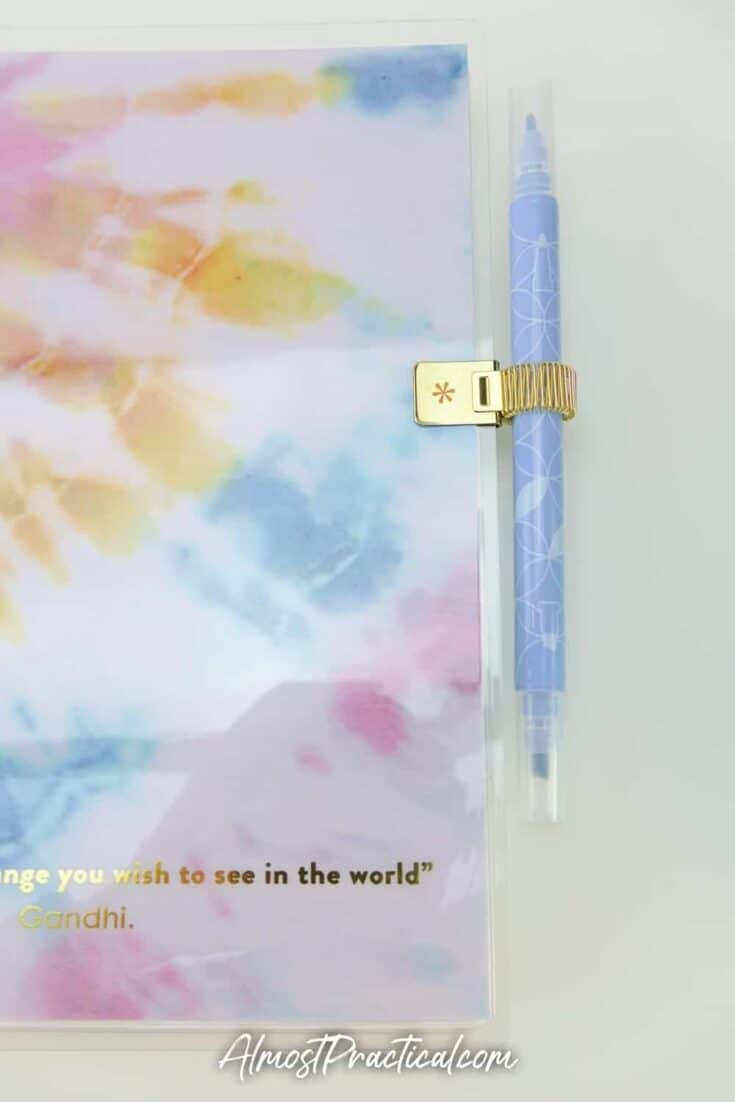 With the Metal Clip Pen Holder – problem solved!
This fancy accessory simply clips onto any page and even some planner covers.
So, you can move it from book to book.
The spring-like pen loop is stretchy so it can accommodate different sized pens, as well.
It is definitely a conversation starter, too.
Petite Planner Holder and Cover
Erin Condren Petite Planners are an awesome way to plan – you can read my Petite Planner Folio review here.
The more you use them, the more you accumulate. And after awhile, you need a place to store them.
Enter the new Petite Planner Holder.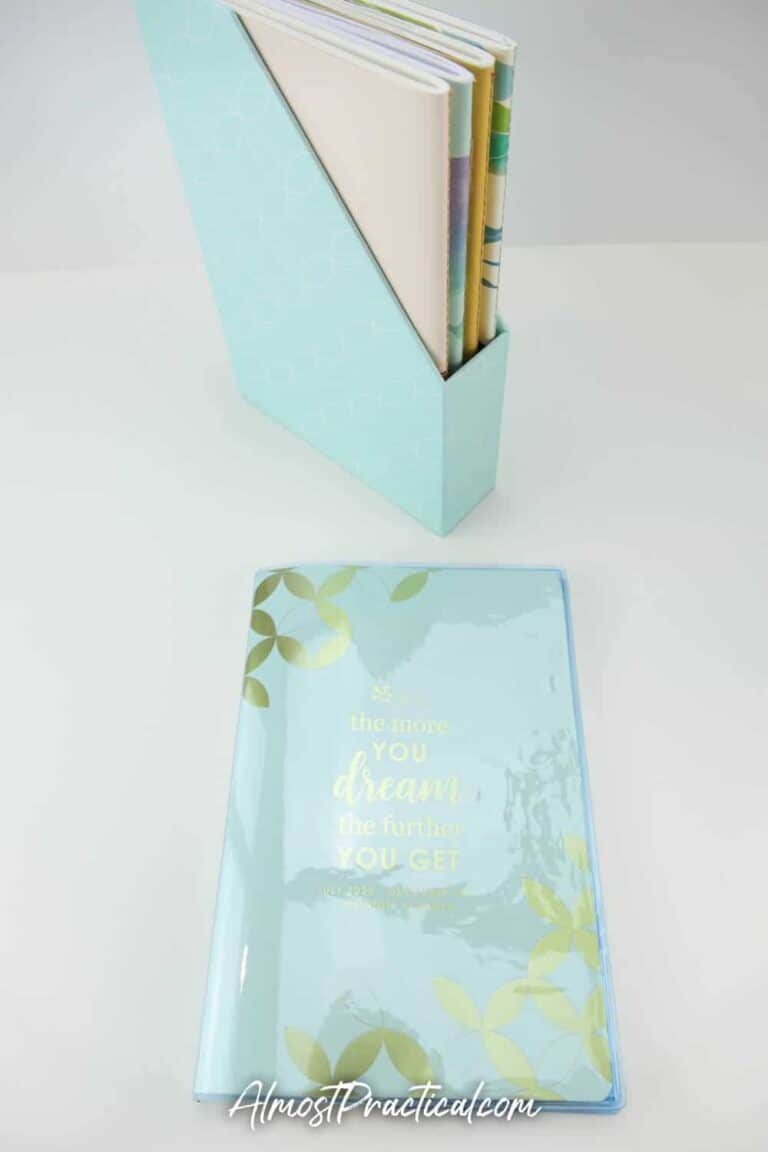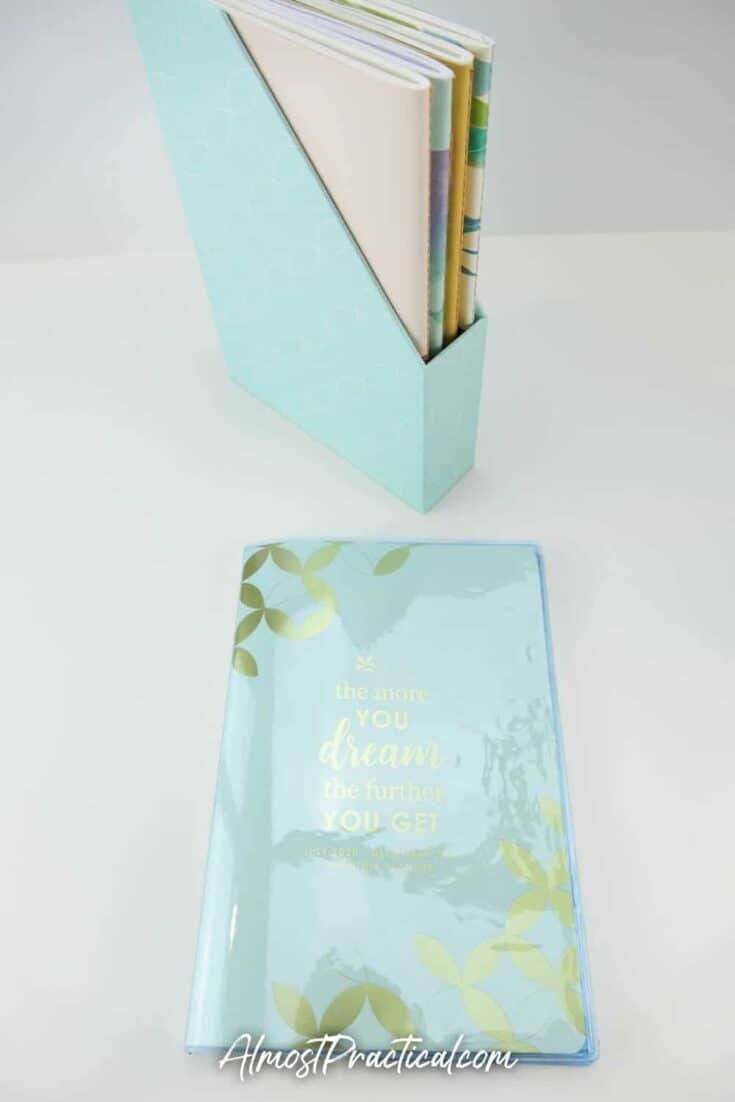 It holds up to four Petite Planners and fits nicely on a shelf.
In addition to the holder, Erin Condren introduced a new Petite Planner Cover.
This will protect a single Petite Planner, if you don't want to carry a whole Folio around with you.
Clipfolio and File Folders
The Back to School Collection includes some gorgeous file folders in both a Mid Century Circles Design pictured here, and Layers Colorful. These designs are no longer available but you can find some really cute file folders here.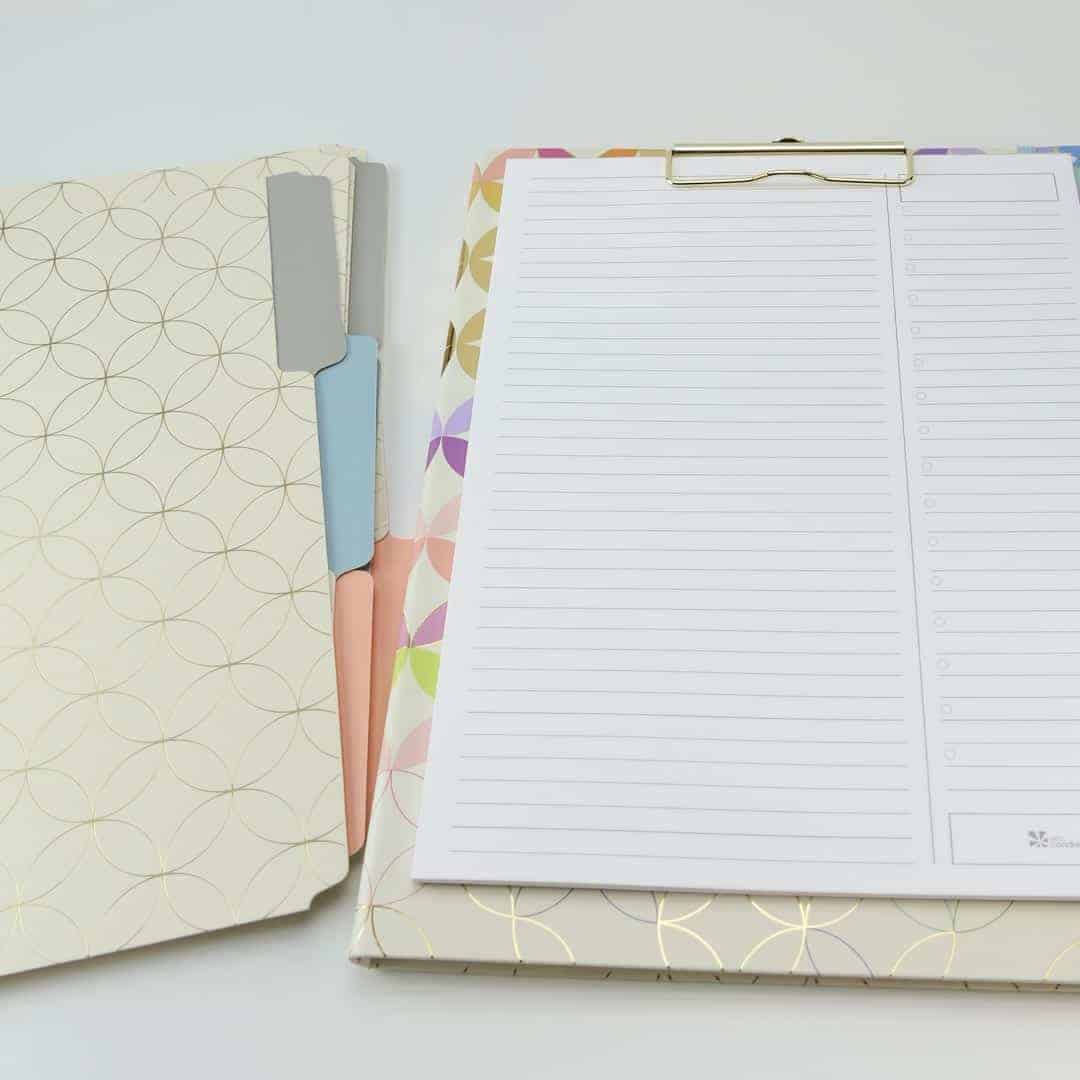 The file folders are beautiful and really dress up your desk.
There is also a Clipfolio that comes in several design options (Mid Century Circles pictured here).
I like the Clipfolio. The included notepad features a productivity layout and is printed on high quality paper.
The folio itself is covered cardboard, which I feel could have been a little more sturdy.
However, the design is nice and it looks great – especially if you give presentations or are taking notes during an interview, etc.
Inside the Clipfolio there are 2 pockets for holding papers and the like.
Even More Planner Accessories
Pictured here is the
Undated Calendar Stickers
one of my FAVORITE items – the Clear Prism Ruler.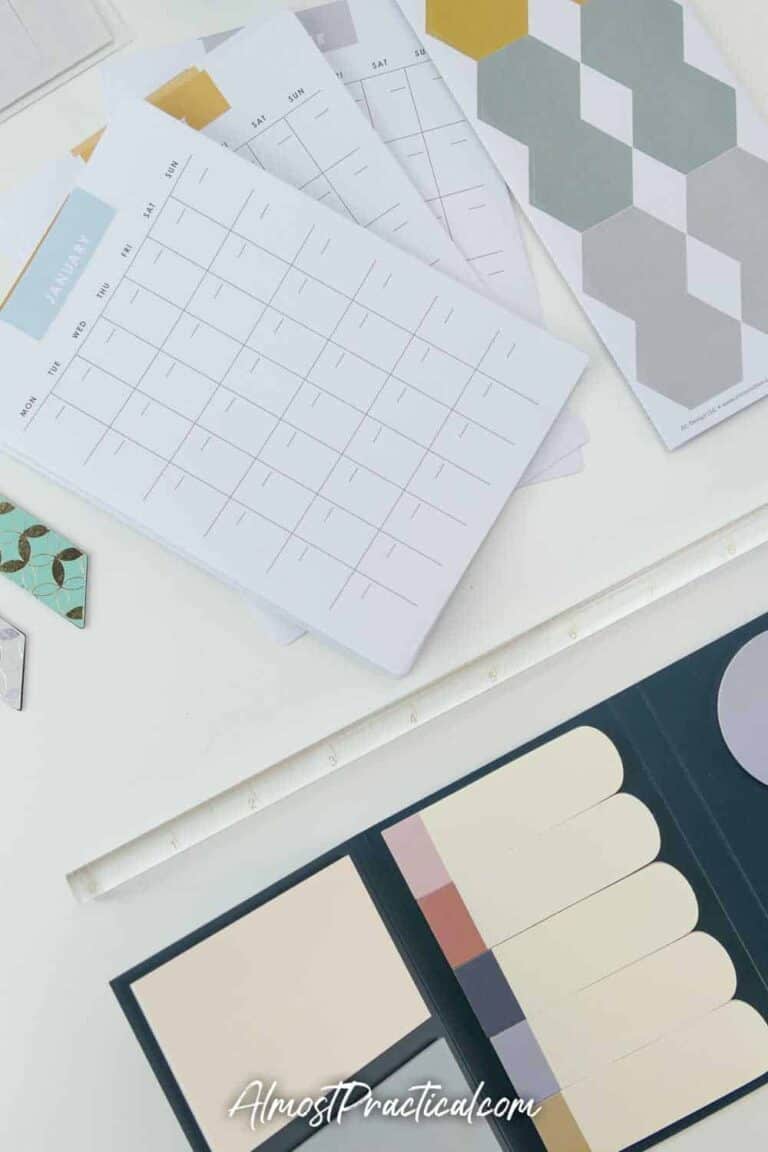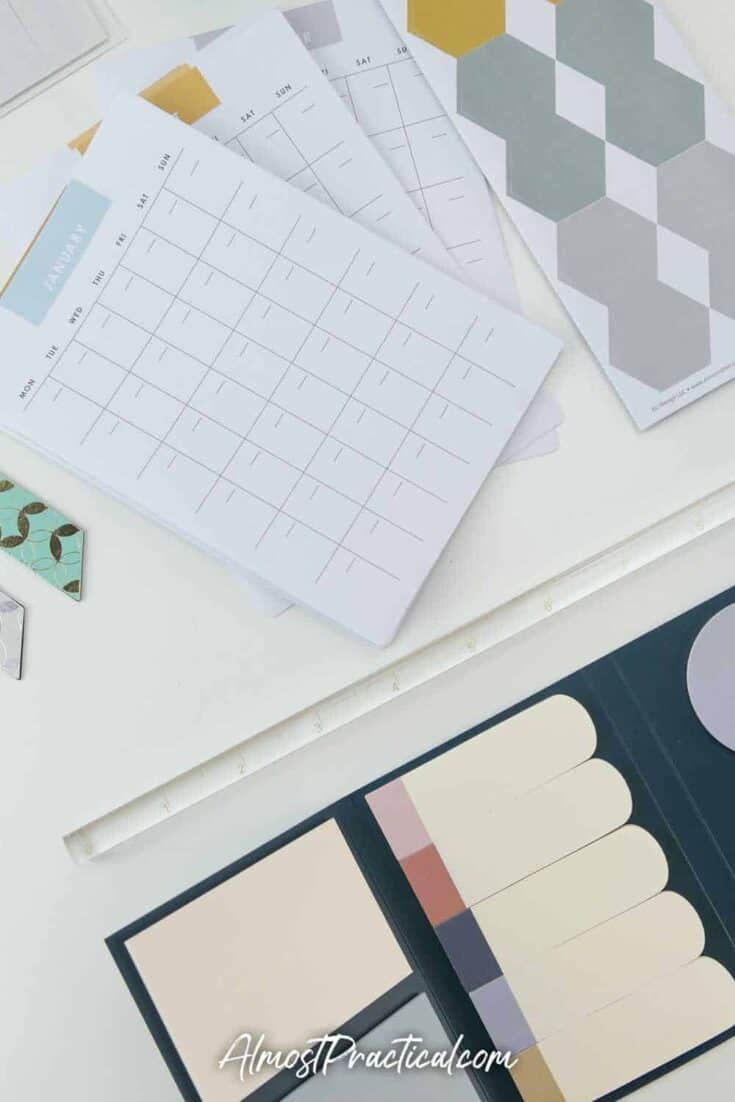 In Summary
There are so many fabulous items in this collection that I am getting tired of writing – if you can believe it!
I know I mentioned so many items in this article – so here is the low down on where you can find everything: