See a Preview of the Stunning New Erin Condren Layers Collection
This post may contain affiliate links which means I make a commission if you shop through my links.
 Disclosure Policy
Disclosure: I received product from Erin Condren for purposes of this post. All opinions are my own.
Today I am honored to be able to share a preview of the new Erin Condren Layers collection with you!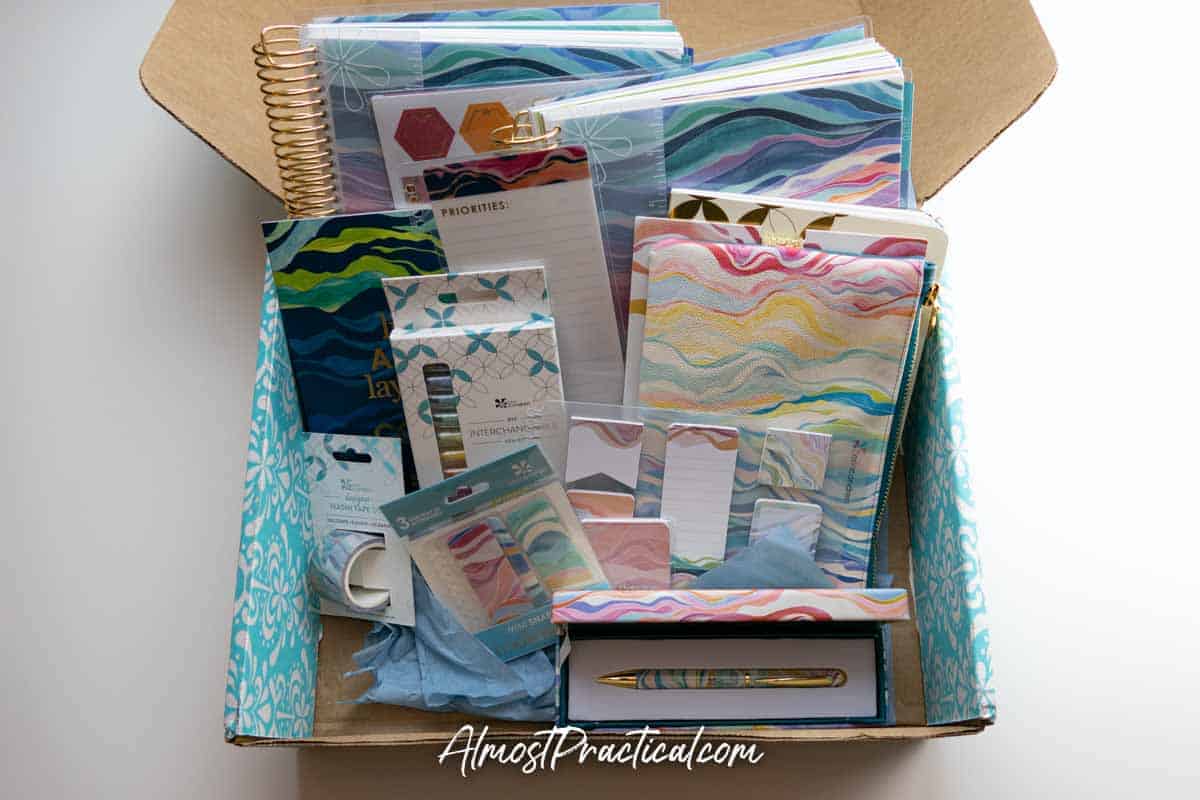 It is absolutely beautiful!
If you are not familiar, every year Erin Condren introduces a new design which she weaves throughout her planners and products.
The previous pattern was Kaleidoscope – which I loved.
But this new design – Layers – is oh so lovely.
Think about those projects of colored sand layered in a bottle.
That is what Layers reminds me of, and it builds a strong and colorful foundation for everything that you pour into life.
But enough said – let's take a peek, shall we?
Update: You can see the all new 2023 Erin Condren Life Planner Collection here.
Watch the Unboxing
You can watch the unboxing here or keep reading to see each item up close and personal.
For me, the highlight is the new Erin Condren Coiled DAILY LifePlanner.
Yes – you read that right – a coiled daily layout!
Daily Duo LifePlanner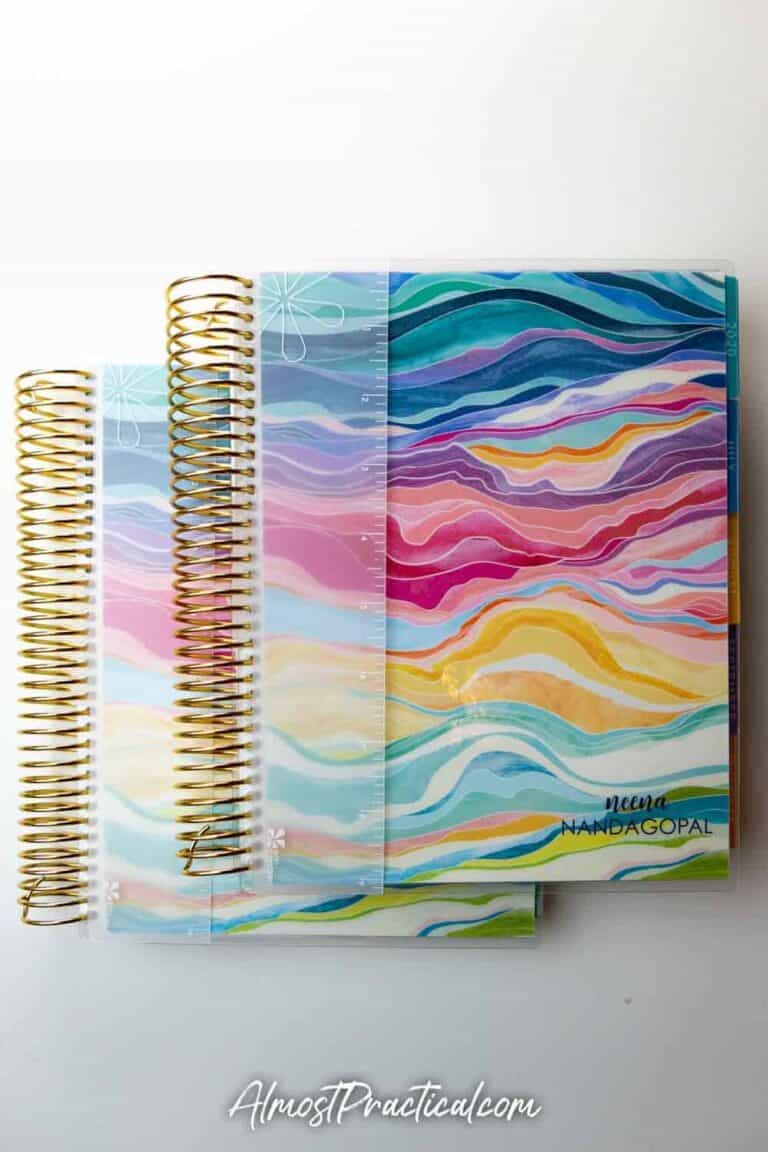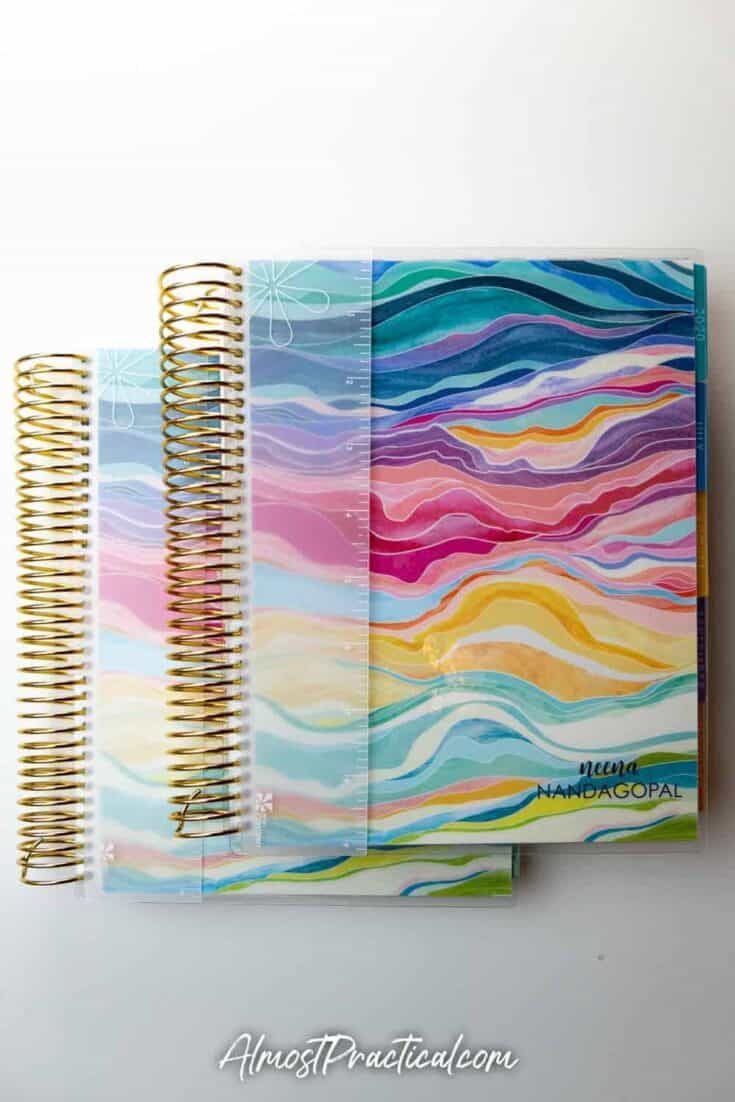 I will start with the main event. (You can read my full review of the all new Erin Condren Daily Duo LifePlanner here.)
The Daily Duo is sold as a set of 2 six month books in the colorful Layers theme.
This is exactly what you think it is – a one page per day planner (single pages for Monday through Friday – with Saturday and Sunday sharing a page).
On each weekday page, there is an hourly column that you can use to plan out your day as well as a column for your to do list.
In addition, there is a mini month, and plenty of space for notes, planner stickers, and other things that may inspire you on a daily basis.
The Layers Planny Pack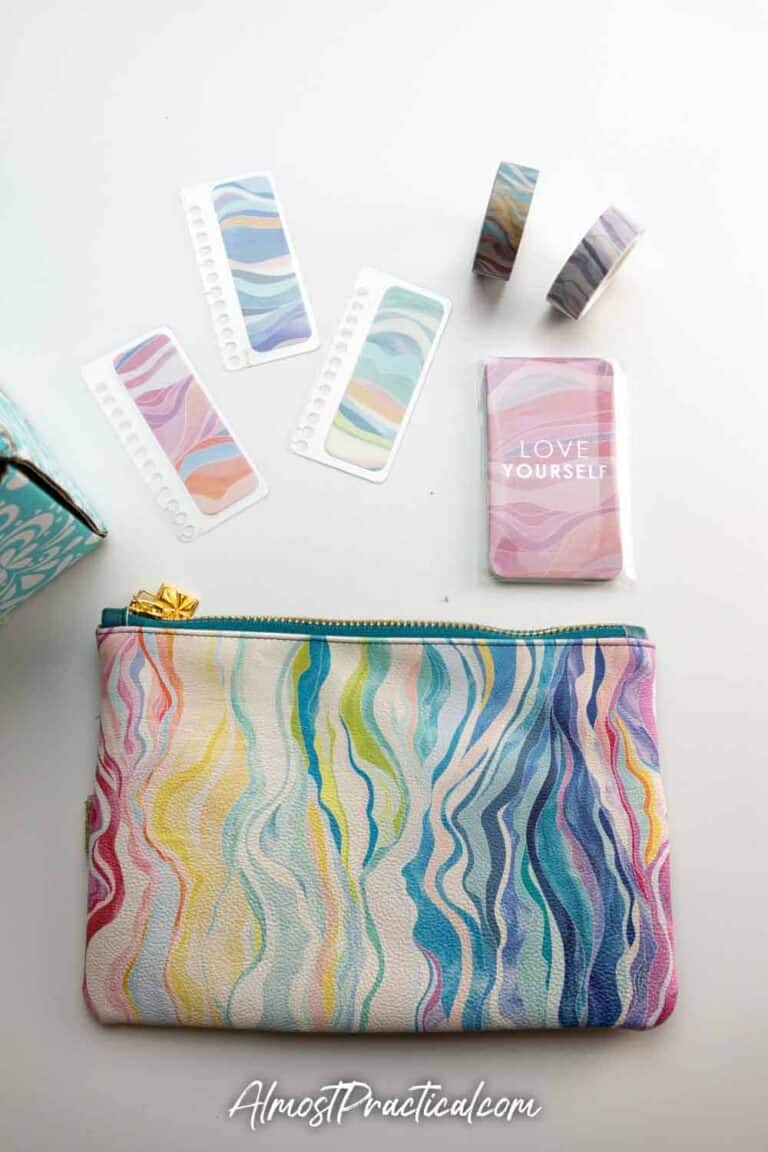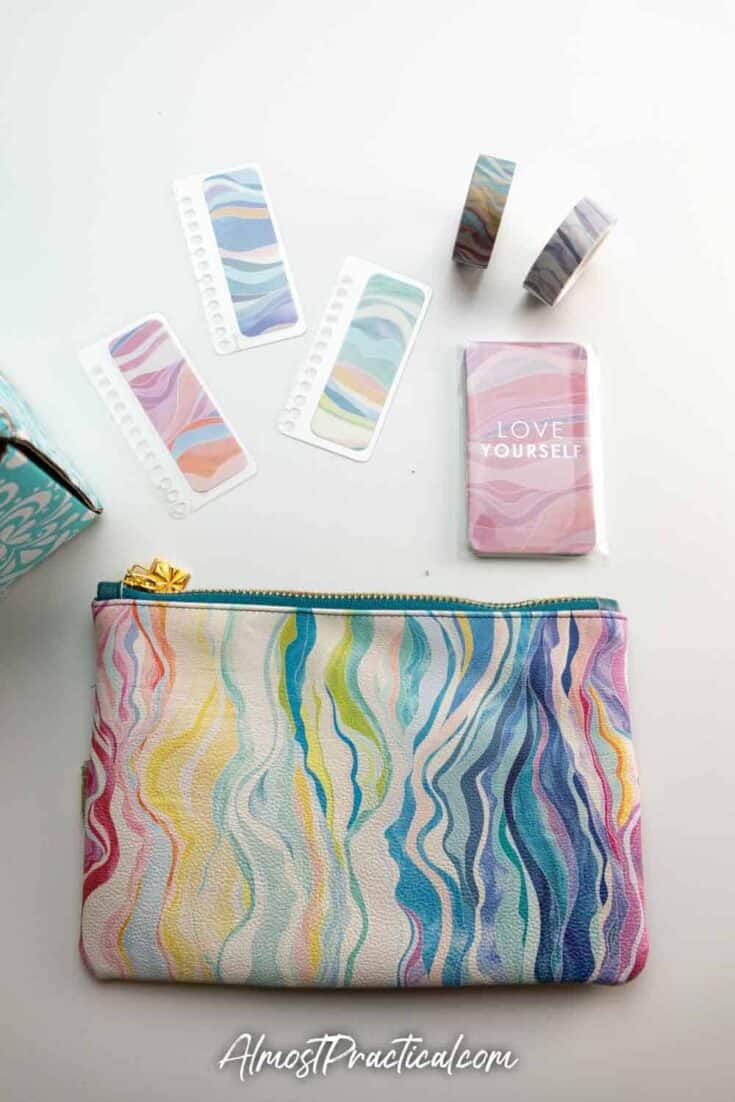 Erin Condren Planny Packs are pretty pouches that you can use to tote your planner accessories.
On the back of each one is a shimmery elastic band that wraps around your LifePlanner.
This makes it easy to keep your planner accessories and LifePlanner together and also keeps your planner closed when you carry it out and about.
You can read my full Planny Pack review here.
Planner Stickers, Washi, and Compliment Cards in the Layers Design
You can dress up your new Layers planner with lots of coordinating stickers.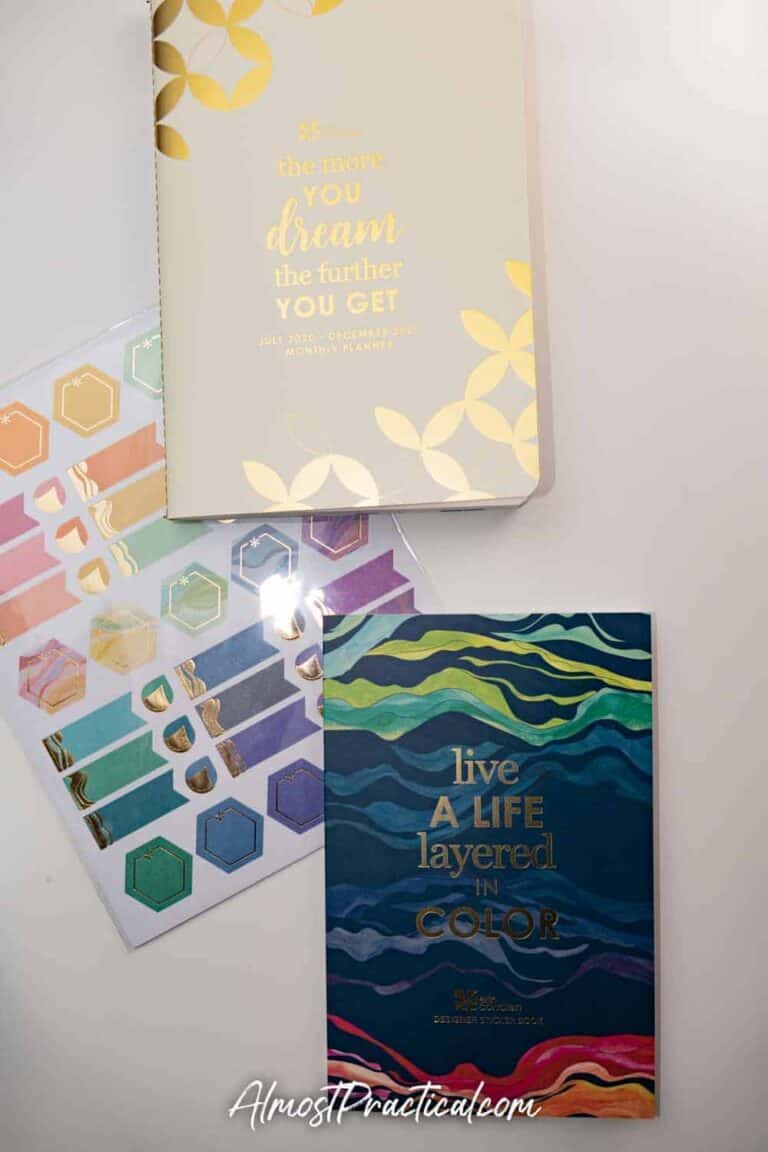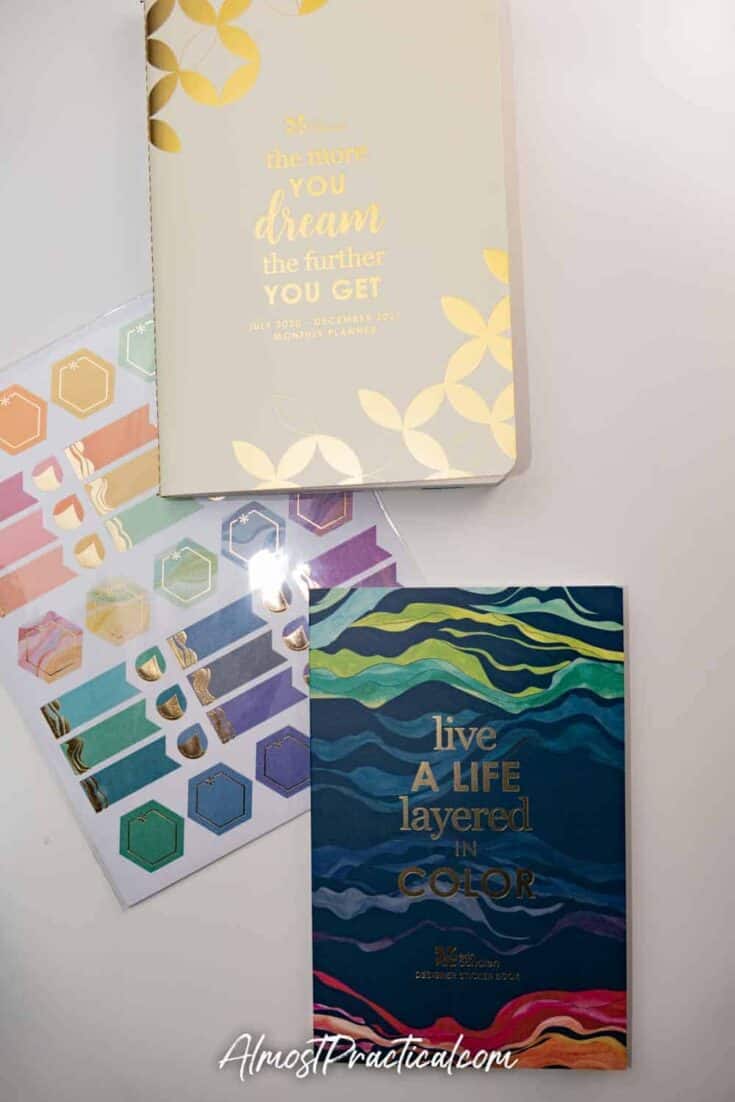 The Layers Designer Sticker Book
The new Layers Designer Sticker Book includes over 525 planner stickers featuring that coordinate with the new planner design.
These include flags, quotes, transparent stickers, washi style borders, and labels.
The metallic accents in gold, silver, and rose gold will add a touch of elegance to your planning.
You can see this sticker book up close over here.
Layers Sticker Sheets
The coiled LifePlanners come with 4 sheets of stickers at the end of each book.
But sometimes you just need a few more.
Add to your collection with these Layers planner sticker sheets.
Layers Washi Tape Duo
This set of two rolls of washi tape coordinates with the LifePlanner and stickers.
One roll is in the colorful theme and one is in the neutral color theme.
Compliment Cards
Erin Condren Compliment Cards are such a nice way to brighten someone's day.
These small rectangular cards sport the Layers design and have a motivational quote on the front.
You can add a little handwritten note on the back and give it to someone special.
When my daughter was in middle school, I would tuck one of these into her lunch every now and then as a little surprise.
Snap In Planner Accessories
One thing that I really like about the coiled LifePlanner is the snap in style accessories that are available.
These include things like the following – and they are very useful:
Pens Galore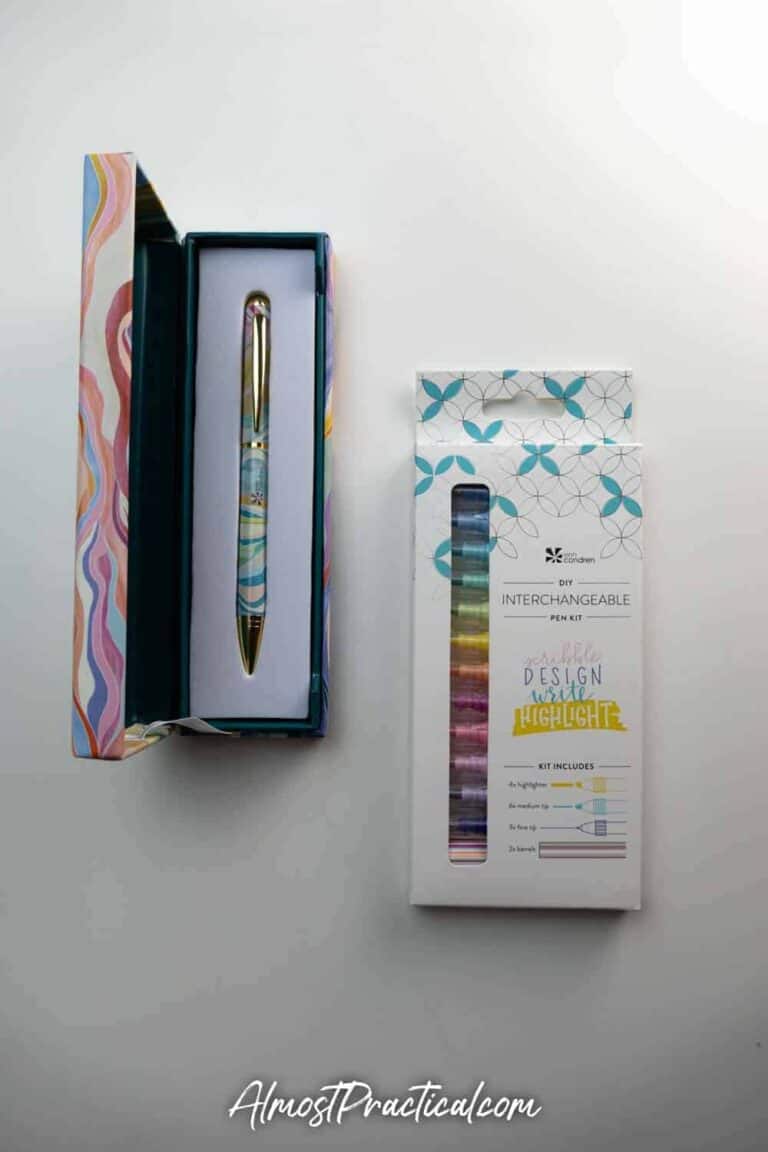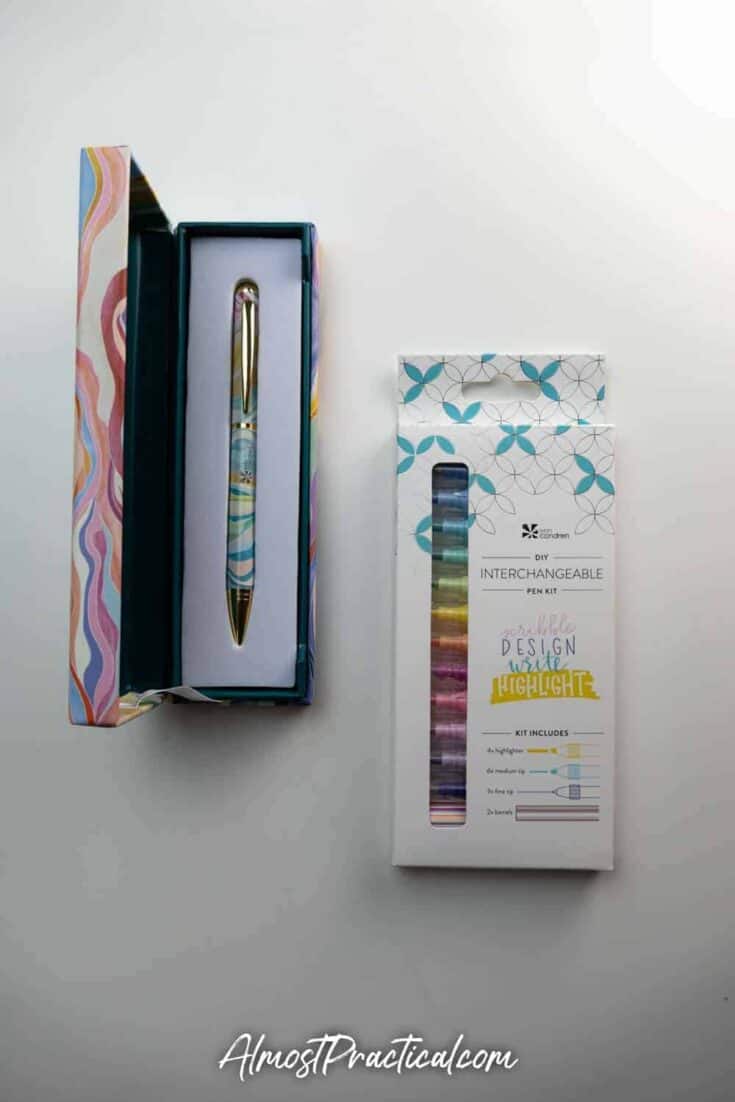 If you are passionate about planners (like me!) then you know that just one pen won't do.
You need a selection of inks, colors, and styles to dress up your planner layouts and bring attention to important events.
The Layers Ballpoint Pen
The Layers ballpoint pen is a classy addition to you pen collection.
It definitely qualifies as eye candy for your desk (and it's fun to write with, too).
DIY Interchangeable Pen Kit
If you purchased the Spring Surprise Box, then you got a little preview of the DIY Interchangeable Pen Kit.
The full kit includes two ben barrels and 13 interchangeable marker tips that you can add to either end of the barrels to create a dual tipped marker.
The tips are all different colors and come in a mix of nib styles – fine tip, medium tip, and highlighter.
Petite Planner Monthly Planner
Also debuting is a new Petite Planner Monthly Planner for July 2020 through December 2021.
This planner has monthly spreads featuring the Medieval Circles design followed by a section of 20 plus double sided dot grid pages.
Even though I use a LifePlanner as my main planner, I use additional planner for other "buckets" of my life – work, editorial calendars, courses that I take online, etc.
In Summary
As you can see, the new Erin Condren Layers Collection is just fabulous.
It will be available on April 29, 2020 and if you are an EC Insider you get access a few days earlier on April 27, 2020 (so go sign up now – it's free to do so!)
I hope enjoyed looking at this collection as much as I did.
Happy planning!