Erin Condren LifePlanner Covers for Halloween
This post may contain affiliate links which means I make a commission if you shop through my links. Disclosure Policy
Check out these Erin Condren LifePlanner covers for Halloween. If you think they are a little impractical – think again. Erin Condren sells these Halloween covers a la carte! So, you can change the look of your planner very easily.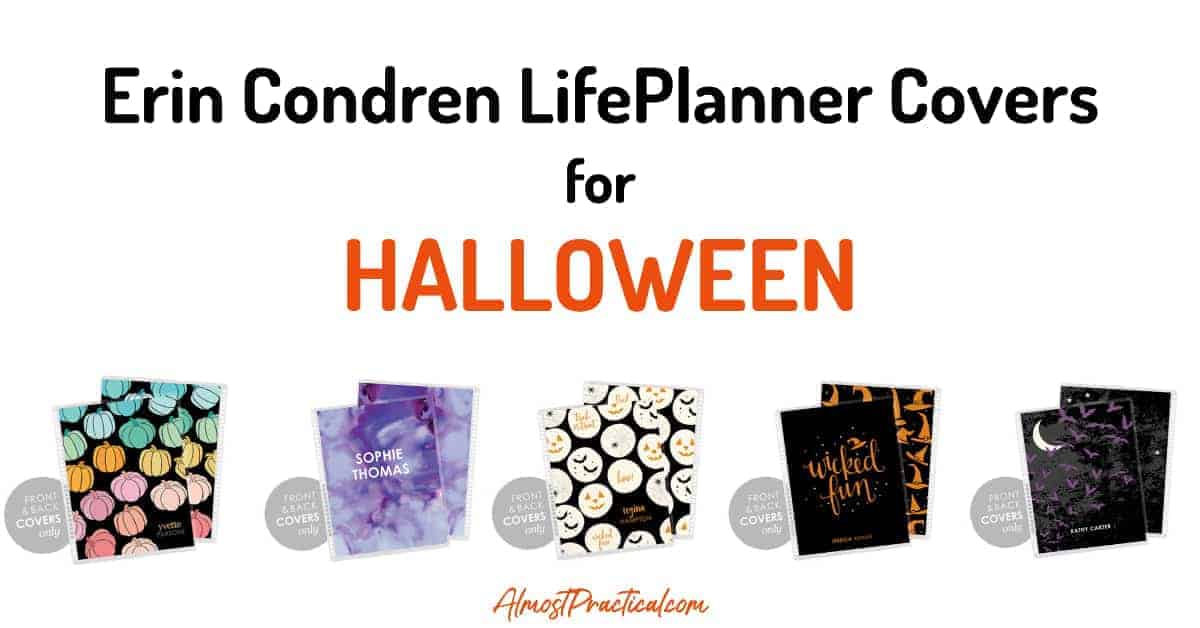 I love decorating for Halloween.
But my practical side is like a Grinch of all seasons.
Why buy something Halloween specific when you can get one that works all year round?
Nothing like rain on a parade.
Well, when it comes to the Erin Condren LifePlanner – the feeling is magnified.
You certainly don't need a new planner for each holiday.
But the Erin Condren LifePlanners for Halloween are really cute!
So how can you get one without being forced to use it all year long?
Buy an Erin Condren Halloween cover for your LifePlanner a la carte.
There are so many great designs to choose from.
Wicked Fun Covers
You can get the Wicked Fun covers for the Erin Condren LifePlanner in the traditional orange and black or customize it in a rainbow of colors of your choosing.
Spooktacular Covers
The Spooktacular covers are covered with smiling pumpkins, bats, and spiderwebs.
Bats Covers
The Bats cover shows purple bats flying out over a slice of moon in the dark of night.
But, similar to the Wicked Fun cover – you can customize this cover with the colors of your choice.
Pretty Pumpkins Covers
The Pretty Pumpkins Cover for the Erin Condren LifePlanner shows a rainbow of pumpkins on a black background.
When customizing this cover you have a choice to change the background color to white.
I rather like the white background – so make sure you look at both options before you decide.
The Art of Acceptance Gigi's Playhouse Covers
I think this one is my favorite.
The swirly purple mist design gives off an air of mystery that screams Halloween for me.
More Erin Condren Articles You Might Enjoy
Do You Need a New Erin Condren LifePlanner Right Now?
Just a little food for thought.
Right now it is September, so you might be finishing up with your old LifePlanner as the year winds down.
If you are happy with the cover you have on your current LifePlanner and are good to use it for the new year as well – you could order your new LifePlanner with a Halloween cover.
When your new planner arrives – just switch out the cover on your old planner with the Halloween and then switch it back after Halloween is over.
Then, in the new year you can use the planner cover that you are using on your current book.
Three things to keep in mind:
Because the LifePlanner is customized, sometimes your order will take a while to ship so plan ahead and order early.
These ErinCondren Halloween covers are also available for the Deluxe Monthly Planner.
Right at this moment as I type this post – Erin Condren is having a Friends and Family sale! This could end at any time, so be sure to take advantage of it!