Erin Condren Travel Journal Petite Planner Review
This post may contain affiliate links which means I make a commission if you shop through my links. Disclosure Policy
Disclosure: I received the EC Travel Journal Petite Planner from Erin Condren for purposes of this review. All opinions are my own.
The Erin Condren Travel Journal is a Petite Planner that you can use to plan your journey and keep track of your memories.
A few weeks ago, I reviewed the Erin Condren Petite Planner Folio System.
This is a folio cover that contain up to four Petite Planner Journals and Notebooks that you select based on your interests.
One such Petite Planner is the Erin Condren Travel Journal.
Today I thought I would take you on a little trip inside this journal so you can see firsthand how you can use it to organize your vacations and trips.
Overview of the Erin Condren Travel Journal
Let me start by giving you a bird's eye view of the Erin Condren Travel Journal.
This journal has space for you to plan and record memories for your travel.
Planning Your Vacation
There is space for you to plan the details of your trip – things like:
flight information
hotel reservations
rental car info
Then there is a page for your packing lists and your itinerary.
Next you will find place to plan out the things that you want to see and do.
Recording Your Memories
The next pages in the Erin Condren Travel Journal provide space for you to record the details of your day to day activities while you travel.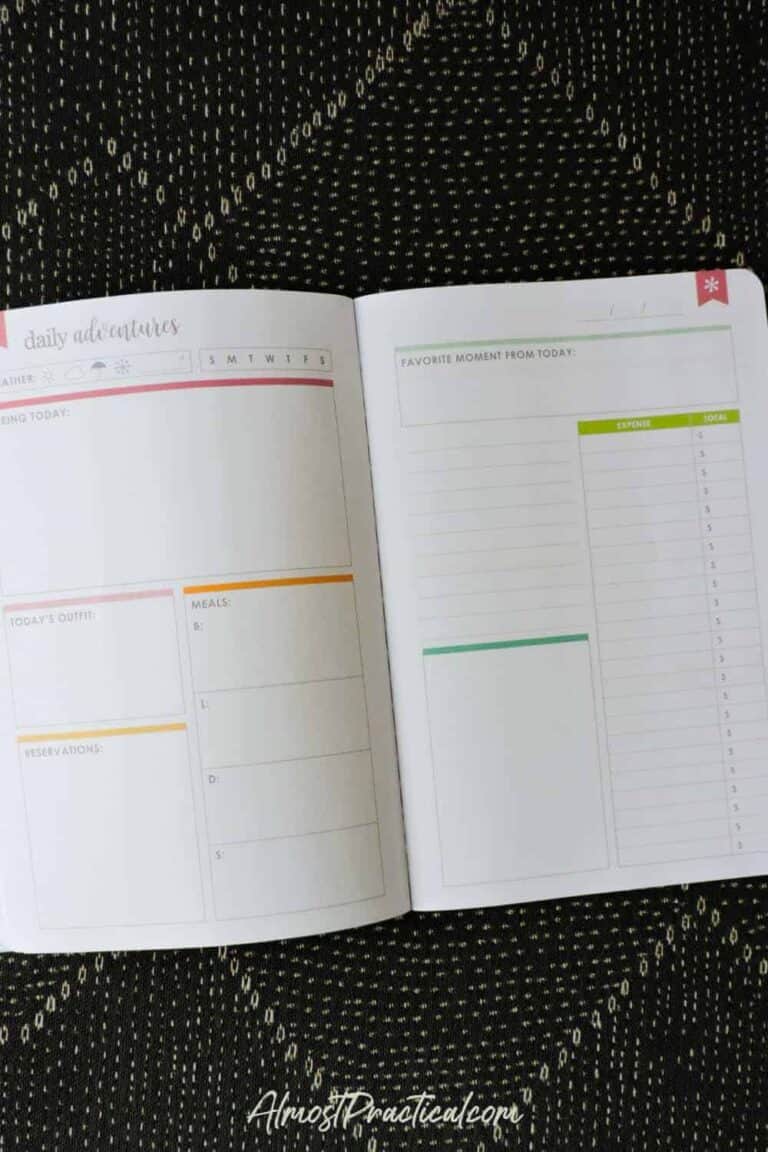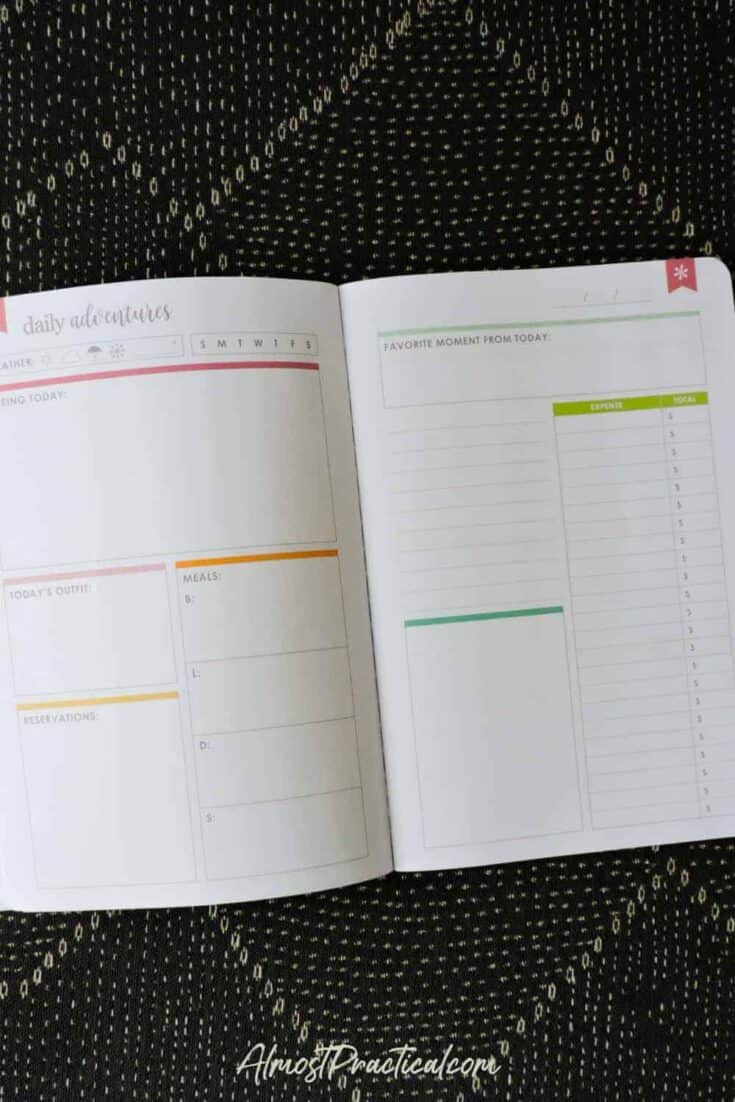 Keep track of what you do, what you wear, what you eat, your favorite moments, and what you spend too.
Paste in some photos, ticket stubs, and other mementos of your travels.
You get two full pages to record the events of each day.
Notes Pages and Stickers
At the back of the EC Travel Journal you will find a few pages to record things that you might want to do on your next trip and some dot grid pages for notes, as well.
The back cover is also a folder that you can use to collect receipts or other loose papers that you want to keep track of.
Finally, included with the Travel Journal Petite Planner is a sheet of fun stickers for you to embellish your planning and memories.
How Many Trips Can You Track in One Journal?
One important question that you might have is how many trips can you record in one Erin Condren Travel notebook.
This question has many answers.
Technically there is space for – and I say this very loosely – 4 trips that are up to 7 days in duration.
But wait!
Let's break this down.
First, if you travel 4 times per year – this journal will last you for one full year.
However, we all know that not all of your journeys are going to be 7 days long – some may be longer, and some shorter.
Don't worry – this journal is flexible in that you can put it to use in so many different ways.
Longer Trips – Use Two Full Spreads
If you have a really long trip coming up – you have a few choices on how you want to use this Journal.
You can use up two full spreads for your one trip – so you would have two pages to record the details of every single day.
Then you would have room for two more trips after this one.
Longer Trips – Use One Spread for The Full Length of the Trip
Alternatively, you could record the entire long trip in one 7 day spread.
Since you get two full pages per day – there is plenty of space to record two days worth of events in this space instead of one.
If you think about it – especially on longer trips, there are days that you spend in transit – so you won't have as much to record.
Shorter Trips – Use One Spread
For a trip that is shorter than 7 days – you could use one full 7 day spread.
Use the first few pages to record the events of each day and the remainder to create a scrapbook with photos, journaling, and other things you want to remember from your trip.
Shorter Trips – Use a Partial Spread
Another alternative is to record several shorter trips in one spread.
Just divide up the pages according to your needs.
If you visit the same place often – like a friend or relative's house – you might even be able to use the same packing lists and itineraries.
Take the Entire Petite Planner Folio or Just The Travel Journal
One of the things that I love about the Erin Condren Petite Planner Folio System is that you can mix, match, add, and subtract whatever journals and notebooks into it that you want.
So, when you travel – you can either take your whole folio – or if you are traveling light, you can simply remove the Travel Journal from your Folio and take the one booklet on your trip.
The Travel Journal by itself is not bulky and will easily slide into a backpack or bag.
Have Fun With the Journal
When it comes to the Erin Condren Travel Journal for the Petite Planner Folio System my advice is to just have fun with it.
Don't get caught up in the minutiae. Look at it as a place to plan and also to write down all your thoughts and ideas as you travel.
Click here if you would like to see how I used this travel journal on a recent trip to Lake Placid NY.
Boy voyage!
You might also like this Erin Condren Petite Planner Goal Setting Journal review.