2022 Erin Condren Holiday Gift Guide
This post may contain affiliate links which means I make a commission if you shop through my links.
 Disclosure Policy
Disclosure: Some of the products in this post were provided by Erin Condren. All opinions are my own.
If you love planning and organization (or someone on your holiday list is a planner fanatic) – there is sure to be something in this 2022 Erin Condren Holiday Gift Guide for you.
Erin Condren is know for its infamous planning tool – the LifePlanner. This book has helped so many people achieve their goals and gain control over their hectic schedules.
But did you know that Erin Condren also has other tools that can help you to organize your space and time?
Here is a selection from the new collections for 2022.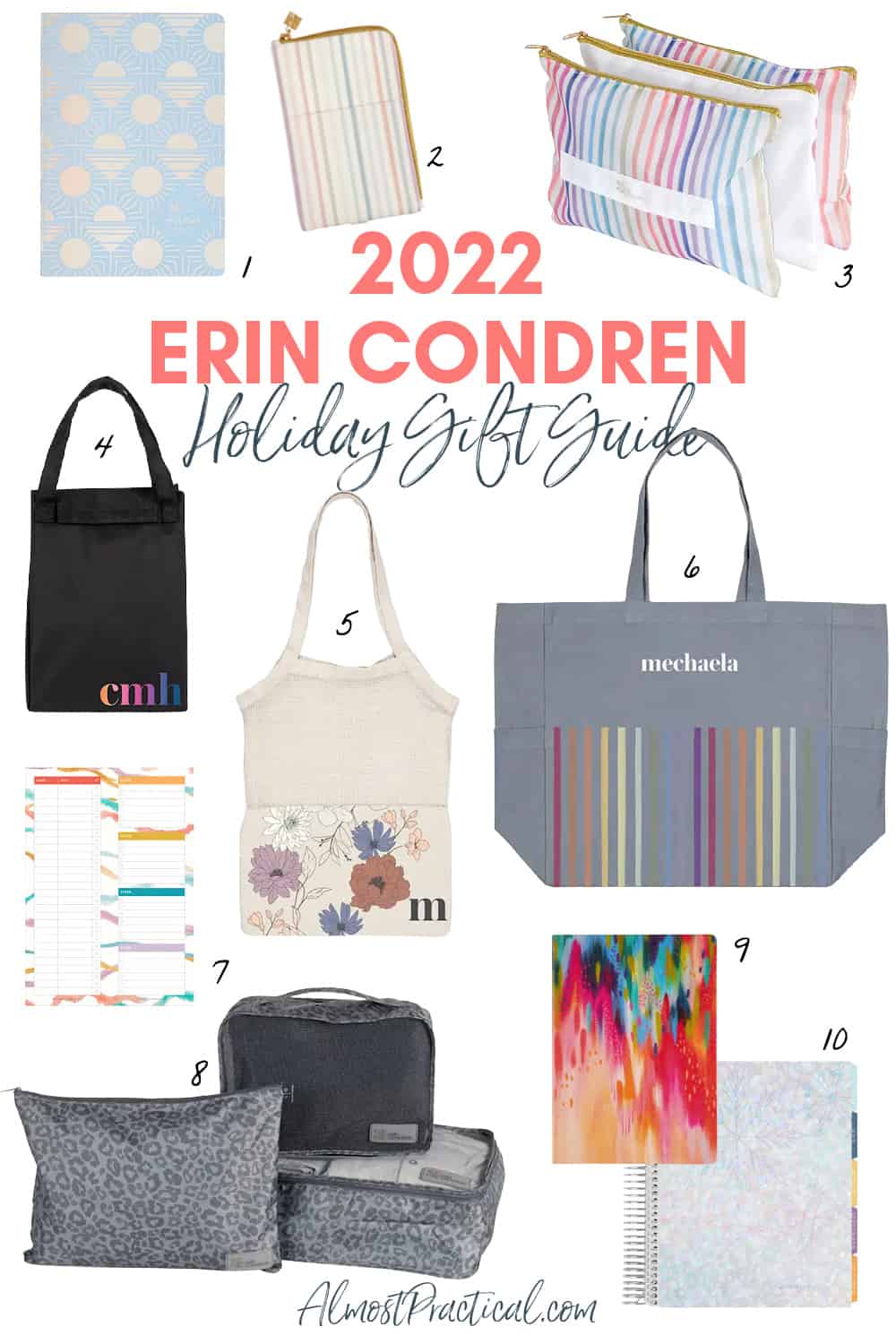 1 – Holiday Prep Planner | 2 – Planny Pack | 3 – Large Accordian Pouch | 4 – Insulated Lunch Bag | 5 – Mesh Tote | 6 – Canvas Tote | 7 – Gift List Notepad | 8 – Packing Cubes | 9 – Softbound LifePlanner | 10 – Coiled LifePlanner
Erin Condren is About More Than Just Planners
In this 2022 Holiday Gift Guide you will find gift ideas for travel, planning, and more.
Gift Ideas for Travel Lovers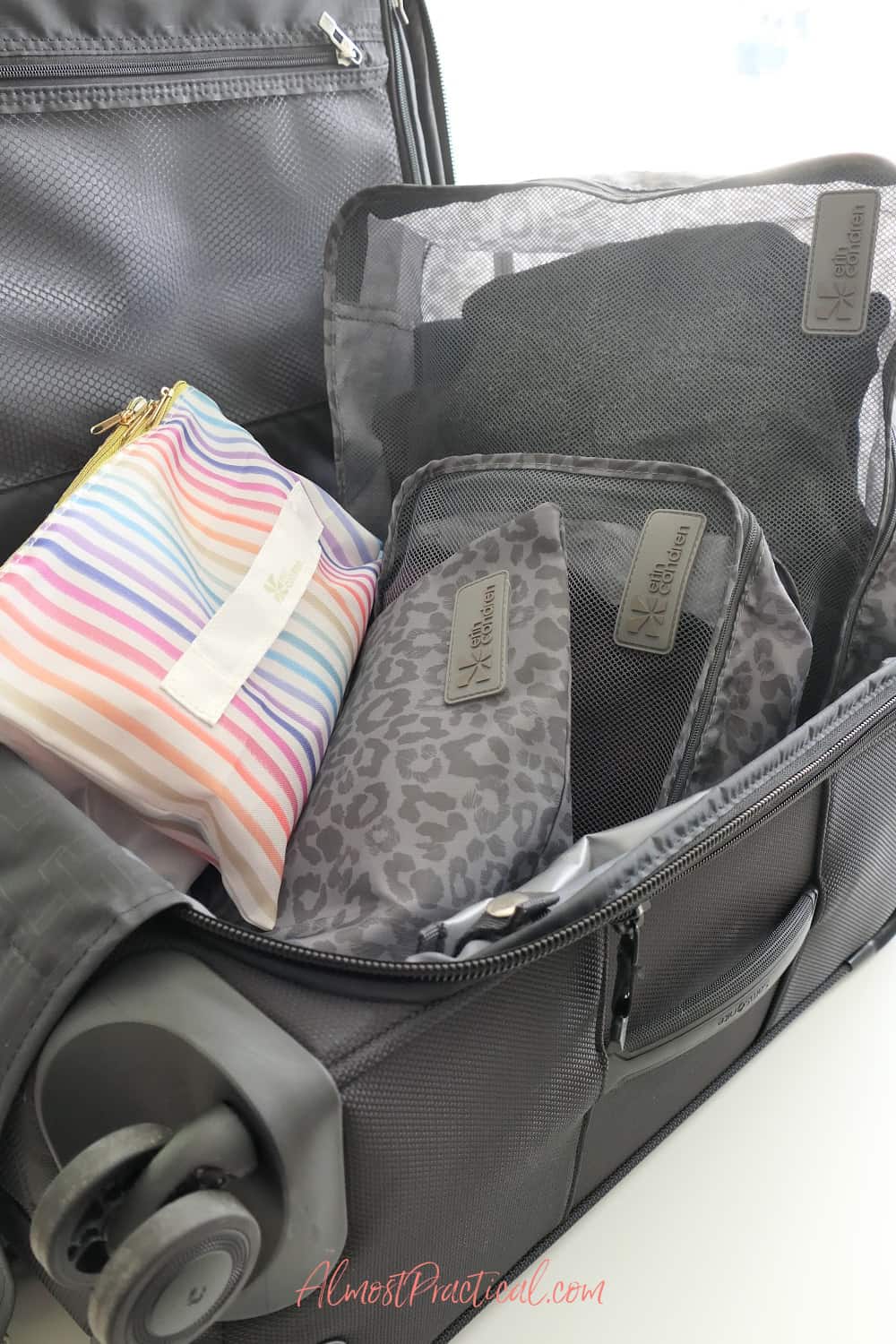 Some of my favorite Erin Condren Items are their packing cubes and accordion pouches.
Every time I travel I use my Mid Century Circles set of packing cubes and the coordinating accordion pouch. I don't leave home (for vacations or other types of travel) without them.
They are a pretty way to keep my clothing, toiletries, and odds and ends organized.
So, I was really happy when Erin Condren sent me a set of packing cubes in the new Leopard pattern and the accordion pouch in the Watercolor Stripes design.
You can read about how I use these Erin Condren essentials for travel here.
And if you are wondering how to use packing cubes – this post gives some great ideas on using them to pack more in less space.
Bags Make Great Gifts
As you can tell, I love using bags and pouches to stay organized.
Erin Condren makes a variety of bags – from cross body to Planny Packs that make great gifts for anyone on your list.
This is a selection of some of the new ones for 2022.
Planny Packs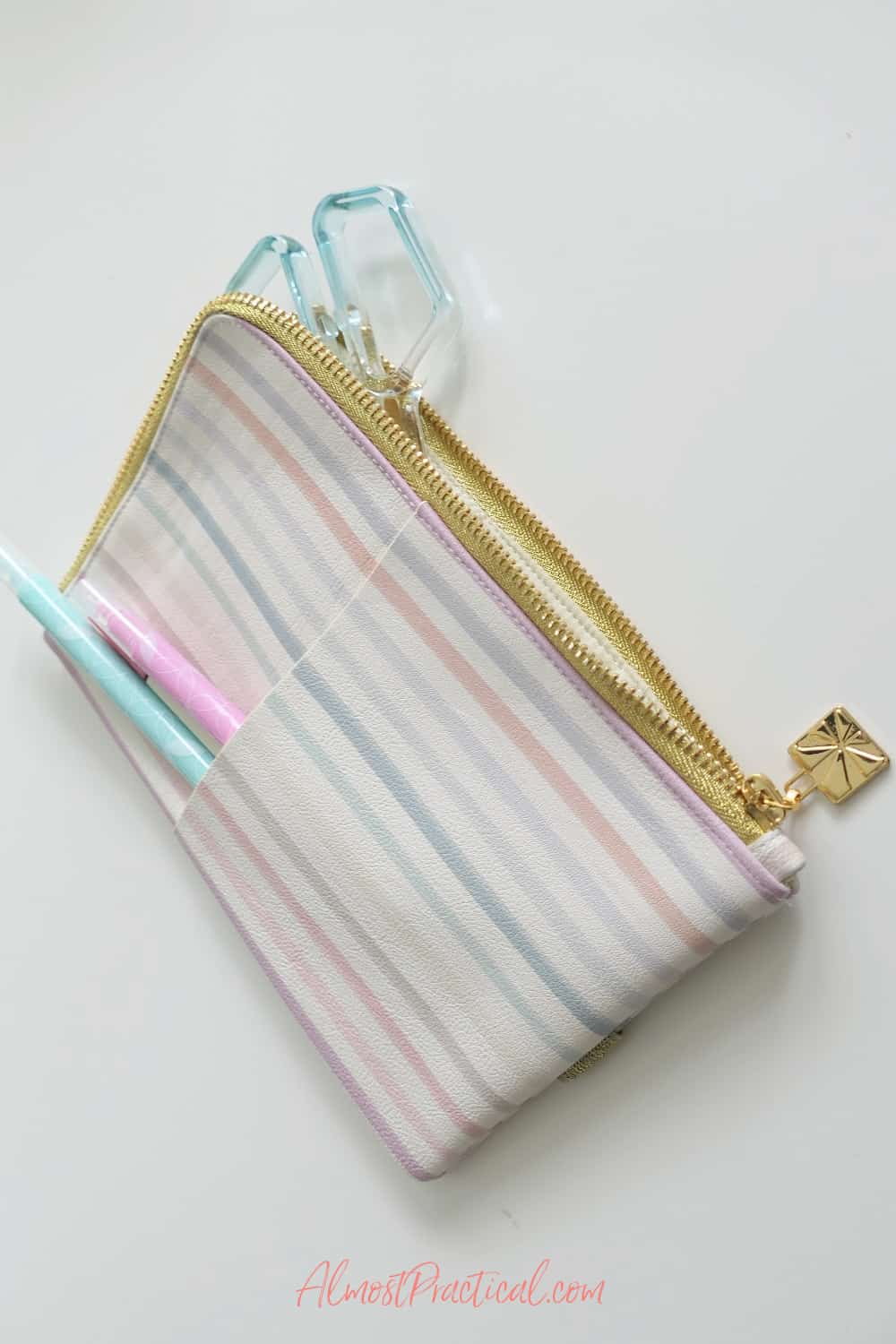 I will start with the redesigned Planny Pack.
Sure these are great for organizing your planner supplies – but they can be used for so much more.
I often use these as a purse organizer.
They are slim enough to fit into a medium sized handbag – and you can use it to organize any number of small things that typically get lost inside what I call the black hole (otherwise known as my purse).
I will use it to store makeup and a hair brush or comb. Or to contain a charging cable, brick, and small power bank.
You can even use it for your wallet and important items – it can serve as a small clutch that you can grab easily and take with you.
So many possibilities!
One of the newest designs in the Planny Pack is the Watercolor Stripes pattern which I happen to love. But with so many designs to choose from – you will probably have trouble choosing just one.
Insulated Lunch Tote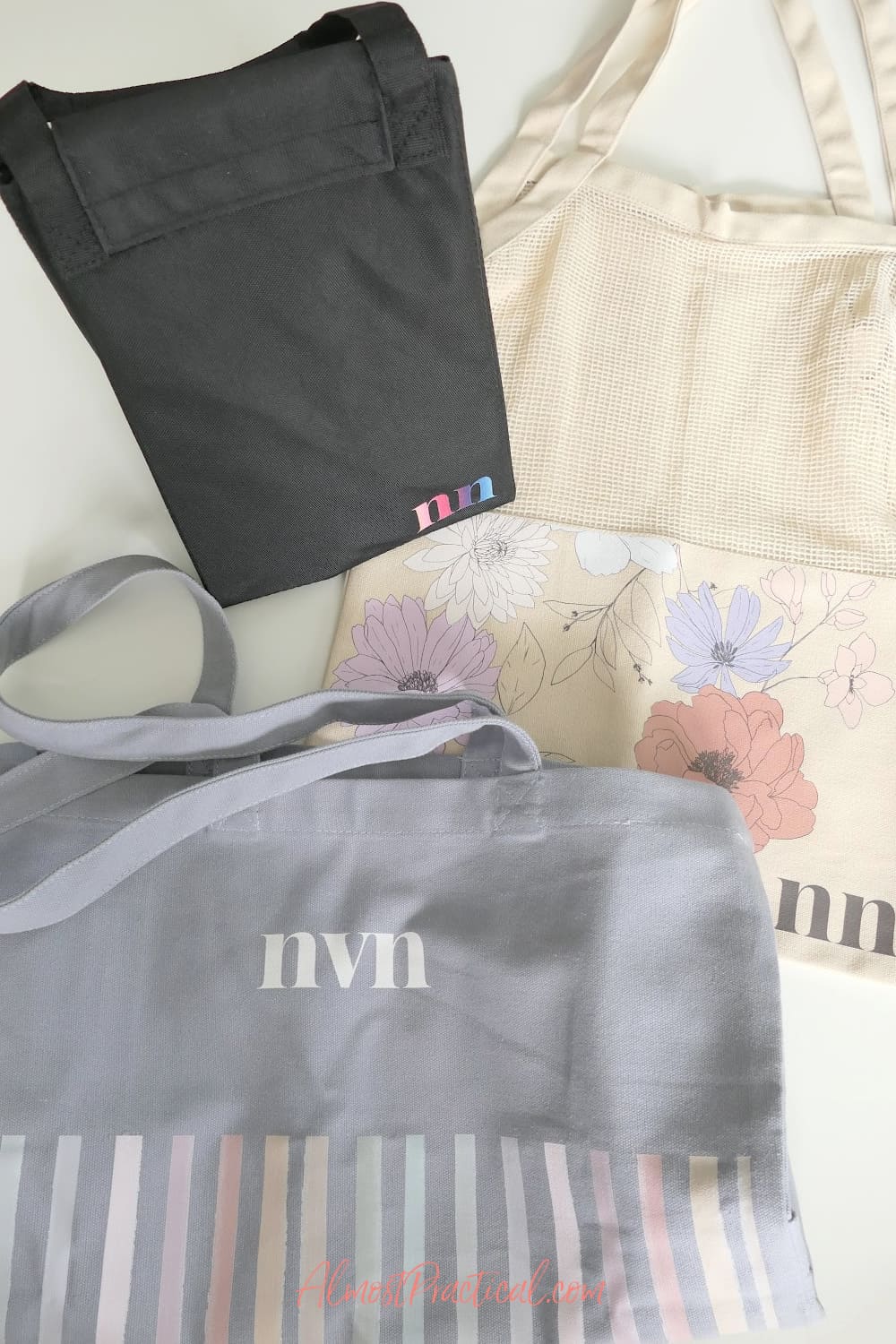 The new insulated lunch tote from Erin Condren makes a great gift for students and adults – especially now that people are returning to the workplace. (In the photo above – it is the black bag in the upper left hand corner.)
This unique tote is large enough for bigger appetites and opens flat for easy cleaning.
You can even use the lunch bag as a placement to keep your food off of the surface you are eating on.
I have the black Color Blends design which is a nice neutral with a pop of color in the personalization.
Mesh Tote
The Mesh Tote from Erin Condren is a simple yet very useful gift idea. (In the photo above it is the cream colored tote on the upper right hand side.)
You can tuck this tote into your handbag so you always have it – perfect for a quick trip to the grocery store – and a thoughtful gift for a co-worker or friend.
I have also used mine to carry a few items like sunscreen, sunglasses, and a good book to and from the beach or pool.
The In Bloom design is my favorite – but there are several designs and color combinations to choose from.
Canvas Tote Bag
Erin Condren also makes a canvas tote bag that is soft sided and very packable. (In the photo above, this is the dusty blue bag at the bottom.)
I have the blue Watercolor Stripes pattern and I use it for things like groceries and shopping.
The bag itself does not have any structure – meaning that it is pretty floppy and cannot stand up on it's own.
This makes it easy to fold and store in your suitcase or car.
I love keeping this handy for times when I need a bag but hadn't planned on taking one along.
Holiday Planners
Just in time for the holidays – Erin Condren has some holiday planning tools.
You can gift these (people love the gift of organization!) or use them yourself.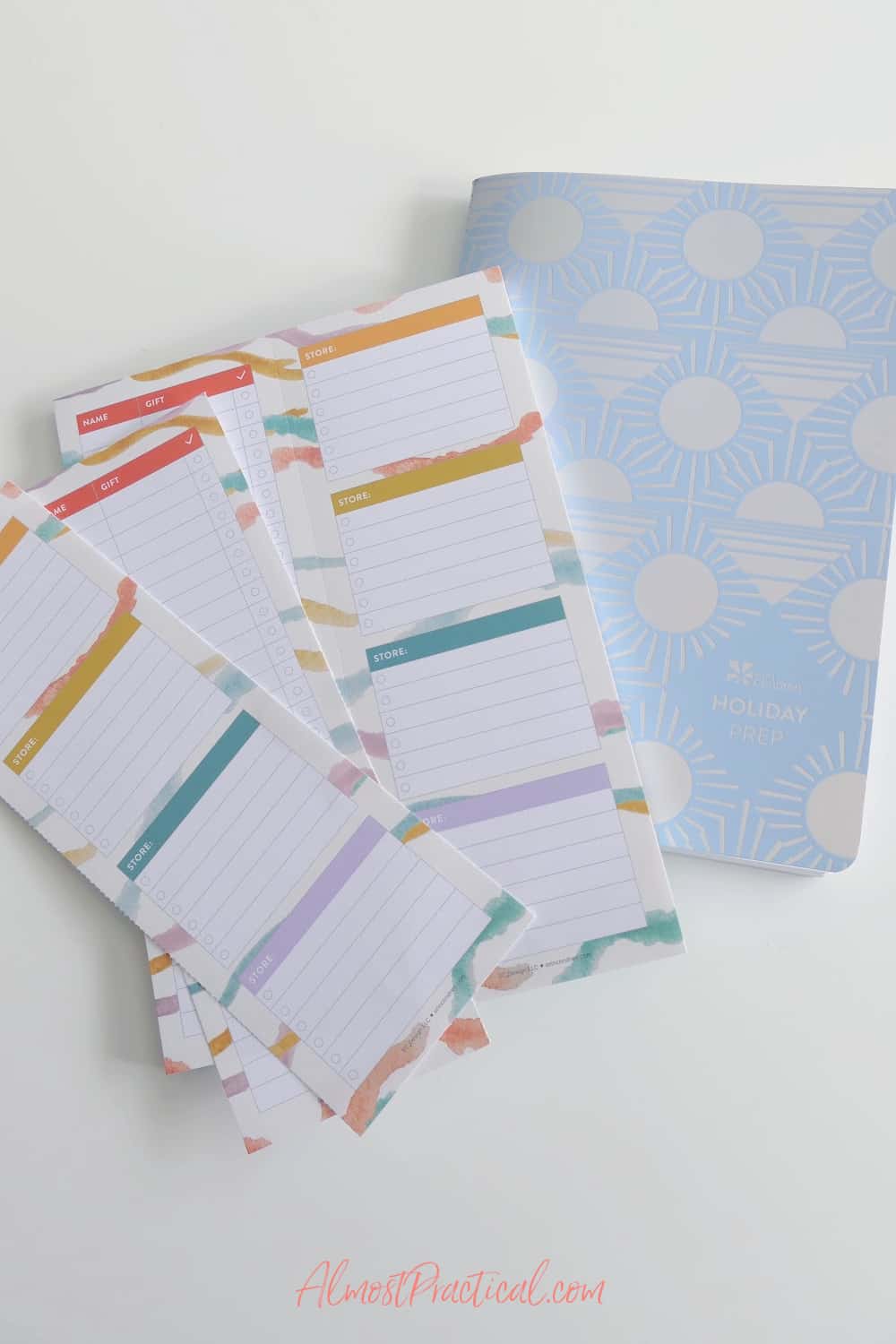 Holiday Prep Petite Planner
The Holiday Prep Petite Planner helps you to organize the busiest quarter of the year. Typically this is the last three months – but since the planner is undated, you can use it anytime of the year that is busiest for you.
Included are some of the following spreads:
2 page monthly spread
guided pages to set goals and outline to do's
pages to jot down family traditions old and new
decor planning pages
meal plan organization, shopping lists, and cooking schedules
guided reflection pages
budget tracking pages
holiday card planner and lists
gift planners and wish lists
holiday baking tracker
planning sticker sheet
Honestly, I wish I had this book every year so far.
It is such a great way to plan out your holidays, and if you stick to it – it becomes a fantastic resource for next year.
Your holiday card list will be basically done and you can re-use all your holiday planning with a few tweaks here and there.
I think the real value of this Holiday Prep Petite Planner happens next year, when you can look back and reflect on things that worked for you in the past.
If you are not familiar with Petite Planners you can read all about the Erin Condren Petite Planner Folio System here.
Gift Shopping List Notepad
Another tool that Erin Condren has that will help you to plan your holidays is the Gift Shopping List Notepad.
This notepad is perforated down the middle. On the left side you can list your gift recipients along with the planned gift and a checkmark for when you have acquired the item.
On the right side is a list of stores that you need to visit and space to enter the items you need to buy at each shop.
The perforation can be used to tear off the shopping list to take with you when you shop.
Not only can you use this notepad at the holidays, but you can also use 1 page monthly to keep track of birthday gifts you need to give.
There are lots of ways to use this – so it would also make a great gift.
Stationery Gift Set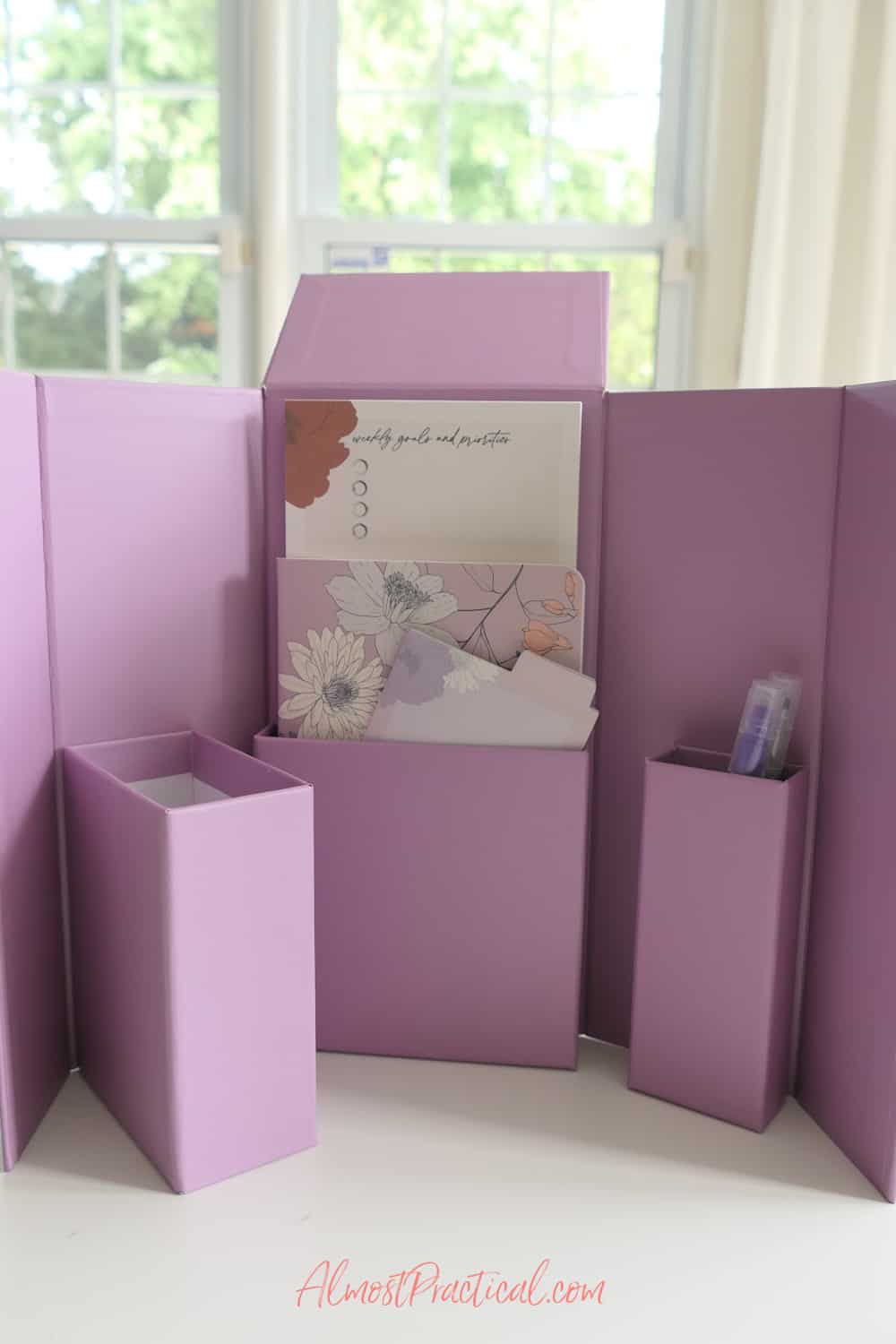 A new gift item for 2022 is the Stationery Gift Set.
This is a cute fold up desk organizer with space for stationery as well pens and other planner items.
Inside is a notepad, a sticky pad, a beautiful mini notebook with checklist style pages, and two dual sided checklist markers.
The design I have is the In Bloom pattern.
Overall I love everything inside of this Stationery Desk Set, however the desk organizer itself is slightly awkward.
It is designed to stand vertically and all of the components are attached to the backing. So it folds up like a Barbie doll wardrobe.
This is nice because it keeps all your planner tools hidden. But you will need space on your desk to devote to the organizer.
However, as a package it is really cute and would be fun to open as a gift.
Planners Galore
And finally, the classic planning favorite – the 2022 Erin Condren LifePlanner.
With so many different styles, designs, sizes, and layouts to choose from – you really can't go wrong with this gift.
Here are just two of the options: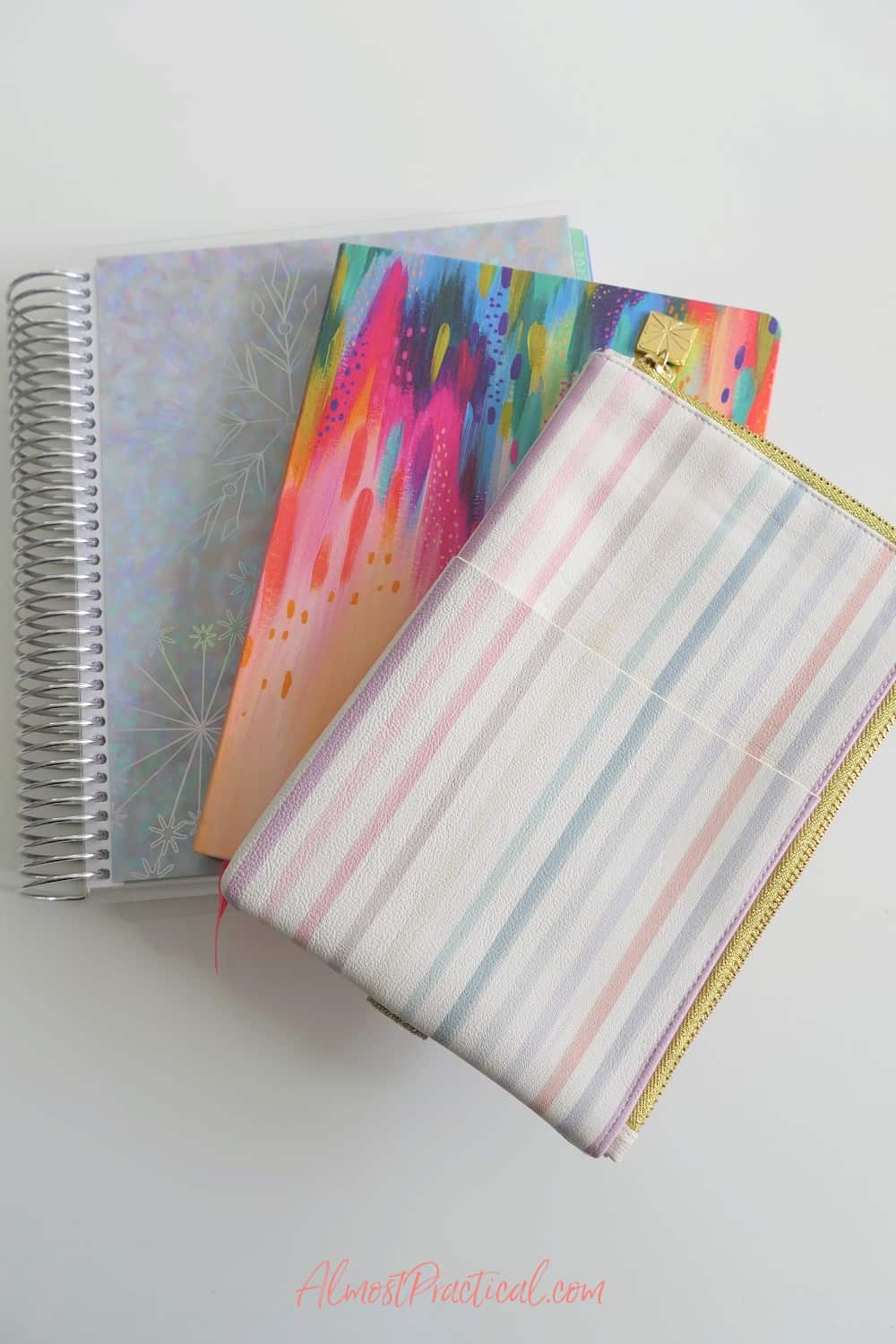 The 7×9 Coiled LifePlanner in the Hourly Layout – Colorblends Design
I received a coiled LifePlanner in the hourly layout with the Colorblends design.
It is gorgeous!
I use the hourly layout in my current LifePlanner to map out my time blocks each day.
Without it, I probably would not get a whole lot done.
The Colorblends design is so fun, too.
It is colorful, but it's not "busy".
There is plenty of open space so you can add stickers or washi tape to add decor and highlight items.
EttaVee Bliss 5×7 Softbound LifePlanner in the Horizontal Layout
This LifePlanner is simply stunning.
It features my favorite EttaVee design – Bliss (I already have a cover for the 7×9 coiled planner with this exact pattern).
The colors are cheerful and sunny.
I love the slim 5×7 size because it is easy to slip into a handbag or backpack.
The horizontal layout is what I use to plan out the business side of my life.
I use a horizontal LifePlanner for my editorial calendar and to do items for my blog.
So Many More to Choose From
If you are giving a LifePlanner as a gift – you may have too many choices, which is a good thing!
The LifePlanner comes in so many forms and sizes:
5×7
7×9
coiled
soft bound
binder
the Focused Collection
You name it.
If you can't narrow it down, and Erin Condren gift certificate may be a good alternative.
Erin Condren Has Something for Everyone
This Erin Condren Holiday Gift Guide is just a small selection of everything that Erin Condren has to offer.
To see the whole collection, visit the Erin Condren website to find:
travel organizers,
a variety of pouches and bags,
gift sets,
desk accessories,
writing instruments and stationery,
notebooks,
and, of course, planners.
And if you want to take a look back – here is the Erin Condren 2021 Holiday Collection.