How to Pick The Right Artificial Christmas Tree
This post may contain affiliate links which means I make a commission if you shop through my links.
 Disclosure Policy
Even though artificial Christmas trees have been in the stores since Halloween (maybe even earlier?) – I usually wait until after Thanksgiving to do any kind of holiday decorating.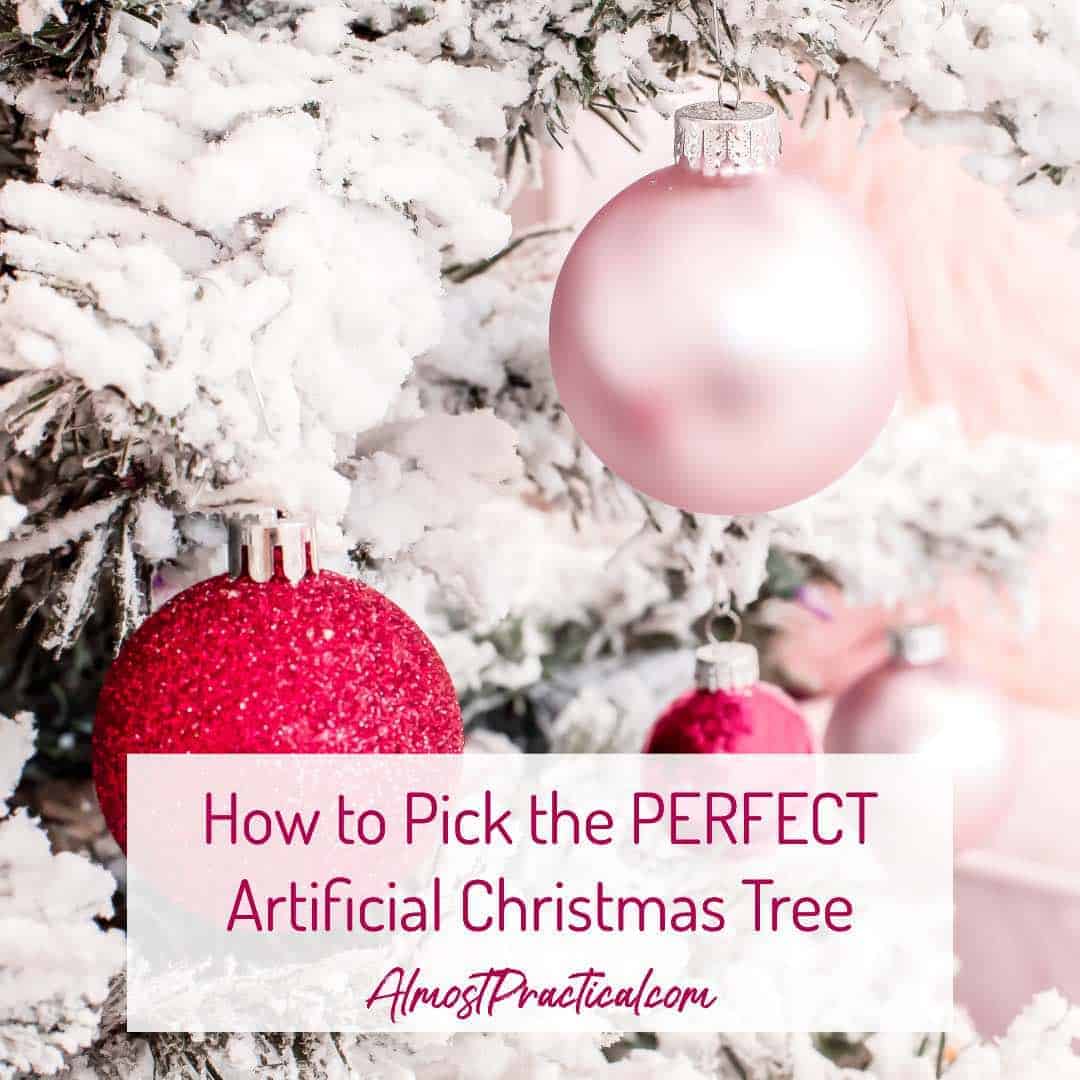 Putting up the Christmas tree is usually a good activity to help us work our way through our Thanksgiving food comas on Black Friday.
In between grabbing online shopping deals, of course!
When it comes to Christmas trees – most people that celebrate the holiday are in one of two camps:
We are solidly in the artificial Christmas tree camp.
I like to make things easy – and pulling a tree out of a box ranks right up there.
Although it is easy to set up an artificial tree – buying one is entirely a different story.
With so many options to choose from – it is actually more of an ordeal than heading out to the tree farm to grab a real one.
Thankfully, you only have to do this once in a blue moon – because you can use an artificial tree for many years.
So, how do you pick the right artificial Christmas tree for your home?
Here are some tips.
How to Choose the Best Artificial Christmas Tree
Start With Size
The first, and most important thing to consider is size.
Once upon a time, in our old home – we had a great big, beautiful, artificial Christmas tree.
But the space in our current house is much more limited so, not only did we have to downsize our stuff – we also had to downsize the tree.
Knowing your ceiling height is key – you need room for the tree and the star or topper.
Remember that scene in Elf where the tree was too tall for the room? Don't be that person.
The width is also important.
The only spot for our tree is in a shallow corner that sees a lot of traffic. So we needed a narrow artificial Christmas tree to nestle in there without getting in the way.
Size also is factor since you will have to store your tree the other 10 month of the year. (See some good artificial Christmas tree storage ideas here.)
Even though newer artificial trees fold up easily – the bigger ones still take more storage space.
Pick a Color and Style
Artificial trees come in a rainbow of colors and materials.
You can go from green to silver and everything in between.
For a traditional fir looking tree that mimics the real deal – you can get different branch styles too.
I prefer the flatter shredded plastic needles because the tree looks fuller. The disadvantage with these is that they tend to shed all over the place – especially as the tree gets older (or maybe it just seems that way).
But there are also molded plastic needles that look more realistic.
Prelit Artificial Trees or Not? (Is that really a question?)
Pardon my sarcasm – but seriously, untangling Christmas lights is worse than having teeth pulled, amiright?
I LOVE prelit Christmas trees. The lights are evenly spaced, don't get tangled, and all you have to do is plug the tree in.
The down side is that you can't be fickle when it comes to the color of lights that you want because they are kind of permanent.
I like going with white lights for this reason. You can always add color via your ornaments.
One important thing you should look for according to this article at Balsam Hill is that you want lights that are
UL™ approved and are designed to stay lit even when one light burns out
You don't want to waste time searching for that one bad bulb.
Do You Want Embellishments?
Artificial Christmas trees come with all sorts of embellishments these days.
From snow dusted tips to berries and bows – you can get just about anything your heart desires.
Again, I tend to go with the simple because I want my ornaments to stand out.
Some people prefer a really elegant looking tree with color coordinated ornaments and bows – in fact I ooh and aah over these all the time.
But our tree is more of a family history.
We have ornaments that my kids made over the years and even some that I made in my childhood.
We also have ornaments from our many travels and significant life events.
How you decorate your tree is entirely up to your creativity.
How Long Will You Use It?
I don't consider an artificial Christmas tree to be a disposable item. The more we can do to reduce waste is better for the environment.
So if you want your tree to last throughout the years, you should invest in a high quality product.
Balsam Hill has some of the most beautiful artificial Christmas trees and decor that I have seen.
On the other hand, you can pick up a variety of trees at retailers like Target – here is a selection:
Watch This Video
This video has lots of great advice for selecting the right artificial tree:
What Type of Christmas Tree are You?
So, are you an artificial Christmas tree fanatic or do you go with real? Do you have any tips to share about picking the perfect tree?
Please share in the comments below.