Amazon Prime Student: Get 50% Off of Amazon Prime
This post may contain affiliate links which means I make a commission if you shop through my links.
 Disclosure Policy
Have you heard about Amazon Prime Student?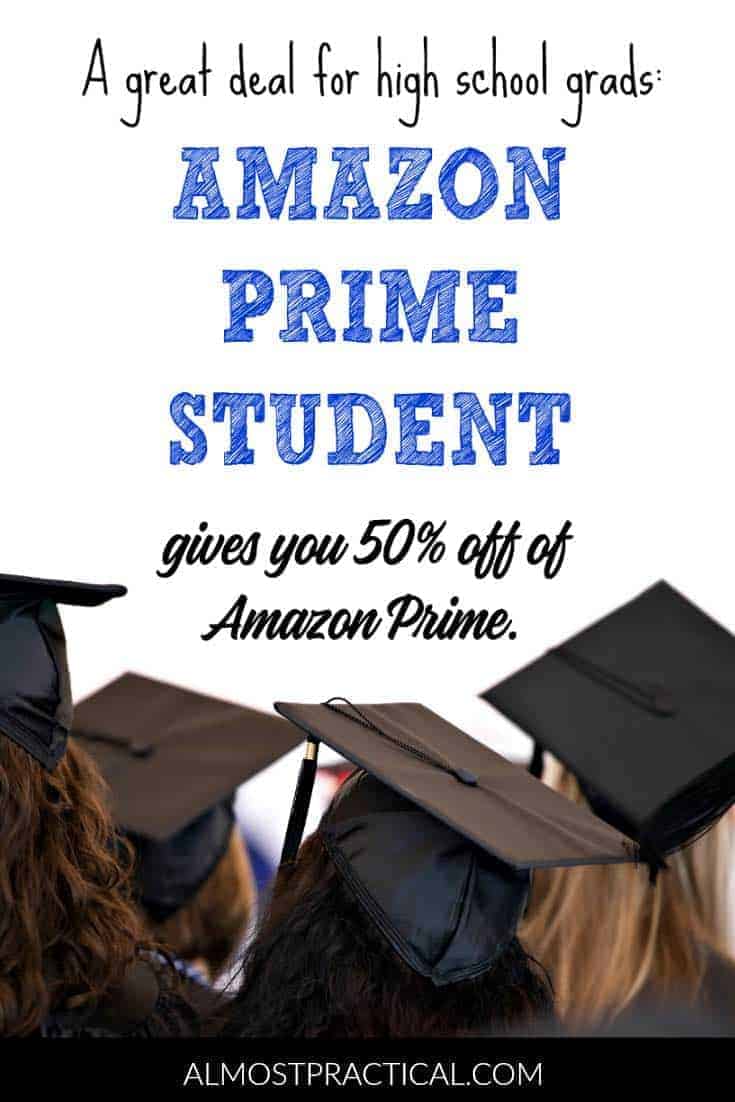 It's a pretty good deal.
I'm sure you have heard about all the benefits that Amazon Prime has to offer.
Well, as a student, you get all of Amazon Prime for 50% off for a full four years or until you graduate, whichever comes first.
Not only that – you also get a 6-month FREE trial.
As a parent, I love this – and actually, I think it makes for a great high school graduation gift as well.
Amazon Prime Student is convenient, saves you money, and is useful all year round.
Think about it.
RELATED POSTS:
Amazon Prime Student Will Save You Money
Amazon Prime is a bundle of really great services.
You get:
Free 2 day shipping (and even same day shipping on select items)
Instant access to video streaming via Prime Video
Prime Reading which gives you access to books and magazines
Original audio series on Audible
Prime Photos which gives you unlimited photo storage
Music streaming with Prime Music
Twitch Prime for gamers
Because You Don't Need to Buy Other Services
At a minimum, the benefits offered in Amazon Prime Student will eliminate your need to buy other things like Netflix for movies, Apple Music, and photo sharing services.
Trust me, those monthly fees add up fast.
Why You Need Amazon Prime Student in College
Amazon Prime has been a great benefit for my son.
I can't tell you how many times they have needed something somewhat urgently while away at college.
My son doesn't have a car up at school – so making a quick run to the store would take quite a bit of time and effort.
We really had 3 options:
have him take a shuttle, cab, or Uber to the store (all of which would have cost transportation and his time)
I could have acquired the items at home and sent them to him (costing postage and my time), or
he could pick out what he needed at Amazon and take advantage of the free 2-day shipping in Amazon Prime Student
We went with option 3 just about every time.
Get Amazon Prime Student Sooner Than Later
It may seem logical to wait until the fall to get Amazon Prime Student.
But that is not the case.
The best time is actually at high school graduation.
The summer before your freshman year is the perfect time to
set up your playlists in Prime Music
organize your video preferences in Prime Video
build a reading list in Prime Reading
add dorm essentials to your Wish List (in the fall, once you move in – you can have everything shipped directly to you at school), and
once your required textbook list is published, you can comparison shop between Amazon prices and your school bookstore.
Remember, you get a 6-month free trial of Amazon Prime Student – so use the lazy days of summer to play around with the features and figure out if it is something that you will find useful while you are at college.
If you like Amazon Prime Student, you can sign up at the end of your free trial and for the next four years, you pay only 50% of the regular Amazon Prime rate.
It's win-win all around.
Give It A Go
This summer give Amazon Prime Student a try. It will save you money and bring a little convenience you or the crazy busy college students in your life.