10 Secrets for Making Online Mattress Shopping Easier
This post may contain affiliate links which means I make a commission if you shop through my links.
 Disclosure Policy
The way you shop for a mattress has changed over the years.
There are so many "bed in a box" companies that will ship your mattress right to your door.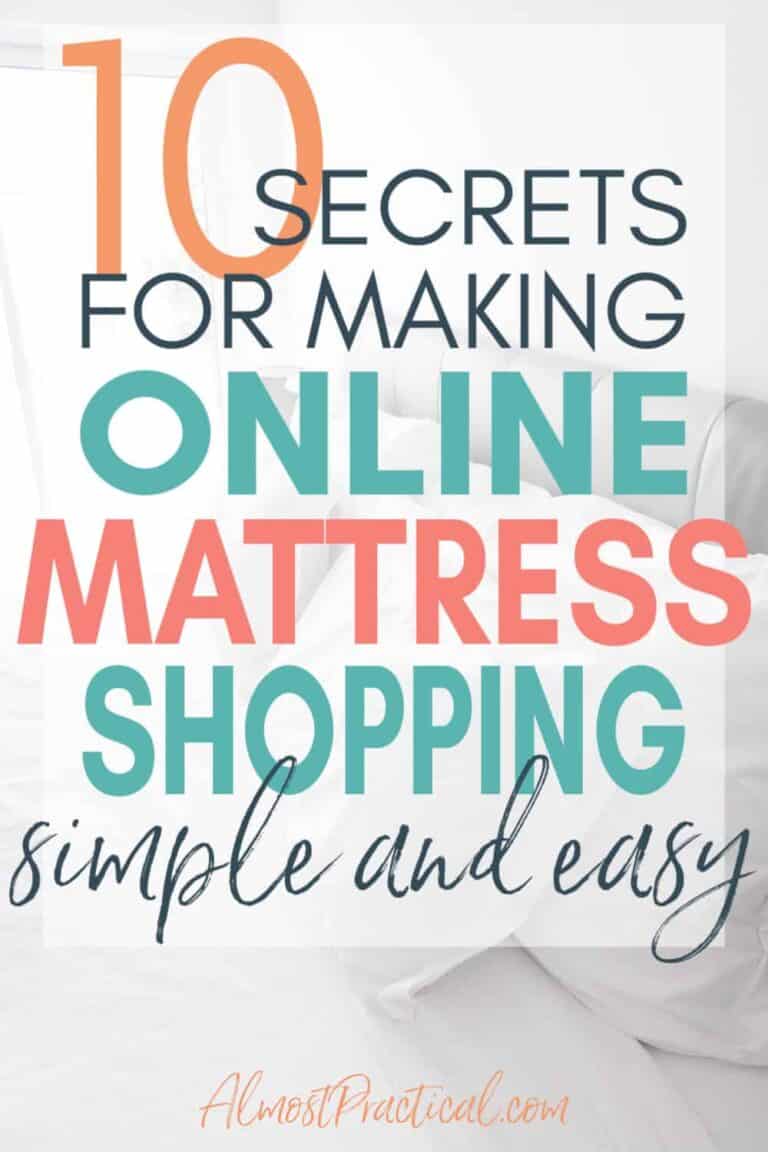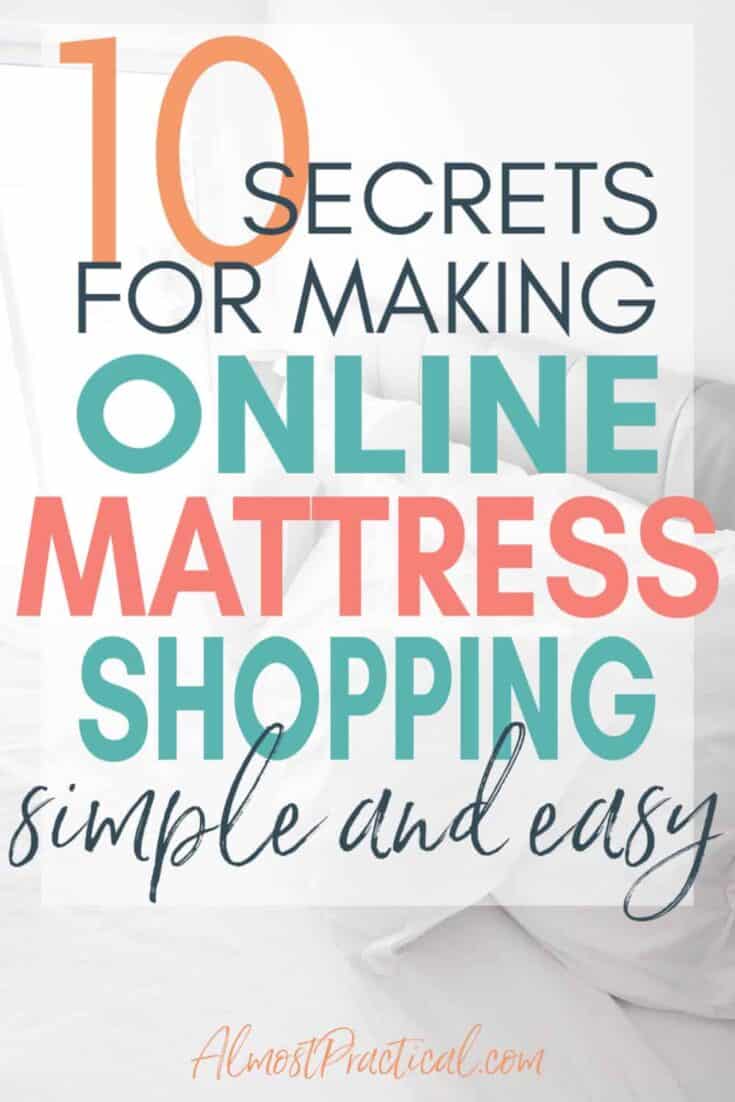 This makes shopping convenient – but it makes the decision of which one to buy really hard – because you can't try it first.
After a lot of research we recently purchased a Layla Hybrid mattress online and here are few tips that I learned.
Related: See our BIG List of Online Mattress Companies here.
1. A Good Sleep Guarantee Matters
A bed is a big investment – and a good night's sleep is essential for your health.
So, if you are not comfortable on your new mattress – that's a problem.
Since you can't try many online mattresses before you buy, it is important that the one you do purchase comes with a generous "sleep guarantee".
My Layla mattress comes with a 120 night sleep guarantee – so I can test it out and if I don't like, they will take care of the return.
These companies offer a whopping 365 night guarantee:
One thing to double check – if you order bed frames, bases, or accessories – make sure to find out whether the guarantee will apply to those as well.
2. Customer Service Is Very Important
A bed is an essential purchase – so if something is not quite right with your order, you want the issues to be taken care of quickly and efficiently.
So, the quality of the customer service that a mattress company offers will play a huge role.
Of course, it is impossible to know whether everything will go smoothly.
But you can get a feel for what customer service is like before you buy.
As you do your research, be sure to reach out to customer service of the mattress company or companies that you are thinking of buying from with your questions.
Use their chat functions on their websites. Call them as well.
If the response that you get is informed, friendly, and professional, then it is a good sign that you will get the same level of treatment should you have any concerns after your purchase.
3. Understand the Mattress Softness Scale
Did you know that there is a mattress firmness scale (or mattress softness scale – depending on how you look at it)?
Apparently, mattresses are ranked from 1 to 10 for firmness with 1 being really soft and 10 being very firm.
According to Helix Sleep most people fall somewhere in the 4 to 7 firmness range.
Anything softer than 4 can feel very "sinky" – making hard to turn over or change sleep positions during the night.
Mattresses over a 7 in firmness can feel too hard.
To narrow down your mattress choices try and figure out:
what mattress firmness number is comfortable for you
where your chosen mattress falls on the scale
Ways to Find Out Which Mattress Firmness You Like
To get a ballpark of the level of firmness that you like in a mattress, you can do a few things.
First, start with you current mattress – is it too firm or too soft?
If you have other beds in your home – a guest bedroom or your kids rooms – lie on those mattresses (or even try them out for a few nights) and compare them to your current mattress.
Second, make a trip to a mattress showroom – just to try out different mattress and gauge the softness factor.
Make sure to take notes as you try different mattresses out. After awhile, they all run together.
For example, Mattress Firm has many physical stores in my area and they not only carry your traditional brands like Sealy, Serta, and Beautyrest – they also carry some "online" brands like:
One thing to keep in mind – should you decide to buy your mattress at a place other than the manufacturer's own website – you should confirm with the manufacturer that you will still get the sleep guarantee and any warranties.
Another option is to visit a Casper showroom.
I had no idea that Casper Mattress had stores – but they do.
Third, ask around. Word of mouth travels far.
You might be surprised at how many of your friends and family have purchased a mattress recently.
Listen and learn from their experiences and their satisfaction level with the mattress they bought.
Where Your Chosen Mattress Falls on the Scale
As you do your research, hopefully you have been taking notes.
If you manage to visit a showroom make sure to ask where each mattress you try out falls on the mattress firmness scale.
If they don't know, make your best guess in comparison to other mattresses that you try.
Slowly, you will be able to figure out what firmness level is comfortable to you.
4. You May Not Need a Box Spring
In the old days, you would always buy a mattress and box spring set – or maybe a bunkee board.
But box springs tend to collect dust and be creaky.
These days the platform bed or a mattress base and frame combination is more popular.
Platform beds and mattress bases feature wooden slats spaced at intervals to support your mattress.
Many mattress companies recommend that slats be no more than 2.5 inches apart.
You can buy platform beds almost anywhere and they come in a wide range of prices.
Wayfair has a huge selection of affordable platform beds here.
You can go a little more upscale with platform beds at places like Pottery Barn, West Elm, and Crate & Barrel.
You can even find platform beds on Amazon – this wooden option features a headboard and slats that are 2.5 inches apart.
One thing to watch out for with platform beds is that some of them cannot accommodate a headboard – so be clear on the specs before you buy.
5. You Don't Need to Buy Your Bed Frame and Mattress Base at the Same Place as Your Mattress
While one stop shopping might be convenient, the place where you buy your mattress might not have the right options in bed frames, mattress bases, or platform beds for you.
I ended up buying a mattress base and bed frame from Layla sleep which IS where I bought my mattress – and I am extremely happy with the frame.
In fact if I bought a different brand mattress, I would still buy the FRAME from Layla.
I went with the frame/base combo because I wanted to keep the option to attach a headboard open for later (we currently don't have a headboard).
The Layla metal frame – typically a boring, ugly thing that people don't pay much attention to – is fantastic!
It features chunky legs that makes it look like I have a platform bed – an actual piece of furniture – instead of a frame/base combo.
The frame was also SO easy to put together – no tools required.
6. Look for the Extras or Bonuses
When ordering my Layla mattress, I was pleasantly surprised to find that they threw in a few bonuses.
My order came with a free:
set of microfiber sheets to fit the size bed that I ordered (king)
2 memory foam pillows, and
a mattress protector
I use all the bonuses and while they weren't a big factor in my decision, they are nice to have.
7. The Mattress Can Be Heavy
Depending on the size and style of the mattress that you choose – the package can be really heavy.
Hybrid mattress tend to be heavier than their all foam counterparts.
My Layla Hybrid king size mattress clocked in at around 145 pounds.
It's definitely a beast but it is also a pretty average weight when compared to similar mattresses from other companies.
For example, the Bear Hybrid Mattress in king size weighs in at 140 pounds.
8. Check for White Glove Service
Many online mattress companies offer the convenience of delivery right to your door – but not to your bedroom.
This means that it is up to you to drag the box or bag inside and possibly up some stairs.
It's not an easy thing to do if your new mattress weighs 140 pounds!
You will also be responsible for removing your old mattress and disposing of the packaging from your new one.
If this all seems like too much for you to handle (especially if you don't have someone to help you) then you might want to look for a company that offers "white glove service".
Saatva Mattress is one company that offers free White Glove delivery, set up, and removal of your old mattress.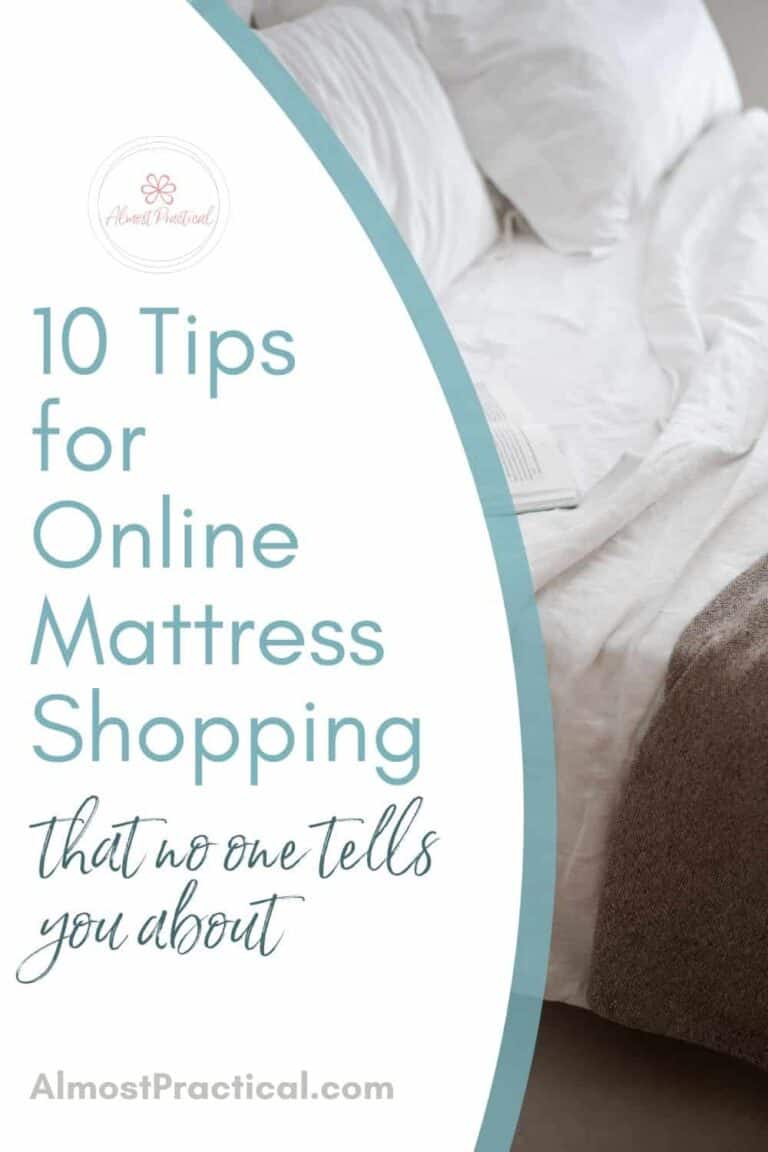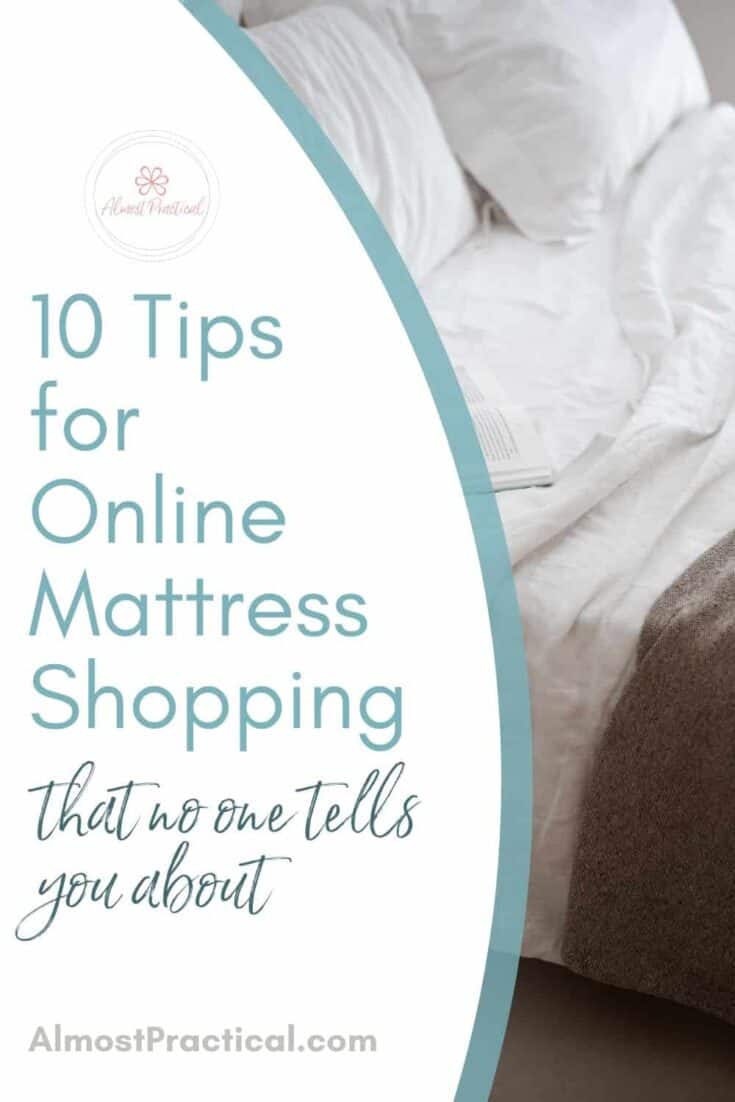 9. Shop for Linens
Buying a new mattress is a great excuse for refreshing your bed linens.
I used the opportunity to buy a new quilt, comforter, and blanket.
One thing that I was surprised to learn is that my old mattress protector was not a good choice for my new mattress.
The old protector had a substantial quilted top – which was too thick of a barrier between us and the mattress itself.
You see, the top layer of foam in the Layla mattress is infused with copper to provide for cooling.
If your mattress pad is too thick, you might get hot when you sleep – and that is exactly what happened on my first night.
I replaced the old mattress protector with the bonus one that I received and all was good.
10. Clear Out Your Room on Delivery or Set Up Day
Setting up a bed – especially a big one – takes space.
Before you bring all the components into the bedroom, take all your stuff out.
This, of course, means your old mattress set and bed frame (if you are replacing it).
But it also is a good idea to clear off your bedside tables – remove the lamps, books, charging cables, alarm clocks, and clutter.
If possible, push the end tables away from the bed.
Have a vacuum cleaner and mop at the ready – so you can quickly sweep up the dust bunnies that were hiding under the bed.
This is also a good time to decide whether or not you plan to use a bed skirt.
You can wash or toss the old one and put down a new one if you so choose.
Buying a Mattress Online is a Process
As you can see, the whole process of buying a mattress online takes time.
The more you research the better your chance of being happy with your purchase.
But in case you are not (happy, that is) – make sure you have a good sleep guarantee to fall back on.
If you enjoyed this article – please click here to subscribe to our newsletter for all of our latest updates.