The Perfect Notebook Review
This post may contain affiliate links which means I make a commission if you shop through my links.
 Disclosure Policy
Disclosure: I received a review copy of The Perfect Notebook and inserts for purposes of this review. All opinions are my own.
Today, I would like to introduce you to The Perfect Notebook.
If you are looking for a tool to improve your personal productivity, this planner/notebook combo takes goal setting to a whole new level.
This disc bound planner includes pages to help you achieve your goals using a four step system:
Plan
Act
Monitor
Reflect
It sounds simple but to stay on track, what you need is structure – and that is what The Perfect Notebook gives you.
Let's take a closer look.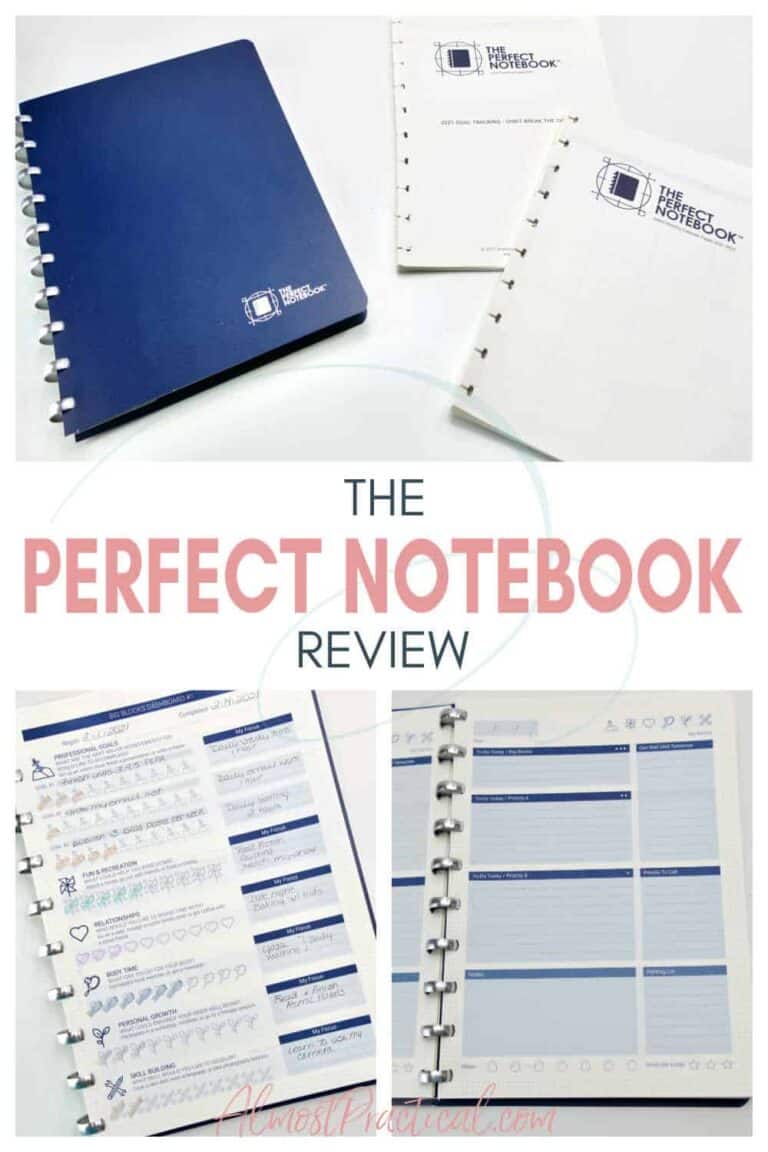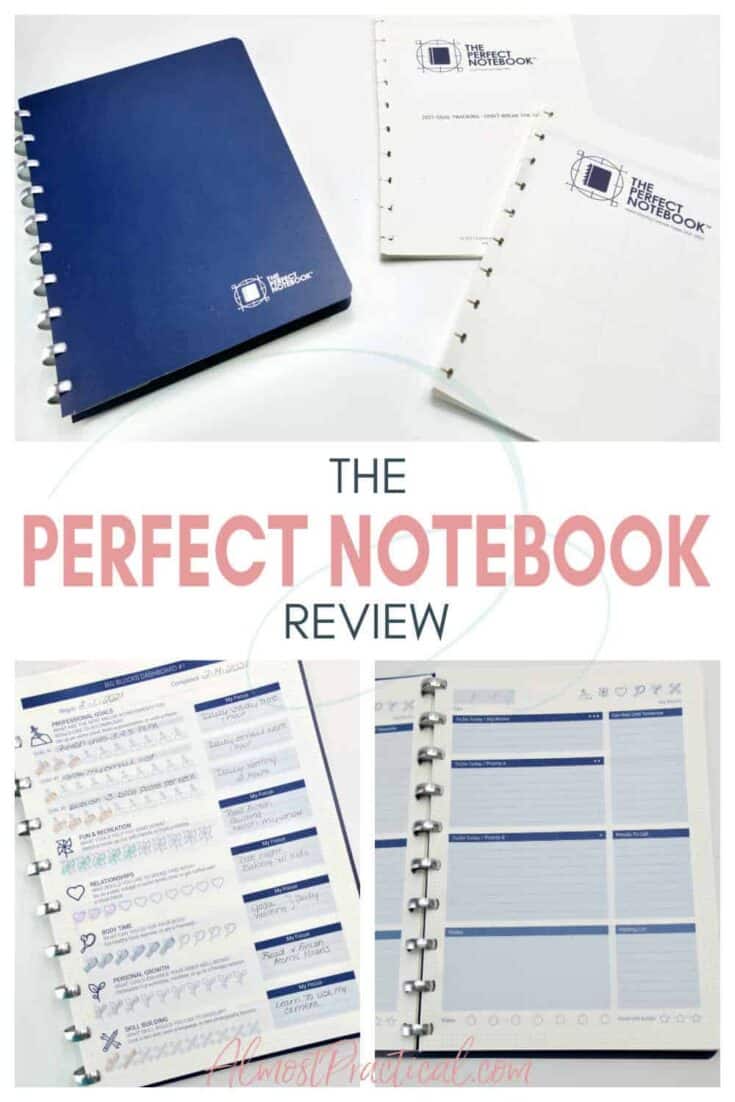 A Professional Looking Disc Bound Planner
From the outside, you can see the flexibility that The Perfect Notebook provides.
It is "bound" with 10 silver discs that are both elegant and functional.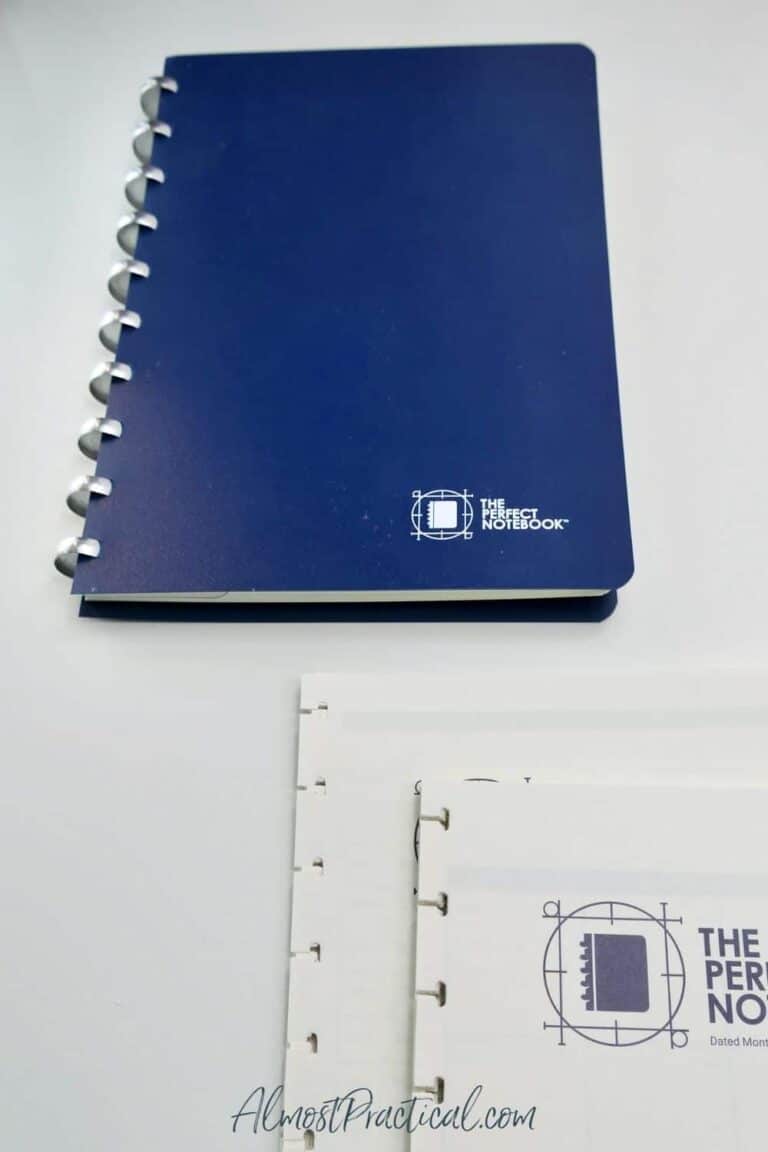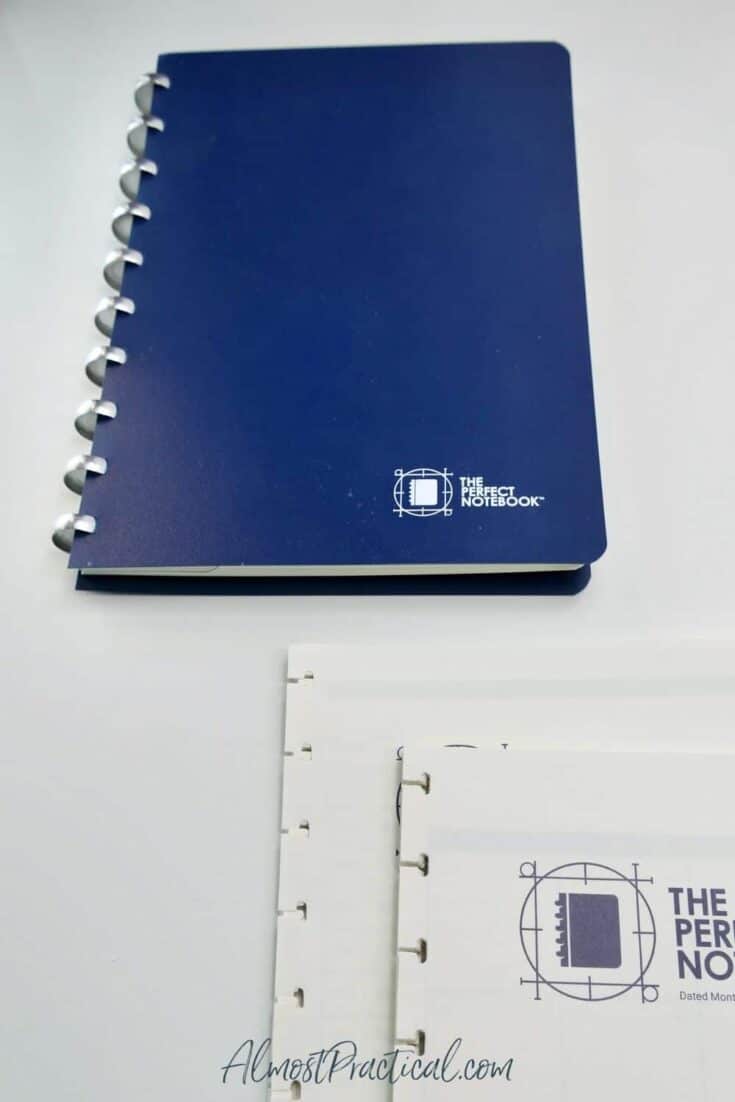 If you are not familiar with disc bound planners – you are in for a treat.
The magic of disc bound lies in your ability to freely add, remove, and rearrange pages.
This means that you can truly set your planner up to work with the way you think.
The front and back covers are made of a durable, navy blue, flexible, vinyl material.
Because the planner is disc bound and the covers are durable, you your Perfect Notebook should last you many years. All you will need to do is purchase additional insert pages as you use up the ones you have.
This planner measures in at 9 and 7/8 inches tall by 7 inches wide.
The thickness will depend on the inserts that you put inside but it starts at abour 1/2 inch thick.
How The Perfect Notebook Works
The purpose of The Perfect Notebook is to make achieving your goals easier using their four step system.
Inside you will find pages tailored to the four steps that you need to accomplish.
Step 1: Plan
The first step is planning.
Using the included Big Blocks Dashboard pages, you can plan out your big goals for a set period.
This time period is entirely up to you but The Perfect Notebook is set up work well in two week increments.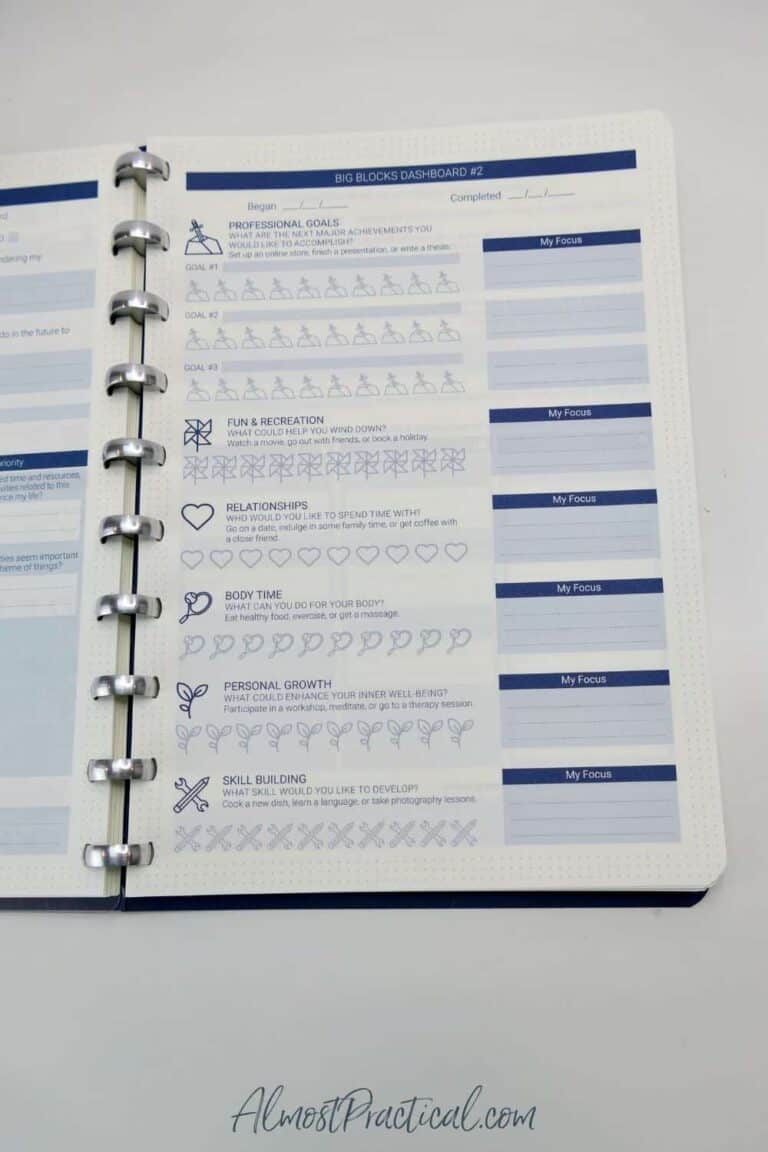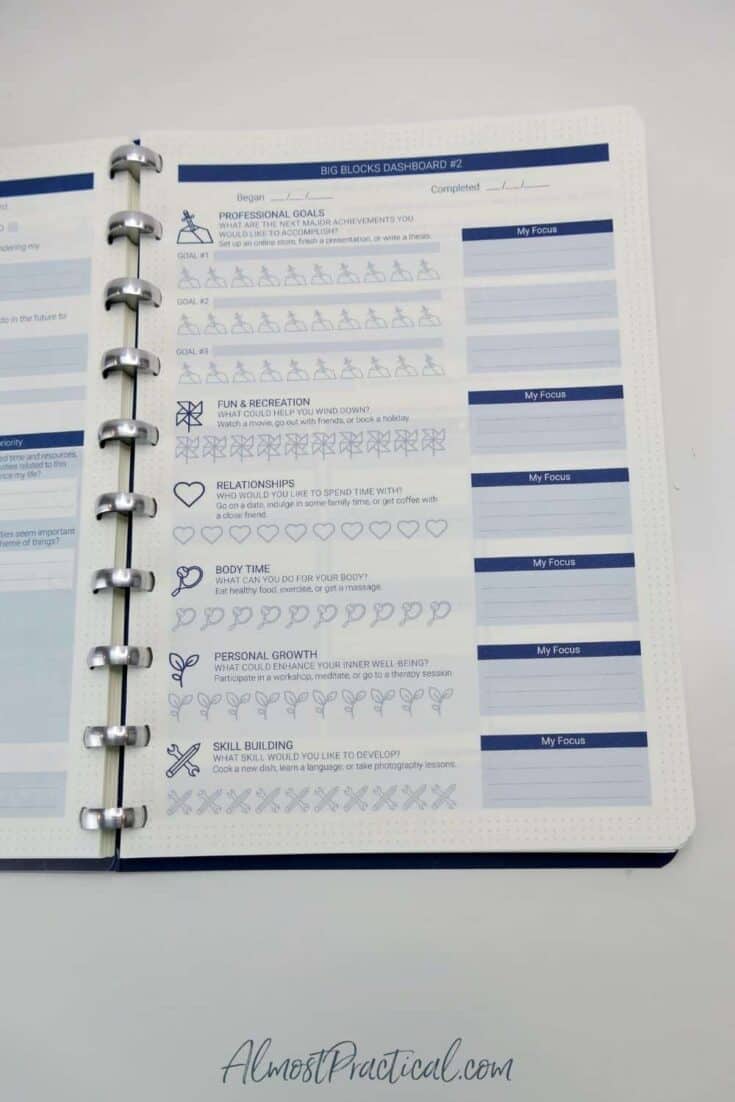 This gives you plenty of time to make progress yet is short enough to adjust course if you need to.
On the Big Blocks Dashboard, you have space to map out goals for:
Your Work or Business
Fun & Recreation
Relationships
Body Time
Personal Growth, and
Skill Building
There are 10 Personal and Professional Dashboards included with The Perfect Notebook, but you can always order refills here.
These pages also include 10 cute little icons under each goal. Simply cross through each icon on the days that you make progress on that goal.
This makes it easy for you to visualize which goals need more of your time.
Step 2: Act
Once you have your goals mapped out on your Big Blocks Dashboard – it's time to get to work!
This is where your Daily Task Manager Pages come in.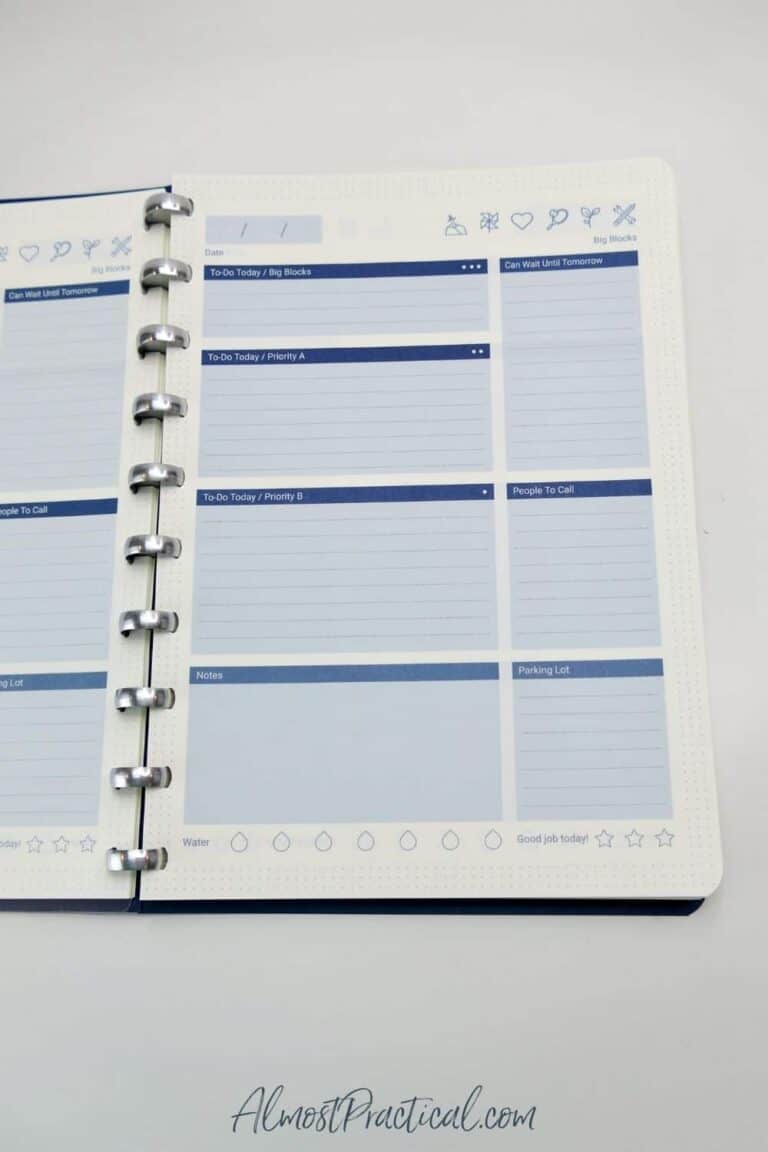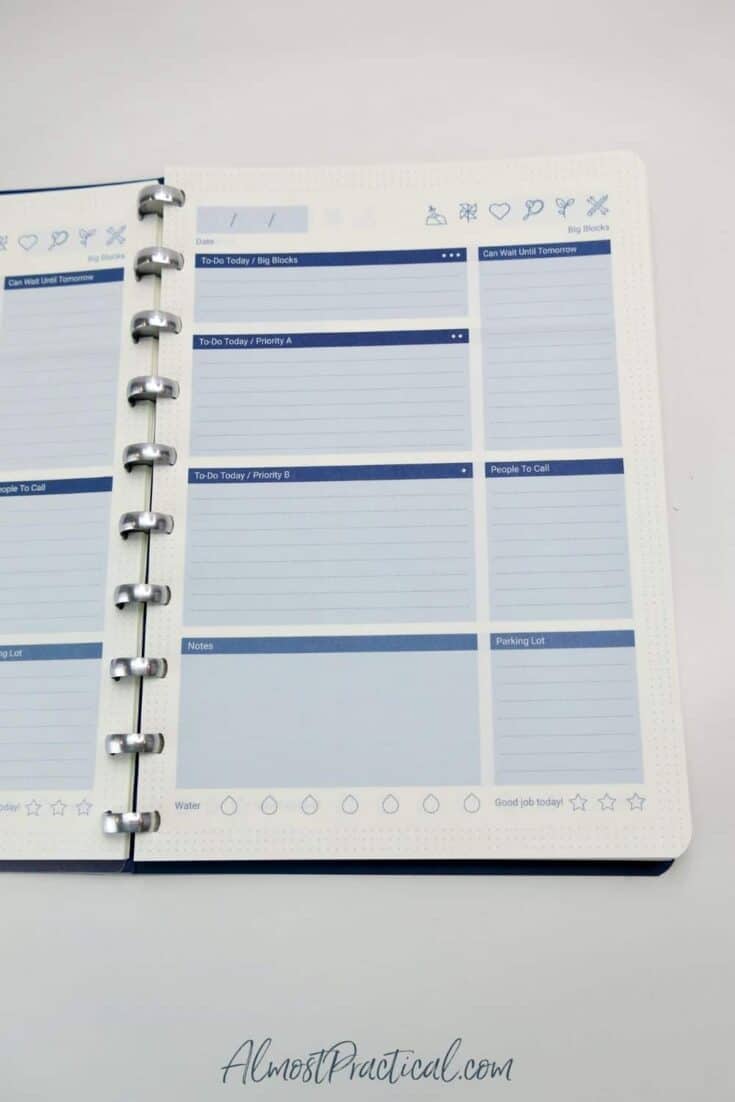 For each day you decide which Big Blocks you want to work on.
Then you prioritize your tasks as "A" tasks (must do) or "B" tasks (nice to be able to get done).
You also have space for
tasks that can wait until tomorrow
people to call
a "parking lot" of things that you don't want to forget but may not need to be done yet, and
space for notes.
You can also keep track of the water you drink, and rate your progress at the end of the day.
Step 3: Monitor
At the end of each day, you go back to your Big Blocks Dashboard and cross through the icons that you worked on that day to monitor your progress.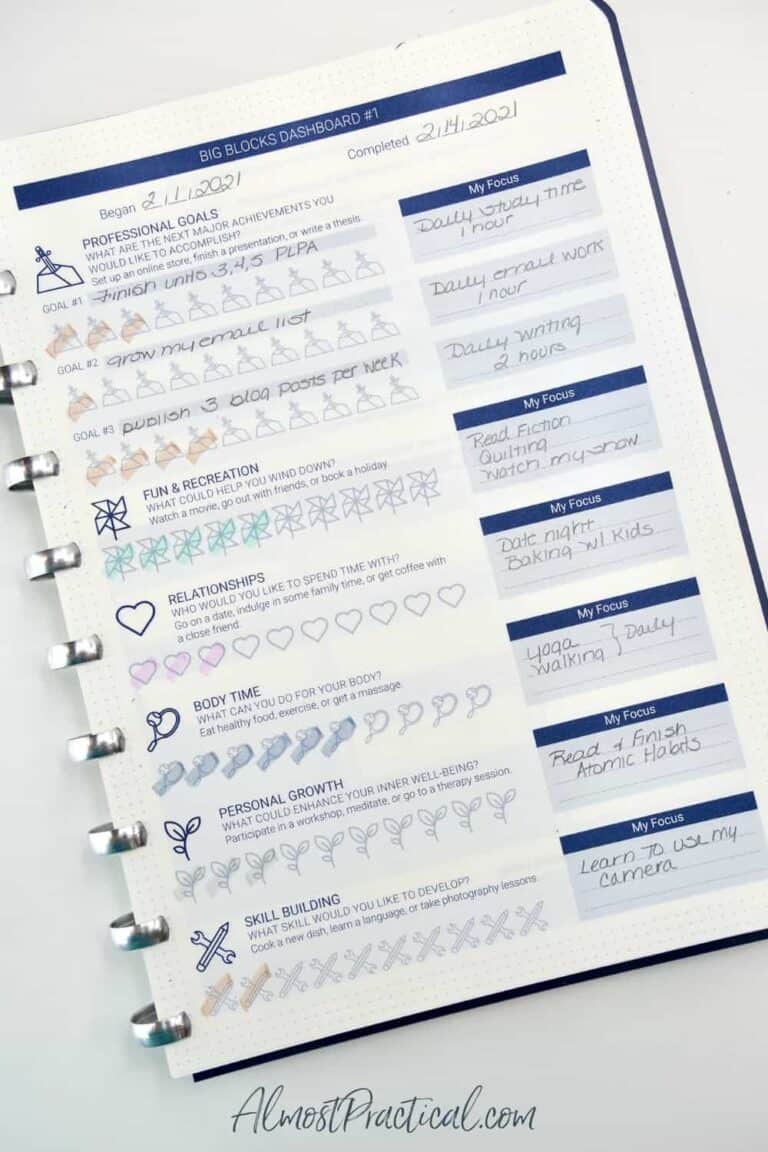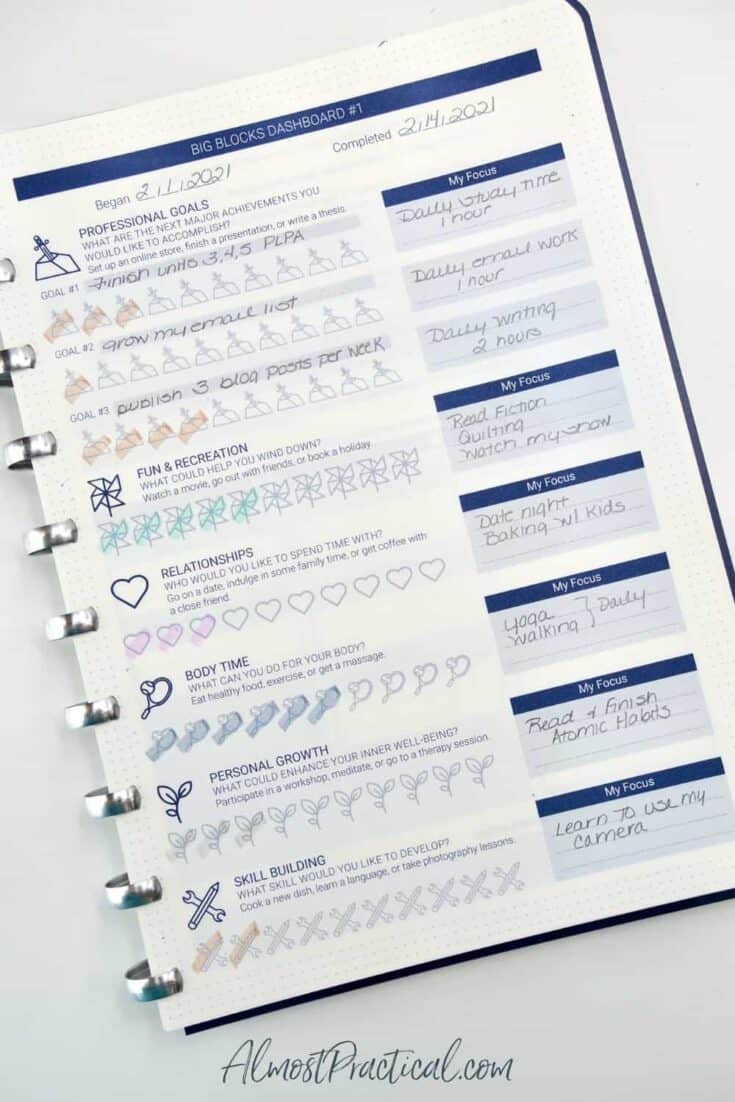 Step 4: Reflect
At the end of the 2 weeks (or whatever time period you chose), you go back to your Big Blocks Dashboard – and complete the reflection questionnaire on the back of the page.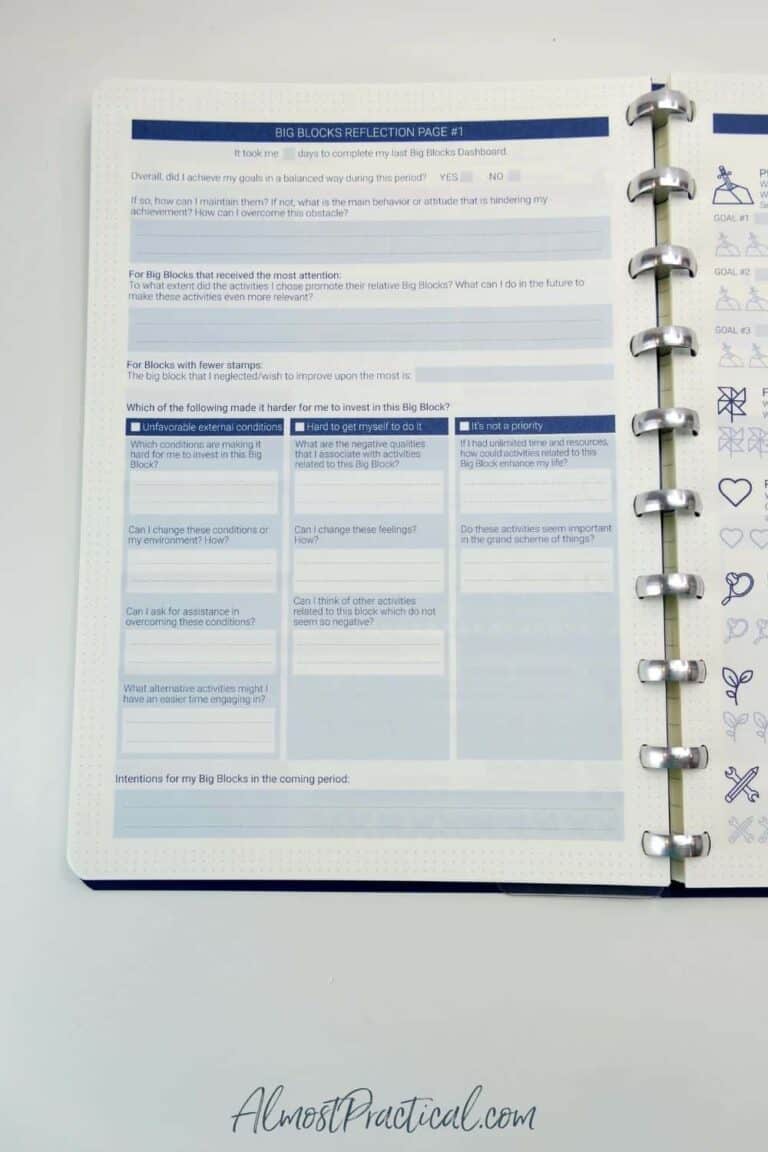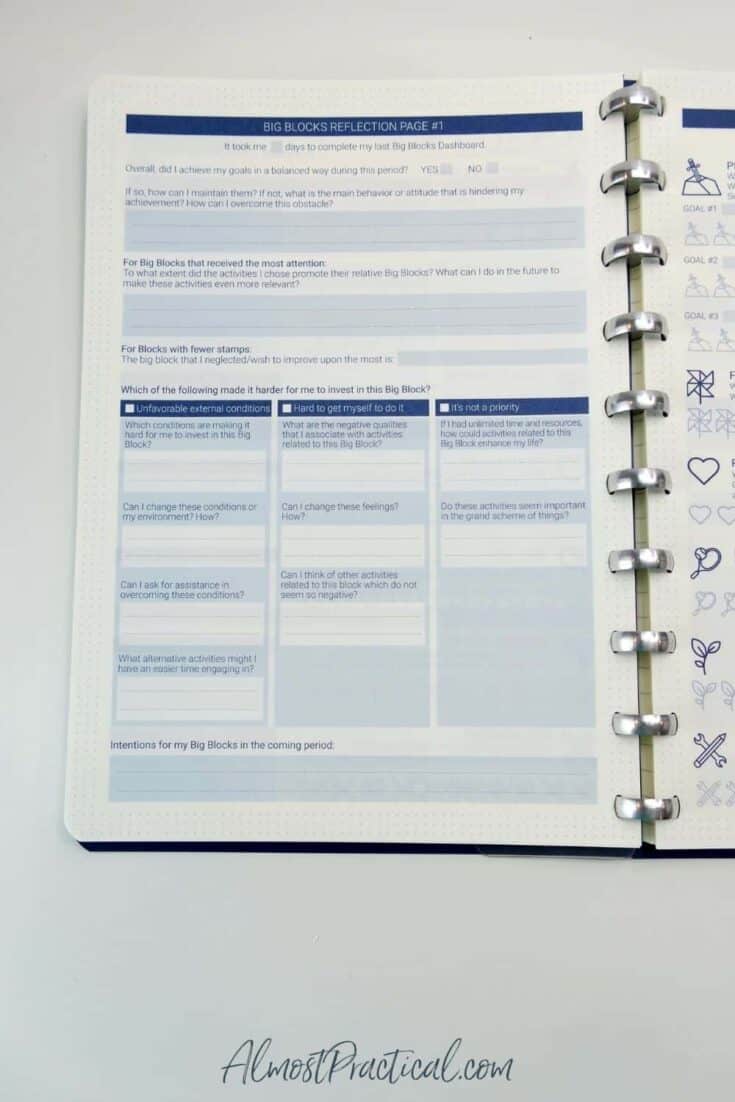 What worked? What didn't? And most importantly why or why not.
Use this information constructively to track your goal progress and map out your Big Blocks Dashboard for the next two weeks.
Extra Planning Pages and Packs
The Perfect Notebook comes in several different configurations and bundles for you to start with:
Pay close attention to the pages that come in each bundle so you pick the configuration that will work best for you.
However, you are not at all limited to the pages that come in the bundle.
You can order refill packs to add lots of functionality.
Notebook Pages
I love interspersing notebook pages throughout my planners – because I want my notes to be right with my daily happenings.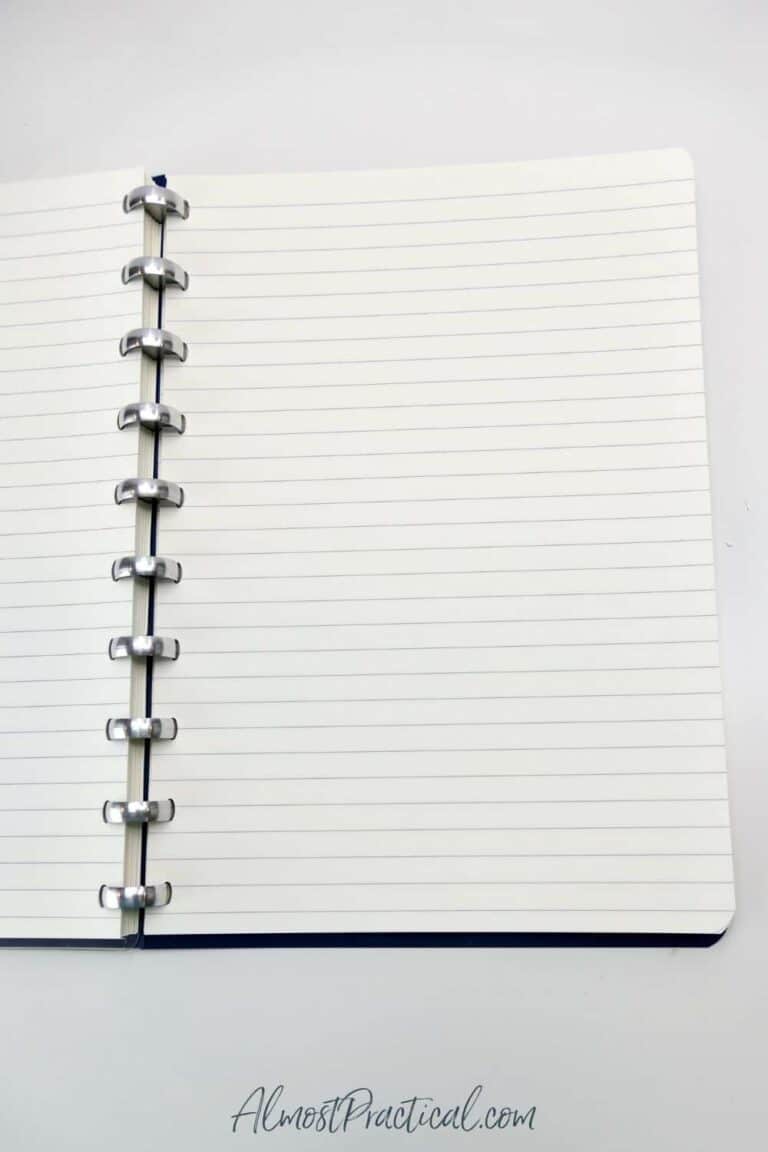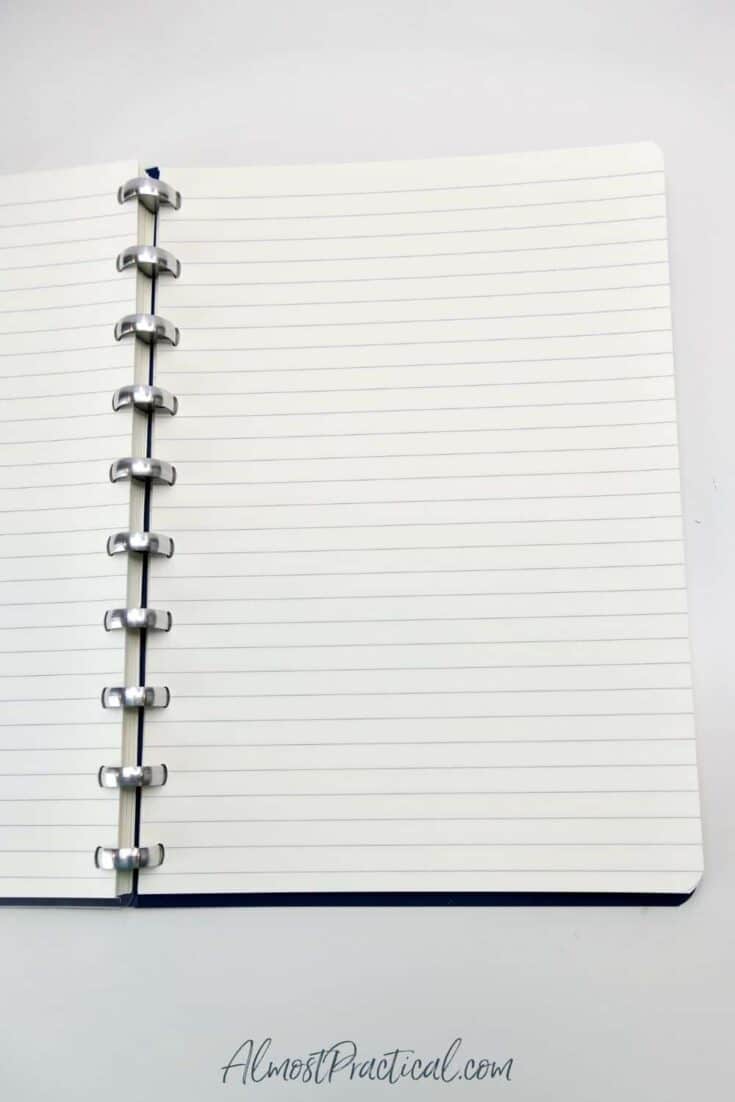 The Perfect Notebook offers notebook page refills in the following formats:
Calendar Pages
It makes sense to add calendar pages to The Perfect Notebook.
If you are tracking your progress on goals, it is nice to know what else might be on your schedule so that you can allow time for all the things you need to do.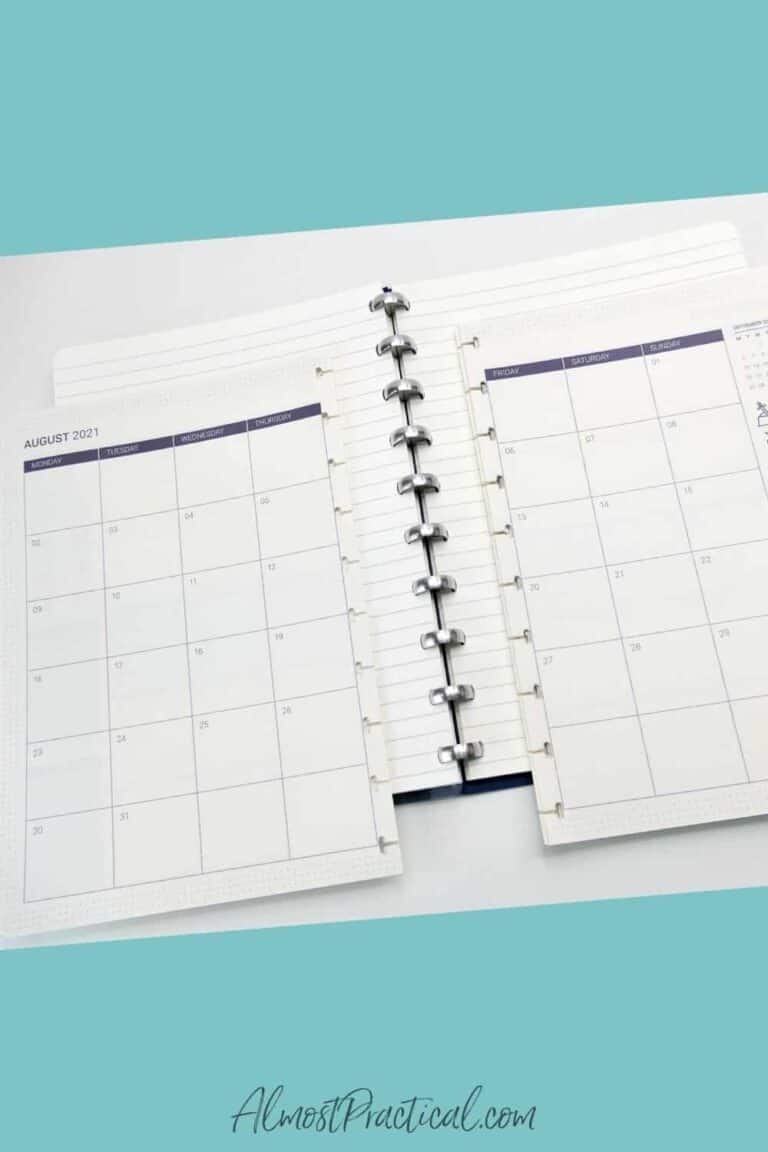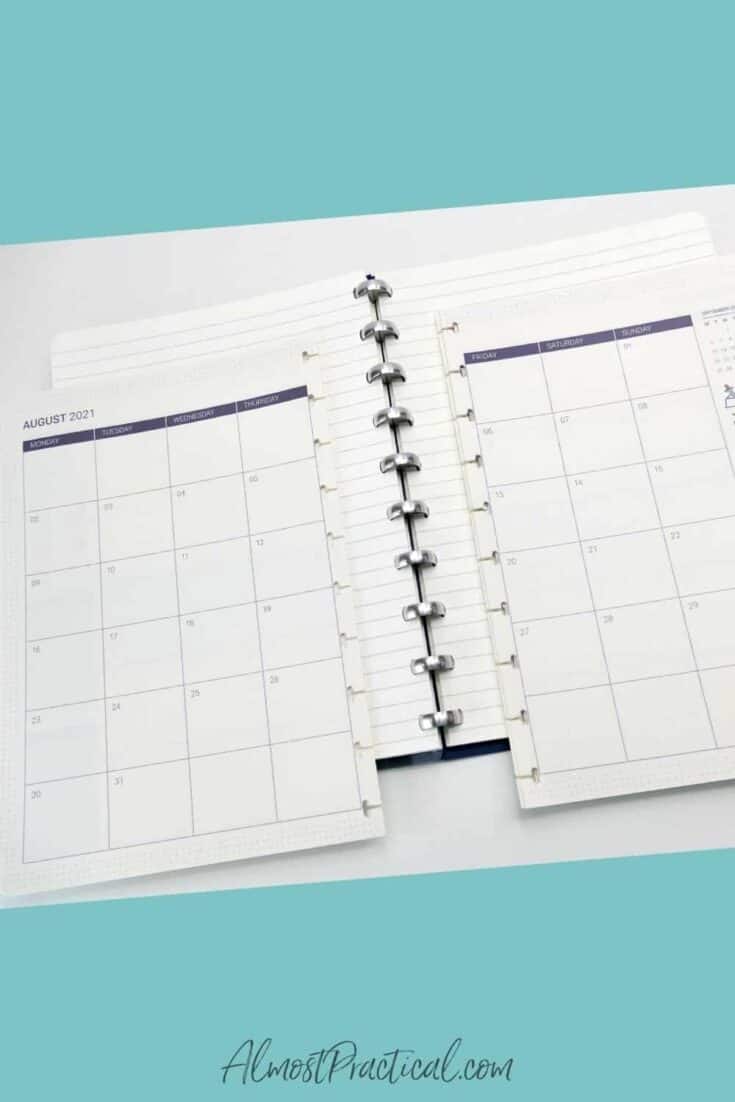 There are 2 choices in calendar pages – you can choose one or both.
Goal Tracking Pages
Nothing is more motivating than keeping a streak going.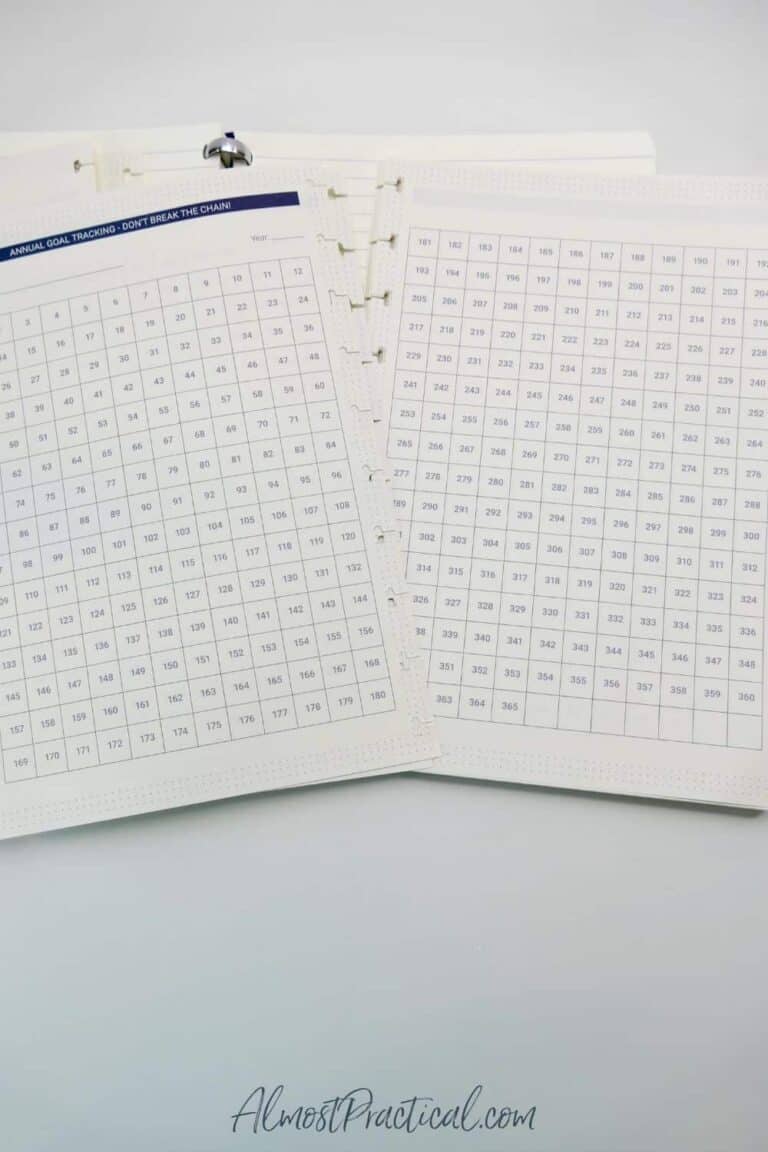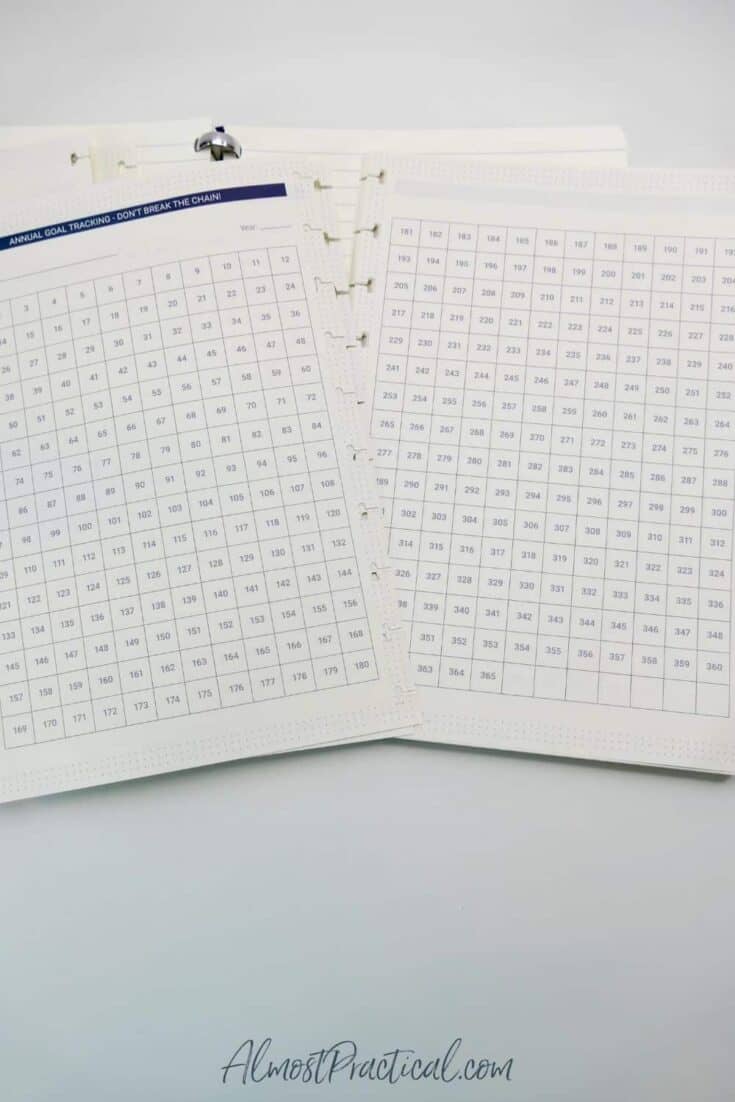 With these goal tracking pages you can record your progress on yearly, monthly, and weekly goals.
The Perfect Notebook is More Than Perfect
As you can see, The Perfect Notebook is more than just an ordinary notebook.
It gives you the flexibility to plan in a way that is unique to the way you like to do things.
But it also provides the necessary structure that you need to stay on track with your goals by giving you a place to plan, act, monitor, and reflect.
I hope you enjoyed this review of the The Perfect Notebook!
Happy planning!